Begin Your Wellness Journey at our Charlotte Hotel
Stay Well® rooms provide you with better rest, more energy and reduced stress, and help you recover from jet lag quicker. By choosing our wellness hotel in Uptown Charlotte, you also receive access to content from the Cleveland Clinic on sleep, stress and proper nutrition.
Contact Us
+1-704-333-9000
About Our Stay Well Rooms
Our downtown wellness hotel offers Stay Well® rooms designed with features that maximize your experience while minimizing the impact that travel has on your body with:
The state-of-the-art Air Purification system reduces allergens, toxins and other microbes invisible to the human eye.
Relaxing, mood-enhancing Aromatherapy as you make yourself at home at our Uptown Charlotte hotel.
Circadian Lighting in your room. This is engineered to emulate the color of natural outdoor light, which will help enhance your sleep quality, energy levels and productivity. You can personalize your hotel room light environment by adjusting the settings on the Mood Box from Circadian to Energize to Relax to Play.
Stay Well™ Mattress - For a night of deep sleep in Charlotte, settle into the natural memory foam, which will support your back and provide optimal comfort.
Night Lighting which allows you to safely navigate at night while minimizing sleep disruption.
Inspired by nature's sunrise, the Dawn Simulator will wake you gradually and gently.
Stay Well Shower Infuser allows you to emerge with softer, smoother skin and hair.
Cleveland Clinic
The end of your time in a Stay Well® Room at our Uptown Charlotte hotel doesn't mean the end of your wellness experience. You can continue to manage wellness with free access to award-winning Cleveland Clinic Wellness programs with tips on how to sleep better, reduce stress and maintain a medically backed nutrition program through professional direction.
Complimentary access to the programs can be claimed at StaywellRooms.com.
Check out the Stay Well mobile app which provides the following:
Feature tour of Stay Well room
Jet Lag Tool
Videos
WELL Local - local wellness concierge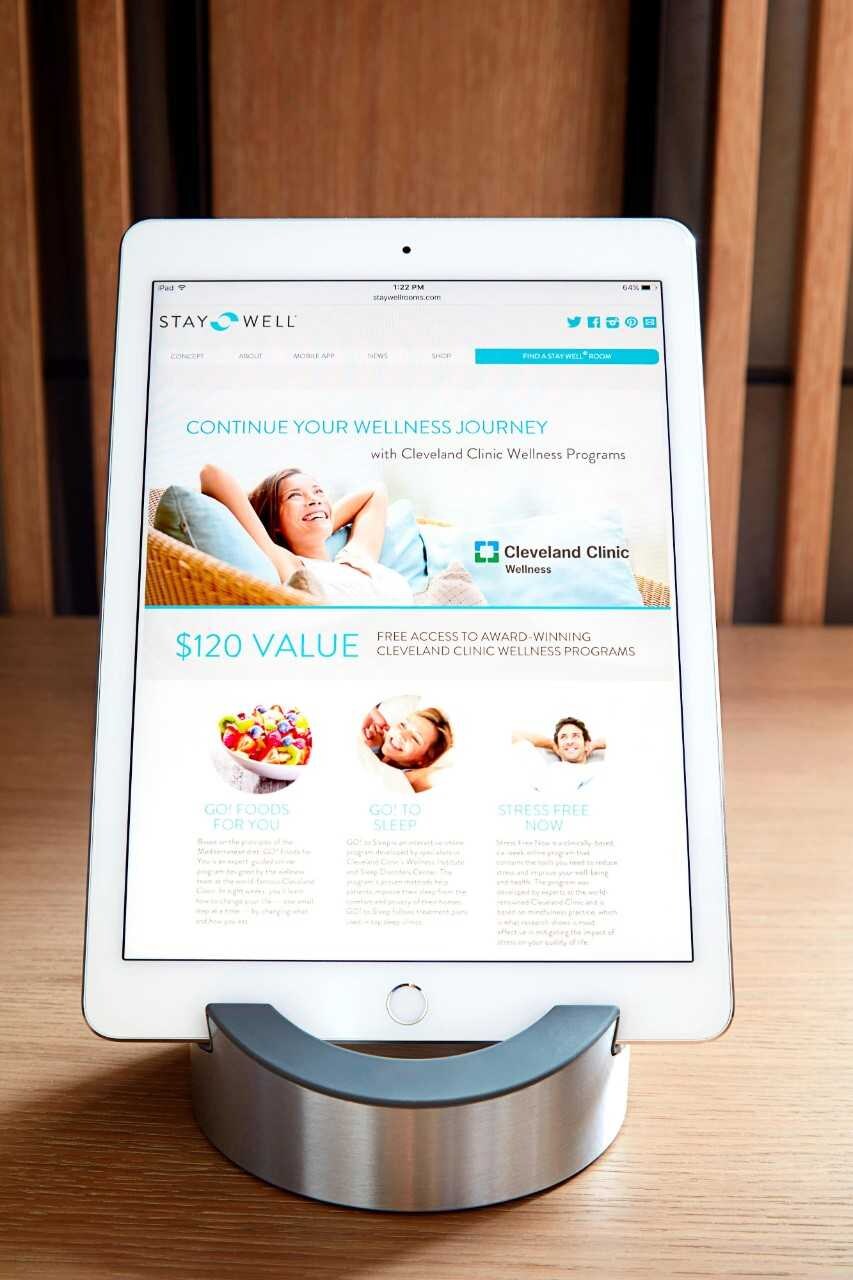 More Information
Download our Apple and Google apps today!
Stay Well for Google Play