Our Meetings Make an Impression in Downtown Dubai
Events
Meetings & Special Events at Renaissance Downtown Hotel, Dubai are designed to be exceptional! No matter what your requirements and purposes are, our dedicated events team ensures your meetings run smoothly, while delivering everything you need for a successful event. Renaissance Downtown Hotel, Dubai is here to support the authentic selves. Providing flexibility and control, giving purpose, meaning, and building a community beyond work meetings.
6,888 sq ft
Total Event Space
300
Capacity Largest Space
Host Your Event at the Renaissance Downtown Hotel
Live It Up
Make the city your backdrop with an elegant event or celebration at our Dubai Hotel. From the skyline to the waterfront to our bold design aesthetic, we offer indoor and outdoor spaces to suit gatherings of every style and size. With help from our expert planners to create custom packages and our talented culinary team on had to prepare a locally inspired feast, we'll make your event unforgettable.
Create Memorable Experiences
Meeting Spaces That Exceed Your Expectations
We have a variety of meetings spaces to fit your event needs. Fully equipped with the latest audiovisual technologies, our venues can accommodate a small office gathering, a successful conference, and everything in between.
Team Building in Dubai
Social Events
Treat your guests to a refreshingly different day away from the office and let our team lead you with a range of special and curated social events. We have some great suggestions that will bring any team together, from Chef masterclasses, to personalized events in our Presidential Suite or staff parties to remember in one of our modern and contemporary venues. If you are looking for a non-traditional way to celebrate with your teams, let Renaissance Downtown Hotel, Dubai curate this special moment for you!
Special Event Dining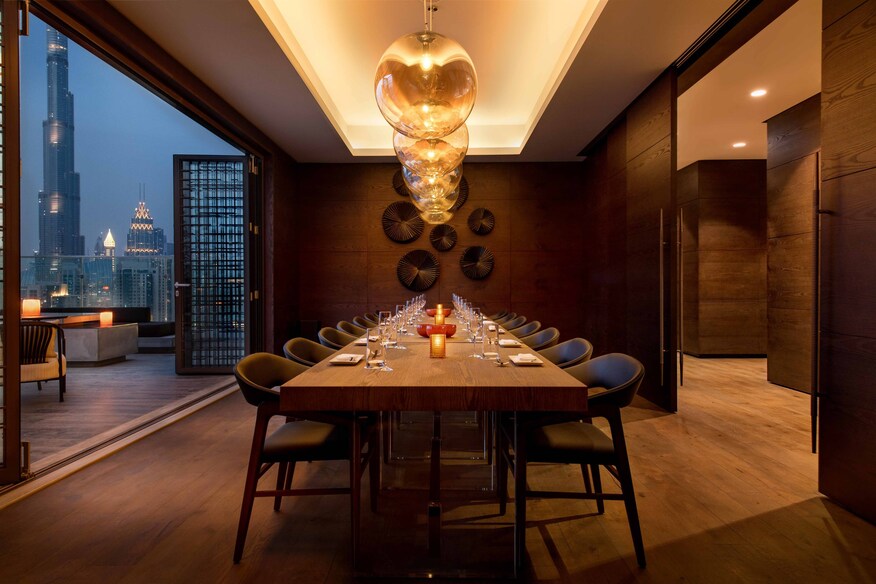 Mami Umami Private Dining
Book an intimate dinner in one of our uniquely designed private dining rooms at Mami Umami.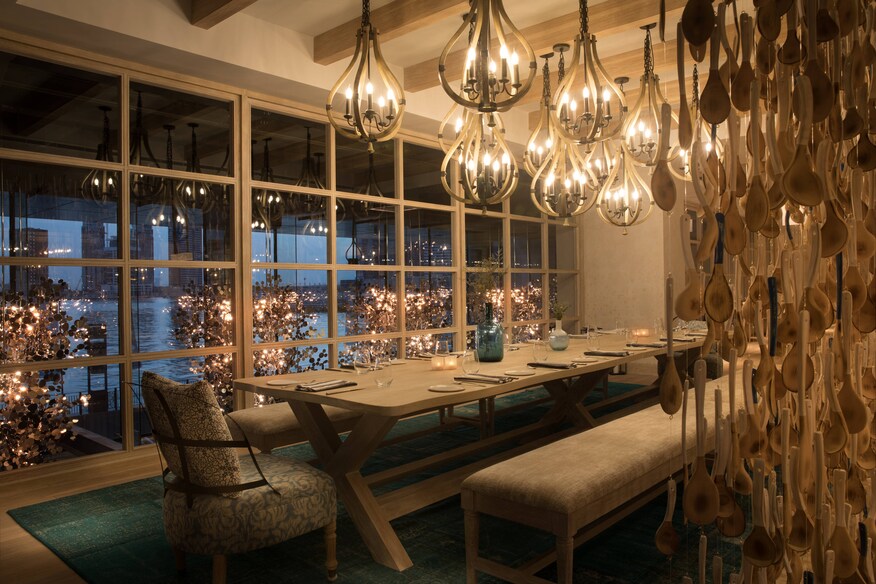 Bleu Blanc Semi-Private Dining
The sunset of the Dubai Water Canal sets the scene of the semi-private dining table at Bleu Blanc by David Myers.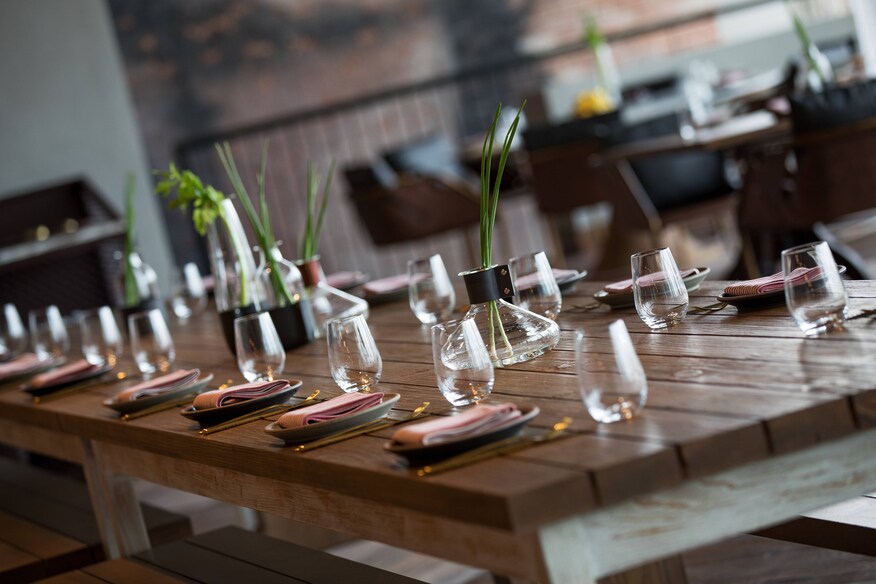 Basta! Communal Dining
The communal table of BASTA! by David Myers is designed for sharing and communal dining in a modern, classic setting.
Dream Weddings Happen Here
For a Wedding Experience As Unique as You
We are committed to your dreams coming true, with expert professionals who are dedicated to getting every last detail right. This experience also means that we are on top of the latest trends in cuisine and décor. We know vendors with impeccable histories of bringing wedding ideas and venues to life. In addition, we are always open to trying something new and fun. Our dedicated Events team, experts in creativity, will combine all the aspects of your wedding to make sure it reflects your unique taste and personality. After all, our hearts are in this too.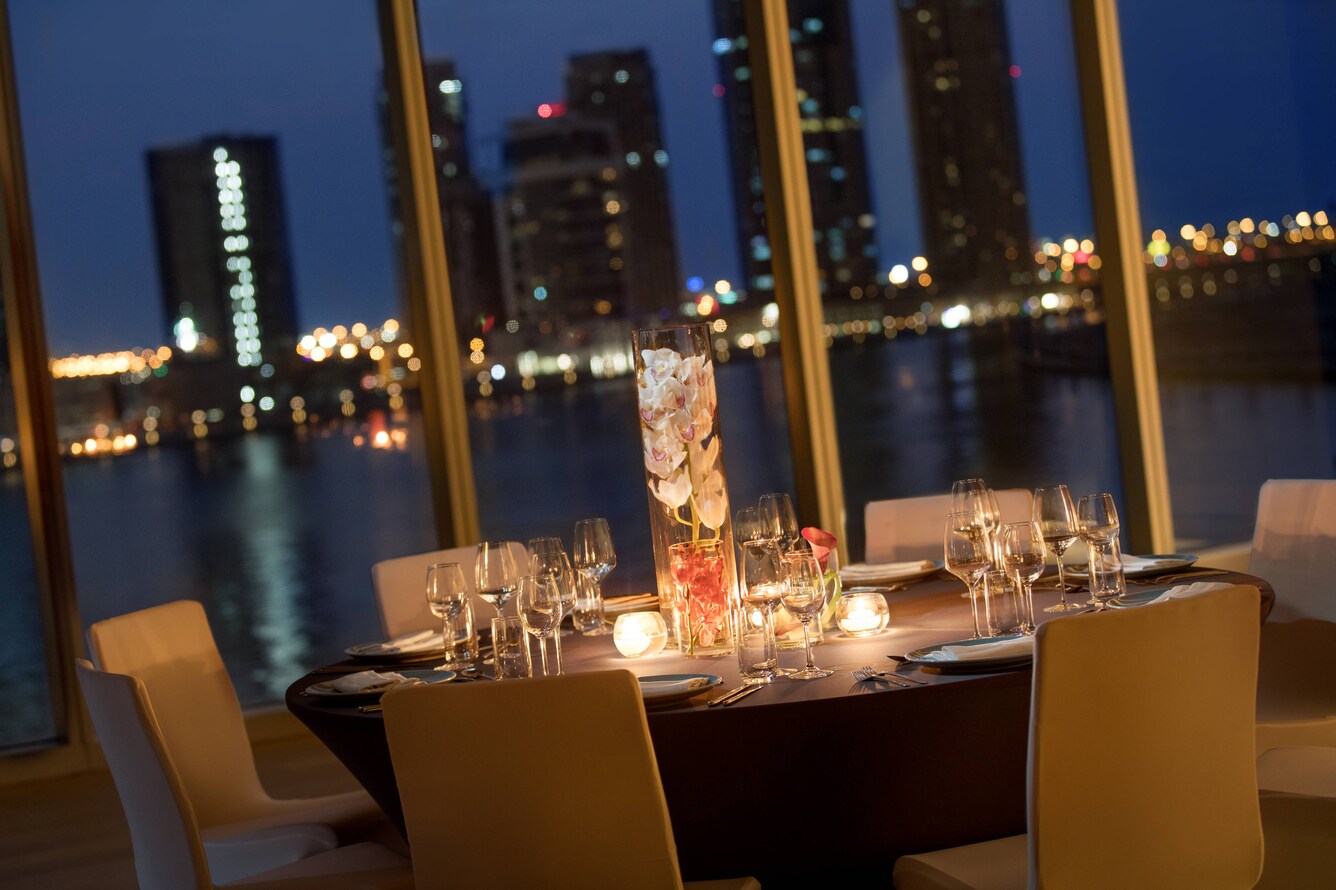 Special Occasions
Family Comes First
It's the special celebrations that let you strengthen bonds with those you hold most dear, whether it's a party to reconnect with friends or a family reunion. As a company with deep family roots, we get it. It is among our most cherished traditions as a company, and one of the most valued accomplishments of the associates who bring your celebrations to life at our hotel, from birthdays, baby showers and graduations to engagement parties, anniversaries, vow renewals and reunions. That is our story. Call it our family story.
Plan an event in 6,900 square feet of space with six modern meeting rooms in Dubai.
Our meeting venues feature state-of-the-art audiovisual services and high-speed Wi-Fi.                                  
No matter what your requirements and purposes are, our dedicated events team are at your service.
Seat up to 300 guests for your Dubai conference in our largest meeting space.
Work with our event planning team to customize a business package and organize a remarkable meeting.
Elevate your event with themed breaks or full meals courtesy of our celebrated culinary team.
Experts in creativity, we combine all the aspects of your wedding to reflects your every desire.
Delight event guests with our hotel's premier setting overlooking downtown and the Dubai Water Canal.                                         
Contact Us
For more information about your endless possibilities to host a special day at Renaissance Downtown, Dubai, please contact us on 045125555
| Meeting Room | Dimensions (LxWxH) | Area (sq.ft) | Theater | Schoolroom | Conference | U-Shape | Reception | Banquet |
| --- | --- | --- | --- | --- | --- | --- | --- | --- |
| Fo(u)rum | 78.7x36.1x10.8 | 2841.7 | 280 | 168 | 150 | 76 | 300 | 144 |
| Fo(u)rum A | 52.5x36.7x10.8 | 1928.9 | 182 | 108 | 77 | 48 | 220 | 130 |
| Fo(u)rum B | 26.2x36.7x10.8 | 964.5 | 80 | 60 | 43 | 28 | 110 | 60 |
| Lab 4.1 | 16.4x20x10.8 | 328.3 | 24 | 12 | 13 | 14 | 110 | 60 |
| Lab 4.2 | 16.4x19.7x10.8 | 322.9 | 24 | 12 | 12 | 14 | 110 | 60 |
| Lab 4.3 | 26.2x19.7x10.8 | 498.4 | 40 | 24 | 24 | 18 | 110 | 60 |
Dimensions (LxWxH)
78.7x36.1x10.8
Dimensions (LxWxH)
52.5x36.7x10.8
Dimensions (LxWxH)
26.2x36.7x10.8
Dimensions (LxWxH)
16.4x20x10.8
Dimensions (LxWxH)
16.4x19.7x10.8
Dimensions (LxWxH)
26.2x19.7x10.8
| Meeting Room | Dimensions (LxWxH) | Area (sq.mt) | Theater | Schoolroom | Conference | U-Shape | Reception | Banquet |
| --- | --- | --- | --- | --- | --- | --- | --- | --- |
| Fo(u)rum | 24x11x3.3 | 264 | 280 | 168 | 150 | 76 | 300 | 144 |
| Fo(u)rum A | 16x11.2x3.3 | 179.2 | 182 | 108 | 77 | 48 | 220 | 130 |
| Fo(u)rum B | 8x11.2x3.3 | 89.6 | 80 | 60 | 43 | 28 | 110 | 60 |
| Lab 4.1 | 5x6.1x3.3 | 30.5 | 24 | 12 | 13 | 14 | 110 | 60 |
| Lab 4.2 | 5x6x3.3 | 30 | 24 | 12 | 12 | 14 | 110 | 60 |
| Lab 4.3 | 8x6x3.3 | 46.3 | 40 | 24 | 24 | 18 | 110 | 60 |
Dimensions (LxWxH)
24x11x3.3
Dimensions (LxWxH)
16x11.2x3.3
Dimensions (LxWxH)
8x11.2x3.3
Dimensions (LxWxH)
5x6.1x3.3
Dimensions (LxWxH)
5x6x3.3
Dimensions (LxWxH)
8x6x3.3
Audio-Visual Equipment
AV Technician
LCD Projector
Microphone
Overhead Projector
PA System
TV
TV Production Service Provider
Videoconferencing
Event Services
Certified Meeting Planner
Electrician
Photographer
Registration Service
Security Guards
Event Equipment & Supplies
Flip Chart & Markers
Pens / Pencils / Notepad
Portable Stage
Stack Chairs
Tables
Business Services
Computers
Copy Service
Fax Service
Full Service Business Center
On-Site Business Center is Staffed
Overnight Delivery/Pickup
Post/Parcel
Printers