Welcome to Blue Palace Elounda, a Luxury Collection Resort, Crete
Your home away from home
Wild beauty. Unrivaled island style. A place where you can sense an older, truer more timeless Greece. Blue Palace is a patchwork of pink-hued stone and earthy tones, flowing into the landscape. Dotted throughout the resort among fragrant gardens, the bungalows, suites, & villas, are your personal sanctuaries with spectacular views of the Aegean Sea and Spinalonga Island. Designed for people who want to spend a lot of time relaxing in their own private space, offering the kind of profound, understated luxury that is relaxing in a way that mere extravagance can never achieve. What has set us apart over the years and has enamored our guests is our heart-warming hospitality and our commitment to an authentic Greek summer experience. A uniquely compelling private place to be -unmistakably Greek. The essence of redefined luxury.
Discreet & Luxury Living Spaces
Island Luxury Suites
Dotted throughout the resort, amongst the wild beauty of fragrant gardens, the Island Luxury Suites celebrate a relaxed yet refined island ambience, offering the perfect setting for guests who love to have their own sanctuary. They feature enlarged private pools, beautiful spacious outdoor areas, contemporary furnishings, VIP amenities and unique décor, all combine to encapsulate the artistic and cultural legacy of Crete - an unsurpassed guest experience that sets a new standard in luxury. The Island Luxury Suites are slated to make their mark on the global traveler's 'must-stay' list.
Timeless Old-World Glamour
Grand Villa
Complete with a private gate, our Grand Villa offers a world of refined Greek lifestyle as it unfolds around a private courtyard. Beyond the entrance, an al fresco dining area is equipped with gracious wrought-iron furniture, perfect for indulging in dining options, and a sitting area with sun beds that surrounds the private pool. In the two bedrooms, peaceful, natural hues are the perfect backdrop for spectacular sea views. The exclusivity is heightened with a bespoke array of services.
Most Indulgent Luxury Residence
Royal Blue Villa
Your own piece of private luxe; astounding views and uncompromising privacy make it the finest choice for our most distinguished guests. The feeling here is as if you are residing in a Mediterranean home, surrounded by a peaceful landscape. These fully-equipped standalone residences boast three bedrooms, ample indoor living spaces, outdoor facilities and dining areas and private swimming pools, as well as varied other facilities and services to make you feel right at home.
Quietly Elegant
Two Bedroom Villa
A patio with your private heated pool that is surrounded by sunbeds and umbrellas, every morning you can wake up and decide exactly how you would like to spend the day. The lower level features an expansive bedroom inspired by the Mediterranean scenery with an open patio that provides the perfect space for relaxing.
The Haven Breakfast
Guests of The Haven Collection enjoy a private breakfast with an epic selection of dishes served at a pebble-mosaic courtyard shaded by fragrant jasmines. There is something unique that makes you feel as if you are invited to a private home, the moment you step in at Anthós Restaurant – the star restaurant of Blue Palace Resort & Spa. A seasonally curated à la carte menu awaits our most distinguished guests.
The Beach Haven
At The Beach Haven, prepare yourself for beachside top-notch pampering & service. Reserved exclusively for guests of The Haven Collection, it is fully equipped with loungers and parasols, where baskets of complimentary goodies are delivered. An elite beach service crew will attend to guests' needs & occasionally surprise them with treats. Guests of private villas can unwind in their own exclusive private gazebo.
Bespoke Services
An exclusive array of bespoke benefits and perks is reserved for guests who choose to book The Haven.
TRANSPORT
•Complimentary Transfers (one for arrival and one for departure per room, from/to Heraklion Airport or Port, with bookings of 4 nights and more)
•24h Luggage Liaison at the Airport
•Helicopter Arrival/Departure Arrangement Services

ARRIVAL/DEPARTURE
•In-Suite Check-in
•Early/ Late Check-in/ out (subject to availability)
•Unpacking Services

STAY
•Complimentary Daily In-room Dining Offerings
•Complimentary Refill of Nespresso & Tea Offerings In-room
•Complimentary Premium Mini-Bar Offerings – replenished daily
•Complimentary Laundry Services (max. 4 items/per stay – excluding dry clean)
•Premium Bath Amenities
•Pillow Menu
•High-Tech Entertainment In-Room with B&O Speakers
•Streaming services – Netflix & Amazon Prime Video (Seamless access to your accounts)
•Premium Wi-Fi Internet Access

ULTIMATE PERSONALIZATION
•Dedicated The Haven Concierge
•Personal Greeting by the General Manager
•Elegant Welcome Box
•Personalized Farewell Gift

ADDITIONAL UNIQUE BENEFITS
•Resort Credit 150€ per stay
•One Complimentary The Haven Lunch Experience (excluding drinks)
•Complimentary 'Touch of Cretan Nature' Spa Experience (25 min. – per adult/per stay)
•Complimentary Daily Morning Stretching or Yoga Sessions by the Beach (30 min.)
•Exclusive Discounts for Resort Experiences – 10% discount on Wine & Olive Oil Tasting & 5% on Watersport Activities
•Unique Discounts for Spa Services – 15% discount on all treatments & 5% discount on premium retail spa products

*Bespoke Services can be combined only with specific rate offers and cannot be extended to guests who receive a complimentary upgrade to The Haven Room
Categories.
Combining Historic Charm With Emerald Waters
When people dream of islands, their first image is usually of the beach - of reconnecting with the wilderness and freedom, and the sun. Dream beaches are rare in reality, but the private shore at Blue Palace is one of them. The long, spacious sweep of private, white pebble beach has been left au naturel. Its raw, Cretan beauty has merely been threaded with wooden walkways for bare feet to happily pad between the private lounging decks of the central beach, the cool gazebos of the exclusive Haven, and the vibrant social focus of the Isola Beach Club. The aesthetic is driftwood elegance, indigenous charm, and bohemian luxe, all very good reasons to spend your whole day, and much of the evening, on the beach. Soak up the sun, take a refreshing dip in the crystal waters and make the most of your day with a touch of exclusivity; this is where you are able to luxuriate in total tranquility.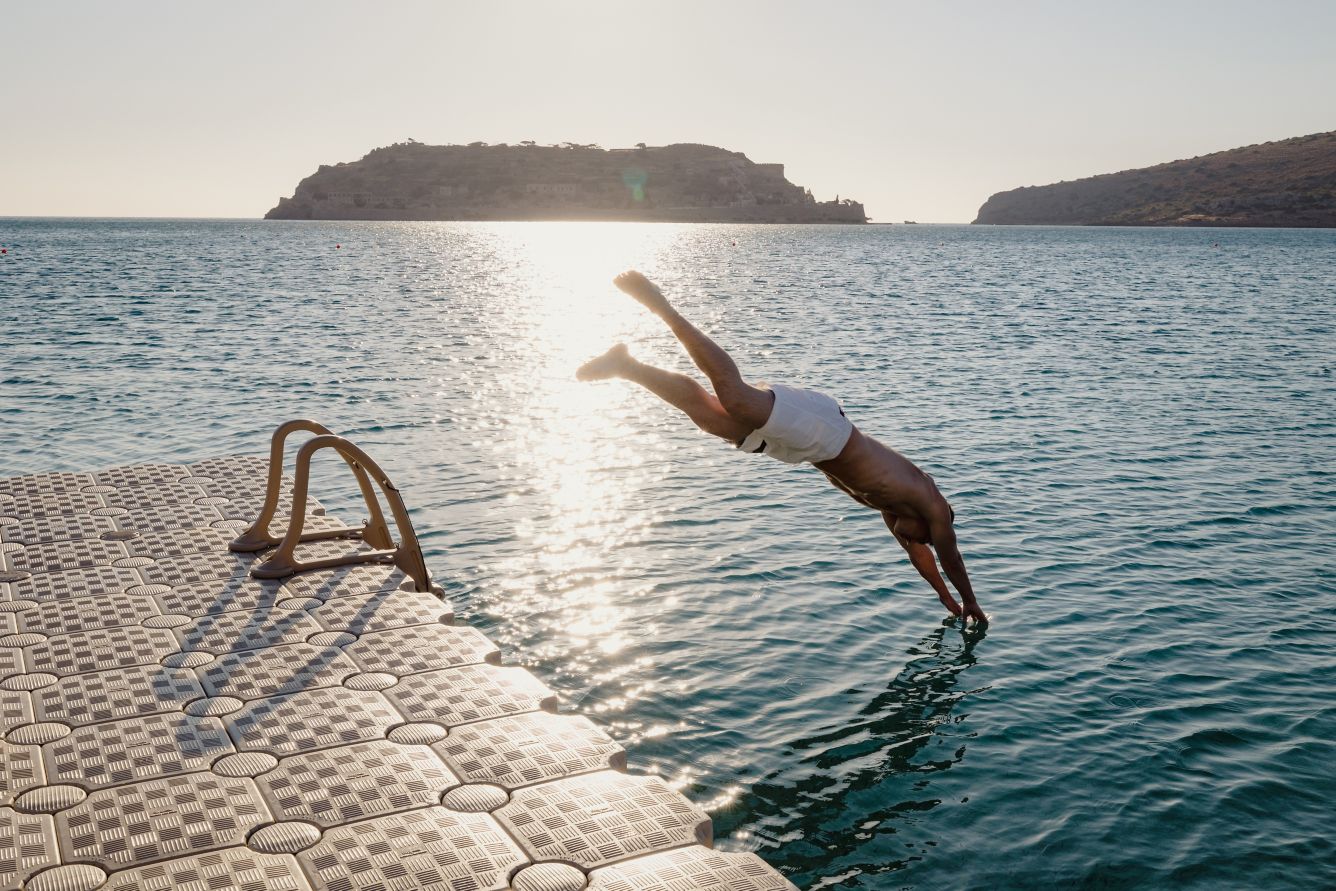 Spinalonga – A Place of Living History
How often is it that you find yourself swimming in crystal clear waters and gazing at an island, only a few hundred meters away, which is a National Monument? Cobalt waters and uninterrupted views of the UNESCO-nominated Spinalonga island make this setting the most captivating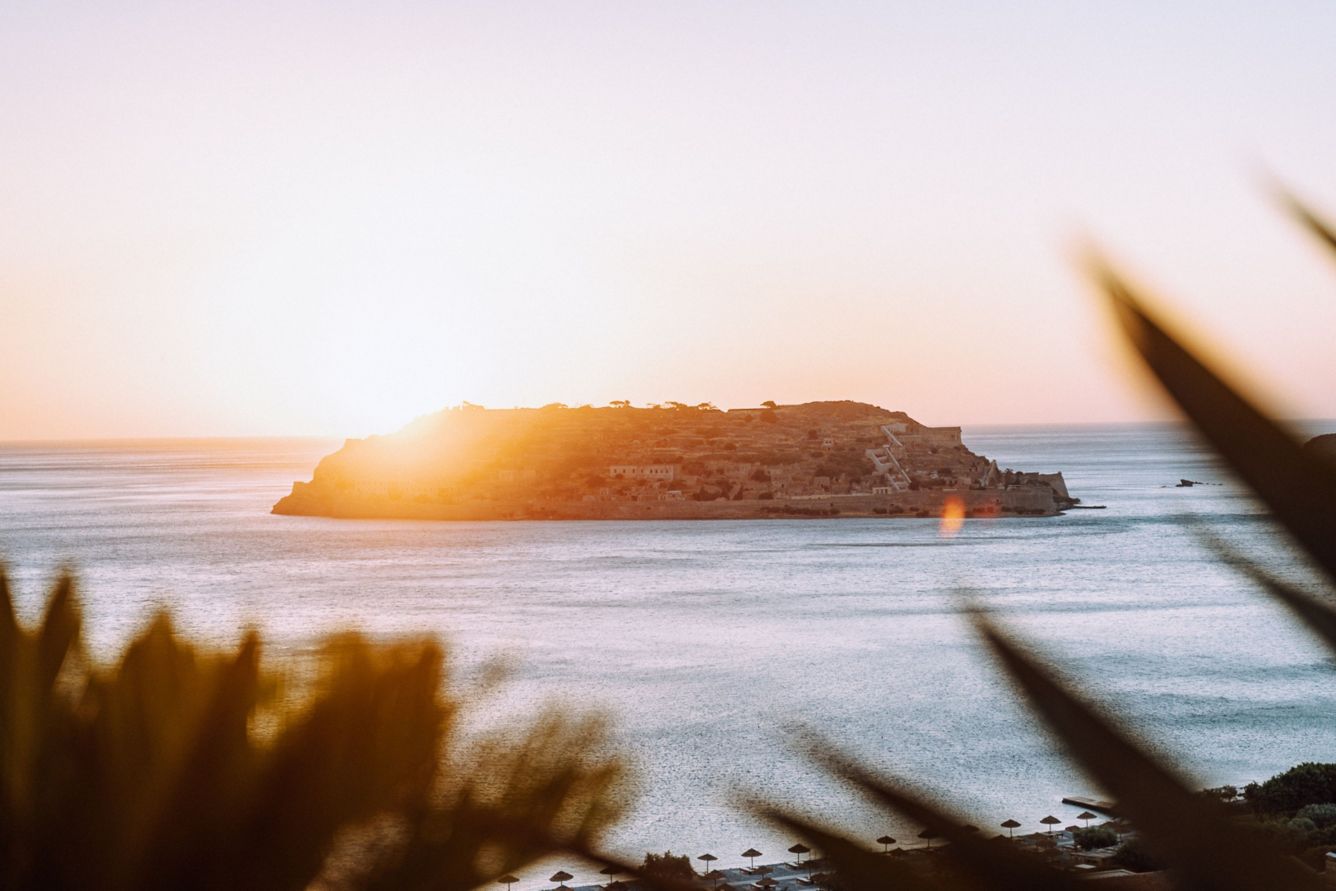 Cuisine Transformed Into a Way of Life
Every dish tells a story, and every plate becomes a journey. At Blue Palace, guests have an unexpected dining adventure where homecooked is not a trend. It's a story, emotions, memories, our heartfelt hospitality – a way of life! Our restaurants offer a culinary journey of flavors, fragrances, and joy, with menus that reflect a fresh Mediterranean approach and capture the essence of seasonal aromas and flavors in every single plate. Places of natural warmth where the landscape blends with what's on the plate creating the perfect scenery where family and friends share culinary experiences and being together is what truly matters. Gastronomic experiences that follow the rhythms of the land and sea, led by award-winning Creative Consultant Chef Athinagoras Kostakos. A visionary for sustainable gastronomy, Athinagoras creates vibrant, seasonal dishes that taste unmistakably Greek, each prepared to enhance the natural flavor of every ingredient, with distinctive aromas of the destination.
Adventures in Endless Blue
Blue Palace is not just a resort, it's a curator of unique experiences. Our beautiful, traditional wooden caïque is a gem, and every voyage she makes is part of a bespoke experience. Private cruises for our guests are unique affairs, and we enjoy creating experiences just for you. Blue Palace embraces Crete's heritage and tradition. Ancient Minoan ruins, secluded beaches, traditional villages, countless tiny churches, and impressive gorges full of unique flora and fauna, plus authentic food experiences that focus on purity. Authentic, indigenous experiences that enlighten the soul and mind.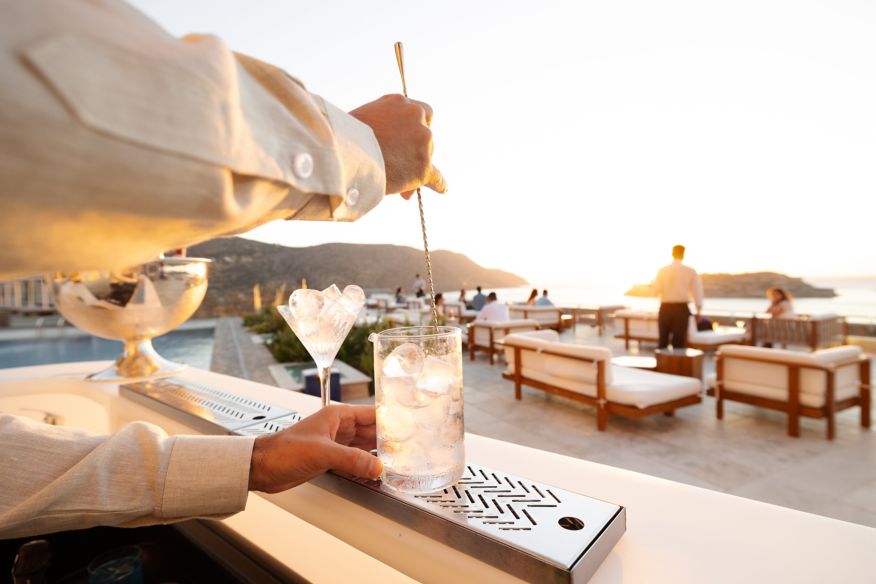 Blue Aperitivo Mastering The Art of Aperitivo
When the clock strikes 7PM sparkling signature cocktails arrive, champagne glasses clink, olives pop into mouths, and Arsenali Lounge Bar becomes an enchanting setting to soak up a true celebration of old-world glamour. The signature Aperitivo Ritual, with an eclectic menu of cocktails is a bespoke partnership with Venice's legendary The Gritti Palace, a Luxury Collection Hotel. The collaboration marries the art
Culinary Hopping Around Greece
There's nothing quite like gathering around a table to bring people together. An ode to the abundance of Greece, the poetry of place is reflected on every plate. Experience the best culinary treats from around Greece, with unique events at Anthós Restaurant. An array of complimentary flavors and contrasting textures by esteemed Greek Chefs along with our Creative Consultant Chef, Athinagoras Kostakos, that honor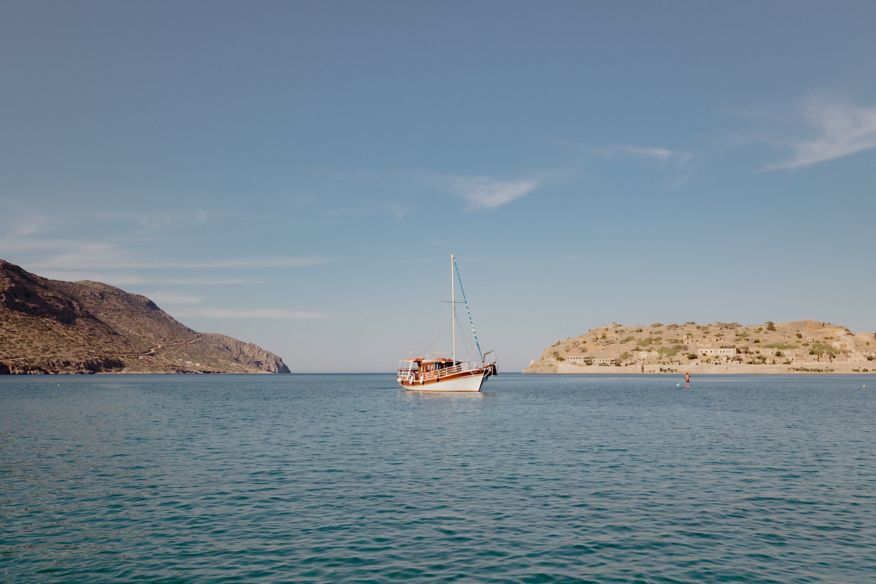 The Traditional Caique Experience
Travel on the crystal-clear waters around the Mirabello Gulf and unlock some of the most authentic surroundings. Set off from the hotel's own jetty aboard our quintessentially Greek fishing boat and sail around the coast of Elounda and the isle of Spinalonga. Find yourself surrounded by fresh air, remote beaches, cobalt waters, and an abundance of fascinating energy. Indulge yourself in detached surroundings – w
Cretan Feast - An Epicurean Exploration of th
Come and join us in a unique ritual, the Cretan feast; large bonfires are lit at our private beach for the cooking of the famous "antikristo" lamb – sprinkled in sea salt and slowly cooked for five hours above the fire – while authentic local delicacies will be prepared on the spot. All of these festivities accompanied by the distinct tunes of Cretan lyra. Enjoy this unique cultural and gastronomical experience,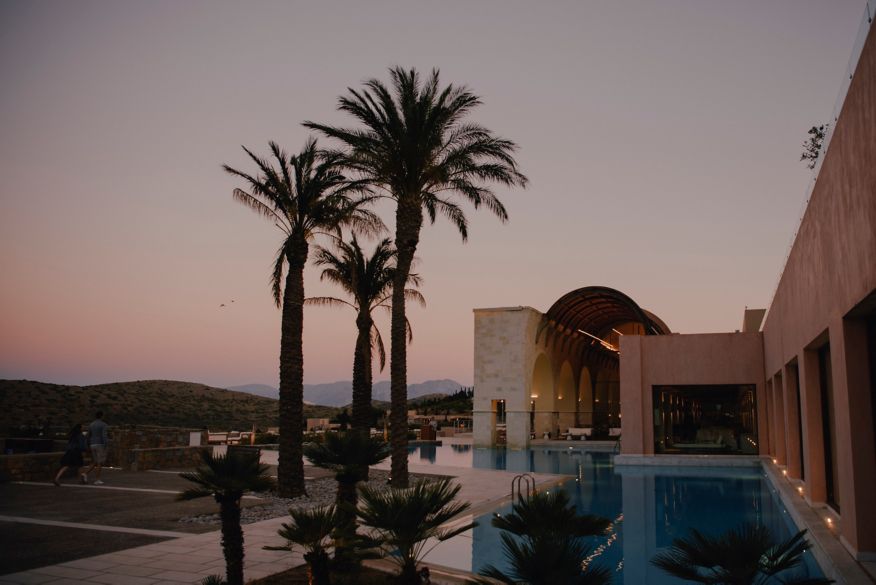 A Distilled Taste of Greek Summer
This summer, we will introduce new whimsical collaborations, hosting impressive events with world-acclaimed bartenders along with internationally recognized mixologist Aristotelis Papadopoulos. Weaving legendary spells out of tantalizing herbs and fruits from across the Aegean, each mixologist sheds light on the landscape, heritage, nature, and tradition that inspire our philosophy.
Greek Summer at Blue Palace
Every day of Greek summer at Blue Palace feels like a celebration. Embark on sea adventures with our Traditional Caique Experience; visit coves that no one else can reach and find your bliss; dive, do yoga, savour canapés and Cretan wines, or let our chef barbecue the fish you've just caught, right before your eyes. Celebrate like a local with our Cretan Feast, savouring well-kept family recipes and dancing to the tunes of the Cretan lyra. Feel the vibe and nature of Crete. Enjoy the outdoors hiking, biking and sailing or shimmy under the stars to live music by the beach. Ask our expert Concierge to share their secrets and discover the ultimate Blue Palace Experience that resonates with your dreams.
Celebration of Responsible Travel
Cretan longevity for people, their culture, and their natural environment. We know how to make good things last, and we're eager to share this knowledge with the rest of the world. Here eating seasonal, following the Mediterranean or Cretan diet, and having a strong bond with your community is not a trend but a way of life, which we support with all of our heart and efforts. Our highlight is the Phāea Farmers Program to support those of our staff who farm during the off-season while encouraging the cultivation of sustainable produce. We train our staff in organic farming methods, creating more value for their produce by giving back to the community while sourcing and receiving that produce back in our restaurants to share with our guests. Caring for our fellow islanders, staff, and friends, takes a surprising number of forms.
Welcome to Our Hive
Our new, innovative project the PHĀEA PLAN BEE initiative, is a highlight of the season, as part of the Phāea Farmers Program. Responding to the need of strengthening the pollinators, and more specifically bees, and in the context of disseminating their protection, we have installed our own beehives and worked towards creating a bee-friendly landscape with gardens and plants of intense flowering throughout each season, as well as abundant water sources. Our newly installed beehives are monitored by cameras to collect data on bees' behavior. Our ultimate goal is to strengthen the pollinators' activity and especially that of the bees. This summer, we will host special events to celebrate the Plan Bee initiative, where guests will be offered a tour of the organic garden and beehives, followed by mini harvesting, wellness activities, and honey tasting sessions. Delicious traditional Cretan pies sprinkled with honey and a celebratory cocktail will also be offered.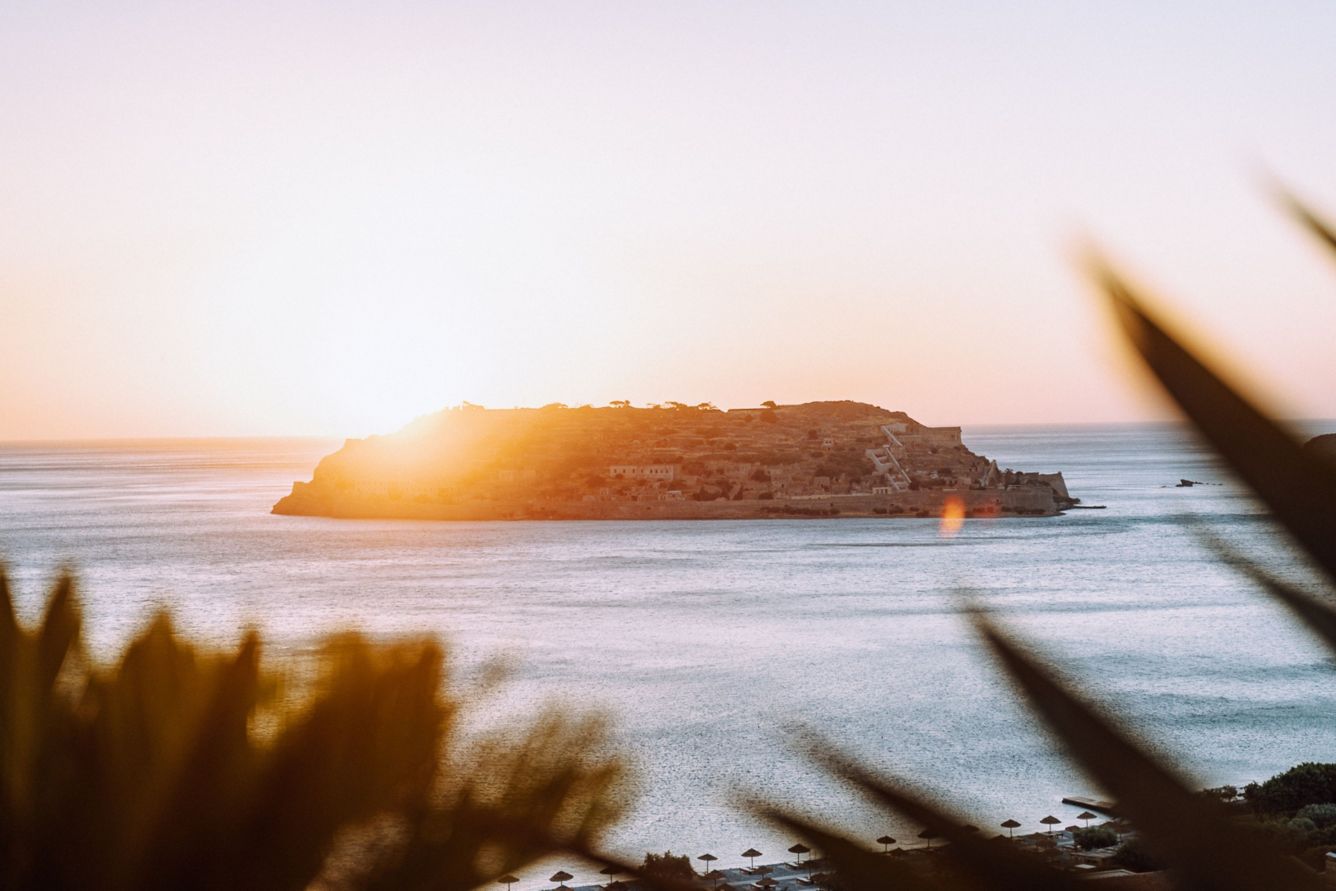 A Whole World on a Single Island
Crete is an uplifting journey of history. The island of the Gods, with timeless traditions. A treasure chest of folklore and heritage with a wealth of historical monuments and sites of interest. Home to the first European civilization - the Minoans, the birthplace of Zeus, and at the crossroad of the Middle East, Europe, and Egypt; Crete has always been the subject of great desire for many conquerors. Fabled for its glorious beaches, impressive mountainscapes, steep gorges, and secret coves; the wild beauty of nature in Crete resonates with everyone who visits.
The True Cretan Life, All For You
We love getting under the skin of Cretan culture, which is why we offer our guests opportunities to experience our island authentically, meeting the characters and participating in the activities that make this destination so justifiably renowned. True to our lifestyle concept of merging nature and luxury at the highest level, we have created bespoke experiences that make prominent the island's stunning beauty and natural bounty. Our Concierge is a Destination Authority for Crete, and so able to advise you on authentic, indigenous experiences that match your personal interests.
Liaisons for Leisure
Your Luxury Collection Concierge will also liaise with you before your arrival, to note your special requirements and ensure that your villa or suite is stocked with your favorite foods, wine, or flowers, and be on hand to assist throughout your stay. If you need a helicopter ride to Santorini for lunch, just say the word. If you wish to sail, dive, windsurf, fish, or kitesurf, we will find you the best equipment and instructors.
ESCAPE! Dining package
: April 26, 2022 — May 31, 2022
Book now and receive a complimentary dinner at Olea – a feast for your eyes and taste!
Rediscover Greece 2022
: April 26, 2022 — October 16, 2022
Rediscover Greece and experience the best of Crete. An unforgettable stay at Blue Palace is even more amazing with daily credit, and welcome drinks at Arsenali Lounge Bar!
Our Location
Getting Here
Blue Palace Elounda, a Luxury Collection Resort, Crete
Plaka, Elounda, Crete, Greece, 72053
Tel: +30 284-1065500
Distance from Property: 72 KM
Phone Number: +30 2810-397129
Visit Website
Airport Shuttle: This hotel does not provide shuttle service.
Alternate Airport Transportation
Mini Van
Distance from Property: 218 KM
Phone Number: +30 2821-083800
Visit Website
Airport Shuttle: This hotel does not provide shuttle service.
Alternate Airport Transportation
Mini Van
On-Property
Private Car Service
Limousine/Van Service
THEMIS Z
Inspired by the name of the resort itself and the crystal hues of the Aegean Sea, Themis Zouganeli, founder and designer of THEMIS • Z luxury lifestyle brand, has created a bespoke fine porcelain tableware, especially for Blue Palace. Handcrafted in Greece by skilled craftsmen and adorned with individual hand-painted motifs, Blue Palace's bespoke crockery speaks for itself. Available from Breakfast at the Haven.
Bleecker & Love
Bleecker & Love in collaboration with Ekeini have created, exclusively for Blue Palace, beautiful summer accessories. The Bleecker tote bag, purses & pillows are the coolest beach accessories, to remind you of the unrivaled Blue Palace beach experience. Available at the resort's Spa Store.
Pareo 'Phyllo' by Ekeini
The Pareo "Phyllo" by Ekeini draws inspiration from the resort's blue colors. With figure-flattering silhouette, in sensual fabric and distinct vibrant prints. Available at the resort's Spa Store.
POSTFOLK
POSTFOLK designs exclusively for Blue Palace, wonderful beach towels, with handcrafted digital embroidery inspired by the core archetypes, symbols and universal motifs of what is known as traditional folk embroidery.
ADD+
The signature beach towel holder by ADD+ is to accompany you for leisurely days at the resort's private beach.
WAKS Candles by Christina Morali
The acclaimed ceramic artist Christina Morali - niece of one of the most prominent Greek visual artists, Giannis Moralis - in partnership with WAKS candles design beautifully scented stoneware-vase candles, branded for Blue Palace, that are available at the resort's Spa Store.
Cretan Handcrafted Traditional Knives
A symbol of the island and one of the most important expressions of local folk art. They are usually decorated with intricate patterns and love songs. Available at Anthós restaurant.
Blue Palace Tea Collection
Blue Palace's signature tea collection, created in collaboration with renowned Greek brand Tea Route, is available in four different blends, all inspired by the island of Crete: Calming, Wild, Summer, and Spring. The teas are available at the Arsenali Lounge Bar and are the perfect accompaniment to the cakes, scones and finger sandwiches also on offer.
Property Details
24 Hour Room Service
Daily Housekeeping
Turndown Service
Scuba
Snorkeling
Watercraft Rental
Water Skiing
Gift Shop
Dry Cleaning Service
Room Service
Wake up Calls
Free Full American and Continental and Buffet and Hot Breakfast
Service Request
Check-in: 3:00 pm
Check-out: 11:00 am
Smoke Free Property
Pet Policy
Pets Not Allowed
Parking Complimentary On-Site Parking
Complimentary Valet Parking
Long Term Parking
Policies and Payments
Accepts: Cash,Credit Cards
Contactless mobile payments
Services
Babysitting
Concierge desk service
Currency Exchange
Property has elevators
Languages spoken by staff:
English,German,French,Russian,Greek
For more information about the physical features of our accessible rooms, common areas or special services relating to a specific disability please call +30 284-1065500
Accessible Hotel Features
Property has elevators
Service Animals are Welcome
Accessible Areas with Accessible Routes from Public Entrance
Accessible Entrance to On-Site Pool
Entrance to On-Site Business Center is Accessible
Entrance to On-Site Fitness Center is Accessible
Entrance to On-Site Spa is Accessible
Main Entrance is Accessible
Meeting Spaces are Accessible
On-Site Restaurants are Accessible
Guest Room Accessibility
Accessible Vanities
Bathtub Grab Rails
Bathtub Seat
Lever Handles on Guest Room Doors
Lowered Electrical Outlets
Mobility accessible rooms
Roll-in Shower
Toilet Seat at Wheelchair Height - Toilet for Disabled
We're offering a huge range of amenities for our smallest guests:
Baby's bathtub
Potties and toilet reducers
Electric bottle warmer
Electric steam bottle sterilizer
Changing Mats
Step Stools
High Chairs
Baby Bath Amenities
Baby Blankets & Pillows
Baby Buggies
Baby Phones
Baby Park
Confirmation depends on availability the time of the reservation.