Experience Good Travel with Marriott Bonvoy
Good Travel with Marriott Bonvoy is a program that offers meaningful travel, allowing you the opportunity to create a positive impact as you explore and build deeper connections in local communities when you stay in our hotels.

With over 100 curated experiences, the program focuses on three pillars – Environmental Protection, Community Engagement, and Marine Conservation.

Discover how you can contribute meaningfully to Environmental Protection with us at Le Meridien Khao Lak Resort & Spa.
Sustainable Farming: Why It Matters
Chemical Pollution Burdens Natural Ecosystems
Modern agricultural and unsustainable farming practices have led to an increase in chemical pollution in Thailand.
Despite the importance of sustainable farming, many farmers are unable to execute sustainable farming practices due to social and financial barriers, as well as the lack of knowledge.

Nearly one billion tons of food is wasted each year, with the process between harvest and retail alone contributing to 14 percent of wastage. If food waste can be better managed through sustainable farming practices, it will not only reduce the impact of wasted food, but also reduce the use of chemicals during the process, which may improve the overall health of local communities.
Sustainable Farming: The Experience
Try Your Hand at Sustainable Farming
Through Le Meridien Khao Lak Resort & Spa, guests can participate in a 60-minute workshop at the Le Ka Tak Sustainable Farm to learn about sustainable farming methods and practices.
Led by our Recreation Team and our Thai Chef de Cuisine, guests will experience and learn about sustainable farming practices at Le Ka Tak Sustainable Farm.

During the workshop, guests can observe and partake in hands-on experiences such as:
Herb Garden: Guests will learn about different types of herbs, harvest them from the garden, and help maintain them by shoveling soil and watering the plants.
Compost: Guests will learn the various steps in composting, and understand the benefits of composting
Chicken and Duck Coops: Guests can help pick eggs for the hotel's kitchen. They can also feed the chickens with food scraps, rake the coop, and change the hay and water.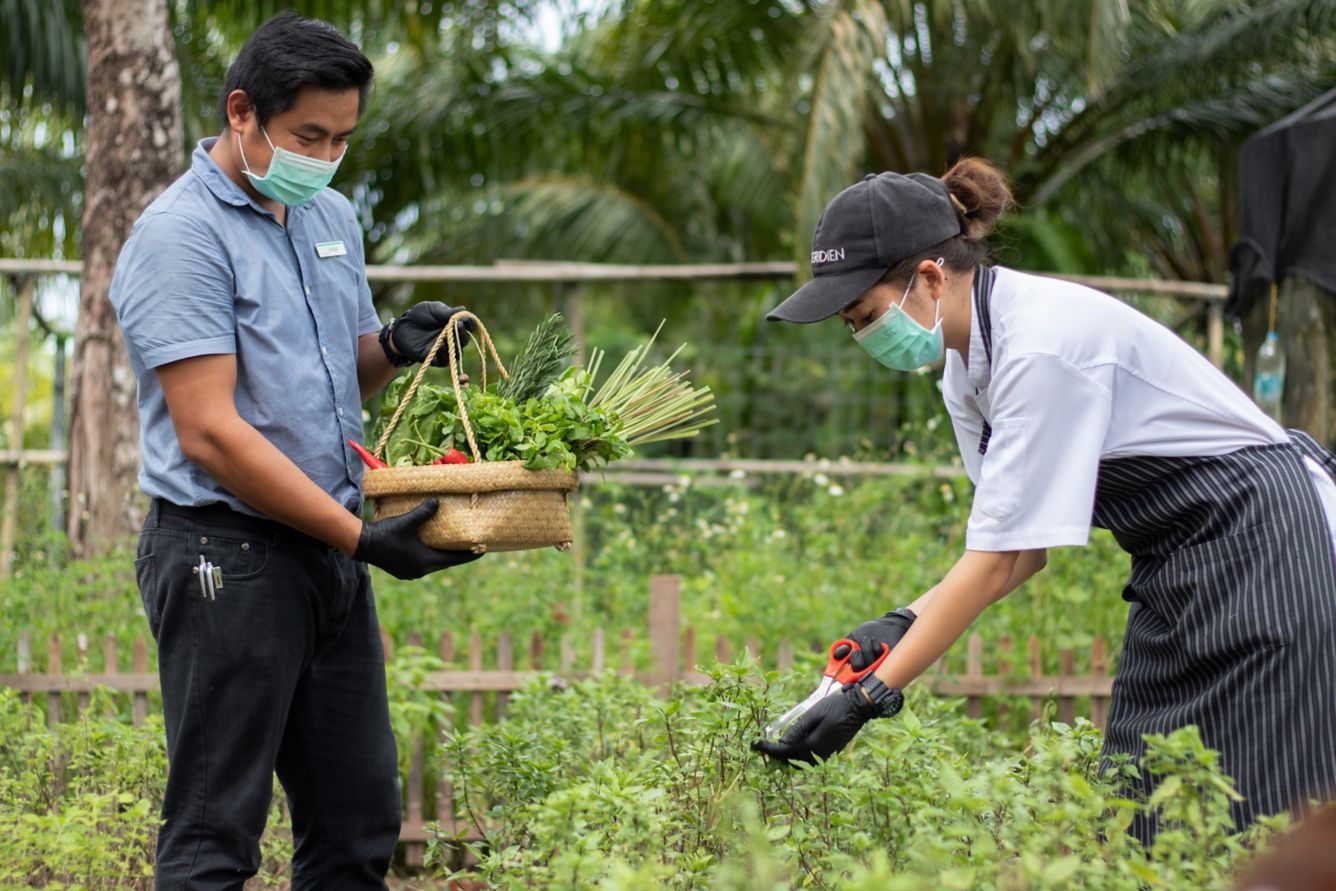 Sustainable Farming: The Impact
Sustain the Ecosystem with Sustainable Farming Practices
In collaboration with Le Ka Tak Sustainable Farm, this experience aims to help the farm continue its sustainable practices, building a positive impact on the local environment.
When agricultural operations are properly executed and sustainably managed, the health of soil and water quality can be improved. Le Ka Tak Sustainable Farm incorporates natural and sustainable farming methods to ensure that the environment is cared for and protected.

The guest experiences at the farm have a direct impact on curbing food waste, while minimizing negative impact on the environment. For example, the food scraps from the farm's kitchens are used to feed the chickens and what is left is used to make compost. The compost will be used for the gardens and part of the compost will be donated to the community.

In collaboration with the local community, Le Ka Tak Sustainable Farm hopes to build a long lasting, beneficial relationship where ideas are shared, and education is provided for a more resourceful future.