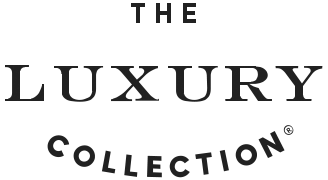 Willkommen im Excelsior Hotel Gallia, a Luxury Collection Hotel, Milan
Luxuriöses 5-Sterne-Refugium in Mailand
Das Excelsior Hotel Gallia erwartet Sie im pulsierenden Herzen Mailands, der fortschrittlichen italienischen Hauptstadt für Mode, Design, Gastronomie und Wirtschaft. Das ursprüngliche Gebäude, ein majestätisches Wahrzeichen im Art-déco-Stil an der westlichen Seite der Piazza Duca d'Aosta und direkt neben der Stazione Centrale, wurde offiziell 1932 eröffnet. Hinzu kam ein von Marco Piva entworfener moderner Turm aus Stahl und Glas. So entsteht eine einmalige Kombination, in der Vergangenheit und Gegenwart auf herausragende Weise Synergien entwickeln. Mit luxuriös eingerichteten Gästezimmern, gehobener Küche, einem erstklassigen Spa und der Nähe nicht nur zu den Sehenswürdigkeiten Mailands, sondern zu ganz Norditalien steht das Excelsior Hotel Gallia schon lange für bemerkenswerten Esprit und ein renommiertes Erbe.
Timeless Elegance
Featuring 235 luxurious guest rooms, including 53 suites, each room celebrate all that is innately desirable about the city's show-stopping design ethic, incorporating handcrafted and modern elements by local ateliers. Along with the five individually-styled suites: Executive Suites, Panoramic Suites, Signature Suites, Atelier Suites and Gallia Presidential Suite; the Katara Royal Suite is the largest suite in Italy.
More About Gallia Lounge & Bar
The grand soaring ceiling and bay windows overlooking the iconic Railway Station of Milan provides the perfect venue for guests to gather and enjoy light Italian and International meals during the day or a casual coffee or afternoon tea. The perfect location to catch up with friends for a drink or retreat to a banquet and catch up on some light reading from the impressive selection of International newspapers and magazines. The adjacent Library, Living room and Cigar Bar offer additional areas for guests to retreat and enjoy more privacy.
We Celebrate All That Is Unique
The Terrazza Bar in particular provides residents and visitors a rooftop meeting place to mingle with exceptional panoramic views over the Pirelli Tower and Grand Railway Station. Guests can enjoy the fine art of "Aperitivo", a Milanese born tradition that the Hotel Gallia takes to new heights by offering a curated selection of canapes and amuse bouche offerings to accompany every cocktail during this popular pre dinner local ritual.
Services
The extensive spa menu includes massages, facials, and Japanese bathing ceremonies comprising a Japanese foot bathing ritual, exfoliation, and a hydrotherapy bath.
Salt Cabin
The exclusive golden Himalayan Salt Cabin, featuring a relaxation area with lounge chairs, soothes respiratory and skin conditions thanks to its illuminated iodine-free wall.
Private Spa Suite
Indulge in the unique Private Spa Suite, a romantic exclusive refuge for your wellness. A haven of relaxation in an intimate atmosphere welcomes you and your best friend or loved one to a private journey of wellbeing.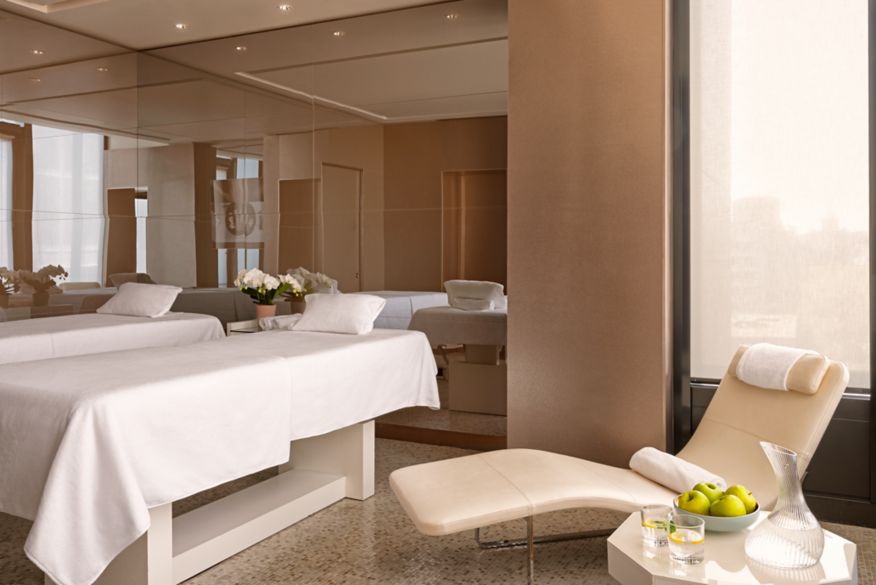 Treatment Rooms
The Spa features six individual treatment rooms, including the one inside the exclusive Private Spa Suite, that encounter the essential philosophy of Shiseido in polished wood details, neutral hues, and natural light that streams through the oversized windows.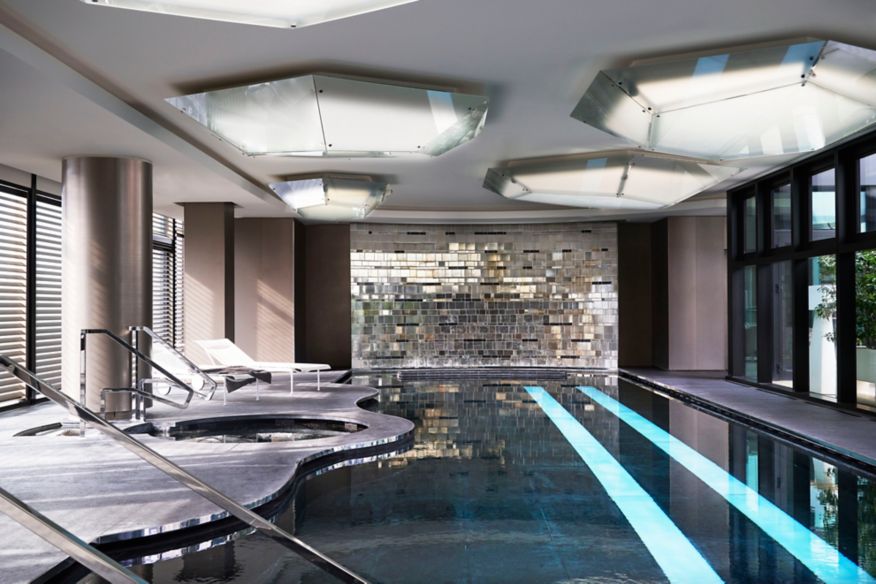 Swimming Pool
Start a new wonderful day in the Italian fashion capital with a morning swim and indulge in an invigorating moment in the Jacuzzi of our panoramic indoor swimming pool.
The Hotel of Choice in Milan
Milan is a city that stands at the forefront of fashion and design, with a vibrant energy and fascinating heritage. Excelsior Hotel Gallia's dedicated team of Luxury Collection Concierge are uniquely placed to share their extensive destination knowledge and authoritative local insight of the cultural landscape. Spanning everything from the best boutiques to exploring nearby Florence, Bergamo and Lake Como, curated rare experiences and private tours uncover the very essence of Milan, forming lasting recollections.
A Refined Heritage
Discover our hotel's storied history.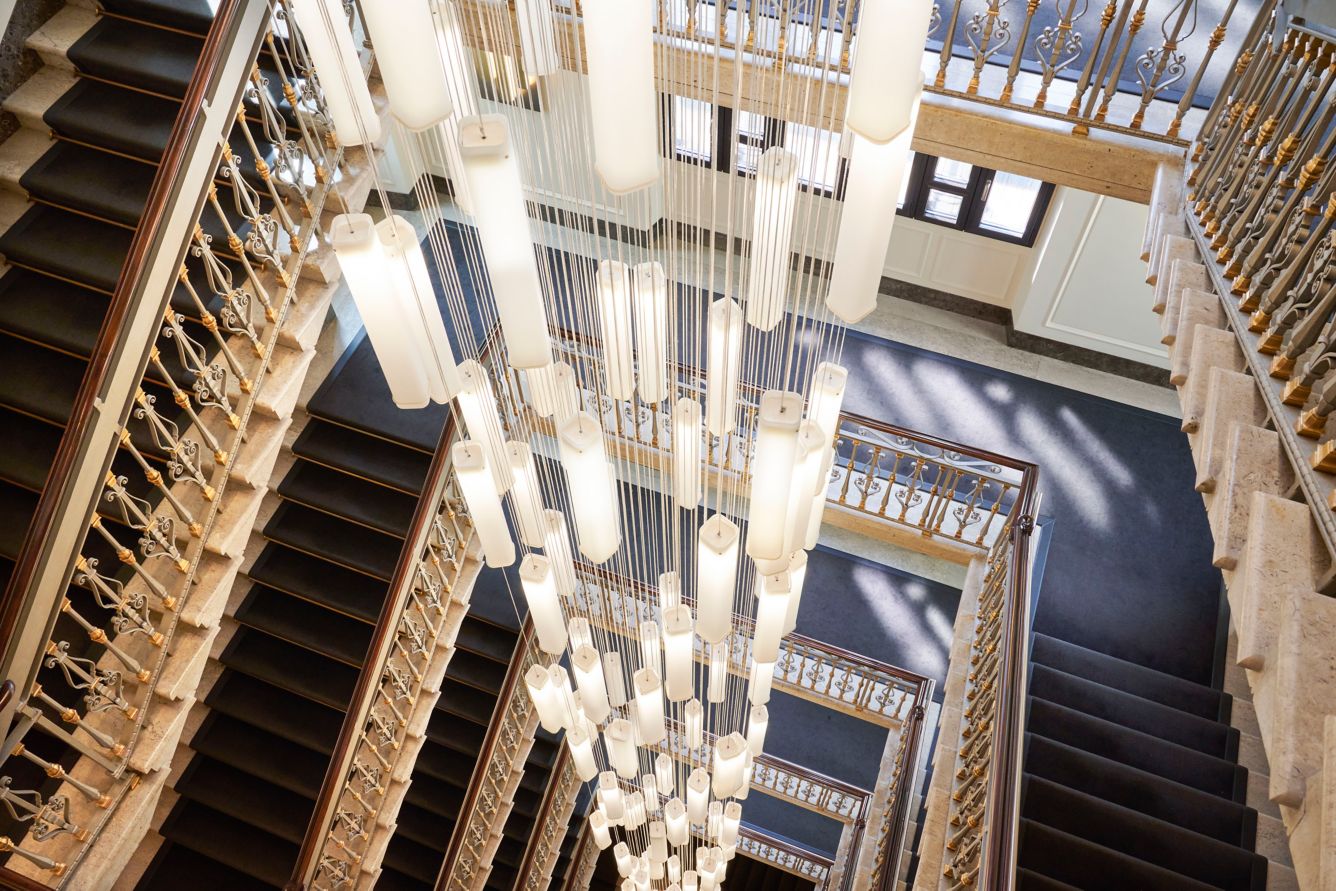 The construction of the hotel, which was designed and built by Giuseppe Laveni and Aldo Avati, was finished in 1927, when, instead of the present day Piazza Duca d'Aosta, today headquarters to the Central Station, there was simply countryside and the outskirts of Milan.
Both the hotel and the Central Station should have been inaugurated simultaneously, however delays with the monumental construction of the railway made the hotel open its doors well before. As a result, this luxurious hotel with its elegant Liberty-style facade - today still under the protection of the Italian Institute of Fine Arts - stood out in all its majestic splendour.
The designers of the hotel wrote favourably about the hotel in the Touring Club Italiano publication in 1932. This publication was the main Italian national tourist publication and was founded in 1894 with a mission to offer members a chance to explore and learn about Italy. Extract:
"Favoured by so many...and so advantageously located as to ensure that its guests could be peaceful while still having easy access to the life of the city, the hotel is as comfortable and convenient for travellers as it is for tourists and businessmen, or people who want to have a long stay in order to take advantage of all of the attractions that Milan has always offered".

The owner of the hotel, Carlo Gallia, took lavish care over all the aspects of the business because he wanted to equal the best hotels in Europe. The Duke of Bergamo called the hotel 'truly regal' and it immediately became the most prestigious location in Milan.
Carlo Gallia, at the age of only 17, left the Gallia family to learn 'the art of the guest' and remained abroad for the next 15 years. He worked in several different European countries alternating tourist resorts and cities (London, Paris, Berlin, Lucerne, Monte Carlo, St. Moritz). Once affirmed in his profession, he then founded Excelsior Hotel Gallia.

Originally built in 1932, the Excelsior Hotel Gallia, a Luxury Collection Hotel, Milan is located in the heart of this vibrant, creative city and serves as the premier threshold to new Milan. An iconic and visually distinct landmark, with its listed Liberty façade, the hotel transforms effortlessly, from historic exterior to exceptionally, chic interiors, where authentic Milanese experience and evolution meld effortlessly, alongside fashion, design and gastronomy.
Ideally situated less than an hour from Milan airport and just minutes' walk from La Scala Opera House and the ancient 15th-century Sforzesco Castle, the hotel is also supremely positioned moments from the fashion district that forms such an innate part of its ultra-stylish character. A stunning architectural feature, with impressive domed roof, the sleek, attention-grabbing interiors and modern new wing have been cleverly styled by local designer, Marco Piva, offering fresh, contemporary detailing, offset by timeless Milanese artisanal pieces and covetable Italian furnishings.
Excelsior Hotel Gallia exemplifies all that is special about Milan and its dynamic creative legacy. An established landmark in the center of the city, the hotel has a rich ancestry that combines fluently with a contemporary design that is seductively Milanese and demands undivided attention, reflecting the flair and finesse of this exceptional destination.
Elegant Details
A refined ambience where the extensive architecture and interior design marries contemporary aesthetics with the hotel's original Belle Époque architectural style.
Designer Furniture
All of the hotel's elegant furniture is Made in Italy, with several pieces that were made in collaboration with artisans and designers of Milan. Discover our unique collection of more than 500 art pieces designed by Studio Marco Piva exclusively for Excelsior Hotel Gallia, including paintings, sculptures and pictures.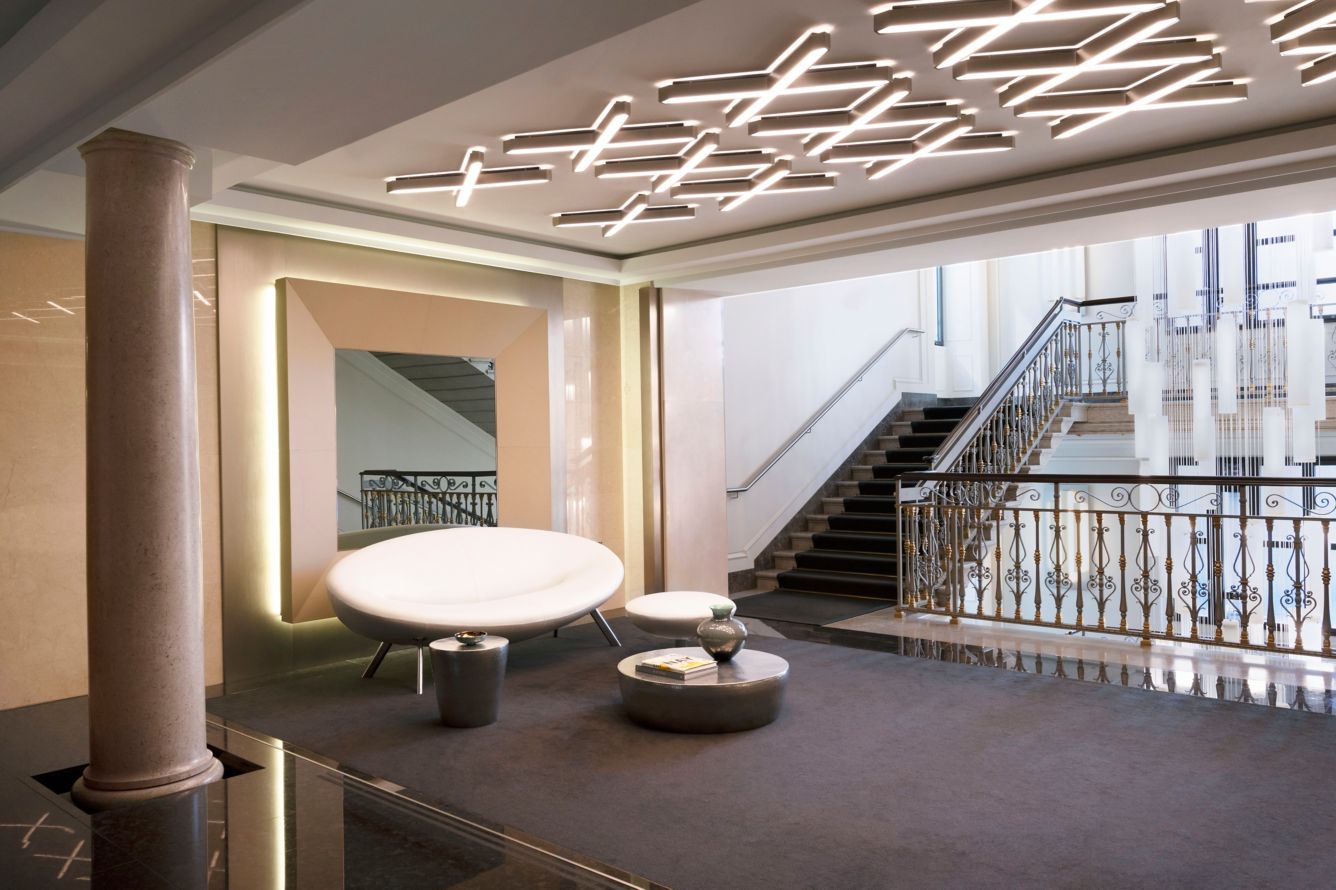 One of Italy's luxury furniture makers, Poltrona Frau, created beautiful custom pieces for all guestrooms. Cassina has also played a role in fitting out rooms and the hotel corridors. The stunning table lamps located in the rooms has been designed by Luceplan, while Fendi Casa was selected for the many others among the most prestigious areas of the hotel.

Light dominates the spaces throughout the hotel through a play between natural and artificial lights, bringing to life its glittering style.
An extensive selection of bespoke design lighting can be admired throughout the hotel. Zonca Illuminazione, Fabbian and La Murrina have created collections for the rooms and suites and De Majo has produced the staggering 30m Murano glass staircase chandelier which produces a waterfall of lights spanning all floors of the hotel.
Alongside the magnificent, iconic Katara and Gallia suites, the hotel offers an outstanding selection of 51 suites divided over several suite categories. Atelier suites have been designed to recall the mood of creative workshops and Signature suites have been conceived as art galleries with theatrical use of illumination, colors and artwork.
Panoramic suites feature a spectacular large sliding panel with beautiful photos of the historic hotel façade. Executive suites are particularly suitable for today's business travelers.
Terrazza Gallia has been fitted out in the finest detail by B&B Italia. From the bar counter - a stand-out piece created from melted aluminium - guests may walk out onto the terrace to admire the elegant design of Fendi Outdoor, Knoll and Varaschin, overlooking the Milanese skyline.
The restaurant has been created as a theater. Food is the main character surrounded by black, matched with bronzed steel which recalls the Art Déco style of the hotel. Admire chandeliers from La Murrina and the Tattoo lamp by architect Marco Piva showing a dramatic play on light.
B&B Italia focused on fitting public spaces using various special materials such as aluminium, glass and marble. This included the expansive 3000 square meters of brown antique granite with silver accent paving the floor of the lobby areas. The lobby pays tribute to outstanding Milanese architectures of the 30s such as La Scala Theatre and the Galleria Vittorio Emanuele.

Our Commitment to Environmental Practices
Join us on our Green Journey. Since 2009, Excelsior Hotel Gallia, together with its associates, has been committed to social responsibility and environmentally friendly initiatives to involve not only our processes, procedures and business decisions but also our guests and employees.
Average consumption rate of our guests p/night:
Water: 73.2 Gallons = 596 cups
Electricity: 0.19 KWH = amount of energy needed by a star-rated laptop to run for 10 hours
Natural gas: 25,000 btu = energy to heat a 400 square foot room at 70°F for 4 hours with 10°F outside
Pillars of our commitment to sustainability:
Energy and water conservation
Waste minimization
Indoor environmental quality
Awareness and engagement
Sustainable meeting practices
We are involved in many global social responsability programs and institutions:
Better World
Check Out for Children
Clean The World
Coca-Cola Sustainability Partnership
A green complimentary service:
Connect your smartphone or tablet to the hotel Wi-Fi
Download the latest version of Pressreader app
Pick your favourite magazine or newspaper
Enjoy reading it.
25% less by 2020
Our 30/20 by 20 strategy aims to reduce dramatically consumptions within 2020:
30% energy consumption and 20% water consumption

You as our guests represent a fundamental pillar for the success of this ambitious plan. Be aware that your contribution and your daily actions can make the difference to ensure a better tomorrow.

Hotel Awards
Our hotel is the proud recipient of several prestigious awards. Discover our hotel awards at Excelsior Hotel Gallia.
Gambero Rosso for Ristoranti D'Italia 2022: Terrazza Gallia confirms the two forks
L'Espresso Italy Guide for 2021: Three Hats for Terrazza Gallia
Gambero Rosso for Ristoranti D'Italia 2021: Terrazza Gallia awarded with two forks
2021 World Luxury Hotel and Spa Awards:
Excelsior Hotel Gallia, a Luxury Collection Hotel, Milan– Luxury City Hotel– Italy (Country)
SHISEIDO SPA Milan– Luxury Fitness Spa– Europe (Continent)
Europe's Leading Hotel Suite 2021: Katara Royal Suite at Excelsior Hotel Gallia, a Luxury Collection Hotel, Milan, Italy
Italy's Leading Hotel Suite 2021: Katara Royal Suite at Excelsior Hotel Gallia, a Luxury Collection Hotel, Milan
Gambero Rosso Milan Guide for 2020: Two Forks 85/100 points for Terrazza Gallia
Forbes Travel Guide: Four Stars for 2020
L'Espresso Italy Guide for 2020: Two Hats for Terrazza Gallia
Identità Golose Guide for 2020: Excellence in service and hospitality for Terrazza Gallia
World Luxury Spa Awards: Shiseido Spa Milan as Global Win in Luxury Fitness Spa
World Travel Awards: Katara Royal Suite as Europe's Leading Hotel Suite 2020
World Travel Awards: Katara Royal Suite as Italy's Leading Hotel Suite 2020
Gambero Rosso for Ristoranti D'Italia 2021: Terrazza Gallia awarded with two forks
Exceptional Deliveries
For a truly unique experience, send a meaningful amenity gift to a guest or to yourself during or in advance of an upcoming stay. From a fresh bouquet of flowers to a personalized cake for a special celebration, deliver a memorable amenity to be enjoyed within the comforts of our rooms and suites. You may conveniently pay by credit card or, as a guest in the hotel, charge this item to your room.
Unser Standort
ANREISE
Excelsior Hotel Gallia, a Luxury Collection Hotel, Milan
Piazza Duca d'Aosta 9, Milan, Italien, 20124
Tel: +39 02-67851
Alternative Flughafentransfers
Transferservice in der Privatlimousine – bezahlter Service auf Anfrage; Gebühr 275 EUR (einfache Fahrt); auf Anfrage
Alternative Flughafentransfers
Transferservice in der Privatlimousine – bezahlter Service auf Anfrage; Gebühr 275 EUR (einfache Fahrt); auf Anfrage
Alternative Flughafentransfers
Transferservice in der Privatlimousine – bezahlter Service auf Anfrage; Gebühr 275 EUR (einfache Fahrt); auf Anfrage
Im Hotel
Lokale Shuttles Complimentary
In der Nähe
Bushaltestelle
Orio Shuttle Bus Station
Malpensa Shuttle Bus Station
U-Bahn-Station
Centrale FS
Bahnhof
Stazione Centrale
Hotel-Details
24-Stunden Zimmerservice
Tägliche Reinigung
Turndown-Service
Chemische Reinigung
Wäscherei
Zimmerservice
Weckrufe
Service-Anforderung
Check-in: 3:00 pm
Check-out (Auschecken): 12:00 pm
Richtlinien für Haustiere
Haustiere willkommen.
Kleine Haustiere gestattet (kostenlos)
Haustier-Höchstgewicht: 39kg
Maximale Anzahl von Haustieren im Zimmer: 1
Parken
Parken auf dem Gelände
Täglich: €50
Parken außerhalb des Geländes
International Parking (Via Luigi Galvani, 12) .6 Meilen
Langzeit-Parkplätze
Informationen zu weiteren Parkmöglichkeiten
Parkgebühr für externe Gäste: 10 EUR für die ersten zwei Stunden, danach 3,50 EUR für jede weitere Stunde Reservierung empfohlen.
Richtlinien und Zahlungen
Akzeptiert: Bargeld, Kreditkarten
Services
Aufzüge vorhanden
Babysitting
Concierge-Service
Von Mitarbeitern gesprochene Sprachen:
Italienisch, Englisch, Deutsch, Französisch, Arabisch
Detailliertere Informationen zur Ausstattung unserer barrierefreien Zimmer und öffentlichen Bereiche oder zu speziellen Services im Zusammenhang mit einer bestimmten Einschränkung erfragen Sie bitte telefonisch unter der Nummer +39 02-67851
Barrierefreie Hoteleinrichtungen
Aufzüge vorhanden
Barrierefreie Lieferwagen-Parkplätze vor Ort
Barrierefreie Parkmöglichkeiten vor Ort
Begleithunde willkommen
Parkservice für Fahrzeuge, die für Fahrer mit Rollstuhl ausgestattet sind
Barrierefreie Bereiche mit barrierefreiem Zugang vom Haupteingang aus
Conference centre main entrance is accessible via conference centre entrance, that is connected to the main one by dedicated elevator.
Eingang zum hauseigenen Business Center ist zugänglich
Eingang zum hauseigenen Fitnesscenter ist barrierefrei
Eingang zum hauseigenen Spa ist barrierefrei
Meetingräume sind barrierefrei
Restaurants vor Ort sind barrierefrei
Zugang zu Zimmern und Suiten über innengelegenen Korridor
Barrierefreier Zugang zu Gästezimmer
Badewannenstuhl
Barrierefreie Zimmer
Barrierefreie Zimmer und/oder Kits für Hörgeschädigte
Dusche mit abnehmbarem, höhenverstellbarem Duschkopf
Elektronischer Zimmerschlüssel
Haltegriffe für die Badewanne
Hebelgriffe an den Türen des Gästezimmers
Niedriger angebrachte Steckdosen
Riegel an den Türen der Gästezimmer und Suiten
Rollstuhlgerechte Dusche
Rutschfeste Haltegriffe im Badezimmer
Selbstschließende Türen der Gästezimmer und Suiten
Sichtfenster in den Türen der Gästezimmer und Suiten
Telefonischer Weckdienst
Transferduschen in den Gästezimmern
WC-Sitz in Rollstuhlhöhe — barrierefreie Toilette
Zimmerfenster geöffnet
Zugängliche Waschtische
Zweitschlösser an den Zimmerfenstern