Bienvenue dans l'établissement W South Beach
Un nouveau chapitre dans le monde du luxe
Après une rénovation des chambres qui aura coûté 30 millions de dollars, nous sommes fiers de vous dévoiler le nouveau W South Beach. Inspirée de l'évolution de Miami Beach en une véritable « American Riviera », chacune de nos chambres repensées avec soin dégage un sentiment de calme et de luxe empreint de décontraction. Seul hôtel de Miami Beach offrant une vue panoramique sur la mer et disposant de grands balcons, notre établissement vous invite à profiter d'un véritable havre de paix dans nos chambres baignées de lumière et nos salles de bain dignes d'un spa. Situés le long du rivage de sable blanc bordé d'eaux cristallines, nous sommes à proximité du centre de Miami, une ville réputée pour son melting pot et son énergie. Découvrez des galeries d'art renommées, des musées, des parcs et les hauts lieux de la vie nocturne, sans oublier une impressionnante scène culinaire. Promenez-vous sur notre plage immaculée, admirez le coucher du soleil, rafraîchissez-vous sur la terrasse WET ou tentez quelques tirs sur nos terrains de basket et de tennis en rooftop. Faites de votre dîner une expérience immersive au très apprécié restaurant Mr. Chow, ou découvrez les saveurs toscanes dans notre restaurant RWSB. Notre bar Living Room, Irma's et notre bar-restaurant-grill WET vous permettront de vous imprégner de la culture locale de Miami.
In the Heart of South Beach Miami
Enjoy the Suite Life
Escape to your luxury oceanfront studio or suite, where iconic design and mesmerizing Miami Beach views set the stage for an unforgettable experience.
South Beach Resort
Luxury Reinvented
Daring, glam and provocative, our luxury oceanfront hotel reinvents resort aesthetic with pampering service at our outdoor pool, WET®.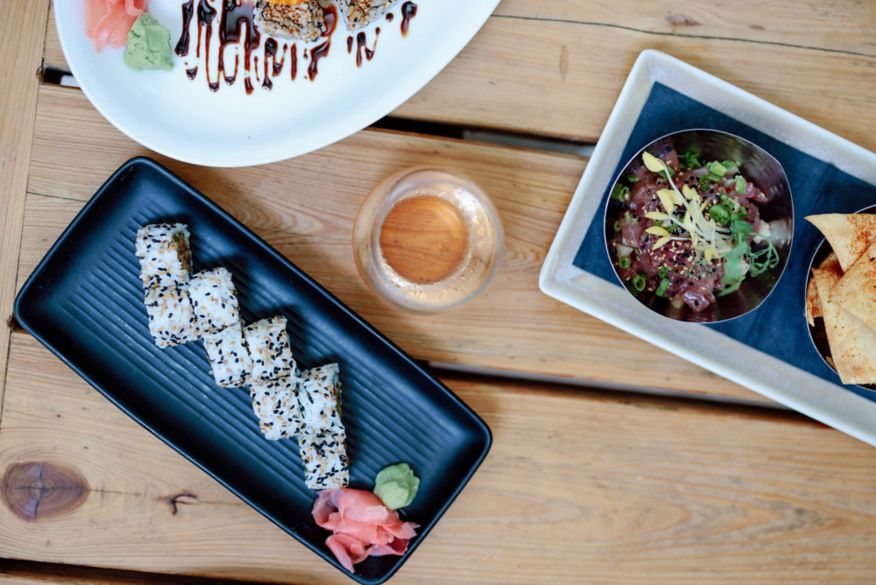 Art of Sushi Making
Learn the art, craft, and basic techniques of sushi making led with a hands-on class with Chef Ramon Arocha.
Shake it Up
Perfect your craft with a hands-on, interactive cocktail making class led by W South Beach seasoned mixologist Alex Mogilany.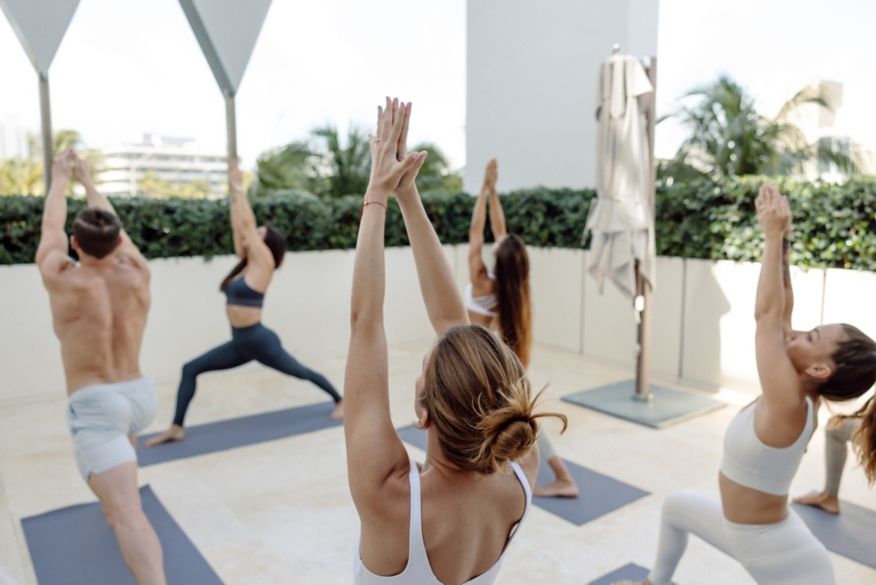 Beach Yoga
Join this transformative pathway to a stronger body and calmer mind with W South Beach's wellness partner, Ahana Yoga. This group class incorporates gentle movement sequences and guided meditation to increase awareness and mindfulness.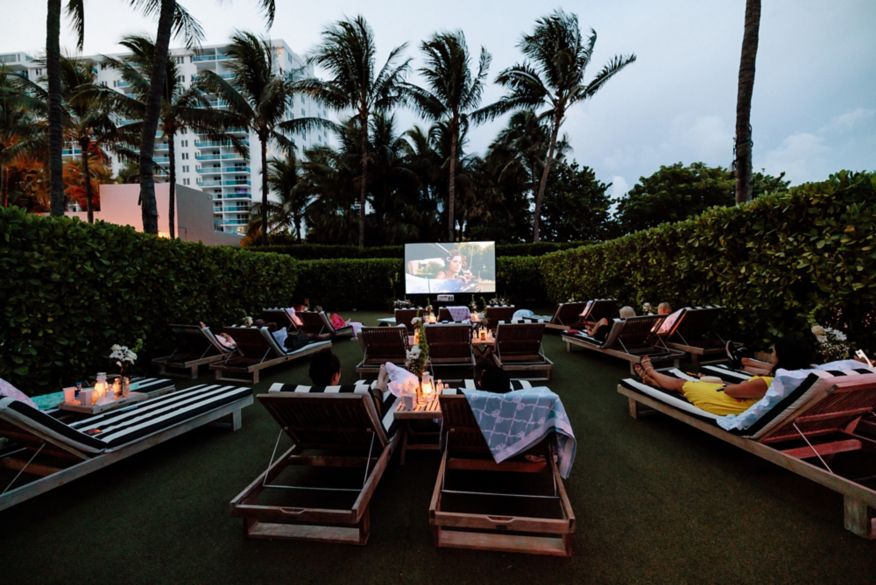 Screening on the Green
Join us for the ultimate outdoor movie experience under the stars.
The Bass Museum
Enjoy a private tour exploring Miami Beach's best contemporary art museum, conveniently located across the street from W South Beach.
Your Whatever/Whenever® Service
Insider Access
We'll turn dreams into reality at the touch of a button. Really! The sky isn't even the limit. Just tell us what you want. We'll deliver it. At W South Beach, we really mean that. Seafood craving at 3 a.m.? Private floatplane tours of the Everglades? Just push the WHATEVER/WHENEVER® button on your phone and we will deliver whatever you desire directly to your guest room. We don't even need a magic wand-just the creativity and innovation of the W team. Fees vary by service requested. Contact us for details. Contact us: 305 938 3000
P.A.W--Pets
Luxury For You and Your Pets
Bring your favorite furry companion with you when you stay at our oceanfront resort with P.A.W--Pets are Welcome.
Don't leave Fido behind on your Miami visit. At W South Beach, we think your pet deserves some special pampering. Our Pets Are Welcome (PAW) program* is custom-designed to treat four-legged guests to the same level of luxurious service as their masters. Upon check-in at the hotel, you'll receive the following pet-friendly amenities:

A pet toy, pet treat, W Hotels pet tag, clean-up bags and details about our Whatever/Whenever® pet services

An exclusive W Hotels pet bed, food and water bowl with floor mat, and a 'pet in room' door sign. A special treat at turndown will ensure your furry companion is in the lap of luxury.

*Please be advised that the room rate with a pet is $25 above the room charge, plus a nonrefundable $100 cleaning fee. We allow one pet per room, weighing no more than 40 pounds.

We'll even enhance their stay with the following amenities:
Pet Welcome Kit
Custom Pet Bed
Food and Water Bowls with Floor Mat
Pet Toy
Litter Box
Litter and Scoop (For Cats)
Turndown Treat
Clean-Up bags
Dog-Walking Service
"Dog In Room" Door Sign
While we welcome your pet, please note that a 25 USD supplementary room charge and 100 USD non-refundable cleaning fee will apply.
Business Meets Pleasure at our South Beach Resort
Stay Wired
All Marriott Bonvoy Members enjoy free internet when booking direct, while our WIRED Business Center makes it easy to conduct business in Miami Beach.
Mixing business with pleasure? Our WIRED Business Center offers a range of secretarial and technical services for every function imaginable.

Amply outfitted with workstations, laptops, printers, scanners, fax machines, audio/visual and telecommunications equipment, High Speed Internet Access and more, our WIRED Business Center is your office away from office. We'll also print your boarding pass as a complimentary service or accept incoming faxes on behalf of hotel guests for a $1 per-page fee. What else can we do for you? Anything. Just ask.
The WIRED Business Center is available with key access.
Available services and amenities include:
Workstations
Laptops
Printers
Scanners
Fax Machines
Audio/Visual Equipment
Telecommunications Equipment
High Speed Internet Access
Sending Thoughtful Amenity Gifts
Quick and Easy
Whether you're sending a sweet treat to a guest or you're rewarding yourself for staying in our Miami Beach Resort, we've got you covered…just ask.
Notre emplacement
COMMENT S'Y RENDRE
W South Beach
2201 Collins Avenue, Miami Beach, Floride, États-Unis, 33139
Tel: +1 305-938-3000
WHEELS(SM) Valet Parking
Our valet service WHEELS features 24-hour on-site valet covered garage parking at $49 overnight + tax. Daily visitor parking is $25 (including Living Room Bar). Validated parking is available for Mr Chow and RWSB for $20. AWAY Spa valet is complimentary with an appointment. Please note oversized vehicles will have an additional $12 fee. Front Drive/ramp parking is available for $100 per day.
Détails de l'établissement
Service de couverture
Location de vélo:$35
Location de véhicules nautiques
Service de nettoyage à sec
Service de chambre
Service de réveil
Café / thé gratuit
Demande de service
Enregistrement: 4:00 pm
Parti: 11:00 am
Propriété non-fumeur
Politique relative aux animaux de compagnie
Animaux de compagnie admis.
Les animaux de compagnie de moins de 18 kg sont acceptés pour un supplément non remboursable de 100 USD par chambre et par séjour.
Supplément non remboursable pour les animaux de compagnie Per Stay: $100
Poids maximal autorisé pour les animaux de compagnie: 40livres
Stationnement en dehors de l'hôtel
Pulblic Parking lot .1 Miles
Le stationnement
Voiturier
Chaque jour: $55
Bornes de recharge pour voitures électriques
Règlements et paiements
Accepte: Le paiement en liquide, Cartes bancaires
partagés
Change de devises
L'établissement dispose d'ascenseurs
Service de conciergerie
Langues parlées par le personnel:
Français, Espagnol
Pour en savoir plus sur les caractéristiques de nos chambres et espaces communs accessibles aux personnes à mobilité réduite mais aussi sur les services spéciaux liés à un handicap particulier, veuillez nous contacter +1 305-938-3000
Installations de l'hôtel pour les personnes à mobilité réduite :
Ascenseur autonome ou pente d'accès dans les piscines de l'hôtel
L'établissement dispose d'ascenseurs
Les animaux d'aide aux personnes handicapées sont les bienvenus
Espaces accessibles aux personnes à mobilité réduite depuis l'entrée
Chambres et suites accessibles via le couloir intérieur
Les restaurants sur place sont accessibles aux personnes à mobilité réduite
L'entrée du spa sur place est accessible aux personnes à mobilité réduite
L'entrée principale est accessible aux personnes à mobilité réduite
Accessibilité des chambres
Avertisseur visuel lorsque quelqu'un frappe à la porte
Baignoire avec barres d'appui
Barres d'appui antidérapantes dans la salle de bain
Chambres accessible aux personnes à mobilité réduite
Chambres accessibles aux personnes sourdes et malentendantes et/ou kits pour personnes sourdes et malentendantes
Chaînes et/ou loquets de sécurité sur les portes des chambres
Clé de chambre électronique
Compatible avec les appareils de télécommunications pour personnes sourdes et muettes
Douche accessible en fauteuil roulant
Douches avec banc de transfert dans les chambres
Douchette ajustable en hauteur
Judas abaissés sur les portes des chambres
Judas sur les portes des chambres et des suites
Les clients séjournant dans des chambres accessibles aux personnes à mobilité réduite peuvent se renseigner sur l'abaissement de la hauteur du lit.
Les fenêtres des chambres peuvent s'ouvrir
Meubles de toilette accessibles aux personnes à mobilité réduite
Poignées-béquilles sur les portes des chambres
Portes à fermeture automatique dans les chambres et les suites
Prises électriques abaissées
Programmes de télévision sous-titrés
Siège de baignoire
Siège de toilette à hauteur de fauteuil roulant - Toilettes accessibles aux personnes à mobilité réduite
Système de réveil avec sonnerie du téléphone
Système de verrouillage abaissé sur les portes des chambres
Verrouillage secondaire sur les fenêtres des chambres
Verrous de sûreté abaissés sur les portes des chambres
Verrous de sûreté sur les portes des chambres et des suites