ルメリディアン・ニースへようこそ
コートダジュールのライフスタイルを満喫できるニース中心部のホテル
有名なプロムナード デ ザングレ沿いにあり、理想的な立地のルメリディアン・ニースでは、シックでコンテンポラリーな雰囲気と地中海の素晴らしい景色をお楽しみいただけます。屋上レストラン、屋外温水プール、フィットネスセンター、無料Wi-Fiを備えた当ホテルでのひとときをご満喫ください。
Destination-Inspired Design
Featuring modern interiors with a mid-century aesthetic, each guest room and suite has been fashioned to reveal a new perspective on the Côte d'Azur. Sandy tones, asymmetric furniture, leather braiding, wicker, raffia and driftwood all add a sense of place. Each Suite, alongside Executive and Deluxe Rooms, offer exhilarating sea views.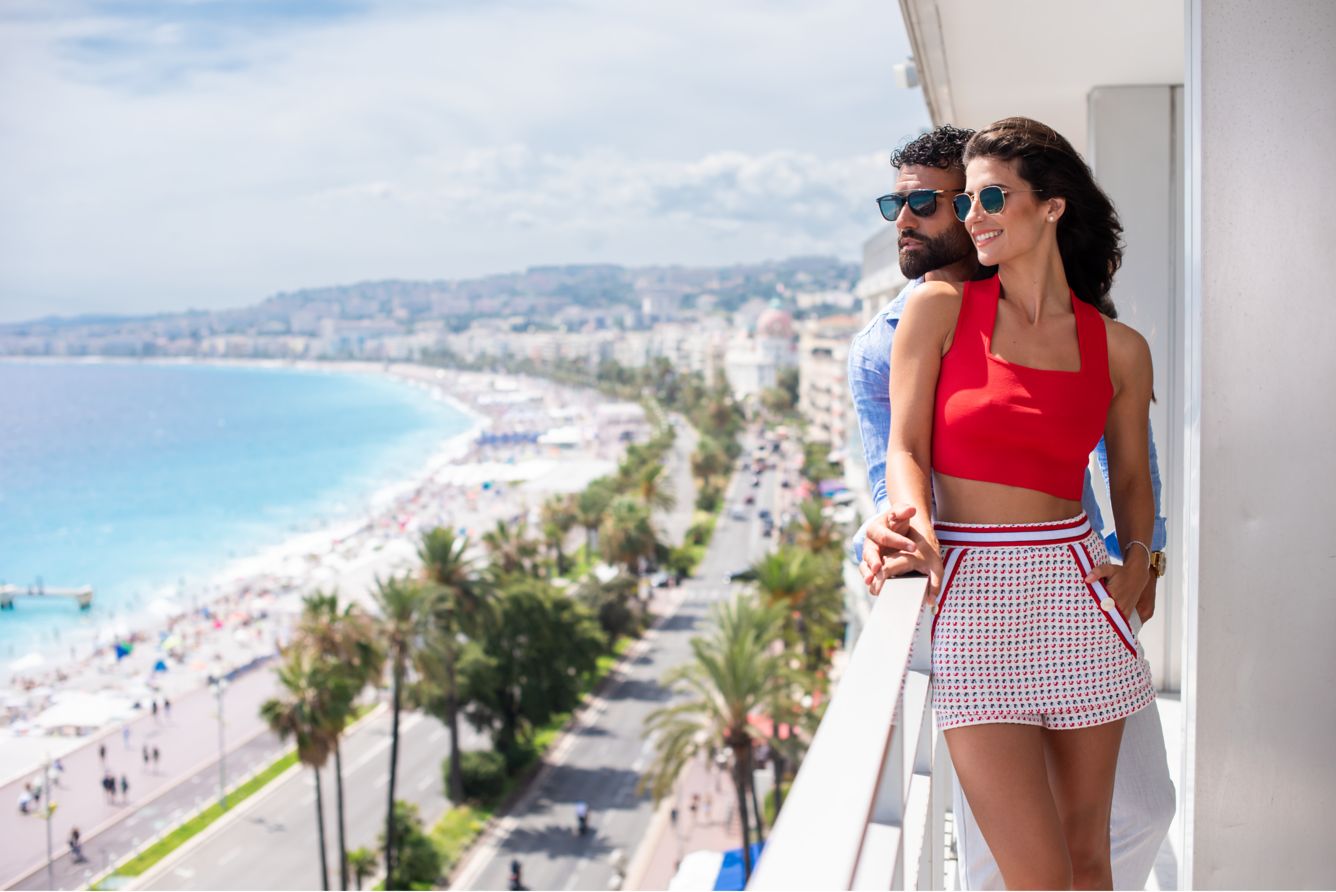 Panoramic Suite
Elevated to expand horizons, the Panoramic Suite is a one-of-a-kind accommodation that combines uncompromising comfort with outstanding views. A stylish juxtaposition of sleek lines and organic shapes, creates a desirable open-plan footprint. Step outside to experience the pièce de résistance, a spacious corner terrace where teak loungers overlook the extraordinary seascape.
Deluxe Guest Room - Sea View
Inspired by the destination and its unmatched views, Deluxe Sea View Rooms enrich classic French Riviera style with mid-century modern flair. A soft colour palette of Mediterranean blue and sandy tones, combines with natural materials and organic shapes to bring prime comfort. Overlooking the rich hues of the sea, oversized windows offer a unique South of France perspective.
Deluxe Guest Room - Garden View
Enriched with the latest design, Deluxe Garden and Sea View Rooms overlook the lush Mediterranean landscape. Styled to reflect the essence of the location, each space provides scaled-back design that strikes an inspired balance between cool, neutral tones and warm comfort. Floor-to-ceiling windows look out onto the sun-drenched South of France and fill the space with natural light.
A View on Relaxation
Experience stimulating sea views from a new aspect at Le Méridien Nice. Our prime location reveals panoramic vistas from every angle, even the bathtub in one of our Junior Suites.
La Vie en Terrasse
Discover the perfect spot to sit back with a chilled glass of rosé under the hot Côte d'Azur sun. Whether it's a guest room or suite with private terrace or our outdoor dining venue, La Terrasse, we curate the ideal environment for soaking up the extraordinary vista.
Presidential Suite Terrace
Offering the largest private terrace in the hotel, the Presidential Suite presents the crème de la crème of alfresco living. Furnished with teak dining table and loungers, the outdoor setting overlooks the chic Promenade des Anglais and azure Mediterranean Sea.
Junior Suite Sea View Terrace
Perfect for soaking up the sights and sounds of the French Riviera, each Junior Suite Sea View Terrace comes with a spacious outdoor area. Overlooking the magnificent Mediterranean Sea, this sun-soaked set up is stylishly furnished with dining table and comfortable sun loungers.
Junior Suite Garden View Terrace
Looking out across sun-drenched Mediterranean gardens and the cosmopolitan city of Nice, each Junior Suite Garden and Sea View Terrace is the epitome of French Riviera living. Appointed with a luxurious selection of teak furniture, this relaxing spot is unmistakably chic.
Live View of the Promenade des Anglais and the Mediterranean Sea
Discover a live view from our hotel that mesmerizes your senses and transports you to a world of beauty and tranquility. You can gaze out at the sparkling waters of the Mediterranean Sea, watch the sailboats drift by, imagine the soothing sound of waves lapping against the shore and watch people strolling along the picturesque Promenade des Anglais.
Madagascar Jumbo Shrimps Salad
Cosy Vibes in Latitude
For those looking to unlock life's pleasures, it is the place to linger over cocktails, enjoy Chef's sharing plates and take in live music by a host of talented artists.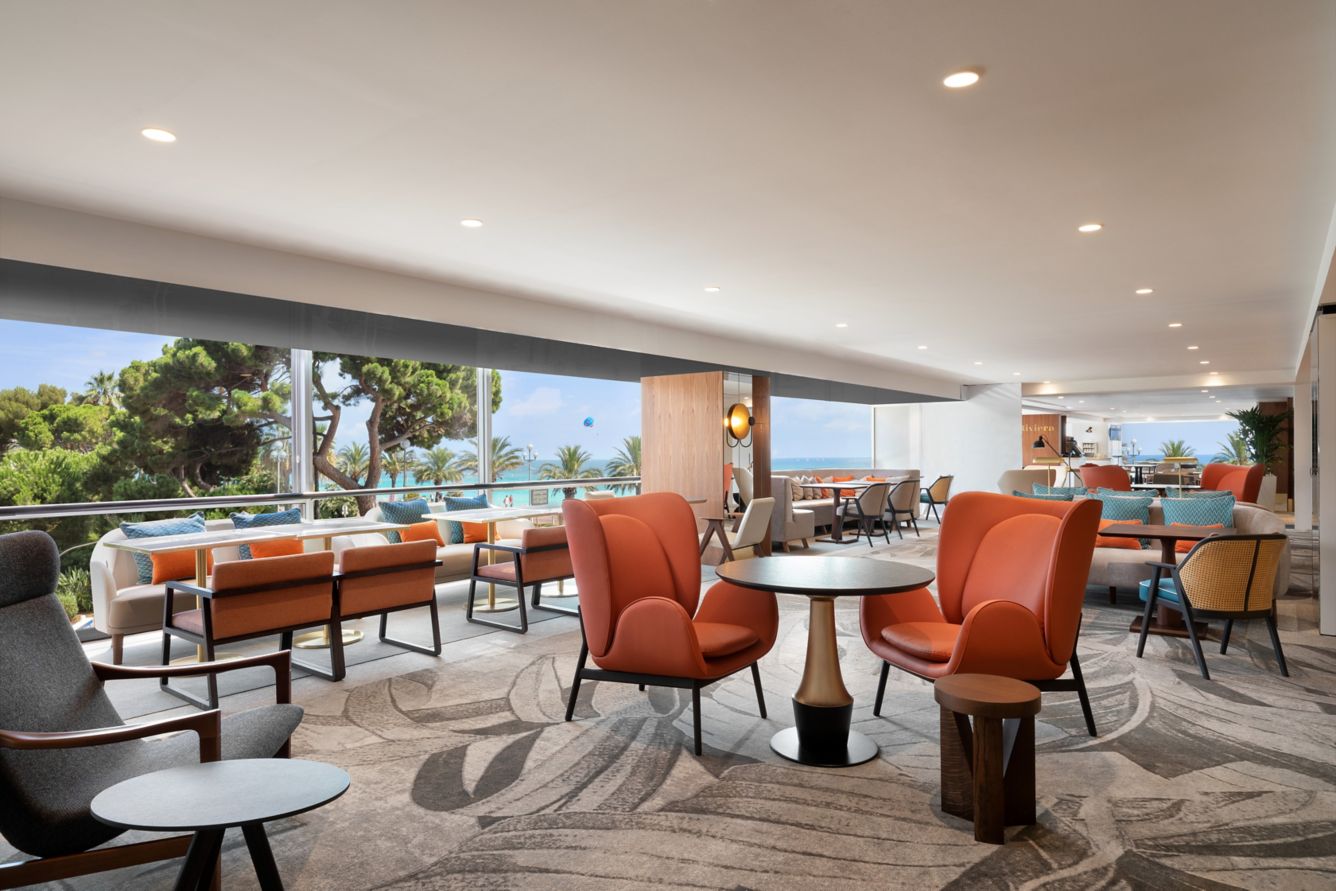 Creative Meetings
Discover an innovative offering where local details are expertly curated to stimulate inspiration and pique curiosity.
Conference Centre
Arranged to flow across one floor, our 1,000m2 Conference Centre presents a range of adaptable spaces.
Vallauris
Furnished in neutral tones, spacious Vallauris has a flexible 500m2 footprint. Offering three different entrances and full accessibility, the pillar-free floor plan can be adapted to suit a wide array of setups, including cabaret and banquet
Vence
Flooded with natural light and overlooking landscaped gardens, Vence is the perfect boardroom set up for creative gatherings.
Locally Inspired Lunch
Discover one of Nice's most delicious specialities – Pan Bagnat is the perfect lunchtime snack.
Savour the Côte d'Azur Lifestyle
Explore the cosmopolitan city of Nice, where beach, mountains and culture converge. Renowned for its rich variety, the French Riviera is a captivating destination, steeped in glamour.
Learn More
Unlock the Heart of Nice
Enjoy an unforgettable French Riviera escape. Curated as a journey through the city's star attractions and local gems, our team have created a unique map to unlock the destination. Pick up a copy at reception or download on a smartphone to discover everything from chic restaurants and instagrammable viewpoints, to family-friendly events, the best spots for socca flatbread and handmade gelato.
Learn More
Take a Dip in the Heated Rooftop Pool
One of the city's most captivating venues. The rooftop swimming pool at Le Méridien Nice is a year-round destination with the Mediterranean Sea as an iconic backdrop. Relax poolside, soak up the sun and be inspired by sweeping views of the Baie des Anges.
Spa Le Méridien Nice
Be uplifted by the immersive environment of Spa Le Méridien Nice. An inspired escape, this intimate ninth-floor setting is where a curated menu of treatments fuel relaxation and rejuvenation. Step into the Hammam and inhale calming eucalyptus scents or unwind in the double balneo-therapy hot tub. It's the perfect space to enjoy indulgent downtime.
A Committed And Sustainable Hotel
Since 2010, Le Méridien Nice has been committed to a social and environmental approach. We strive to reduce our carbon footprint through sustainable measures. Our actions are deployed in different areas such as: energy and water management, lighting, ethical and qualitative purchasing, and green meetings. A global awareness is raised among our associates, guests and clients.
Since 2012, Le Méridien Nice has successfully renewed, each year, its "Green Key" label, rewarding our commitment to sustainable development (100% of the mandatory criteria have been met).
Our Social Commitment
Le Méridien Nice supports local charity organizations with donations of supplies, food, and clothing: La Croix Rouge, MIR, Le Samu Social, Les Pupilles des Pompiers, EFS, Des étoiles et des femmes, ADAPEI-AM, Lunettes sans frontière, Handicap International, Le Centre Antoine Lacassagne. Furthermore, after lockdown due to the COVID-19, we offered more than 60 stays to healthcare workers.
Our Actions Against Food Waste
The fight against food waste is more than ever a major issue in our society. Le Méridien Nice has signed a partnership with Too Good To Go - a mobile app that offers its users the opportunity to recover unsold fresh produce from local restaurants. You can now order your surprise gourmet box, cooked by our Chef Eric Brujan, for 6,99€ (worth 20€).
Our Environmental Commitment
Our actions are multiple: Participation each year in the global actions '60 Earth Hour' by the WWF; Reduction of individual packaging; Cleaning of riversides & more. In this way, we recently launched an electric scooter and bicycle service at the hotel entrance. Discover the Promenade des Anglais, right down to the Old Nice, via the famous "coulée verte" in an eco-friendly way! Rates: 30 cts a minute; 55€ a day.
ロケーション
アクセス
ルメリディアン・ニース
フランス, Nice, 1 Promenade des Anglais
電話: +33 4-97034444
施設内
施設内レンタカーサービス
Sixt
近隣
地下鉄駅
Jean Medecin Tramway station (Airport direction)
鉄道駅
Le Méridien Hub
An inspired reworking of the traditional hotel lobby, Le Méridien Hub is a crafted space, designed to engage creatives. Overlooking the Mediterranean Sea, this unique backdrop is where guests gather and connect in an open plan setting, combining Reception, co-working space and bar. By day, Baristas brew artisanal coffees, in the evening, sparkling aperitifs influence the cosmopolitan ambiance.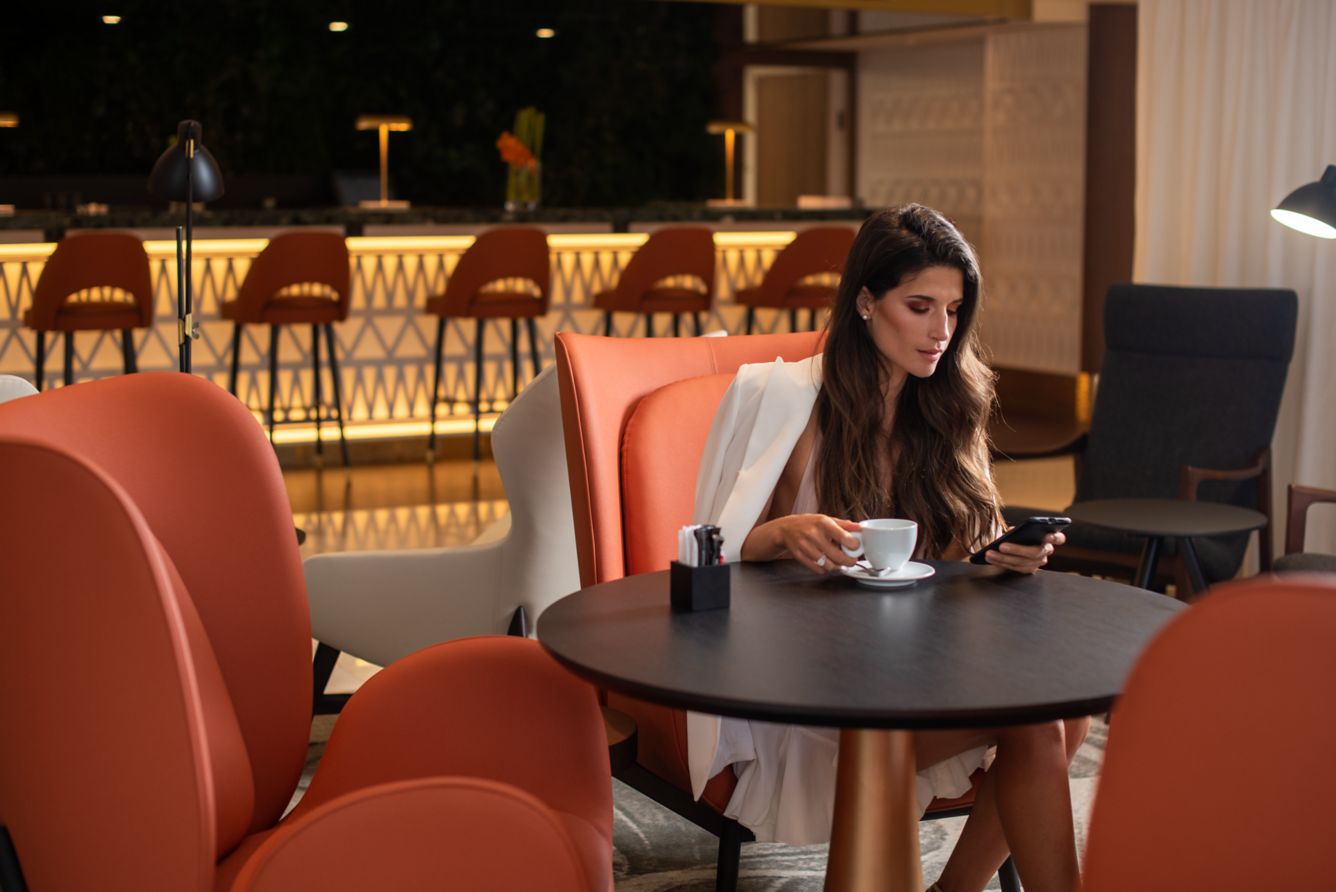 A Glamourous Tropical Setting
Designed to reflect the lush Mediterranean landscape, the living wall located inside Le Méridien Hub transports guests to a tropical paradise. Vintage black and white photography, featuring gleaming convertibles, oversized sunglasses and Hollywood royalty, showcases the French Riviera as a picture-perfect, playground for the rich and famous.
Awards
2023 Travelers' Choice Hotel - Tripadvisor
Green Key Award
施設の詳細
無料Wi-Fi
ドライクリーニングサービス
ランドリー
モーニングコール
ターンダウンサービス
サービスリクエスト
チェックイン: 15:00
チェックアウト: 12:00
全館禁煙
ペットポリシー
ペット歓迎.
ペット同伴可、1室1泊あたり18ユーロのペット料金 (返金不可)
ペット料金 (返金不可) Per Night: €18
ペットの最大体重: 18kg
客室に同伴可能ペット数: 1
ホテル敷地外駐車場
Interparking 0.1 KM
その他の駐車場に関する情報
公共駐車場 (Interparking) は、ホテルと同じ建物の階下にあります。電話: +33 9 70 14 01 11.
お支払い方法
お支払方法: クレジットカード, Cash
サービス
エレベーター完備
コンシェルジュデスクサービス
通貨両替
スタッフの対応言語:
フランス語, 英語, イタリア語, ドイツ語, スペイン語
バリアフリールームや共用エリアの特徴、特定の障害に対する特別サービスに関する詳しい情報については、お電話でお問い合わせください +33 4-97034444
ホテルのバリアフリー対応設備
エレベーター完備
バリアフリーのホテル内駐車場
バン対応のバリアフリーのホテル内駐車場
介助犬同伴可
車椅子対応車両バレーパーキング
リゾート内のバリアフリーのエリアとバリアフリーの通路
ビジネスセンター
フィットネスセンター
会議スペース
客室とスイート前の廊下
正面玄関
客室のバリアフリー設備
バスルームの滑り止め手すり
客室の障害者用椅子付きシャワー
客室やスイートのドアのデッドボルト
客室ドアのチェーンやラッチ
自動で閉まる客室やスイートのドア
開閉可能な客室の窓
電子ルームキー