Bienvenido a The St. Regis Mexico City
Un hotel exquisito en la Ciudad de México en Reforma.
Nuestro hotel de lujo en CDMX se encuentra ubicado junto al arbolado Paseo de la Reforma, The St. Regis Mexico City es un santuario acogedor en una de las ciudades más emocionantes del mundo. Elevándose 31 pisos sobre las calles, este hotel de primera en Ciudad de México trae el lujo icónico a la era moderna reflejando la naturaleza de esta metrópolis en evolución. Disfrute espacios refinados con guiños a la rica cultura local, un entorno meticulosamente representado que cobra vida gracias a nuestro servicio de concierge disponible día y noche. Relájese en la privacidad de una habitación con decoración impecable, ropa de cama lujosa, baño de mármol inmaculado y ventanas del piso al techo. Saboree siete experiencias gastronómicas, que comprenden auténtica cocina mexicana, pasteles recién horneados y menús exclusivos para cenar. Disfrute de tratamientos únicos en el Remède Spa, o descanse junto a la piscina cubierta de nuestro moderno hotel con una impresionante vista del vibrante horizonte de la CDMX.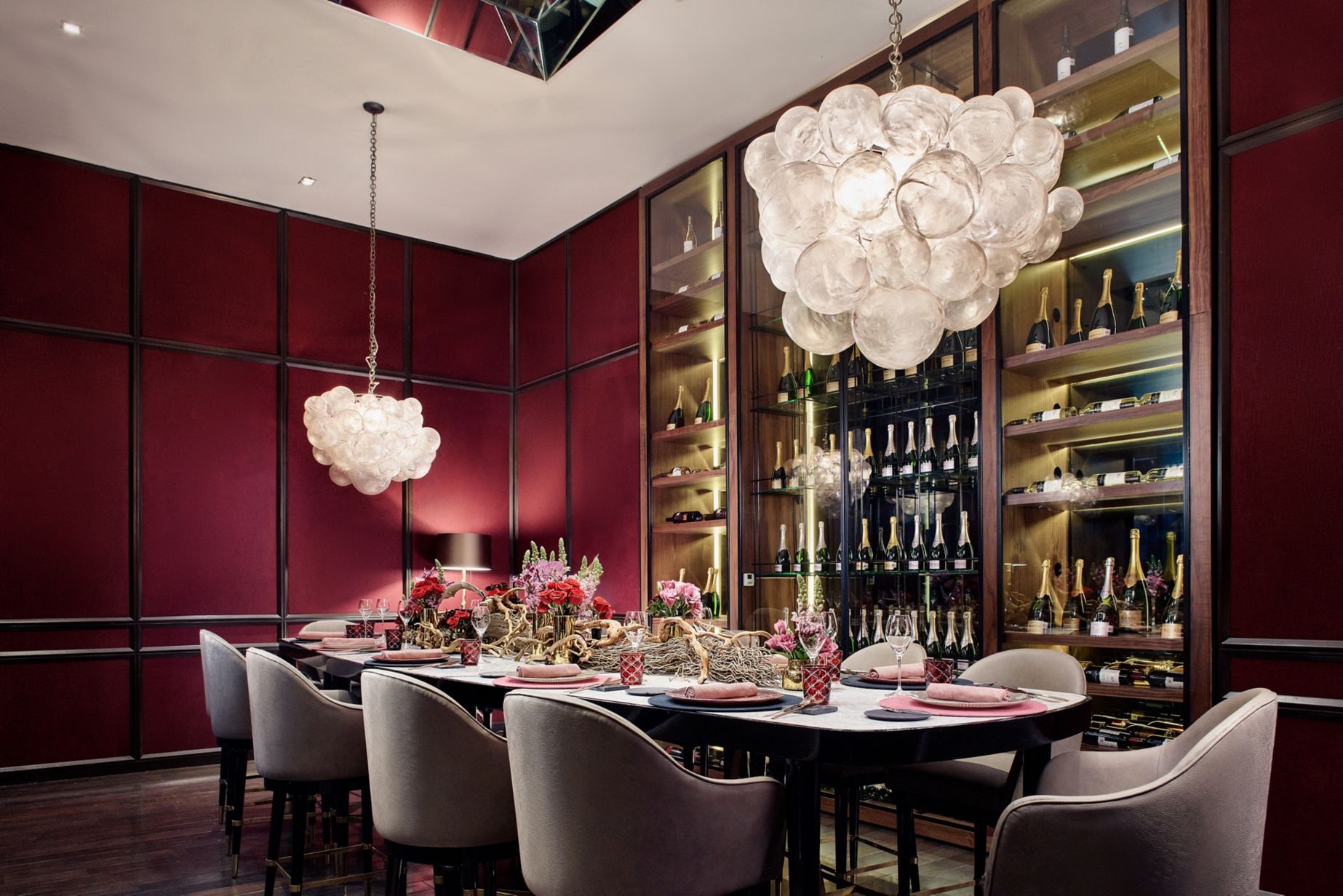 La Table Krug
Una clase magistral de la excelente gastronomía francesa. La Table Krug es una extraordinaria experiencia gastronómica de ocho platos preparados por nuestro propio chef. Brinde por la Ciudad de México con nuestro champán Krug. La reserva debe hacerse con 48 horas de antelación.
Restaurante Diana
El restaurante Diana recibe su nombre por su vista a la icónica fuente de Diana la Cazadora. Aquí, los huéspedes del St. Regis Mexico City se deleitarán con una cocina tradicional mexicana con un toque moderno y preparada con ingredientes frescos y locales.
King Cole Bar
El seductor King Cole Bar es un descendiente del famoso homónimo suyo de Nueva York. Saboree cócteles artísticamente elaborados en un lounge con suaves asientos de terciopelo iluminados por la luz de las velas. Pocos bares de hotel en la Ciudad de México irradian tanta sofisticación como el King Cole Bar.
Private Dining
For those craving privacy during their stay in Mexico City, we offer 24-hour in-room dining. Savor exceptional restaurant fare in the discretion of your own room or in one of the hotel's intimate locations.
The St. Regis Mexico City
Surrounded by emblematic landmarks, prominent museums, exclusive art galleries and boutiques, and overlooking the historic Paseo de la Reforma, The St. Regis Mexico City is located at the best address for business commitments and leisure pursuits alike.
Take a Virtual Tour
You can virtually explore our exquisite hotel and experience full 360 degree and 3D images of our Atrium, restaurants, and terraces.
Remède Spa
Embrace unparalleled relaxation at Remède Spa, where a calming ambience, elegant design and expertly administered treatments and therapies offer a unique journey to replenishment and tranquility. Offering magnificent Mexico City views, this oasis has been designed to provide a deeply personalized experience.
Fitness Center
The Fitness Center offers state-of-the-art equipment featuring personal television screens and mobile docking stations. Additional facilities are available at the adjacent Wellness Center, including a sauna, swimming pool and Jacuzzis with stunning skyline panoramas.
Children's Club
Nestled on the 15th floor, our Children's Club fosters fun and enrichment for our youngest guests. Here, children ages five through eleven can delight in special activities on Fridays, Saturdays and Sundays. Whether captivated by art projects or video games, each child finds something fun to do in the hotel's children´s club located on the 15th floor—an inviting setting, complete with city views. As part of the exclusive St. Regis Family, it offers story time, movies, and board games upon request.
Glamping
When travelling with kids, The St. Regis Mexico City has an In-Suite Glamping for our Little luminaires to camp on our urban oasis.
Candy Trolley
From Friday to Sunday, a candy trolley strolls the lobby and terrace for the young—and the young at heart— to fill a candy or popcorn bag with the sweets of their choice. This new family tradition invites our guests to discover a variety of delightful local sweets.
Family Amenities and Services
Rituals
Discover unique amenities for children, from delectable treats and enchanting keepsakes inspired by Mexico City's unique attributes, to child-sized robes, slippers and a step stool for the little ones.
Special Requests
St. Regis is dedicated to providing families with the necessary amenities to ensure a relaxed, effortless stay. Contact St. Regis Butler Service at your convenience to request baby wipes, diapers, cribs and roll-away beds.
Dining
Indulge in a variety of refined yet relaxed dining options, with menus that cater to children and accept special requests. Private dining is also available in-room 24 hours a day and features a family-friendly menu. During the weekend, don't miss the Family Traditions Candy Trolley at the main Atrium, 3rd floor, from 9 a.m. to 6 p.m. and the Children Buffet station at Sunday Brunch, served at Diana restaurant.
Babysitting
The Concierge can offer a list of qualified local agencies that can provide expert care for your children in the convenience of your guest room. For inquiries, please contact the Concierge desk 24 hours before the required, located in 3rd floor.
Always Available
From an impeccably pressed wardrobe to a thoughtful, last-minute gift for a loved one, no request is too small or unattainable – no matter the time. Butler Service is available at any hour, day or night.
Frequently Asked Questions
What time is the check-in and check-out time?
Check-in is at 3 PM and check-out is at 12 PM.
Do you accommodate early check-in/late check-out?
We can only guarantee early check-ins for rooms reserved the prior night at the full rate. However, we will do our best to accommodate early Check in or late Check out subject to availability.
What is the Mexico City tax?
City tax of 3.5% is payable by all guests at check-out.
What is the hotel voltage?
Hotel voltage is 110 V. Please make sure to check the voltage of your equipment before usage.
Do you provide adaptors or converters?
No converters are available. Please contact the concierge desk if you should need any, you can also buy adapters at the Boutique located in Motor Lobby.
Do you have safe deposit boxes?
For your convenience there is an electronic safe box in all rooms, with a personal digit code. Safe deposit box is at your disposal also at front desk.
Do you have a business center?
A business center is at your complete disposal 24 hours a day, 7 days a week on first, located in 3rd floor.
How much does Internet cost?
The entire hotel is equipped with complimentary High Speed Wi-Fi access for all our guests.
Which payment methods does the Hotel accept?
We accept Visa, Mastercard, AMEX and Dinners Club. we remind you that we cannot accept payments in cash for amounts greater than or equal to $50,000 MXN pesos. We cannot accept cash payments in foreign currency.
Can I pay for a hotel room for someone else?
Certainly, at least 7 days prior to arrival you can pay for someone else using the CC. Please contact reservations.mexcicocity2@stregishotels.com
How much will be charged for an extra person?
Maximum occupancy per room is 2 persons. 3 Guests are welcome in for an Extra person charge of $75.00 USD + taxes (an extra bed can be placed in the room on request).

The extra person charge applies also if third person sleeps in existing bed (king or twin).

4 people in a room are not allowed even if a SNA has been confirmed and a second room shall be booked.

Extra person fee does not apply for children under 12 sharing bed in all rooms and Suites.
Does the hotel provide cribs?
Cribs are complimentary and are provided upon request.

Hotel provide blankets, bumpers, pillows upon signed waiver.
Do you have hairdryer?
All rooms are equipped with hairdryers.
Do all your rooms have air conditioning?
All rooms are equipped with air conditioning.
Do you provide guest with boiler, coffee makers or iron boards?
All rooms are equipped with Coffee Makers. Upon request we can provide water boiler and Iron boards.
Are pets allowed and at what costs?
The hotel is delighted to welcome pets to the property. We allow one dog (8kg) per room and the charge is $100 USD + taxes per stay and $25 USD + tax for daily cleaning service.
Does the hotel provide parking and how much does it cost?
Hotel offers parking spaces inside the hotel valet service at the garage close to the hotel.
Cost starts from $200 MXN pesos per night.
What are the laundry service hours?
Laundry is available to all guest from Monday to Sunday 24/7.
Does your hotel have a fitness center/Spa/pool?
Our hotel is equipped with a Fitness Center and Spa facilities.
Currently our spa and fitness center are temporarily closed.
What are breakfast hours and costs?
Breakfast a la carte is available at Diana Restaurant from 6:30 am to 11:30 am.
How many dining possibilities does the hotel offer?
The St. Regis Mexico City features seven dining options inside the hotel with different gastronomic concepts.
How do I get to the hotel from the airport?
Driving directions
Take Av. Rio Consulado to Cto. Interior in Pensador Mexicano. Head northeast on Calle Sonora/Capitán Carlos León. Continue on Cto. Interior. Take Paseo de las Jacarandas and Cto. Interior Instituto Técnico Industrial to Cto. Interior Melchor Ocampo in Verónica Anzúres. Take exit 18 from Cto. Interior Melchor Ocampo. Follow Cto. Interior Melchor Ocampo and Río Misisipi/Eje 3 Pte to Río Atoyac in Cuauhtémoc.
Do you offer a private transfer service?
The St. Regis Mexico City will gladly arrange a private car transfer from/to the hotel. For more information and pricing options, please contact our concierge at Concierge.srmexicocity@stregis.com
St. Regis Rituals
Every St. Regis Offers its own interpretation of each tradition, allowing guests to gather and socialize. Enjoy each one of our Rituals while you stay with us.
Bloody Mary – Sangrita María
The Barman Fernand Petiot arrived at the King Cole Bar, New York from Paris with the original recipe of the Bloody Mary; Vodka and tomato juice. Time after time, the cocktail became the signature of the brand. Each St Regis from all around the world has its own recipe. Enjoy our Sangrita María ritual at our new oasis, Bloom Garden.
Tea Ritual
Each St. Regis offers its own interpretation of this extraordinary tradition. This ritual allows guests and clients to take the tea while trying to distinguish all their subtle aromas. Tea ritual gives our guests a unique experience in Mexico City that will awaken their senses. Enjoy it at our Diana Restaurant or Bloom Garden. Our recommendation: make a previous reservation with our concierge.
2019
U.S. News & World Report-Best Hotels in Mexico
U.S. News & World Report- Best Hotels in Mexico City & Central Mexico
GayTravel- Hotel, Luxury: The St. Regis Mexico City
Spas of America - Reméde Spa in Top 100 Spas of 2019
Travel + Leisure- Best Hotel, Business Travel category
Travel + Leisure - Mexico's Top City Hotel
AAA- AAA Five Diamond Hotel
World Travel Awards - Mexico's Leading Hotel in 2019
2021
U.S. News ​
Sharecaire VERIFED with Forbes Travel Guide ​
Tripadvior Travler's Choice​
World Travel Awards
2022
U.S. News ​
Five Diamonds by AAA​
Travel + Leisure " Top 500 Hotels of the Year"​
Forbes Travel Guide
Nuestra ubicación
CÓMO LLEGAR
The St. Regis Mexico City
Paseo de la Reforma 439, Colonia Cuauhtémoc, Ciudad de México, Distrito Federal, México, 06500
Tel.: +52 55-52281818
Transporte alternativo al aeropuerto
Servicio de automóvil privado: Sedán o todoterreno *Consultar la tarifa de ida y vuelta, tarifa: 170 USD (viaje sencillo), se requiere reserva
Transporte alternativo al aeropuerto
Servicio de automóvil privado: Sedán o todoterreno *Consultar la tarifa de ida y vuelta, tarifa: 170 USD (viaje sencillo), se requiere reserva
Detalles del hotel
Servicio a la habitación las 24 horas
Servicio de descubierta de cama
Alquiler de bicicletas:$10
Sala de juegos
Minimercado
Lavandería
Servicio a la habitación
Llamada de despertador
Solicitud de servicio
Registro de llegada: 3:00 pm
Registro de salida: 12:00 pm
Hotel para no fumadores
Política de mascotas
Se aceptan mascotas.
No se aceptan mascotas en las áreas públicas. 100 USD por estancia más 25 USD por noche.
Peso máximo de la mascota: 8KGS
Número máximo de mascotas en la habitación: 2
Estacionamiento
Estacionamiento en el hotel
Por hora: $5
Diario: $25
Una vez por semana: $15
Por estancia: $10
Personal para estacionar
Diario: $15
Electrolineras para la carga de automóviles eléctricos
Información adicional sobre el estacionamiento
10 USD por día por estancia
Políticas y pagos
Confirmaciones: Efectivo, Tarjetas de crédito
Pagos móviles sin contacto
Servicios
El hotel cuenta con ascensores
Servicio de concierge
Idiomas hablados por el personal:
Español, Inglés, Francés
Si deseas más información sobre las características físicas de nuestras habitaciones y áreas comunes con instalaciones para personas con necesidades especiales o servicios especiales relacionados con una discapacidad concreta, no dudes en llamarnos +52 55-52281818
Instalaciones para personas con necesidades especiales en el hotel
Ascensor automático o entrada inclinada en las piscinas del hotel
El hotel cuenta con ascensores
Estacionamiento accesible para furgonetas en el hotel
Estacionamiento en el hotel con instalaciones para personas con necesidades especiales
Se aceptan animales de servicio
Áreas y caminos desde la entrada al público con instalaciones para personas con necesidades especiales
Acceso a habitaciones y suites por pasillo interior
La entrada a la piscina en el hotel tiene instalaciones para personas con necesidades especiales
La entrada al centro de negocios en el hotel tiene instalaciones para personas con necesidades especiales
La entrada al gimnasio en el hotel tiene instalaciones para personas con necesidades especiales
La entrada al spa en el hotel tiene instalaciones para personas con necesidades especiales
La entrada principal tiene instalaciones para personas con necesidades especiales
Los espacios para reuniones tienen instalaciones para personas con necesidades especiales
Los restaurantes en el hotel tienen instalaciones para personas con necesidades especiales
Instalaciones para personas con necesidades especiales en la habitación
Asiento de bañera
Asiento del inodoro a la altura de la silla de ruedas - Inodoro para personas con necesidades especiales
Cadenas de seguridad y/o pestillos en las puertas de las habitaciones
Cerrojo de seguridad en las puertas de las habitaciones y suites
Cerrojos de seguridad a baja altura en las puertas de las habitaciones
Compatible con TTY/TTD
Ducha con acceso para sillas de ruedas
Duchas de transferencia en las habitaciones
Habitaciones con instalaciones para personas con necesidades especiales
Llamadas por teléfono para reloj despertador
Llave electrónica de la habitación
Manijas en las puertas de las habitaciones
Mirillas a baja altura en las puertas de las habitaciones
Mirillas en las puertas de las habitaciones y suites
Puertas de habitaciones y suites con cierre automático
Rieles de sujeción de la bañera
Seguro nocturno a baja altura en la puerta de las habitaciones
Soporte ajustable para la ducha
Televisión con subtítulos para personas con dificultades auditivas
Tocadores con instalaciones para personas con necesidades especiales
Tomas de corriente eléctricas a baja altura