Bienvenido a The St. Regis Mardavall Mallorca Resort
El santuario del Mediterráneo
El St. Regis Mardavall Mallorca Resort, el epítome del buen gusto en la costa suroeste de Mallorca, combina sofisticación y lujo moderno para crear un refugio excepcional. Ubicado a tan solo 20 minutos del aeropuerto de Palma de Mallorca, sus 125 habitaciones y suites dispuestas en cuatro edificios de tonos terracota ofrecen una sobriedad elocuente y un confort natural. El St. Regis Mardavall es el perfecto mediador entre los sabores de la isla, ya que presenta un amplio abanico de opciones, desde opciones informales a experiencias gastronómicas revolucionarias en el restaurante de estrella Michelin Es Fum. Con exquisitas vistas al mar y a la naturaleza circundante, el resort y su multitud de opciones invitan a los viajeros que lleven estilos de vida contemporáneos a la relajación en un ambiente sofisticado. El innovador Arabella Spa conocido por su filosofía holística y su visionario centro médico chino es el destino sensorial principal del hotel y el amplio Explorer's Club hará las delicias de los más pequeños de la casa. Con reminiscencias de las casas de verano señoriales, el St. Regis Mardavall es sin duda el mejor destino de la isla.
A Michelin Star Gastronomic Experience
Savor the art of delicate combinations - through respecting each ingredient - delivering extraordinary culinary delights according to seasonality with only the freshest local produce. Allow yourself to indulge in a truly unique epicurean experience in Majorca.
Intimate Setting
The St. Regis Mardavall Mallorca Resort room designs expresses the timeless essence of the island. They hint at the local olive trees, the clear Mediterranean colors of the earth and the sea, and the gentle warmth of sunlight.
Refined Rooms
The dressing room and bedroom areas connect seamlessly for enhanced lightness and sense of space. Simple geometry and straight lines speak softly of understated style. Clean and contemporary, the rooms' design harnesses the warmth and solidity of Mallorca's natural materials.
Family Traditions at The St. Regis
Explorers Kids Club
Family Traditions signature St. Regis program, gives travelers of all ages the opportunity to explore the destination and celebrate the art of play. An alluring draw for families, the imaginative Explorers Kids Club provides the highest quality of care and attention with an inspiring array of engaging facilities. A guaranteed fun-filled adventure awaits our little guests at the resort, full of exciting quests and activities.
Transformative Treatments
A team, trained by one of the most talented experts in Traditional Chinese Medicine in Europe, will ensure that you relax, restore your energy and improve your health, helping to keep your mind and body in its best condition.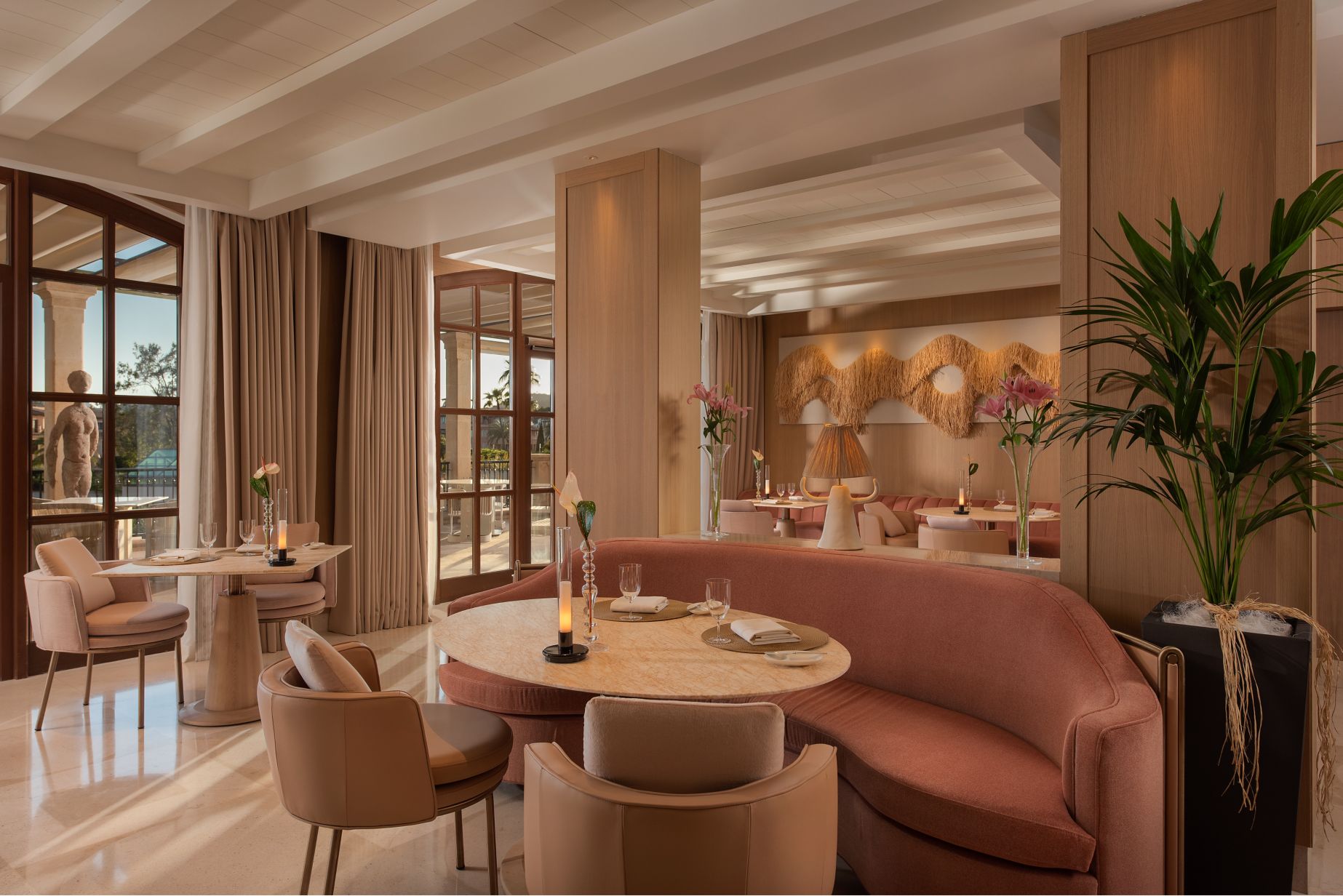 Es Fum Restaurant
Galardonado con una estrella Michelin, el restaurante totalmente renovado Es Fum fusiona cocina artística, influenciada por productos locales sobresalientes, en un ambiente romántico y elegante.
Aqua Restaurant
Aqua ofrece un menú todo el día a la sombra de un toldo. Disfrute de productos locales cuidadosamente seleccionados e ingredientes de alta calidad de España e Italia preparados y dispuestos de manera simple, delicada y atractiva.
The St. Regis Bar
Como una brisa de aire fresco, este lobby lounge totalmente renovado aporta un torbellino de emoción a la deliciosa tranquilidad del resort, ideal para socializar mientras disfruta de cócteles deliciosos y delicados refrigerios.
Pool Bar Sa Badia
En su ubicación privilegiada junto al espléndido Mar Mediterráneo y próximo a la piscina lujosa y amplia, el bar Sa Badia sirve refrigerios y cócteles deliciosos todo el día.
Mallorca, a Mediterranean Gem
In an exclusive luxury resort setting on the spectacular Mediterranean coast, The St. Regis Mardavall Mallorca Resort is one of the world's most celebrated addresses, a pièce de résistance of grand architecture and majestic beauty that redefines timeless elegance. Explore magnificent Majorca, a jewel in the Mediterranean landscape, blessed with imposing mountains, wonderful bays and beaches, as well as an ideal climate, almost all-year-round.
Exquisite Experiences
Whether guests wish to have an active or a more relaxed time in Mallorca, The St Regis Mardavall Mallorca Resort Concierge team will be able to create bespoke, exquisite experiences for couples and families alike.
Discover the History and Heritage
The beauty of island of Mallorca not only resides in its beautiful coves and sandy beaches but also in the history and heritage of its picturesque villages.
Breathtaking Landscape
The Tramuntana Mountains, the luxurious marina of Puerto Portals and the Mediterranean Sea, frame the unique St. Regis Mardavall Mallorca Resort, set on the southwest coast of the Balearic Island, close to its capital Palma.
Enchanting Experiences
Host your affair in one of four distinctive venues. Each space offers a spectacular view of the Mediterranean Sea from a private terrace and is naturally illuminated by sunlight. Our expansive and elegant foyer is also perfectly suited for receptions and exhibitions.
Learn More
360 Virtual Tour The St. Regis Mardavall
It is not that easy to experience our exquisite hotel, rooms & suites, restaurants and meeting spaces without actually visiting. Nevertheless, using some state of the art photography, we wish to bring our facilities closer to you, with our 360-degree virtual tour, aiming to provide an excellent taste of what you will see when you arrive.
St. Regis Butler Service
St. Regis Butler Service has been a treasured hallmark of the St. Regis experience for over one hundred years.
Bespoke Afternoon Tea
Following the legacy of The St. Regis brand our traditional afternoon tea offers a refined selection of sandwiches, scones and sweet treats. Discover the distinctive history behind this quintessential St. Regis Tradition.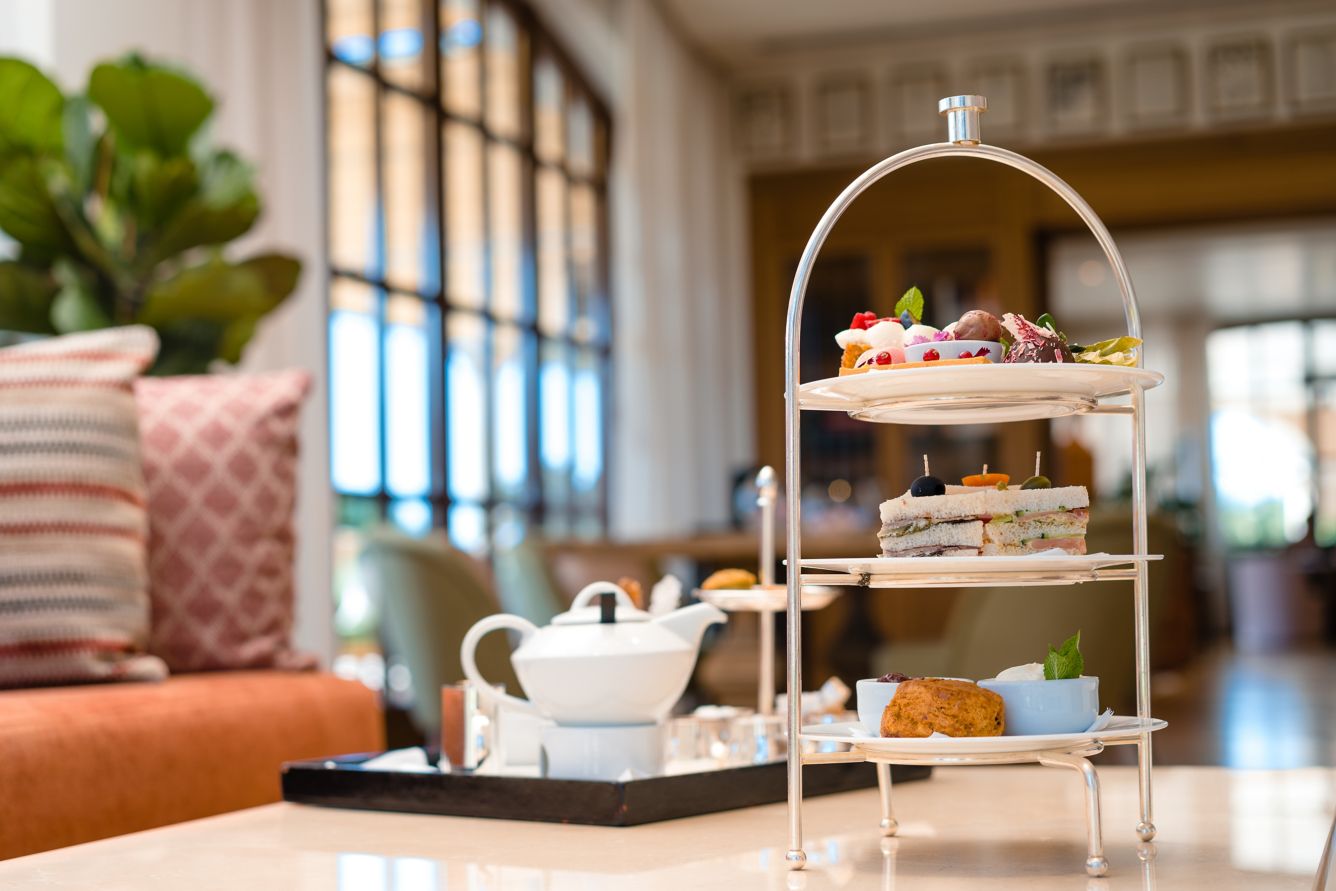 A Sparkling St. Regis Ritual
Dating back to the battles of Napoleon Bonaparte, who famously opened champagne with his saber in both victory and defeat, the art of sabrage is the signature ceremony of the St. Regis Evening Rituals series. Experience your own sunset celebration at the St. Regis Mardavall.
At every St. Regis hotel, guests have access to St. Regis Butler Service via the Butler Service Desk. Should you need something for your travels or just for your convenience, St. Regis Butler Service will be sure to have on hand, or source your required item. Whatever the request, guests may dial for prompt service on their guest room phone.
Beverage Service: At every St. Regis hotel, guests have access to St. Regis Butler Service via the Butler Service Desk. Should you need something for your travels or just for your convenience, St. Regis Butler Service will be sure to have on hand, or source your required item. Whatever the request, guests may dial for prompt service on their guest room phone.
Unpacking & Packing Services: Allow a St. Regis Butler to take care of the unpacking and storage of your luggage—so that you can simply relax and enjoy. Similarly, before you depart, simply contact the Butler Service Desk to dispatch a butler to assist with gathering and folding your garments to prepare your luggage for the journey home.
Garment Pressing: Once unpacked, simply let your St. Regis Butler know which garments require pressing and they will be pleased to assist, returning the garments to your wardrobe promptly. Two garments per person per day may be pressed complimentary.
For all other wishes or requests, St. Regis Butler Service is pleased to assist.
eButler: During your stay, whether you are inside or outside the hotel, St. Regis Butler Service is accessible at any hour via email. Simply send your request and allow the Butler Service Desk to assist.
Environmental Practices
Learn more about our hotel's green initiatives, including energy and water conservation, recycling, environmentally responsible purchasing and more.
Energy & Water Conservation:

High-efficiency lighting in guestrooms

High-efficiency lighting in public areas

Water conserving fixtures

Regular preventive maintenance

Waste Minimization & Environmentally Responsible Purchasing

Recycling:

Elimination of styrofoam packaging

Environmentally preferred products

Amenity management

Alternatives to plastic bottled water

Sustainable food and beverage options

Enhanced Indoor Environmental Quality:

Participation in Circular Economy initiatives

Green Housekeeping:

Integrated pest management practices

Raising Awareness:

Property-level Green Council
Sustainable Meetings Practices
Nuestra ubicación
CÓMO LLEGAR
The St. Regis Mardavall Mallorca Resort
Carretera Palma-Andratx 19, Costa d'en Blanes, Palma de Mallorca, España, 07181
Tel.: +34 971-629629
Traslado entre el aeropuerto y el hotel: Fee
En el hotel
Servicio de automóvil privado
Servicio de limusinas y furgonetas
Awards
Green Key Award

World Travel Awards 2022 - Spain's Leading Resort

2022 World Luxury Hotel Award Winner
Detalles del hotel
Servicio diario de limpieza de habitación
Servicio de descubierta de cama
Alquiler de bicicletas
Esnórquel
Sala de juegos
Servicio de tintorería
Lavandería
Servicio de habitaciones
Llamadas despertador
Certificado Americano completo Desayuno
Solicitud de servicio
Check-in: 3:00 pm
Registro de salida: 12:00 pm
Edificio para no fumadores
Política de mascotas
Se aceptan mascotas.
Non refundable fee of 75 per pet, per night
Peso máximo de la mascota: 11KGS
Número máximo de mascotas en la habitación: 2
Estacionamiento
Estacionamiento en el lugar
Todos los días: €19.5
Servicio de personal
Todos los días: €19.5
Electrolineras para la carga de coches eléctricos
Políticas y pagos
Confirmaciones: Tarjetas de crédito
Servicios
Cuidado de niños
El hotel cuenta con ascensores
Servicio de concierge
Idiomas hablados por el personal:
Español, Inglés, Alemán, Italiano, Ruso
Si deseas más información sobre las características físicas de nuestras habitaciones y áreas comunes con instalaciones para personas con necesidades especiales o servicios especiales relacionados con una discapacidad concreta, no dudes en llamarnos +34 971-629629
Instalaciones para personas con necesidades especiales en el hotel
Ascensor automático o entrada inclinada en las piscinas del hotel
El hotel cuenta con ascensores
Estacionamiento en el hotel con instalaciones para personas con necesidades especiales
Se aceptan animales de servicio
Áreas y caminos desde la entrada al público con instalaciones para personas con necesidades especiales
Acceso a habitaciones y suites por pasillo interior
La entrada a la piscina del hotel tiene instalaciones para personas con necesidades especiales
La entrada al centro de negocios en el hotel tiene instalaciones para personas con necesidades especiales
La entrada al gimnasio en el hotel tiene instalaciones para personas con necesidades especiales
La entrada al spa en el hotel tiene instalaciones para personas con necesidades especiales
La entrada principal tiene instalaciones para personas con necesidades especiales
Los espacios para reuniones tienen instalaciones para personas con necesidades especiales
Los restaurantes en el hotel tienen instalaciones para personas con necesidades especiales
Instalaciones para personas con necesidades especiales en la habitación
Asiento de bañera
Asiento del inodoro a la altura de la silla de ruedas - Inodoro para personas con necesidades especiales
Cadenas de seguridad y/o pestillos en las puertas de las habitaciones
Cerraduras secundarias en las ventanas de las habitaciones
Cerrojo de seguridad en las puertas de las habitaciones y suites
Ducha con acceso para sillas de ruedas
Duchas de transferencia en las habitaciones
Habitaciones con instalaciones para personas con necesidades especiales
Habitaciones o kits con instalaciones para personas con problemas de audición
Las ventanas de la habitación se abren
Llamadas por teléfono para reloj despertador
Llave electrónica de la habitación
Manijas en las puertas de las habitaciones
Mirillas en las puertas de las habitaciones y suites
Puertas de habitaciones y suites con cierre automático
Rieles de sujeción de la bañera
Seguro nocturno bajo en la puerta de su habitación
Soporte ajustable para la ducha
Tocadores con instalaciones para personas con necesidades especiales
Tomas de corriente eléctricas bajas