Bienvenido a The St. Regis Venice
Bienvenido al lugar mejor ubicado de Venecia
The St. Regis Venice, que cuenta con un estilo y un diseño vanguardista, fusiona interiores modernos y sorprendentes con su origen histórico y la mejor ubicación de la ciudad. Flanqueado por el Gran Canal con vista a los emblemáticos lugares de interés, el hotel se alza en esta posición privilegiada desde hace más de un siglo y medio. El elegante diseño, la tecnología inteligente y los mayordomos St. Regis cultivan un ambiente de comodidad impecable en 130 habitaciones y 39 suites, algunas con terraza privada. Un espacio para relajarse y socializar, nuestro jardín Italianate ofrece acceso a una variedad de opciones de comidas y bebidas de Gio's Restaurant y su terraza, de St. Regis Bar y de Arts Bar. Los diversos espacios se transforman fácilmente para recibir hasta 110 invitados para celebraciones, bodas y reuniones, mientras que las suites SPA y el gimnasio le permiten relajarse. Detrás del hotel, las lujosas boutiques y las galerías de arte contemporáneo llevan al visitante al Teatro La Fenice y a los tesoros de la Piazza San Marco, a solo cuatro minutos.
The Italianate Garden
A retreat for sensorial relaxation and notable socializing, our secluded Italianate Garden, a jewel in the city, presents views of notable landmarks and is complemented by geometric patterning, curlicue topiary, formal rose planting and fluid pathways.
A Suite Lifestyle
Relax and unwind surrounded by residential comfort in our extraordinary collection of suites, each one of which uniquely encapsulates the artistic and cultural legacy of Venice.
A Tailored Environment
A locus of style, design and contemporary art, The St. Regis Venice is where uncompromising luxury and elegant surroundings flawlessly merge with the spirit of the city to attract the vanguard of today.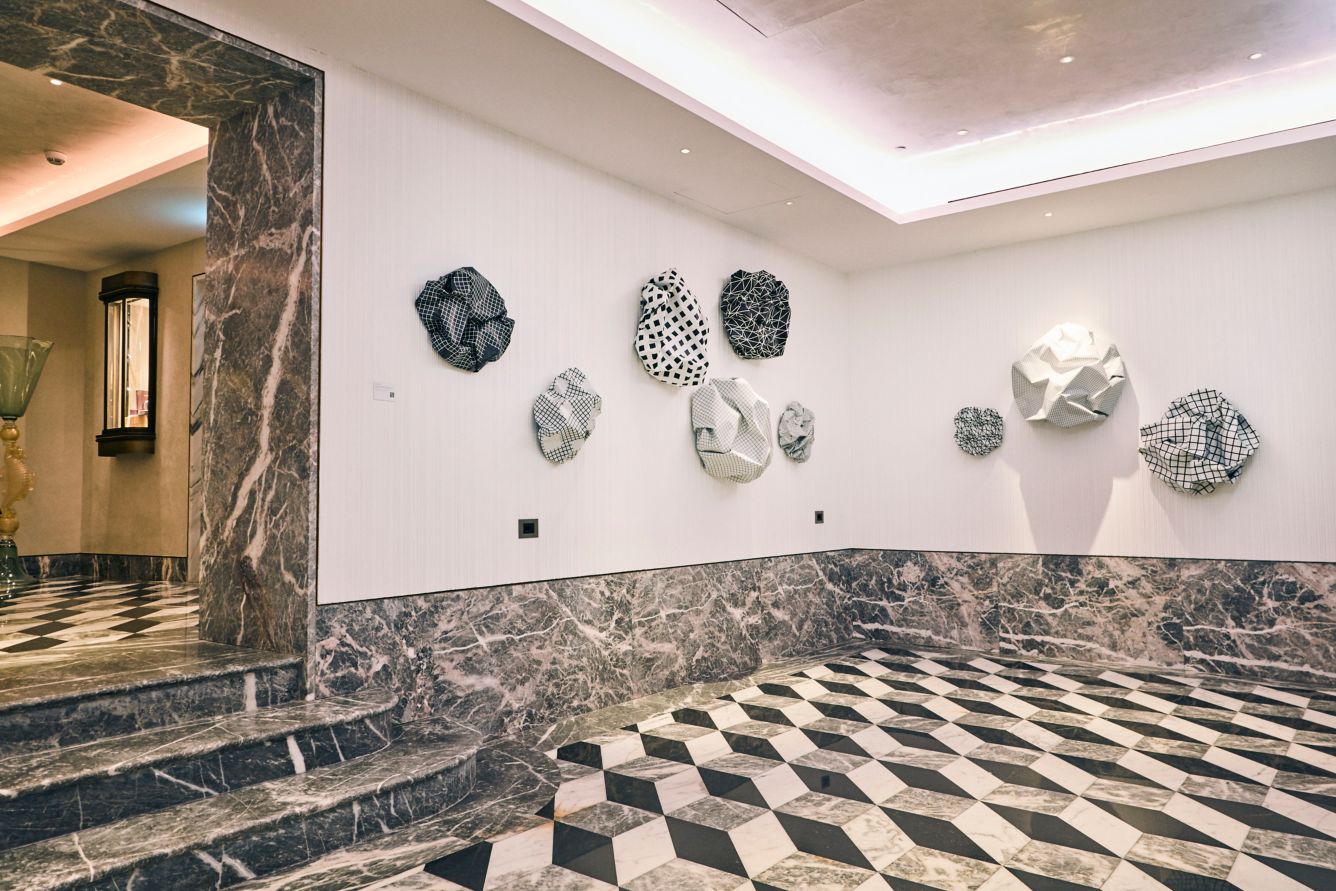 The Best Address in the City
Captivating Design
Following an extensive restoration, each room has been reverently furnished to cherish the artistic and cultural heritage of the building, while also embracing the evolution of La Serenissima and the St. Regis brand's spirit of modern glamour.
Secret Havens Overlooking Venice
Private Terraces
A rarity unique to The St. Regis Venice, a selection of guestrooms and suites is graced with private terraces that extend the residential experience outdoors.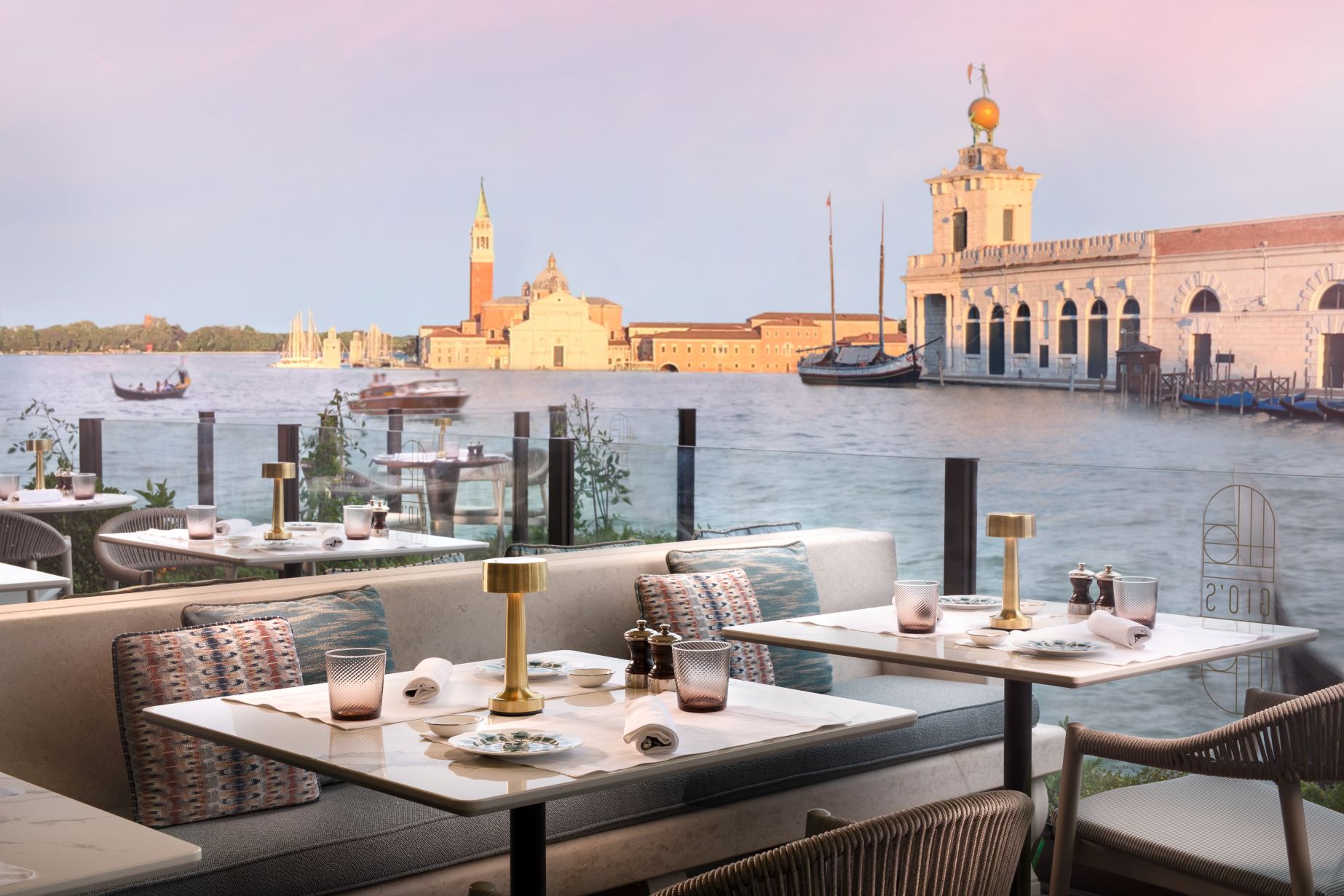 Gio's Restaurant & Terrace
El restaurante con terraza Gio's, un refugio inesperado en medio del panorama artístico contemporáneo de Venecia, presenta una experiencia moderna de platos venecianos e italianos elaborados con integridad y un toque diferente.
St. Regis Bar
La tradición de los batidos desde el desayuno hasta la cena. Deléitese con nuestra selección personalizada de cócteles italianos contemporáneos y deliciosa comida, tanto en el interior como al aire libre en el jardín, todo servido mientras disfruta de nuestra fantástica vista a Venecia.
Arts Bar
Arts Bar, con una atmósfera experimental y llena de estilo, crea el ambiente a medida que la tarde se transforma en noche con su selección vanguardista de cócteles modernos y clásicos inspirados en el arte, licores italianos premium y elegancia informal.
The Art of Celebration
From social events to weddings and celebratory gatherings, our selection of iconic al fresco areas and indoor spaces immerse guests in the unique beauty of Venice.
Muse of the Arts
The Venetian tradition of glassmaking also lives on, celebrated through a partnership with Glasstress, the creative project of Berengo Studio. This unique project marries contemporary art and historical glass blowing techniques, inviting world-class artists of various disciplines to collaborate with Murano Maestros to create one-of-a-kind glass works of art. Located at the Gran Salone, the majestic "White Chandelier" by Ai Weiwei serves as the protagonist of this collaboration. Made of rainbow crystal, the masterpiece was created by the artist as a tribute to Venice to celebrate the city's 1,600-year history.
The hotel's first resident artist, Parisian Olivier Masmonteil, was commissioned to create contemporary paintings for the Gran Salone and our signatures suites and rooms
Tailored Escapes
Pursue sensory relaxation with a soothing massage in our SPA Suites at The St. Regis Venice, or take to water for a day in an iconic Riva Yacht or elegant water limousine.
Jewels of Venice Workshop
Experience a bespoke artisan workshop with Venetian artist Valeria Boncompagni. Indulge in a private Jewelry Crafting Lesson where you and your family will learn how to design a jewel from scratch to an ancient technique: lost wax casting. This full-immersive and hands-on experience will take place at the artist's "Bottega" in the heart of Piazza San Marco. As a result of this workshop, each participant will be able to take home a sentimental and symbolic souvenir of Venice.
Nuestra ubicación
CÓMO LLEGAR
The St. Regis Venice
San Marco 2159, Venecia, Italia, 30124
Tel.: +39 041-2400001
Transporte alternativo al aeropuerto
Traslado privado con azafata, tarifa: 350 EUR (viaje sencillo), por solicitud
Transporte alternativo al aeropuerto
Traslado privado con azafata, tarifa: 350 EUR (viaje sencillo), por solicitud
St. Regis Butler Service
A hallmark of flawless and intuitive service, the anticipatory personalized service of the St. Regis Butler is available to all guests of The St. Regis Venice and ensures that their unique preferences are understood and realized. The anticipatory, personalized St. Regis Butler Service is one of the hotel's signature offerings. St. Regis Butler Service is dedicated to understanding and addressing your unique preferences and fulfilling every detail, no matter how small, for the duration of your time with us in Venice. Guests staying in our suites will enjoy the careful attention of a personal butler, who will assist with everything from arranging romantic celebrations on private terraces overlooking the city to personal shopping experiences at the hotel or after hours in designer boutiques - as well as a well-packed gourmet hamper for a day's cruising on the Venice lagoon.
Beverage Service

Upon arrival, allow a St. Regis Butler to arrange coffee or tea service in your room. And if you wish, a St. Regis Butler will arrive after your morning wake-up call to draw your shades, deliver your coffee or tea as well as the day's newspaper and weather forecast.
Unpacking & Packing Services
Allow a St. Regis Butler to take care of the unpacking and storage of your luggage—so that you can relax and settle in for your stay. Similarly, before you depart, simply contact the butler service desk for assistance with gathering and folding your garments to prepare your luggage for the journey home.
Garment Pressing
Once unpacked, simply let your St. Regis Butler know which garments require pressing and they will be pleased to assist, returning the garments to your wardrobe promptly. This service includes pressing of two garments per person, upon arrival.
eButler Services
During your stay, whether you are inside or outside the hotel, a St. Regis Butler is accessible at any hour via email. Simply send your request to venice.butler@stregis.com and allow the Butler Service Desk to assist.
Service Desk
Honoured to carry on a century of tradition of making guests feel at home, the St. Regis Butler Service Desk is available at The St. Regis Venice. Should you need anything, at any time, please use the guest room phone to dial the St. Regis Butler Service Desk for prompt assistance.
Unconventional arbiter of contemporary taste, The St. Regis Venice is recognized as a superb celebration of Venetian heritage and the city's most desired address.
An Award-Winning Hotel
2020
2020 World Traveler Awards - Italy's Leading Hotel
2020 Town & Country Hotel Awards - One of the Best New Hotels in the World
2020 Travel + Leisure It List - One of the Best New Hotels in the World
2020 TripAdvisor Traveller's Choice Awards
Bloody Mary
A St. Regis ritual that honors the Bloody Mary cocktail created by barman Fernand Petiot in 1934. Santa Maria, our local interpretation of the cocktail, is characterized by innovative techniques and a modern approach.
Evening Ritual
The Art of Sabrage. Celebrate the transition of the day into the night with our champagne sabering ceremony, the St. Regis signature ritual transforming evenings into superb celebrations.
Midnight Supper
Treasured St. Regis tradition, midnight suppers are exclusive and intimate events conceived by Caroline Astor to celebrate grand debuts and to honour new Connoisseurs.
Detalles del hotel
Servicio a la habitación las 24 horas
Servicio diario de limpieza de habitación
Servicio de descubierta de cama
Lavandería
Servicio de habitaciones
Llamadas despertador
Solicitud de servicio
Check-in: 3:00 pm
Registro de salida: 12:00 pm
Edificio para no fumadores
Política de mascotas
Se aceptan mascotas.
Máximo 1 mascota de 11 kg por habitación, con un cargo no reembolsable de 125 € por estancia y 50 € de tarifa diaria
Cargo no reembolsable por mascota Per Night: €125
Peso máximo de la mascota: 11KGS
Número máximo de mascotas en la habitación: 1
Estacionamiento
Estacionamiento no disponible
Políticas y pagos
Confirmaciones: Efectivo, Tarjetas de crédito
Servicios
Cuidado de niños
El hotel cuenta con ascensores
Servicio de concierge
Idiomas hablados por el personal:
Italiano, Inglés, Francés, Alemán, Español
Si deseas más información sobre las características físicas de nuestras habitaciones y áreas comunes con instalaciones para personas con necesidades especiales o servicios especiales relacionados con una discapacidad concreta, no dudes en llamarnos +39 041-2400001
Instalaciones para personas con necesidades especiales en el hotel
El hotel cuenta con ascensores
Áreas y caminos desde la entrada al público con instalaciones para personas con necesidades especiales
La entrada principal tiene instalaciones para personas con necesidades especiales
Instalaciones para personas con necesidades especiales en la habitación
Ducha con acceso para sillas de ruedas