Discover unbeatable island serenity along placid beaches and desert landscapes.
With 40-plus white-sand beaches and pleasant climate (temperatures hover in the 80s year-round), the Dutch Caribbean island of Aruba feels tailor-made for oceanside relaxation. From natural cave pools to pastel-toned architecture, Aruba is a hub for nightlife, outdoor adventures and sun-drenched leisure. With a blend of Caribbean, Dutch and Spanish influences, Aruba's culture is as distinctive as it is enchanting, with eclectic cuisine and rich history to explore on every street.
See More
See Less
Explore Aruba
Oranjestad
Arashi Beach/Noord
Palm Beach
Oranjestad
Overview
Oranjestad's vibrant streets reflect the island's combination of Dutch and Caribbean history, with pastel storefronts extending alongside the ocean's edge. From luxury shopping to archaeological exhibits, the capital city offers a blend of relaxation and entertainment.
Known For
Museums, History, Beaches, Shopping, Dining, Nightlife
See More
See Less
Arashi Beach/Noord
Overview
Cruise alongside the western edge of the island, where rocky terrain and historical landmarks meet peaceful beachfront. Don't forget to catch the panoramic views from the iconic lighthouse at the northernmost point of Aruba.
Known For
Beaches, Dining, Outdoor Recreation
See More
See Less
Palm Beach
Overview
The shores of Palm Beach are home to idyllic resort getaways, nature preserves teeming with butterflies and birds and some of Aruba's famous oceanfront havens. After basking in the scenery, discover one of the romantic restaurants along this area's tranquil streets.
Known For
Beaches, Outdoor Recreation, Restaurants, Nature
See More
See Less
Nearby Hotels and Resorts
Stay in The Center of it All
Immerse yourself in your destination at these centrally located hotels.
Showing 1-6 of 6 Hotels in Aruba
1-6 of 6 Hotels
Spend a Relaxing Weekend in Aruba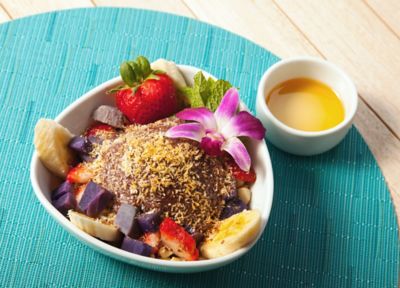 Savor Beachfront Dining
Start off the weekend on a leisurely note with a breakfast spread and a stroll along Palm Beach. Opt for a day of sunbathing in a private cabana, or catch some waves with the Aruba Surf Club — all before watching the sun set at a romantic beachside restaurant.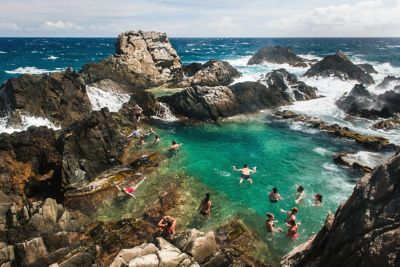 Rent a Jeep and Explore the Surrounding Towns
Continue your island adventure with a day of exploration in an open-air Jeep — beginning with the colorful streets of Oranjestad before voyaging into scenic Arikok National Park and past the Natural Pool. Complete the evening with Aruban dishes and fresh seafood at a local rum bar.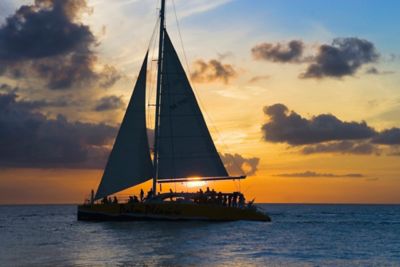 Enjoy Art and Sailing
Get acquainted with Aruba's natural wonders and creative scene, beginning with outdoor recreation and continuing onto the colorful streets of San Nicolas. Finish your weekend with a catamaran sailing adventure and fresh seafood.
Experience More, Spend Less
Showing 1-4 of 15 Offers in Aruba
Courtyard Aruba Resort
Fall Savings & Seasonal Packages
Create new memories this fall with our favorite packages of the season and save.
Details