This is a town with two big vibes: seaside charm and thriving nightlife.
There are nearly 200 years of quintessential American resort-town history in Galveston, Texas, but the city is anything but stuck in the past — it's one of the liveliest beach destinations on the Gulf Coast. Originally a port city, Galveston endured the Great Galveston Hurricane of 1900, which nearly wiped it off the map. But Galveston was reborn as a leisure destination in the decades that followed, enticing Texans and visitors alike with its sandy beaches, a food- and culture-driven downtown and family-friendly activities.
See More
See Less
Explore Galveston
East End
Downtown Galveston
West End
East End
Overview
Architecture buffs will delight in strolling the streets of the East End, renowned for its historic houses built between the late 1800s and early 1900s. Some have even been transformed into museums, giving you a peek inside. You'll also find beaches, a nature preserve and a historic amusement pier here.
Known For
Historic Houses, Beaches, Pier, Nature Preserve
See More
See Less
Downtown Galveston
Overview
This is Galveston's cultural and entertainment district, where historic buildings are home to restaurants, boutiques, performance venues and museums. There are four main areas here: The Strand (a shopping street), the Postoffice District (for arts and culture), Pier 21 and the West Market (WeMa, for dining and strolling).
Known For
Museums, Shopping, Dining, Nightlife
See More
See Less
West End
Overview
If it's Galveston's natural beauty you're looking for, the tranquil West End is your spot. While it's the largest neighborhood on the island in terms of area, it's nowhere near as built up as downtown and the East End. Come here to explore the beaches and spot wildlife, plus drink and dine at some local joints.
See More
See Less
Nearby Hotels and Resorts
Stay in The Center of it All
Immerse yourself in your destination at these centrally located hotels.
Showing 1-9 of 53 Hotels in Galveston
1-9 of 53 Hotels
Discover Historic Galveston, Texas, by Day and Night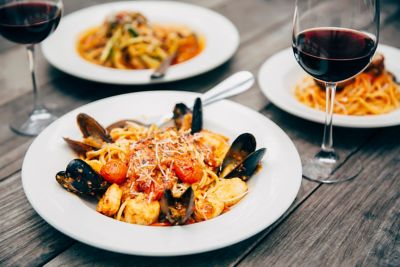 Explore Historic Galveston
Tap into the history of Galveston on your first day in the Oleander City by exploring its historic districts and museums. Throughout the day, stop at some of the island's best dining and drinking spots and catch a performance at the Opera House.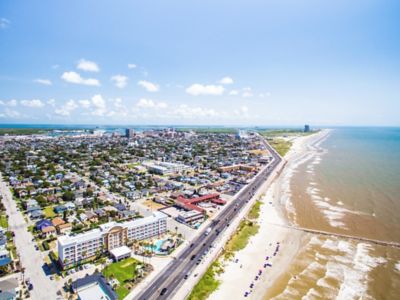 Take In the Parks and Pier
As a leisure destination, Galveston is well known for its family-friendly attractions, from water parks to aquariums. After a morning at the aquarium, hop on the rides at the island's iconic amusement pier as the sun sets or simply stroll its classic boardwalk.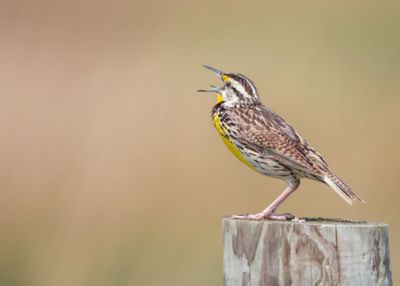 Find Your Beach in the West End
Galveston's history and attractions are only half the story — this is a beach town, after all. Appreciate Mother Nature's splendor at the West End's tranquil beaches, then visit the neighborhood's nature preserves for a chance to spot some wildlife.
Experience More, Spend Less
Showing 1-4 of 20 Offers in Galveston
Multiple Locations
Fall Savings & Seasonal Packages
Create new memories this fall with our favorite packages of the season and save.
Details