History meets natural splendor — with a dash of Old West swagger.
As a weekend destination, Prescott, Arizona, is Old West in its aesthetic — but also the modern outdoor enthusiast's dream of a desert playground. On the one hand, you can tap into downtown Prescott's history by simply strolling past century-old buildings, perusing the displays at the Sharlot Hall Museum and even imbibing at the saloons along Whiskey Row. On the other, the city is surrounded by hundreds of miles of hiking trails, scenic lakes and eerily beautiful rock formations.
See More
See Less
Explore Prescott
Downtown
Granite Dells
Prescott National Forest
Downtown
Overview
Downtown Prescott is anchored by Whiskey Row, which, despite its name, is not just a place to imbibe. The street is lined with historic buildings, many of which did house saloons — at one point, there were 40 on the block. There are still bars here, but also shops and restaurants.
Known For
Dining, Museums, Nightlife
See More
See Less
Granite Dells
Overview
You only have to travel 4 miles outside downtown Prescott to immerse yourself in the wilderness. The Granite Dells area is filled with undulating rock formations that look as if they belong on Mars. You'll also find two lakes for water sports, plus the Phippen Museum and the Heritage Park Zoological Sanctuary.
Known For
Nature, Lakes, Museums
See More
See Less
Prescott National Forest
Overview
Abutting downtown Prescott is the Prescott National Forest, a 1.25-million-acre natural area with some 450 miles of trails. The forest features everything from Sonoran Desert to ponderosa pines — and even if you spent weeks exploring the farthest reaches of the park, you'd see something new every day.
Known For
Nature, Hiking Trails, Views
See More
See Less
Nearby Hotels and Resorts
Stay in The Center of it All
Immerse yourself in your destination at these centrally located hotels.
Showing 1-7 of 7 Hotels in Prescott
1-7 of 7 Hotels
Discover the Wild West History and Desert Landscapes of Prescott, Arizona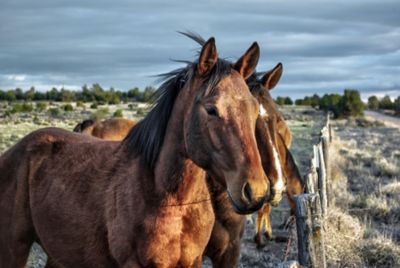 Explore Prescott National Forest
Immerse yourself in the grand Prescott National Forest, a 1.25-million-acre nature reserve. There are hiking, biking and horseback-riding trails for all levels, lakes for boating and fishing, educational centers where you can learn about wildlife and dark areas for stargazing at night. Return to Prescott for dinner in town and, if you're up for it, live music.
Discover Downtown
Experience a day in the life of an old frontier town — with all the comforts of the 21st century. Stroll Whiskey Row to take in the historic buildings and do a little shopping, visit a museum or two and have a drink at Arizona's oldest saloon.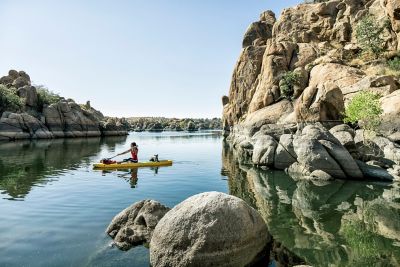 Get to Know the Granite Dells
Gain easy access to nature with a visit to the Granite Dells, just 4 miles outside of downtown Prescott. Hike amid the giant granite boulders, hit Watson Lake or Willow Lake for water sports, visit a Western art museum and drop by the zoo. End your stay at a French restaurant and some stargazing.
Experience More, Spend Less
Showing 1-4 of 7 Offers in Prescott
Element Sedona
Golf Escape for 2 in Sedona
Escape for a weekend on the golf course in beautiful Sedona, Arizona
Details