Old-world charm reigns in this enchanting Canadian city.
With more than 400 years of history, Quebec City is like an open-air museum. As the only walled city in the Americas north of Mexico and a UNESCO World Heritage Site, La Vieille Capitale delivers postcard-worthy views of imposing stone buildings, centuries-old churches and streets lined with charming boutiques and eateries. Quebec City prides itself on being the birthplace of French culture in North America, so bask in the Gallic vibes and take in the fairy-tale landscapes before indulging in the vibrant culture and culinary scene of this unique Canadian city.
See More
See Less
Explore Quebec City
Old Quebec
Saint Jean-Baptiste
Saint-Roch
Old Quebec
Overview
European architecture and old-world charm transform Vieux-Québec into a fairy-tale neighborhood. Colonial buildings, narrow streets, a castle and an ancient fort with towers make for quite the magical urban setting.
Known For
Museums, Historic Landmarks , Shopping, Dining
See More
See Less
Saint Jean-Baptiste
Overview
With its colorful houses, bistros, bakeries and independent book and record stores, Saint Jean-Baptiste draws the crowds with its bohemian charm and unique character. This small district buzzes with activity at night thanks to its many music venues, pubs and bars.
Known For
Dining, Shopping, Entertainment
See More
See Less
Saint-Roch
Overview
Old meets new in this faubourg, once Quebec City's liveliest commercial area. The vibrant district is now home to tech headquarters, artists, the city's best restaurants, hip microbreweries, bars and unique shops.
Known For
Dining, Shopping, Nightlife, Entertainment
See More
See Less
Nearby Hotels and Resorts
Stay in The Center of it All
Immerse yourself in your destination at these centrally located hotels.
Showing 1-6 of 6 Hotels in Quebec
1-6 of 6 Hotels
Explore Modern Culture and Centuries-Old History in Quebec City, Canada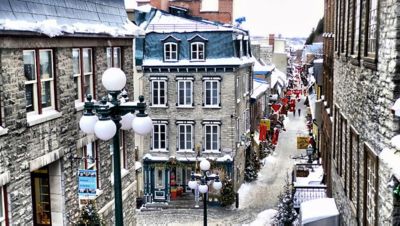 Take a Trip Back in Time
Take in more than 400 years of history in Old Quebec and have fun doing so. Museums, castles, fortified walls — every building here has a story to tell. Put on your most comfortable shoes and get exploring.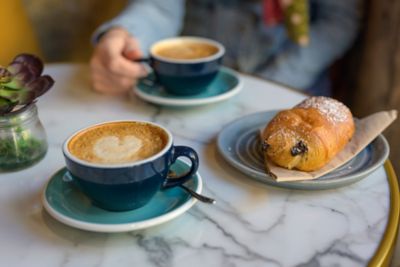 Immerse Yourself in Francophone Culture
As the birthplace of French culture in North America, Quebec City is the perfect place to get to know the unique traditions of Francophones in this corner of the world. So brush up on your French and dive into French Canadian customs.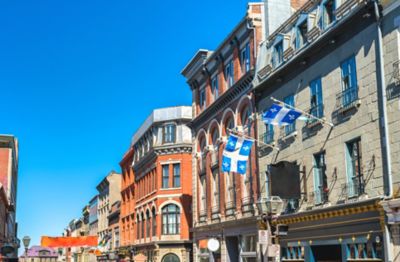 Explore Modern Culture in Quebec City
Some of the city's oldest districts are now energetic hubs of technology, modern art and gastronomy. And the best way to get to know this contemporary side of Quebec City is to explore its buzzing neighborhoods.
Experience More, Spend Less
Showing 1-4 of 17 Offers in Quebec
Multiple Locations
Extended Escapes - Save on 5+ nights
Soak up Summer. Linger longer and enjoy refreshing summer savings on 5+ consecutive nights at participating hotels and 7+ nights at resorts.
Details