This charmingly rugged ski town is great in any season.
Though it's small, this Colorado town is mighty with its stunning 14,000-foot peaks. While most visitors adore this former mining town for its consistent winter snowfall and epic cross-country and downhill skiing conditions, you really can't go wrong visiting in any season — summer, when the town's mountain trails host hikers and bikers, can be especially lovely. When you're not hanging out above the tree line, find colorful Victorian-era homes, clapboard storefronts and a thriving arts scene in Telluride's lively, welcoming downtown.
See More
See Less
Explore Telluride
Downtown Telluride
Mountain Village
Downtown Telluride
Overview
Downtown Telluride's always humming. Enjoy nonstop mountain views as you explore this idyllic mountain town's Victorian-era main drag. Walk it from end to end, taking in the 19th-century architecture as well as the many shops and galleries, upscale eateries and laid-back saloons.
Known For
Outdoors , Dining, Shopping
See More
See Less
Mountain Village
Overview
Located just southwest of Telluride, this mountain town has charm to spare. With a quaint village square that looks as though it was plucked out of a European fairy tale, Mountain Village is an inviting base for mountain hikers, skiers, snowboarders and other outdoor aficionados.
Known For
Outdoors , Dining
See More
See Less
Nearby Hotels and Resorts
Stay in The Center of it All
Immerse yourself in your destination at these centrally located hotels.
Showing 1-3 of 3 Hotels in Telluride
1-3 of 3 Hotels
See the Best of Telluride, Colorado, in 72 Hours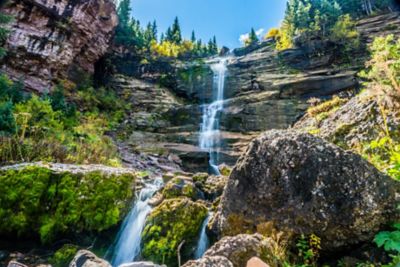 Explore Bear Creek Falls and Telluride's Charming Downtown District
After breakfast at a friendly neighborhood restaurant, head to stunning Bear Canyon Falls for a 5-mile round-trip hike that commences right outside Telluride's downtown district. Enjoy happy hour at the legendary Last Dollar Saloon, which poured its first beer in the 1800s, before dining on unforgettable French cuisine at La Marmotte.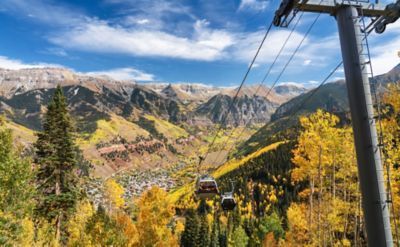 Discover a Famous Ghost Town and Telluride's Beloved Gondola
After some caffeinated beverages at the Coffee Cowboy, it's time for a day packed with unforgettable Colorado adventures in one of Telluride's famous ghost towns. Evening calls for one of Telluride's most beloved activities: the free gondola to Mountain Village for dinner and the view.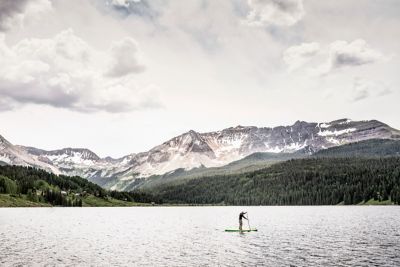 Go Paddling Before Enjoying Prohibition-Era Dining
Start your day with an exciting paddleboard session, followed by lunch and a well-earned soak in one of Colorado's classic natural hot springs. An unforgettable dinner awaits at the Tunnel, an incredibly fun (and delicious) throwback to the Prohibition era of Telluride's mining days.
Experience More, Spend Less