Bienvenido a The St. Regis Maldives Vommuli Resort
Paraíso isleño
Cobijado entre la verde selva y las playas de arenas blancas en una isla privada, The St. Regis Maldives Vommuli Resort mira hacia las encantadoras olas del océano Índico. Explore la belleza tropical y la rica vida marina en este pacífico y ecológico entorno. Nuestra laguna privada, Iridium Spa y la piscina sin bordes al aire libre prometen una relajación sin igual. Nuestro servicio exclusivo, los mayordomos, puede organizar una gran variedad de deportes acuáticos y excursiones en nuestro centro de buceo. Además, en nuestros seis restaurantes y bares le aguardan exquisiteces culinarias. Cada una de nuestras 33 villas en tierra y 44 sobre el agua poseen un mobiliario refinado y un diseño inspirado en la isla y ofrecen una pintoresca vista al mar y al jardín desde sus terrazas y piscinas privadas. Nuestro legendario servicio de mayordomo St. Regis ofrece un servicio sin igual tanto de día como de noche.
Virtual Tour
Experience all the St. Regis Maldives Vommuli Resort has to offer through breathtaking 360° panoramic views of our visionary retreat of natural beauty and unforgettable recreation. Take a virtual tour through our secluded paradise at Maldives' finest address that is sure to entice you to plan your next getaway. We invite you to experience the resort in its entirety. Explore our pristine white sand beaches, lush, tropical jungle, over-water villas, dramatic seascapes, sparkling pools, world-renowned restaurants, the award-winning Iridium Spa, and so much more.
Sophisticated Cuisine
ALBA
Deléitese con las interpretaciones modernas de la cocina italiana clásica en Alba, el exclusivo restaurante de nuestro hotel. Este restaurante de Maldivas sirve una variedad de platos elaborados con ingredientes locales en un ambiente al aire libre.
Sophisticated Cuisine
Orientale
Orientale redefine la alta cocina oriental, con un bar de sushi y una selección de platos panasiáticos de temporada. En nuestro restaurante al aire libre podrá disfrutar de una excelente gastronomía, así como de vista sin obstrucciones del océano Índico. Visítenos para la cena.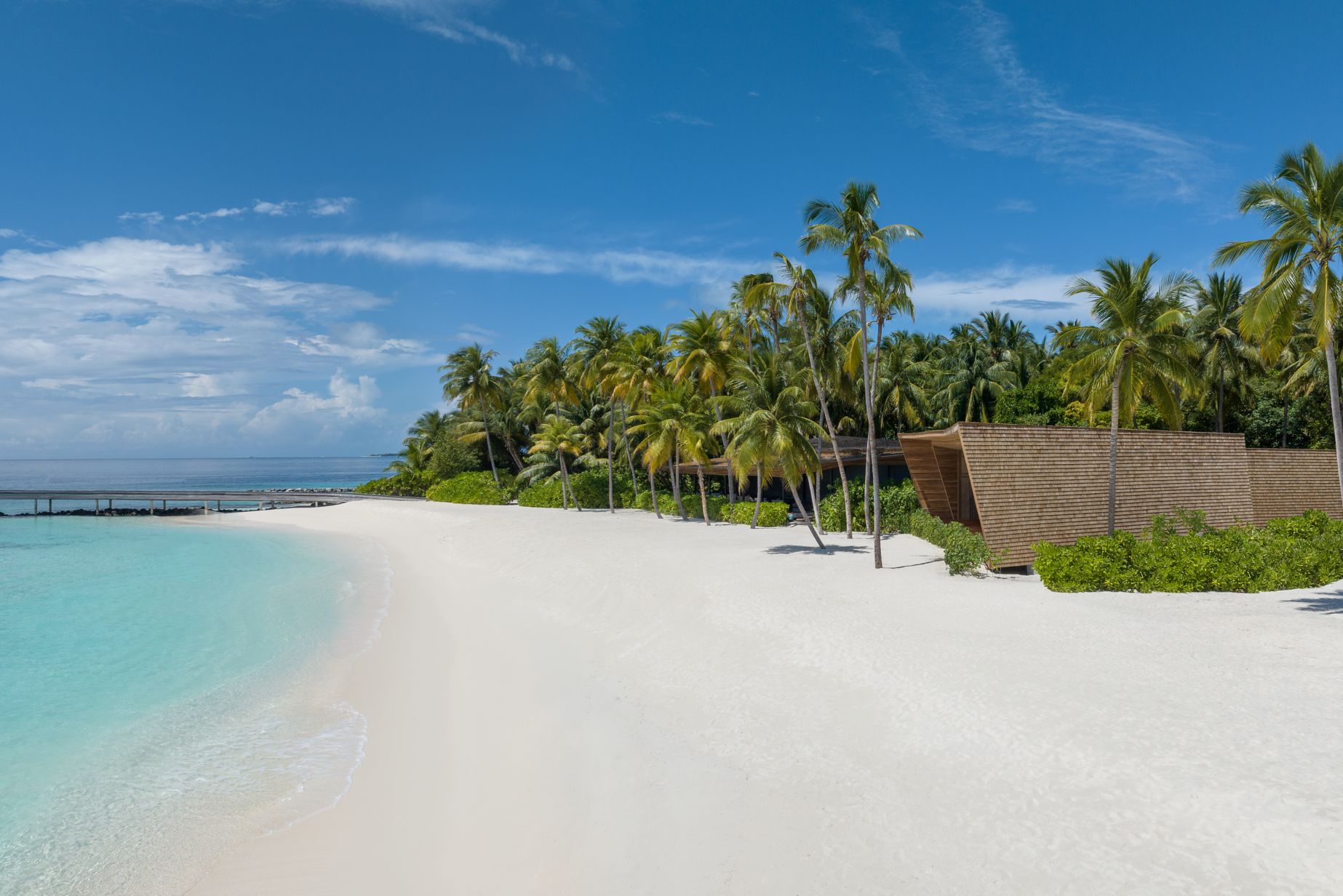 Sophisticated Cuisine
T•Pan
Deléitese con el estilo moderno Kaiseki de la cocina japonesa en nuestro nuevo escondite culinario, T•Pan. Disfrute de deliciosos menús con los mejores ingredientes de las Maldivas, Japón, combinados con sakes de Dassai, casa famosa en todo el mundo.
Sophisticated Cuisine
The Whale Bar
Relájese en el bar The Whale, nuestro exclusivo lounge sobre el agua en las Maldivas. Beba el exclusivo Bloody Mary St. Regis de nuestro resort mientras degusta deliciosas tapas. Sumérjase en la vista panorámica mientras el sol se pone sobre un majestuoso arrecife de coral.
Sophisticated Cuisine
Cargo
El restaurante Cargo emerge en nuestros jardines tropicales durante la noche para que disfrute de la cena y de una alternativa diferente al restaurante frente al mar. Nuestro menú incluye interpretaciones gourmet de comida del Medio Oriente. Prometemos que disfrutará de una experiencia gastronómica memorable.
Sophisticated Cuisine
Crust & Craft
Cree su propia pizza con una selección de ingredientes italianos tradicionales e innovadores en Crust & Craft, nuestra pizzería frente a la playa. Este restaurante informal en las Maldivas también ofrece un amplio menú familiar con opciones de sándwiches y refrigerios.
Experiences
Your Exquisite Escape Awaits
From diving and snorkeling or speedboating and windsurfing to deep-sea fishing and glass-bottom kayak tours, our Vommuli Dive and Watersports Center is the ideal gateway to indelible recreation on—or beneath—the azure waves of the Indian Ocean.
Sign Up for Updates
Stay Connected
Stay connected by subscribing to our exclusive email offers.
TUNE INTO THE SPOTIFY PLAYLIST
Sounds of St. Regis Maldives
Close your eyes and escape to turquoise waters, white sand, and lush jungle views. Listen to our Spotify playlists to bring you back to Maldives' finest address and inspire future experiences with us! Click the link below to enjoy curated sounds from The Whale Bar, Beach & Pool, Maldives Sunset, The Ocean, Iridium Spa and Vommuli Island.
Authentic Island Experiences
Vommuli House
Vommuli House, which is the largest recreation center in the Maldives, was inspired by roots of banyan tree which was a tribute to the banyan tree that used to grow in that place before. Each of its 5 branches offer a unique activity. This is also where the Children's Club and activities are also located.
Nuestra ubicación
CÓMO LLEGAR
The St. Regis Maldives Vommuli Resort
Isla de Vommuli, Atolón Dhaalu, Maldivas, 13080
Tel.: +960 676-6333
En el hotel
Servicio de automóvil privado
Servicio de limusinas y furgonetas
Servicio de traslado local Complimentary
Luxury Yacht Airport Transfer
To truly experience the pinnacle of exceptional maritime luxury, Norma may be chartered for exclusive direct and overnight transfers from and to Velana International Airport (MLE) or across other resorts in the Maldives. For more information and reservations please contact reservations:
Architecture
Signature Spaces
The resort's architecture was inspired by marine life and the local Maldivian culture. Some notable facilities are the Whale Bar, inspired by the whaleshark, and the Iridium Spa, inspired by the lobster.
Explore
2022
Five-Star Forbes Travel Guide
Conde Nast Traveller's 2022 Readers' Choice Awards
St. Regis Maldives Vommuli selected as "One of the Top Resorts in the Indian Ocean".
Conde Nast Traveller Middle East Readers' Choice Awards 2022
Favourite Hotel For Private Pool Villas
World Travel Awards 2022
St. Regis Maldives Vommuli Resort named the "Leading Luxury Island Resort" for the sixth consecutive year.
John Jacob Astor Estate is the "Leading Luxury Hotel Villa" for the fourth year.
World Travel Awards 2021
Iridium Spa received the "Spa Award" and "Indian Ocean's Best Resort Spa" for the fourth consecutive year.
2021
Sharecare VERIFIED® with Forbes Travel Guide
Tripadvisor Travelers' Choice
Sustainable Environmental Practices
Our sustainable environmental practices help to preserve the beauty of the land and water on Vommuli Island. Learn more about our conservation and recycling efforts.
Frequently Asked Questions
No. All tourists visiting the Maldives are given a 30 days tourist visa free of charge upon arrival to the country, regardless of nationality. For additional information, kindly visit https://whattoexpect.marriott.com/mlexr.
The St. Regis Maldives Vommuli Resort is located in the Dhaalu Atoll and the transfer takes approximately 45 minutes by a combined seaplane from Velana International Airport (MLE). Seaplane transfer charges are as follows:

Below 2 years – Complimentary
2-11 years - USD 480
12 years and above - USD 808
No additional person supplement is applicable for infants under 2 years when occupying the same room as adult(s) and using existing beds in rooms. The resort will not accept reservations for any persons below 18 years occupying a villa alone unless accompanied by a parent or a guardian. The resort requires guests to provide a signed waiver in order to accommodate children below 12 years in Overwater accommodation.
When making your reservation, please notify our team of any mobility challenges, medical conditions, allergies or physical ailments in order for us to give you the best possible experience. If you are pregnant or think you may be pregnant, we have specially designed spa treatments which provide maximum benefit for expectant mothers. Due to the changes to your body, we do not perform full body massages or body treatments on expectant mothers within their first trimester and some treatments should be avoided throughout. In addition, our Dive Centre follows PADI guidelines that recommend women avoid diving while pregnant or trying to become pregnant. For more information, please contact stregis.maldivesvommuli@stregis.com.
Maldives Time (GMT +5); Island Time on Vommuli Island (GMT +6). While on Vommuli Island you will seamlessly transition from Maldives time to a dedicated 'Island Time' allowing an extra hour of daylight each day to fully indulge in the epicurean delights and opulent splendor at The St. Regis Maldives Vommuli Resort.
Please be advised that the weather in the Maldives is unpredictable, erratic and localized making it difficult to correctly forecast the weather. Maldives is generally hot and sunny all year round with an average temperature of 25 and 31 degrees Celsius during the day. Being a tropical country, there is no season without rain but we rather have a less rainy season and a rainier season. You can expect less rain throughout from November until beginning of May. The monsoon season runs from May to October. Even when it rains, it is very unlikely to rain for days to an end but might rain for a couple of hours during the day or night leaving plenty of time to engage in watersports or just laze around in the sun simply doing nothing.
From dolphin cruises aboard a Maldivian Dhoni to a tailored adventure aboard our private yacht to antigravity yoga, beach football and watersports, we tailor our activities to the interests and desires of your family. To learn more, click here.
For the privacy of all of our guests, the usage of drones within the premises of the resort is strictly prohibited.
Go to the Apple App Store or the Google Play Store from your mobile device or tablet and download the Marriott Bonvoy App. It's free to download and is available in seven languages—English, French, Spanish, German, Chinese, Japanese, and Korean—with more on the way.
If you have general questions, please use the following e-mail address or phone numbers stregis.maldivesvommuli@stregis.com +960 676-6333 OR 00 1 844-631-0595.
Detalles del hotel
Servicio a la habitación las 24 horas
Servicio diario de limpieza de habitación
Servicio de descubierta de cama
Alquiler de bicicletas
Buceo
Esnórquel
Tenis
Alquiler de motos acuáticas
Esquí acuático
Sala de juegos
Minimercado
Servicio de lavandería
Lavandería
Peluquería
Servicio a la habitación
Llamada de despertador
Café/Té gratis
Solicitud de servicio
Registro de llegada: 3:00 pm
Registro de salida: 12:00 pm
Hotel para no fumadores
Política de mascotas
No se admiten mascotas
Not allowed
Información adicional sobre el estacionamiento
No disponible
Políticas y pagos
Confirmaciones: Efectivo, Tarjetas de crédito
Pagos móviles sin contacto
Servicios
Cambio de moneda
Cuidado de niños
Servicio de concierge
Idiomas hablados por el personal:
Inglés, Ruso, Chino, Árabe, Hindi
Si deseas más información sobre las características físicas de nuestras habitaciones y áreas comunes con instalaciones para personas con necesidades especiales o servicios especiales relacionados con una discapacidad concreta, no dudes en llamarnos +960 676-6333
Áreas y caminos desde la entrada al público con instalaciones para personas con necesidades especiales
Acceso a habitaciones y suites por pasillo interior
We do not have accessible access.
Instalaciones para personas con necesidades especiales en la habitación
Cadenas de seguridad y/o pestillos en las puertas de las habitaciones
Cerraduras secundarias en las ventanas de las habitaciones
Cerrojo de seguridad en las puertas de las habitaciones y suites
Las ventanas de la habitación se abren
Llave electrónica de la habitación
Manijas en las puertas de las habitaciones
Mirillas en las puertas de las habitaciones y suites
Puertas de habitaciones y suites con cierre automático