Enjoy breathtaking beaches, great restaurants, and culture on this chic British island territory.
Bermuda's pink-sand beaches and sparkling blue waters are world-famous, but there's much more to this British island territory than lounging by the sea. With welcoming, tight-knit communities, historic attractions and world-class cuisine and shopping, this is the perfect destination for travelers looking for culture, adventure and relaxation. The island has chic home goods and clothing boutiques, excellent diving and snorkeling and restaurants with a British accent, ensuring that there's always something new to discover — and a long weekend there merely scratches the surface of all there is to see on this rich, complex little island in the Atlantic.
See More
See Less
Explore Bermuda
Town of St. George
Southampton Parish
Hamilton
Paget
Nearby Hotels and Resorts
Stay in The Center of it All
Immerse yourself in your destination at these centrally located hotels.
Discover the Pink-Sand Beaches — and More — in Historic Bermuda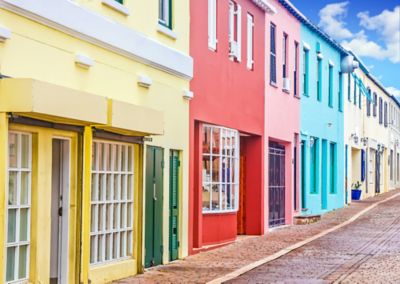 Visit the Capital of Bermuda and Beyond
Get the lay of the land from Fort Hamilton, then take a walk along Front Street, popping into chic boutiques. Visit the National Museum of Bermuda, swim with dolphins and wrap up your day at a fine-dining restaurant that heartily embraces a sense of whimsy.
Sailing and Scuba Diving in Southampton
Visit Southampton, your home base for all things outdoorsy. Spend your morning sailing or scuba diving, then enjoy a lunchtime picnic on Bermuda's legendary pink-sand beach. After sunset views by the lighthouse, it's back to Hamilton for an old-school dinner special at Harry's.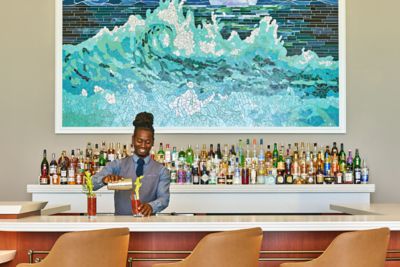 Soak in the Beauty of Paget and More
Wrap up your trip with spelunking and rum swizzles, then drive to Paget for botanical gardens, bike rides and a quick culture fix. End the night at Bermuda's splashiest (thankfully not literally) waterfront restaurant.
Experience More, Spend Less
Showing 1-4 of 7 Offers in Bermuda
Multiple Locations
Resort Retreats - Save up to 15%
Fall for a resort retreat. Book your fall vacation and save up to 15% at one of our participating resorts on stays of four nights or more.
Details