SAVOR AMERICAN RETRO CUISINE AT LITTLE FIB RESTAURANT
Just steps away from your room at the Renaissance Nashville, Little Fib is an inviting downtown American restaurant and bar that creatively captures the celebrated taste of Nashville with an innovative Southern fare, refreshing cocktails and classic Tennessee suds and libations.
Little Fib Menus
Join us at Little Fib for a true Nashville experience - a fresh new take on nostalgic Southern cooking that is influenced by local culture, flavors and the season.
Savor American retro cuisine at Little Fib - our unique restaurant designed to honor the rich history of Nashville through food, music and libations.  It's the perfect place to start your morning in downtown Nashville or refuel after exploring Music Row.
Breakfast:
Monday - Thursday: 7am - 11am
Friday - Sunday: 7am - 12pm
Dinner:
Daily: 5pm - 10pm
Bar:
Sunday - Thursday: 5pm - 2am
Friday - Saturday: Daily until 2am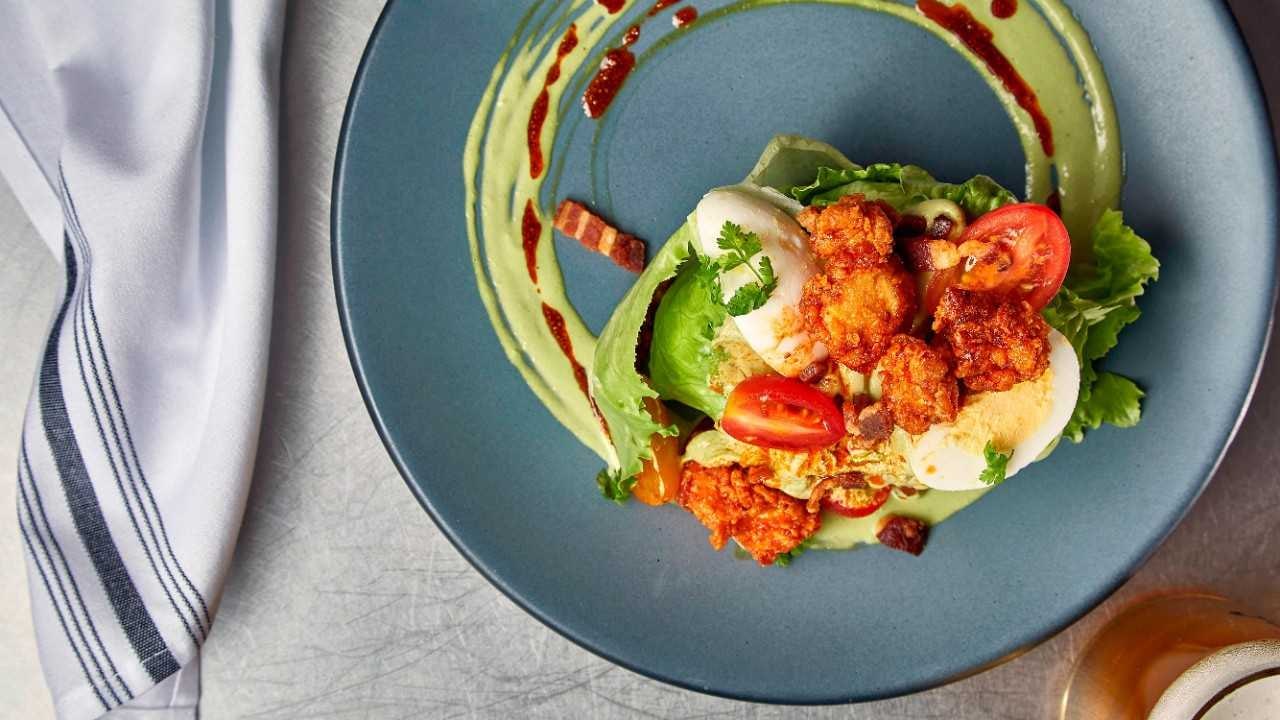 Meet Little Fib Chef Joe Healy
Chef Joey Healey was born in small town Floral City, Florida where he spent most of his summers as a kid fixing cars at his father's garage.  Growing up in rural Florida next to the Gulf of Mexico his father would teach him how to hunt and fish, something they still enjoy doing today. His passion stems from the years he spent helping his mom bake fresh pumpkin pies in the fall and it would become his inspiration to attend culinary school. 
After receiving an education from Le Cordon Bleu in Orlando, Chef Joey began as a line cook at his local Golf and Country Club where he quickly climbed the ranks to Sous Chef. Wanting to learn more he would spend the next several years of his career working his way from line cook to Sous Chef in multiple kitchens learning new techniques from each Chef he worked with.
His biggest joy when not camping or hiking with his wife and daughter comes from working outside events and competitions. His chili cook-off team Ground Up competes in Orlando and has recently made two first place chili's. The fun and excitement from cooking with family and friends is something he brings to the kitchen and is expressed through his food.
"Food to me is all about the memories. I love how a dish can take me back to a time when I was a kid eating oysters my dad caught earlier that same day with hot sauce and saltines next to a fire or a neighborhood potluck frying catfish and alligator and smoking a hog."
Chef Joey likes to spend his time reading cookbooks and trying to develop new dishes and menus so he can share his story of growing up in the sticks of Florida and hopefully take you back to a time you had some good food with some good people.
Catering, Groups & Events
Throughout the year, Little Fib hosts special events for everyone to enjoy.
Set in downtown Nashville near popular sports and entertainment centers, Little Fib offers an ideal location for your next function for six to fourteen guests. Whether you're hosting an intimate celebration or corporate affair, you're invited to take a seat at our dinner table. Specializing in family-style meals, our locally-inspired and crafted experience will bring everyone together with our commitment of putting the "supper" back into "suppertime." 
For inquiries, please send us an e-mail,or call us to start the conversation.We look forward to hearing from you!