1824 BAR
Step into the timeless charm of 1824 Bar and experience traditional lounge comforts with the sophisticated flair of a stylish cocktail bar. Filled with classic elegance, unique artwork and fine furnishings, 1824 Bar is a delightful destination for fun and relaxation.
Contact Us
+353 1 663 4500
HISTORY
1824 Bar
New and exciting, 1824 Bar brings an exceptionally stylish bar to Dublin. Designed by internationally renowned designer Guy Oliver, this elegant space complements the traditional nature of The Shelbourne while overlooking our hotel's spacious outdoor terrace.
Filled with classic designs, including library-style oak panelling, antique and contemporary artwork, chic furnishings and a 19th century Kilkenny limestone fireplace, the bar offers a bespoke ambience true to its Irish heritage.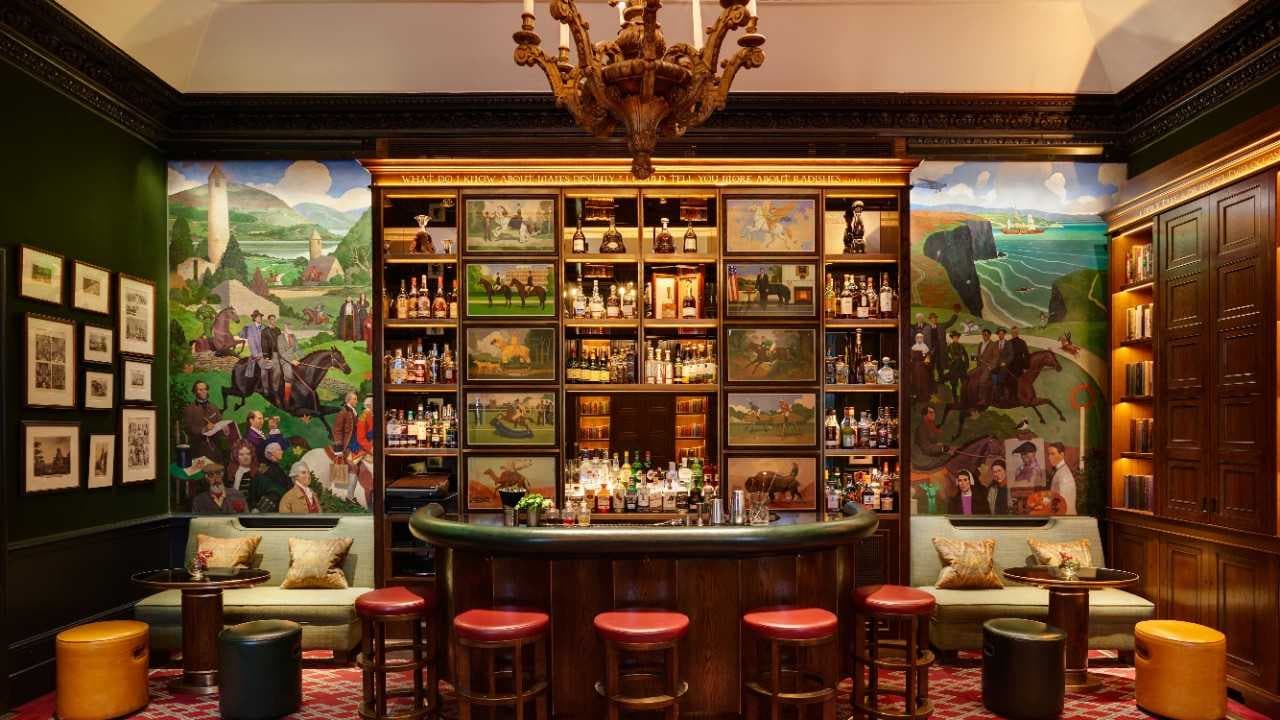 AMBIENCE
Fine Art
Guests of 1824 Bar are greeted by a fine portrait in oils of a Victorian gentleman with shamrock lapel that sits boldly above the fireplace. Additional artworks can be found throughout the bar, including historic prints, elegant engravings and framed literary works.
Irish maps, scenes of Dublin life and musical scores related to the city also dot the walls. Our Irish oak bookshelves are filled with books by Irish authors, including works depicting Irish themes and amusing quotes from iconic Irish Literaries Samuel Beckett, Brendan Behan and Oscar Wilde.
Bespoke mural-like paintings of a whimsical Irish landscape, created by artist Paul Slater, are also on display. Blending horse race scenes with hypothetical and real characters from Irish fiction and history, the Slater artworks include figures that have been intrinsically linked with the hotel, including the Earl of Shelburne, Elizabeth Taylor, John Wayne, Maureen O'Hara, characters from Ryan's Daughter - Éamon de Valera and Michael Collins.
Relax while enjoying your favourite drink among the bar's posh décor. Deep shades of green, beautifully mirroring the greenery of the terrace outside, encapsulate the felt walls, chic mohair velvet seats and crown cut curved oak bar with its soft leather edge. Black oval brass-edged tables add an Art Deco touch, a feel that continues in the graphic Ulster carpet and contrasting textiles. Guests are also welcomed to enjoy the fresh garden feel of The Terrace for alfresco refreshment.
MORE INFORMATION
Directions & Parking
The Shelbourne, Autograph Collection
27 St. Stephen's Green
Dublin, Ireland
Parking:
Off-site: 35 EUR daily
Valet: 35 EUR daily
Parking height limit: 1.85 meters/6 feet