THE SADDLE ROOM
The Saddle Room, voted the 2017 Best Hotel Restaurant in Dublin, offers a tempting menu daily. Enjoy a hearty breakfast buffet, a delicious lunch or sample our Oyster Bar. Savor our chef's innovative use of local ingredients to craft mouthwatering steaks and seafood entress.
The quietly elegant setting of The Saddle Room lets you immediately know you are going to enjoy an experience in fine dining. Our award-winning restaurant, named Best Hotel Restaurant in Dublin, is renowned for its fresh steak and seafood, oyster bar and for our chef's creative use of local ingredients.
The Saddle Room, the Tastiest Irish Restaurant in Dublin
An open kitchen, dark oak walls, rich splashes of gold and a lavish oyster bar add to the drama of the fine dining experience, touching all your senses. Chef Garry Hughes' confident way with fine Irish ingredients echoes the sophisticated surroundings.
The Saddle Room also features two private dining rooms. The Martyn Turner Room, featuring original prints from the acclaimed cartoonist, and The Trophy Room, featuring original jockey silks from the 1950s, are both capable of seating up to 16 guests and offer all the comfort, style and savvy service of The Saddle Room, but in an intimate setting.
Dublin's favourite 5-star hotel scooped a major prize at the RAI Irish Restaurant Awards, with The Saddle Room at The Shelbourne Hotel awarded Best Hotel Restaurant in Dublin.
Find out more here.
The Saddle Room Restaurant Hours
Breakfast
Monday - Friday: 6:30am - 10:30am
Saturday - Sunday: 7am - 11am
Bank Holidays: 7am - 11am
Lunch
Monday - Sunday: 12.30pm - 2.30pm
Dinner
Daily A La Carte served: 5:30pm - 10:00pm
Table D'Hote Dinner served: 5:30pm - 10:00pm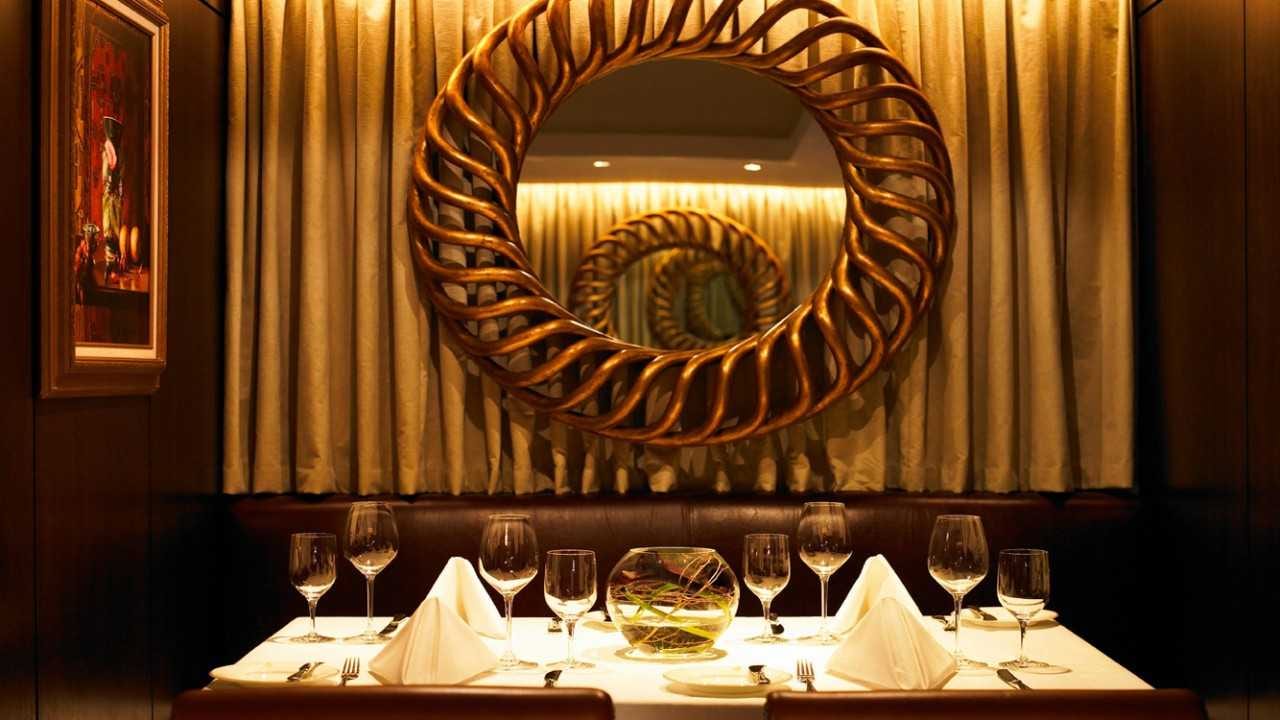 Menus
Executive Chef Garry Hughes and his team have a simple philosophy of using only the finest in locally sourced Irish ingredients. This home-grown culinary process ensures guests enjoy a unique dining experience that embraces simply cooked, quality Irish produce. Enjoy breakfast, lunch or dinner and savor each bite at our Dublin restaurant.
Private Dining at The Saddle Room
The Saddle Room Lunch menu is available for private lunchtime dining bookings.
Breakfast
The Saddle Room restaurant offers a variety of buffet and a la carte options for breakfast, each day. From classic favorites to our chef's delightful creations with a Shelbourne twist, your eggs benedict, omelets and pancakes will be rich in local Dublin flavor.

Lunch
Sample two- or three-course lunch menus, featuring only the best in traditional Irish cuisine.
Monday - Friday: 12.30pm - 2.30pm
2-course menu €28.00 per person
3-course menu €32.00 per person
Saturday - Sunday: 12.30pm - 2.30pm
2-course menu €33.00 per person
3-course menu €37.00 per person
Dinner
We serve oysters straight from our Irish coasts, as well as freshly prepared entrees featuring savory land and sea delicacies. Your appetite will never be disappointed when you choose to dine at our Dublin steak and seafood restaurant.
Table D'Hote Dinner Menu 5.30 pm - 10.00pm
3-course menu €59.00 per person