Experience Good Travel with Marriott Bonvoy
Good Travel with Marriott Bonvoy is a program that offers meaningful travel, allowing you the opportunity to create a positive impact as you explore and build deeper connections in local communities when you stay in our hotels.

With over 100 curated experiences, the program focuses on three pillars – Environmental Protection, Community Engagement, and Marine Conservation.

Discover how you can contribute meaningfully to the community engagement with us at Hua Hin Marriott Resort & Spa.

Motorcycle Helmet Painting for Kids
Motorcycle safety is one of the most important issues facing children
Many kids in Hua Hin still travel to and from school by motorbike, but few wear helmets. Often the reason for this is simply that they don't have a helmet to wear.
Statistics make it abundantly clear that helmets save lives. There are a significant number of accidents that cause young people's lives simply because they did not wear the helmet.
In an effort to address this alarming issue, the 'Helmet Painting for Kids' event is a fun way of educating our guests –both adults and children and helping to save young lives. Through this campaign, we hope to improve road safety for the children in our community.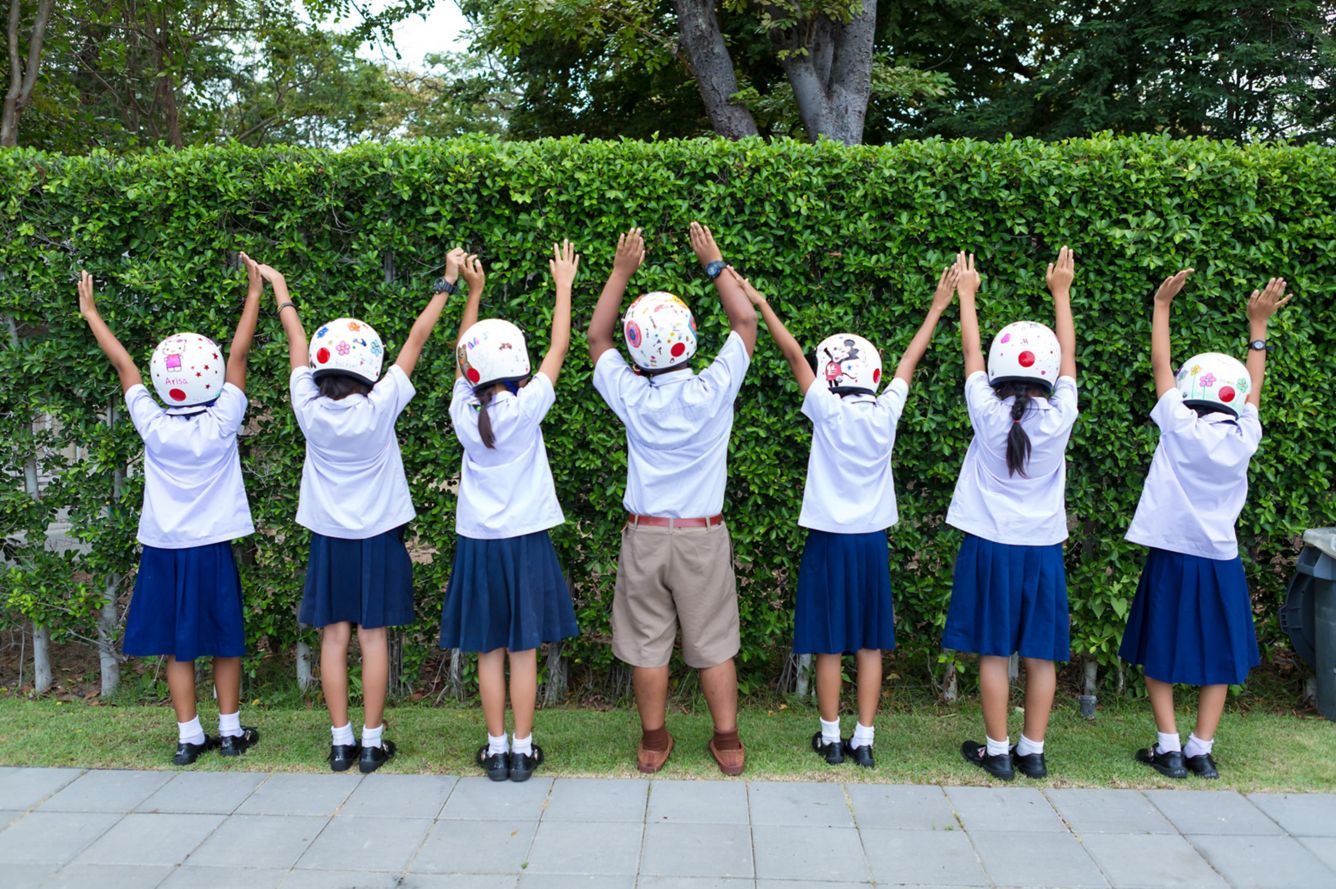 Motorcycle Helmet Painting for Kids
Join the "Helmet Painting for Kids"
In partnership with Hua Hin Municipality, we invite our guests to participate in the Helmet-painting activity to raise awareness about the importance of wearing a motorcycle helmet and road safety.
Guests are invited to join Helmet Painting for Kids takes place at Kids' Club once a week. Moreover, we also held an annual Helmet for Kids event in which guests will be invited to join Hua Hin Highway Police and Hua Hin Tourist Police along with local schoolchildren in an hour-long interactive lecture and activities including promoting road safety and helmet-painting. This program is key to inform our valued guests of why, how, and when they can be a part of something honorable during their stay. Once the activity is completely done, guests will receive a certificate and entitle to enjoy complimentary mocktails.

Taking part in this activity is both educational and fun. Adults and children alike can explore their artistic side and let themselves go with a brush and some paint. After donating these helmets, our guests can feel great pride and honor for taking part in something meaningful.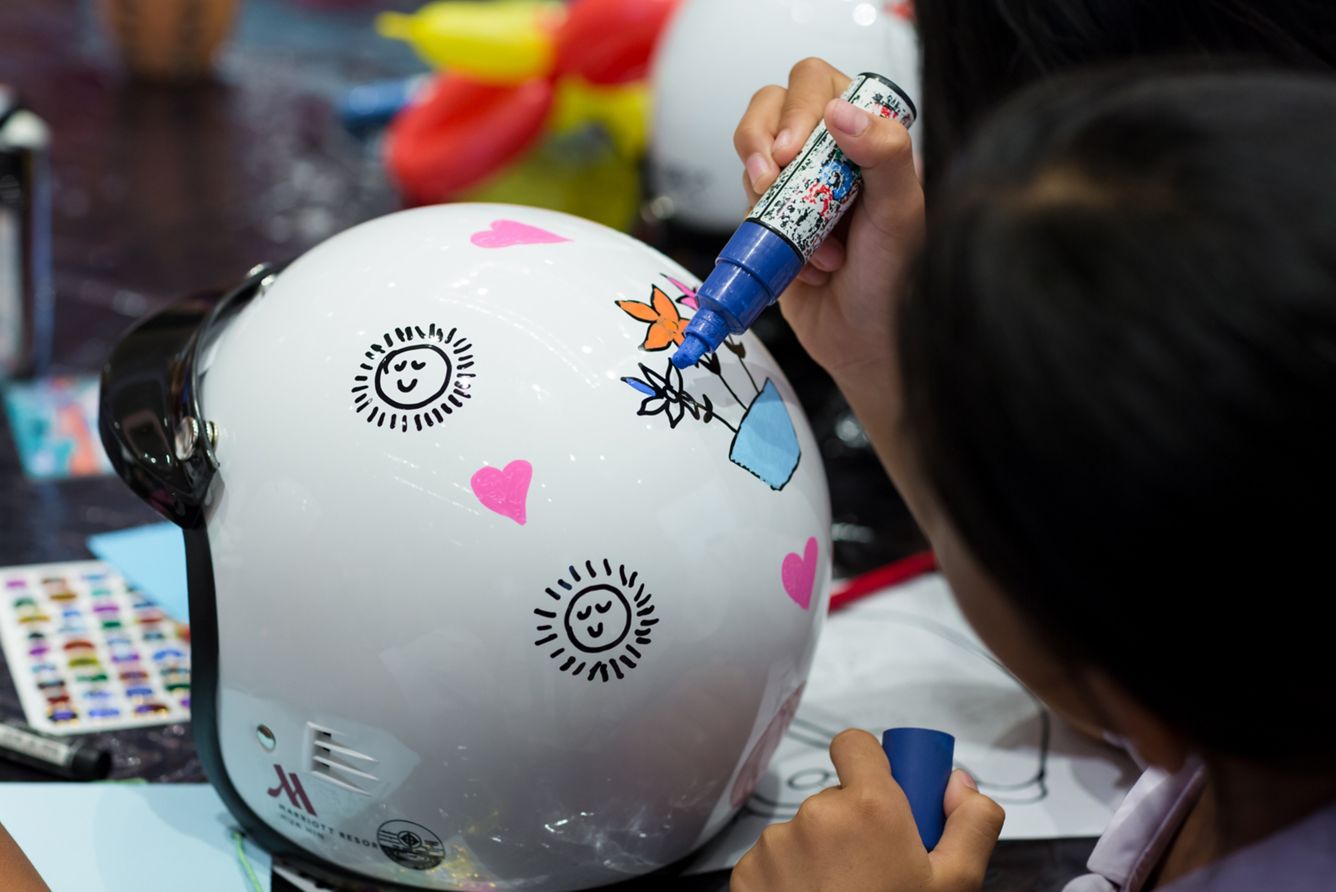 Motorcycle Helmet Painting for Kids
Encouraging road safety with hand paint helmet
Motorcycle Helmet Painting for kids activity offers guests a knowledge about road safety while helping children in need to get the helmet.

Guests will walk away with new awareness about road safety and how important it is to help promote this initiative to their communities. It is also rewarding to be able to help children in need, knowing they may be part of saving children's lives on the road.

This improves Hua Hin's awareness regarding road safety and decreases the number of severe accidents since wearing a helmet has an effective role in protection against head injuries. Within 5 years, we managed to donate over 2,000 helmets for schoolchildren and educated the needs of road safety.

The helmet painting are designed to educate and give back to local children in need, providing the knowledge and basic security on the road.