Irvine Marriott M Club Lounge
An exclusive environment, Irvine Marriott's M Club Lounge is designed to help business travelers retreat, recharge and refocus.  Accessible 24 hours a day, seven days a week, it is the perfect place to fuel up for the day and re-balance in the evening.
RETREAT, RECHARGE, REFOCUS
M Club Lounge Concept
Our M Club welcomes business travelers to make the most of their time in Irvine by providing a relaxed environment, light breakfast fare, pastries and premium Starbucks® espresso experience in the morning, as well as hors d'oeuvres and hand-crafted libations in the evening. Don't miss a beat with our exciting new amenities and elevated service.
THE MIND MENU
Amenities
New and exciting amenities await M Club guests, allowing you the opportunity to:
Pair your morning meal or enjoy a mid-day boost with a personal favorite from our premium Starbucks Espresso machine.
Simply press a button to enjoy a glass of our enticing wine selections from our new self-serve wine bar. The Wine Station Machine, developed by Napa Technology, features 'Clean Pour' dispensing technology to insure a pure and hygienic sipping experience.
Complimentary food and drink are offered throughout the day with alcoholic beverages available for purchase.
Just learned of an impromptu meeting? Try out our LG Styler, the newest technology that allows you to press your suit for a fresh and smart appearance.
Other food and beverage options available throughout the day include:
Grab and go snacks, fruit, etc.
Sodas and chilled juices
Still and sparkling water
Starbucks® Coffee
STAY INSPIRED
Hours and Access
M Club Lounge is open 24/7 and offers access to Platinum Premier, Platinum Elite members and guests reserving M Club Lounge rooms.

Daily hot breakfast:
Monday-Friday, 6am - 9:30am
Saturday and Sunday, 7am -11am
Evening hors d'oeuvres and desserts:
Sunday through Thursday: 5:30pm - 9:30pm
Handcrafted cocktails and bar service may also be purchased from our M Club Bar during this time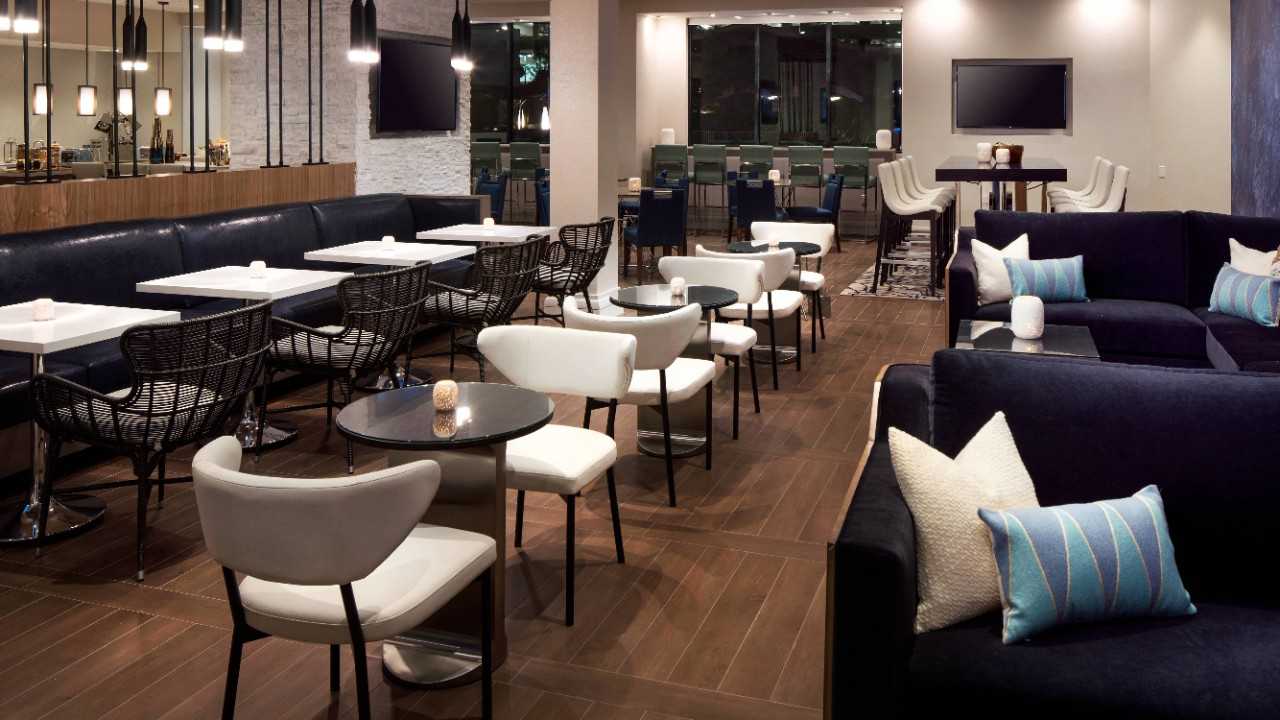 PERSONALIZED SERVICES
M Club Policies
M Club is available to Platinum Elite Marriott Rewards members, as well as guests who purchase access.
Those with access may have one additional guest; each additional to the two guests is $20 per person.
Meeting space must be reserved.
All food and beverage must be paid via room charge.
TRAVEL REINVENTED
Services
M Club provides more than a place to relax and recharge with all the traditional needs close at hand. An ideal destination for collaborating and focusing, you'll find experiential amenities to enhance your travel experience. Meet casually with friends and associates using the flexible seating or rent one of our glass-encased meeting rooms to host VIP gatherings or strategic planning sessions.
Reserve a private meeting space featuring a television and monitor for visuals, high-speed Internet access and room for up to 12 attendees.
Of course, traditional amenities including free Wi-Fi, printing, power supplies and audiovisual services to ensure uninterrupted connectivity and productivity are also provided.
SPACES THAT INSPIRE
Immerse Yourself In Sophisticated Spaces
Bold blue décor accents and large, sunny windows create a bright, inviting atmosphere in our exclusive M Club. With access to this private area, you can enjoy relaxation and complimentary food and beverages throughout the day and evening hours.