Host a Modern Event With Storied Flair in London
Events
London Marriott County Hall Hotel provides everything you need to take your event to the next level. Collaborate and congregate in our renovated conference room space and enjoy the flexibility to host events of all sizes and styles. An array of rooms are available for meetings, events and special occasions, each with individual character and enhanced by impeccable Marriott service. Throughout, relish in the historic charm of our hotel, which is a truly distinctive destination in the heart of bustling London.
8,977 sq ft
Total Event Space
100
Capacity Largest Space
11
Maximum Breakout Rooms
King George V Room
The largest of the function rooms, this historical grand space provides natural daylight and is ideal for seminars or cocktail receptions for up to 100 guests. The space is named after King George V who opened the County Hall building in 1922.
Herbert Morrison Room
With natural daylight and wood panelling, this stately space is full of original features including a marble fireplace and is perfect for private dining and upscale meetings and events for up to 54 people.
Meetings Made at Marriott
No need for delegates to miss out due to travel or number restrictions. We can simply host your event across multiple meeting spaces and even different Marriott venues and connect them virtually.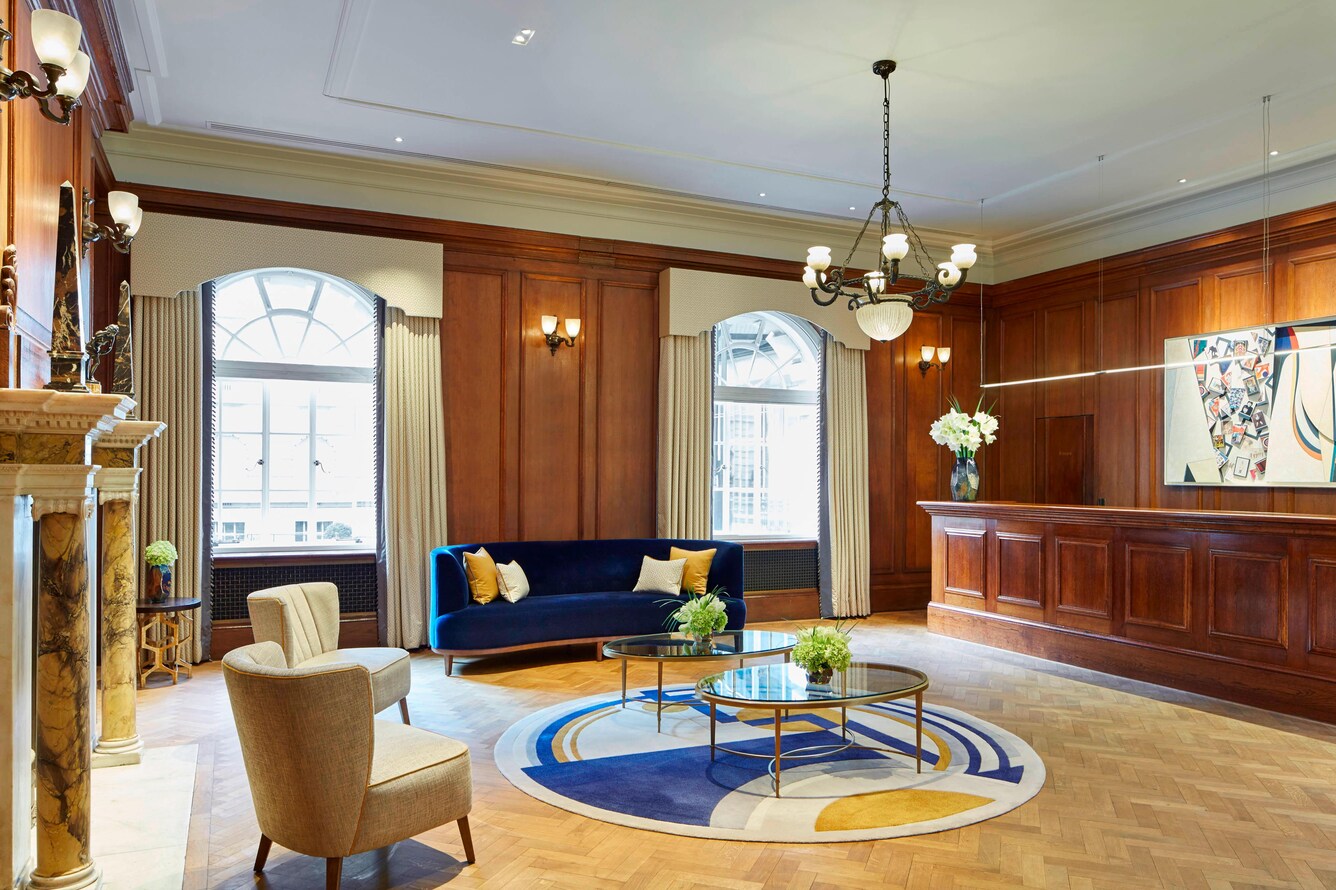 Exquisite Meeting Venues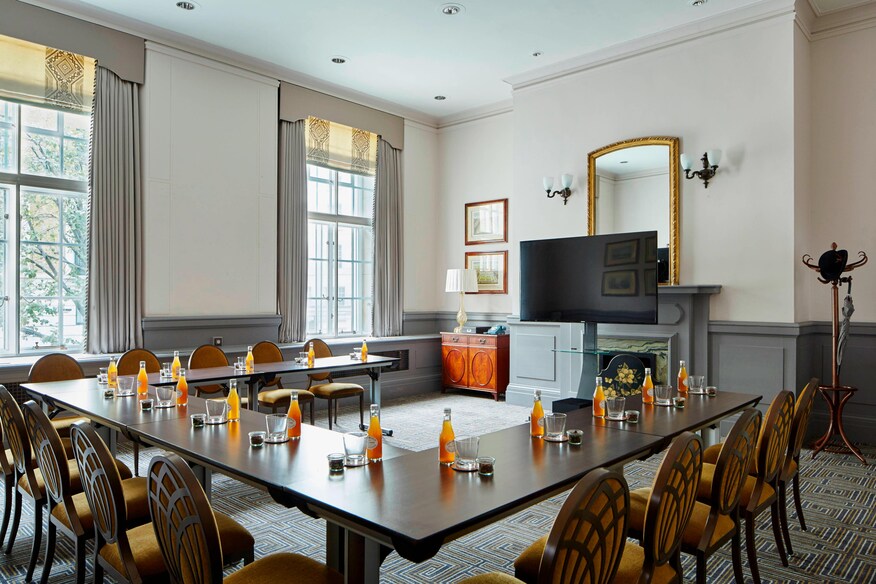 Horace Cutler Room
Configure our light and airy contemporary function space into a U- shape setup for your next mid-sized meeting or training session.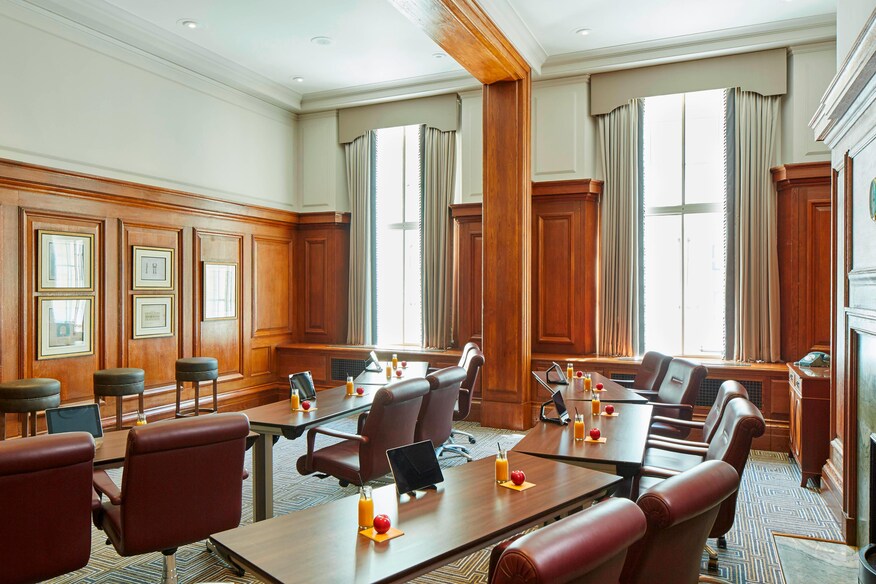 Ralph Knott Room
Our Ralph Knott Room is named after the architect of County Hall and is the former office of Ken Livingstone. With wood panels and natural light, this flexible meeting and event space can accommodate up to 30 people for a theatre-style meeting or 16 people for a dinner.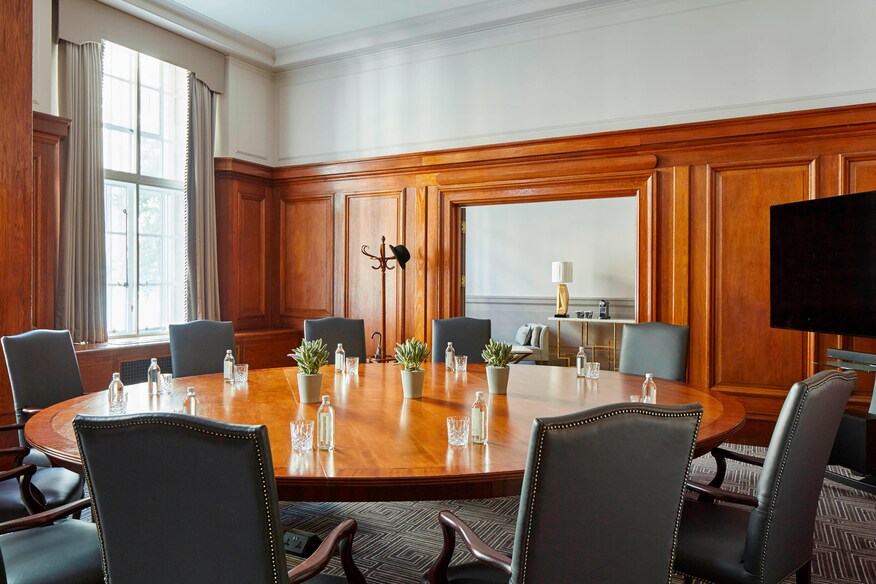 Boardroom
This dedicated executive boardroom is ideal for upscale meetings and dinners for up to 12 people. With wood panelled walls, natural daylight and ClickShare technology, it is complemented by the Lady Nathan Room which is ideal for setting up breaks, lunches and pre-dinner drinks.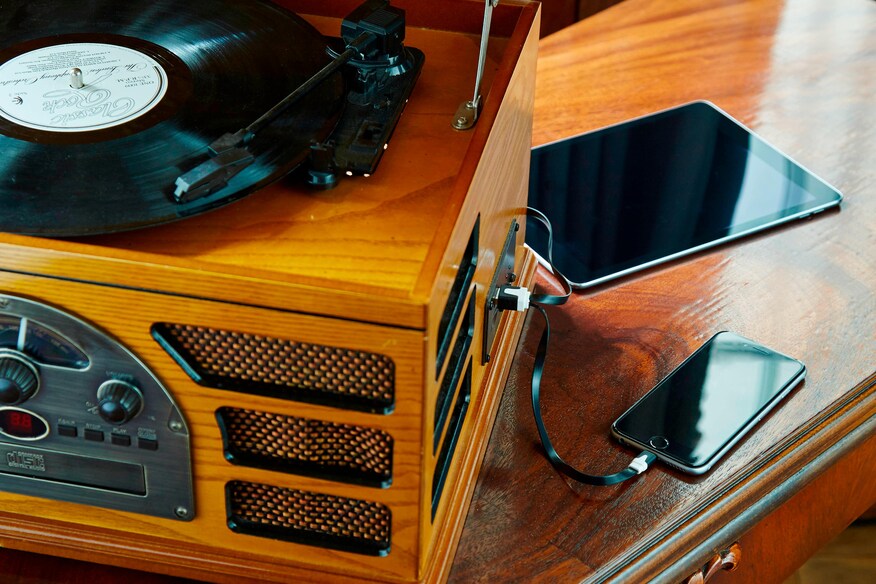 Queen Mary Room
This charming space with wood panelling, original wooden floors and natural daylight is ideal for board meetings or intimate training sessions for up to 45 people but also complements the King George V Room as a pre-event meeting and event space.
William Wordsworth
This light and airy room overlooks the courtyard with its impressive architecture. With high ceilings and integrated technology it is suitable for corporate and social meetings and events for up to 14 people.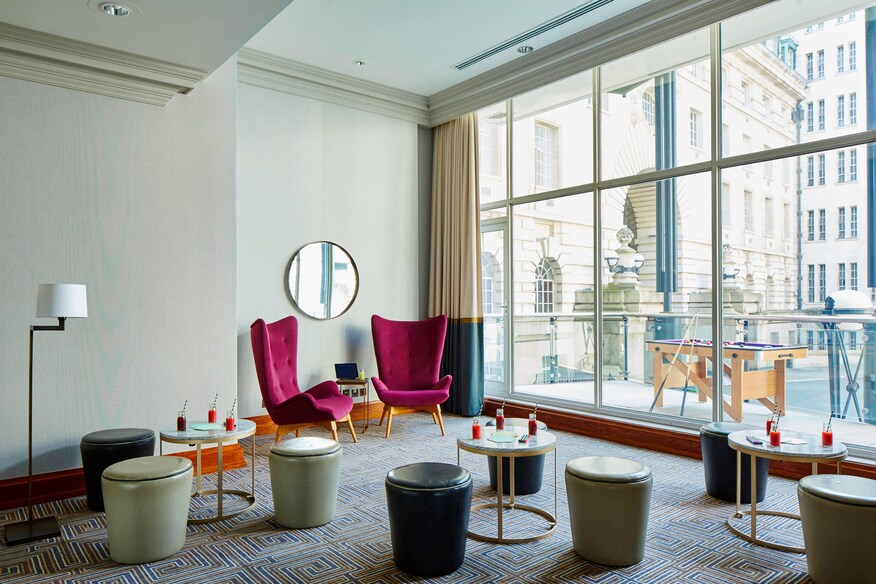 Francis Anderton Room
Overlooking a courtyard, this room has its own private balcony. It is full of natural daylight and is ideal for brainstorming sessions. Alternatively, it can be used for intimate family gatherings such as birthdays, anniversaries and christenings for up to 30 people.
Your Wedding Celebration
Merging romantic tradition and modern glamour, London Marriott Hotel County Hall provides a sophisticated Central London location for all your wedding celebrations — from your engagement party to the ceremony and reception.
Bespoke Planning Services
Plan your wedding photography with the backdrop of nearby landmarks, or within our stunning, historic venues. Enjoy the luxury of bespoke planning services and savour authentic catering.
Featuring 12 unique meeting rooms, our hotel is an inspired choice for events of all sizes in London.
Allow our expert meeting planning staff to coordinate the details of your conference in London.

Design your day with bespoke wedding packages at our stunning London wedding venue.
Throw the ultimate birthday party in Central London with our exclusive party packages.

Enjoy our competitive day rates and reserve your conference space directly on our hotel's website.
Delicious catering options to keep your attendees refuelled throughout your meeting.
Our charming King George V venue hosts up to 100 guests for your wedding.

Treat your guests to delicious trend-inspired menus handcrafted by our team of talented chefs.

Inquire about our array of meeting packages for a distinctive event in the heart of historic London.
Get free Wi-Fi, our Meeting Services App & earn Marriott Bonvoy Events points on your next meeting.
Personal, imaginative event planners to meticulously coordinate your event. Call us on 020 7902 5551.

Cosy winter gathering or sparkling spectacular? Celebrate the festive season with our party packages.

| Meeting Room | Dimensions (LxWxH) | Area (sq.ft) | Theater | Schoolroom | Conference | U-Shape | Reception | Banquet |
| --- | --- | --- | --- | --- | --- | --- | --- | --- |
| Herbert Morrison Room | 34.5x20.3x14.1 | 700.7 | 70 | 30 | 28 | 25 | 70 | 40 |
| Queen Mary Room | 25.6x20.3x14.1 | 520.5 | 30 | 15 | 14 | 14 | 50 | 24 |
| King George V Room | 35.4x25.6x13.5 | 906.8 | 100 | 50 | 30 | 45 | 100 | 72 |
| Ralph Knott Room | 22.3x23x13.5 | 512.4 | 30 | 18 | 14 | 15 | 30 | 24 |
| Boardroom | 23.3x23x13.5 | 535 | 20 | 18 | 20 | 15 | 30 | 20 |
| Horace Cutler Room | 23.3x23x13.5 | 535 | 40 | 20 | 16 | 16 | 40 | 36 |
| Francis Anderton Room | 19.7x21.3x12.1 | 419.8 | 30 | 14 | 14 | 12 | 30 | 30 |
| William Wordsworth Room | 23x23.3x11.8 | 535 | 40 | 15 | 20 | 16 | 30 | 32 |
| The Library | 23x23.3x11.8 | 2023.6 | 100 | 15 | 40 | 16 | 100 | 60 |
| Westminster Suite | 23x23.3x11.8 | 1453.1 | 14 | 15 | 14 | 16 | 14 | 14 |
| Leaders | 23x23.3x11.8 | 308.9 | 40 | 15 | 16 | 16 | 40 | 16 |
| Noes Lobby | 23x23.3x11.8 | 527.4 | 40 | 15 | 16 | 16 | 50 | 16 |
Dimensions (LxWxH)
34.5x20.3x14.1
Dimensions (LxWxH)
25.6x20.3x14.1
Dimensions (LxWxH)
35.4x25.6x13.5
Dimensions (LxWxH)
22.3x23x13.5
Dimensions (LxWxH)
23.3x23x13.5
Dimensions (LxWxH)
23.3x23x13.5
Dimensions (LxWxH)
19.7x21.3x12.1
Dimensions (LxWxH)
23x23.3x11.8
Dimensions (LxWxH)
23x23.3x11.8
Dimensions (LxWxH)
23x23.3x11.8
Dimensions (LxWxH)
23x23.3x11.8
Dimensions (LxWxH)
23x23.3x11.8
| Meeting Room | Dimensions (LxWxH) | Area (sq.mt) | Theater | Schoolroom | Conference | U-Shape | Reception | Banquet |
| --- | --- | --- | --- | --- | --- | --- | --- | --- |
| Herbert Morrison Room | 10.5x6.2x4.3 | 65.1 | 70 | 30 | 28 | 25 | 70 | 40 |
| Queen Mary Room | 7.8x6.2x4.3 | 48.36 | 30 | 15 | 14 | 14 | 50 | 24 |
| King George V Room | 10.8x7.8x4.1 | 84.24 | 100 | 50 | 30 | 45 | 100 | 72 |
| Ralph Knott Room | 6.8x7x4.1 | 47.6 | 30 | 18 | 14 | 15 | 30 | 24 |
| Boardroom | 7.1x7x4.1 | 49.7 | 20 | 18 | 20 | 15 | 30 | 20 |
| Horace Cutler Room | 7.1x7x4.1 | 49.7 | 40 | 20 | 16 | 16 | 40 | 36 |
| Francis Anderton Room | 6x6.5x3.7 | 39 | 30 | 14 | 14 | 12 | 30 | 30 |
| William Wordsworth Room | 7x7.1x3.6 | 49.7 | 40 | 15 | 20 | 16 | 30 | 32 |
| The Library | 7x7.1x3.6 | 188 | 100 | 15 | 40 | 16 | 100 | 60 |
| Westminster Suite | 7x7.1x3.6 | 135 | 14 | 15 | 14 | 16 | 14 | 14 |
| Leaders | 7x7.1x3.6 | 28.7 | 40 | 15 | 16 | 16 | 40 | 16 |
| Noes Lobby | 7x7.1x3.6 | 49 | 40 | 15 | 16 | 16 | 50 | 16 |
Dimensions (LxWxH)
10.5x6.2x4.3
Dimensions (LxWxH)
7.8x6.2x4.3
Dimensions (LxWxH)
10.8x7.8x4.1
Dimensions (LxWxH)
6.8x7x4.1
Dimensions (LxWxH)
7.1x7x4.1
Dimensions (LxWxH)
7.1x7x4.1
Dimensions (LxWxH)
6x6.5x3.7
Dimensions (LxWxH)
7x7.1x3.6
Dimensions (LxWxH)
7x7.1x3.6
Dimensions (LxWxH)
7x7.1x3.6
Dimensions (LxWxH)
7x7.1x3.6
Dimensions (LxWxH)
7x7.1x3.6
Audio-Visual Equipment
35MM Projector
AV Technician
Film Projector with Screen
LCD Panel
LCD Projector
Microphone
Overhead Projector
PA System
TV
TV Production Service Provider
Video Camera
Videoconferencing
Walkie Talkies
Wired Internet
Event Services
Certified Meeting Planner
Message Service
Photographer
Registration Service
Security Guards
Event Equipment & Supplies
Blackboards
Easels
Flip Chart & Markers
Installed Stage
Name Cards
Pens / Pencils / Notepad
Podium Lectern
Polling Devices
Portable Stage
Stack Chairs
Tables
Business Services
Overnight Delivery/Pickup
Catering Services
Afternoon Break:£9.0 / Person
Coffee Break:£9.0 / Person
Continental Breakfast:£19.0 / Person
Dinner:£99.0 / Person
Full Breakfast:£22.0 / Person
Lunch:£55.0 / Person
Reception:£90.0 / Person