Welcome to The St. Regis New York
The St. Regis New York, an iconic luxury Manhattan hotel
Since its founding by John Jacob Astor over a century ago, The St. Regis New York has established itself as one of midtown Manhattan's best luxury hotels. Our historic 5-star hotel on Fifth Avenue has evolved to reflect the rich heritage of St. Regis while infusing the timeless elegance that has come to define it. Every element of the hotel is carefully considered, from the richly decorated rooms and designer suites to the graceful public spaces, highlighted by a regal rooftop ballroom with sweeping views of midtown Manhattan. Luxury two-bedroom suites make our hotel the perfect choice for families seeking a 5-star experience when visiting midtown Manhattan. Located at 5th Avenue and 55th Street in midtown Manhattan, our hotel is steps from Central Park, Fifth Avenue Shopping, MoMa and Rockefeller Center. Enjoy luxury hotel amenities, including the treasured St. Regis Butler Service and our impeccable Fifth Avenue address for exploring the best of New York City in style.
Manhattan's House of Celebration
Experience the magic of the holiday season with an array of bespoke experiences at The St. Regis New York. From Holiday Afternoon Tea to a lavish New Year's Eve fête, there is no better place to celebrate festive season than at The St. Regis New York.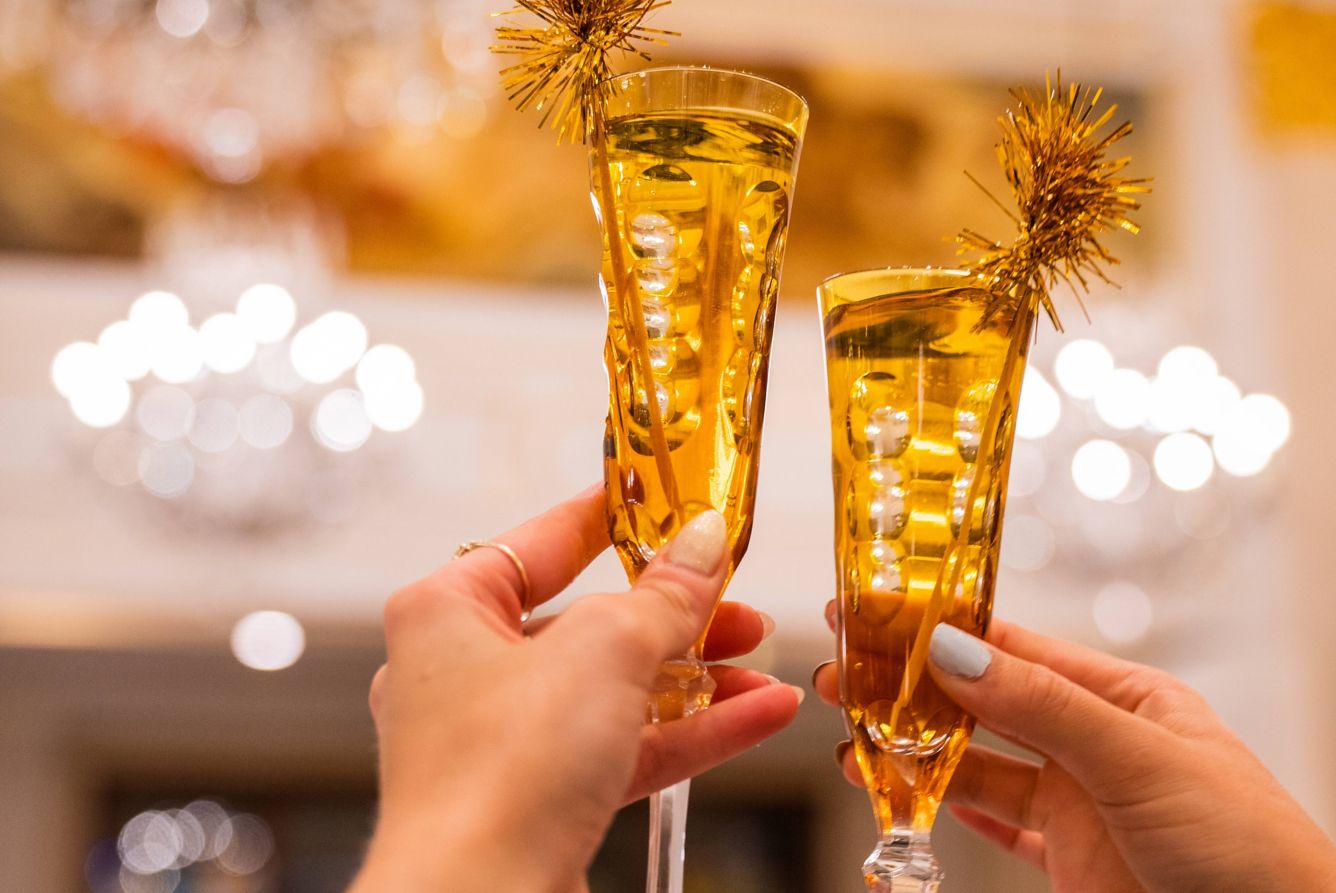 Festive Season at The House of Celebration
Join us at The House of Celebration for a season of exquisite experiences where timeless rituals become your new traditions.
To reserve your experience, please contact stregisny.res@stregis.com
A Bespoke Thanksgiving
From November 19 – 26 stay in a Master or Designer Suite and an extravagant Thanksgiving "Midnight Supper" Dinner for up to 8 guests, inclusive of complimentary Champagne Toast. Inspired by the grand Midnight Suppers hosted at The St. Regis New York by St. Regis matriarch and doyenne of American high society, Caroline Astor.
An Exquisite Festive Season
A luxury holiday stay in a Master or Designer Suite with a fully decorated Christmas tree, Cookies for Santa, and an exquisite 3-course Christmas dinner or Christmas Brunch in suite for up to 8 guests.
Exquisitely Designed Suites
Distinctive in décor, Designer Suites—distinguished as the Caroline Astor Suite, Dior Suite, Milano Suite, and Bentley Suite—each.
St. Regis Butler Service
When John Jacob Astor IV first conceived the St. Regis New York, his vision was to create "the finest hotel in the world." As such, the St. Regis butler was born out of a mandate to fulfill every guest's desire as if it were second nature.
St. Regis Butler Service is a treasured hallmark of the St. Regis hotel experience, and has been for over a century. During your stay, you'll enjoy the careful attention of a personal butler, who will assist you with everything from a perfectly pressed suit for an important business meeting to thoughtful last-minute gifts from local NYC boutiques - as well as luxury perks such as curated books for nighttime reading. St. Regis Butler Service is dedicated to understanding and addressing your unique preferences and fulfilling every detail, no matter how small, for the duration of your time with us in Midtown Manhattan.
Beverage Services
Upon arrival, allow a St. Regis Butler to arrange coffee or tea service in your room. And if you wish, a St. Regis butler will arrive after your morning wake-up call to draw your shades, deliver your coffee or tea as well as the day's newspaper and weather forecast.
Unpacking & Packing Services
Allow a St. Regis Butler to take care of the unpacking and storage of your luggage—so that you can relax and settle in for your stay. Similarly, before you depart, simply contact the butler service desk to dispatch a Butler to assist with gathering and folding your garments to prepare your luggage for the journey home.
Garment Pressing
Once unpacked, simply let your St. Regis Butler know which garments require pressing and they will be pleased to assist, returning the garments to your wardrobe promptly. This service includes pressing of two garments per person, upon arrival.
eButler Services
During your stay, whether you are inside or outside the hotel, a St. Regis Butler is accessible at any hour via email. Simply send your request to newyork.butler@stregis.com and allow the Butler Service Desk to assist.
Astor Court
Seasonal fine dining awaits in midtown Manhattan at our signature Astor Court restaurant. Start your day with a tasty breakfast or join us in the evening for modern interpretations of traditional dishes made with locally sourced ingredients.
King Cole Bar
The elegance and grandeur of early 20th-century NYC are celebrated in this historic bar, which has delighted patrons for decades. Order our signature Red Snapper, accompanied by light bites in a sleek, upscale ambiance.
Take a Virtual Tour
Virtually explore our exquisite meeting and event space with 360 degree and 3D tours.
The Best Address on Fifth Avenue
In 1904, John Jacob Astor IV founded The St. Regis New York as a place to pursue his passions in the company of the city's luminaries. A source of wonderment to visitors for a century and nearby the city's most famous sites, Central Park, The Met and Rockefeller Center. The St. Regis New York was declared a New York City Landmark in 1988.
The Red Snapper: The Original Bloody Mary
In 1934, famed barman Fernand Petiot perfected the recipe for a vodka-and-tomato juice cocktail, known as the Bloody Mary, at The St. Regis New York's King Cole Bar. Originally christened the "Bloody Mary," the cocktail was renamed the "Red Snapper" so as not to offend the hotel's refined clientele. After more than 80 years, the iconic Bloody Mary remains the signature cocktail of the St. Regis. Today, we invite you to taste a bit of history in the very bar that started it all, with our signature Red Snapper cocktail in the iconic King Cole Bar.
Afternoon Tea
Caroline Astor, the hotel's matriarch and grand dame of New York society, brought the ritual of Afternoon Tea to The St. Regis New York in the early 1900s. Each afternoon, Mrs. Astor would invite a select few of her closest friends into her drawing room to catch up on the latest gossip behind closed doors, and always over a decadent selection of sandwiches, cakes and pastries. Today, the ritual has become a signature St. Regis tradition, coming alive on weekend afternoons at The St. Regis New York and many St. Regis properties around the world. Join us on weekends for this timeless tradition, featuring an impeccable selection of fine teas, delectable tea sandwiches, and exquisite pastries and desserts. Available Fridays to Sundays from 3pm to 5pm.
The Evening Ritual
Dating back to the battles of Napoleon Bonaparte, who famously opened Champagne with his saber in both victory and defeat, the art of sabrage is the signature ceremony of St. Regis. "The" Mrs. Astor, the matriarch of St. Regis and grand dame of New York society, adapted this tradition in the early 1900s, and would gather friends and family for a Champagne toast at The St. Regis New York to mark the transition from day to evening. Today, we are proud to continue this distinct tradition on weekends at 6.00pm in Astor Court, accompanied by a celebratory Champagne toast.
Whether to help you explore a destination, or to attend a special event, allow us to provide arrangements for a stylish arrival with our luxury house car service. St. Regis is pleased to provide its guests with an unparalleled opportunity to discover extraordinary destinations in the sophisticated settings and exquisite craftsmanship they have come to expect from one of our luxury vehicles. Our luxury house car is available on a limited basis for complimentary drop-offs within a 10-block radius of the hotel. To utilize the house car, please see our doormen. Guests may also reserve the car for private usage; fees apply and advance reservations are required. Please contact our concierge for more information. Services are subject to availability.
The St. Regis New York is a proud recipient of the AAA Five Diamond Award, joining a privileged group of hotels from around the globe holding this prestigious distinction.
The St. Regis New York is a proud recipient of the AAA Five Diamond Award, joining a privileged group of hotels from around the globe holding this prestigious distinction. Overlooking the world famous Fifth Avenue and located in the heart of midtown Manhattan, The St. Regis New York, a AAA Five Diamond Hotel, is at the foremost address. Fine dining, world-class shopping, and the tranquility of Central Park are just steps from our door.
Experience AAA Member Exclusives:
20% off Suites & Complimentary Valet Parking
We extend a gracious invitation to AAA Auto Club Members to enjoy exclusive savings and benefits including:
Save 15%: Standard, Deluxe, Grand Luxe Guest Rooms and Deluxe Suites
Save 20%: Madison, St. Regis, Fifth Avenue, and Grand Suites
Complimentary valet parking (in and out) while in residence
Reserve our AAA exclusive online, by phone at (866) 716-8116, or through your preferred travel professional. AAA IDs will be required at check in. Offer is subject to availability and black out dates apply.
Allow our concierge team to assist with restaurant and show reservations as well as make suggestions for other activities to enhance your stay in the city.
For the first time in decades, curated titles from John Jacob Astor IV's original collection, which have been housed behind glass at the hotel for over a century, will be available to guests on Kindle® devices. Encased in a custom cover, these devices are available through the concierge for all to enjoy during their stay at our landmark hotel.

Bringing this incredible, historic collection to life, the digital library comes stocked with a selection of beloved and cherished titles, ranging from The Adventures of Sherlock Holmes to Oliver Twist to Alice's Adventures in Wonderland. The list was reviewed by Virginia Bartow, one of the nation's leading rare book experts who works for the prestigious The New York Public Library, and blessed as an authentic representation of the original collection for guests to enjoy today.

To borrow one of our kindles during your stay, please contact our concierge team at +1 212 339-6722 or newyork.concierge@stregis.com
With captivating activities and thoughtful, welcoming attention tailored for younger guests and their families, each St. Regis hotel and resort is a destination of distinction that celebrates the art of play and being together.
At The St. Regis New York, a timeless landmark address in the heart of Manhattan, discovery awaits. Every moment becomes a treasure and every experience a new family tradition.
Families will delight in special welcome amenities and turndown rituals designed to showcase the uniqueness of each hotel or resort's destination, including delectable treats, child-sized robes, slippers, and a step stool for the little ones. Throughout a family's stay, the hotel team is able to recommend and arrange a selection of recreational activities and enriching experiences, dining options, childcare services and other conveniences for families and children of all ages.
The pursuit of fun, redefined at the best address.
While in residence, discover an array of thoughtful services and amenities designed especially for children and families. Allow our dedicated team to provide a flawless experience and every convenience a family needs to enjoy cherished time together.
Dining
We recommend King Cole Bar & Salon, which offers a more casual setting or Private Dining to be enjoyed in the comfort of your room. Menus that appeal to all ages are available at any of these dining options.
Nanny & Babysitting
Our Concierge team maintains a list of babysitters who are able to care for your children in the convenience of your guest room. Please contact us for assistance with reserving nanny and/or babysitting services prior to your stay. If needed during your stay at the hotel, the concierge will be pleased to assist.
Necessities & Provisions
Our hotel is supplied with a variety of family necessities such as diapers, cribs, and rollaway beds. Allow St. Regis Butler Service to assist you with preparing these items for you during your stay or before your arrival at the hotel. Please contact the eButler for assistance.
As part of the Family Traditions at St. Regis program, families can choose from a selection of activities to experience together while exploring the enriching culture of the destination. We look forward to creating indelible memories for your family to share.
Bespoke Art Exploration
Discover artistic treasures of the city. A curator will create custom museum tours based on the family's preferences. As part of this adventure, children can make art inspired by what they have experienced. Conclude at the hotel's King Cole Bar and explore the secret behind the famous Old King Cole mural by Maxfield Parrish. There will be an interactive quiz on what has been discovered with the winner taking home a special prize. This experience, for ages three and up, includes a two-hour tour, children's gift, admission tickets, and sedan transfers. Cancellations must be made 24 hours in advance.
Central Park Escape
Discover the largest park in Manhattan where sprawling greens and trees make you feel miles from the city. Enjoy a picnic luncheon prepared by our Private Dining chefs, then explore hidden gems of the park with our family fun experts during this four-hour excursion. Soak in the atmosphere, culture, and fun of public art, playgrounds, forests, castles, and gardens. You may also choose to paddle a boat on the lake or take a bike tour. Tour subject to weather cancellation, but otherwise requires a 24 hour notice.
These experiences are perfectly suited for a family of four (two adults and two children), but can always be customized. The Concierge is pleased to provide more details and to help make arrangements. To reserve an experience, it is recommended that guests contact the Concierge at least 72 hours in advance.
St. Regis Scent
An evocative frangrance crafted exclusivley for the St. Regis, our signature scent activates a rich sensory experience with exquisite notes.
St. Regis Polo
Indulge in our rich history with Polo, an association that emerged in the early 20th century when both the sport and The St. Regis New York became part of the city's vibrant summer social scene. Experience the very best of St. Regis at our world-class polo events around the globe.
St. Regis Boutique
Celebrate the art of living with a collection of signature home items from the St. Regis Boutique. Indulge in exceptional sleep with our luxury mattresses and bedding. Seduce your senses with Laboratoire Remède spa bath and products.
Family Traditions
The Family Traditions at St. Regis is dedicated to providing travelers of all ages the opportunity to explore their destination and celebrate the art of play. Families are encouraged to create meaningful and lasting memories together at our flagship St. Regis hotel.
Beyond, The St. Regis Magazine
Be inspired by Beyond, a bi-annual journey into the worlds of luxury, style, travel and adventure.
St. Regis Aficionado
Experience the moment of a lifetime with St. Regis. Design your wedding dress with Jason Wu, or create a signature custom scent with Jason Huber. Relish an unforgettable occasion hosted by renowned St. Regis tastemakers and artisans designed exclusively for you.
OUR LOCATION
GETTING HERE
The St. Regis New York
Two East 55th Street, at Fifth Avenue, New York, New York, USA, 10022
Tel: +1 212-753-4500
Distance from Property: 16.0 Miles
Phone Number: +1 973-9616000
Visit Website
Alternate Airport Transportation
Private Car Transfer
Alternate Airport Transportation
Private Car Transfer
Alternate Airport Transportation
Private Car Transfer
Nearby
Subway Station
Fifth Avenue / 53rd Street Station
Fifth Avenue / 59th Street
Train Station
Grand Central Station
Penn Station New York
Property Details
Turndown Service
Dry Cleaning Service
Laundry
Room Service
Wake up Calls
Free Wifi
Service Request
Check-in: 4:00 pm
Check-out: 12:00 pm
Smoke Free Property
Pet Policy
Pets Not Allowed
Parking
On-Site Parking
Daily: $88.79
Additional Parking Information
Valet Parking offers In/Out Privileges
Policies and Payments
Accepts: Credit Cards
Services
Concierge desk service
Property has elevators
Languages spoken by staff:
English, Spanish, French, Italian, Portuguese
For more information about the physical features of our accessible rooms, common areas or special services relating to a specific disability please call +1 212-753-4500
Accessible Hotel Features
Accessible on-site parking
Property has elevators
Service Animals are Welcome
Valet parking for vehicles outfitted for drivers in wheelchairs
Van Accessible on-site parking
Accessible Areas with Accessible Routes from Public Entrance
Entrance to On-Site Business Center is Accessible
Entrance to On-Site Fitness Center is Accessible
Main Entrance is Accessible
Meeting Spaces are Accessible
On-Site Restaurants are Accessible
Room and Suites Access through the Interior Corridor
Guest Room Accessibility
Accessible Vanities
Adjustable Height Hand-Held Shower Wand
Alarm Clock Telephone Ringers
Bathtub Grab Rails
Bathtub Seat
Closed Caption TV
Deadbolts on Guest Room and Suites Doors
Electronic Room Key
Flashing Door Knockers
Guest Room and Suites Doors Self-Closing
Guests in mobility-accessible rooms may inquire about lowering the bed height
Hearing Accessible Rooms and/or Kits
Lever Handles on Guest Room Doors
Lowered Electrical Outlets
Lowered Viewports in Guest Room Doors
Mobility accessible rooms
Non-slip Grab Rails in the Bathroom
Roll-in Shower
Room Windows Open
Safety Chains and/or Latches on Guest Doors
Secondary Locks on Room Windows
TTY/TTD Compatible
Toilet Seat at Wheelchair Height - Toilet for Disabled
Transfer Showers in Guest Rooms
Viewports in Guest Room and Suites Doors
Footprints
Carbon Footprint: 57.49 kg per room night
Water Footprint: 1476.43 liters per room night
Environmental Practices
Guest Room Recycling
What are the check-in and check-out times at The St. Regis New York?
The check-in time at The St. Regis New York is 4:00 pm and the check-out time is 12:00 pm.
Does The St. Regis New York allow pets?
The pet policy at The St. Regis New York is:
Pets Not Allowed
What are the parking options at The St. Regis New York?
The parking options at The St. Regis New York are:
Valet Parking offers In/Out Privileges
What property amenities are available at The St. Regis New York?
The property amenities at The St. Regis New York are:
Does The St. Regis New York have Wi-Fi?
Yes, The St. Regis New York has free Wi-Fi available to hotel guests.