Surfside Waterpark, Make a Splash in Anaheim!
Forget the beach. At our Anaheim hotel, guests have an exclusive invite to our themed waterpark. Surfside Waterpark, located on our second level, is open only to hotel guests. Surfside Waterpark is open year-round! 
Our hotel's exclusive guest-only water park highly recommends advance reservations. Once you have booked your room and have your hotel confirmation number (leave room number blank) please go to waterpark reservation website. Reservations for the waterpark may be booked up to 30 days prior to your arrival. One booking per day can be confirmed in advance. Limit 6 guests per reservation. 
Contact Us
714.254.1442
Reservation Time Slots
9:00 am – 11:00 am
12:00 pm – 6:00 pm
7:00 pm – 10:00 pm
On the day of your arrival, you may book the 12:00pm or 7:00pm time slot. On the day of your departure, you may book the 9:00am time slot.
Explore Surfside Waterpark, Fun for All Ages!
Make Memories at Surfside Waterpark
Reservations can be made within 30 days prior to arrival.
Explore the Waterpark
Our 20,000-square-foot Surfside Waterpark has something for everyone, including 30-foot slides, an interactive play area for kids and a 17-person hot tub.
For Riding
Two 30-foot slides (must be 40 inches to ride)
Two medium and two small slides (must be 36 inches to ride)
For Relaxing
All-ages pool (3.5 feet deep)
Kid's wading pool with beach-style entry (1 foot deep)
Huge 17-person hot tub
For Playing
The wet deck play structure is home to our middle and small slides plus a 400-gallon drench bucket (listen for the bell), water cannons and shooting fountains. Willie the Whale and other interactive water features surround the wet deck.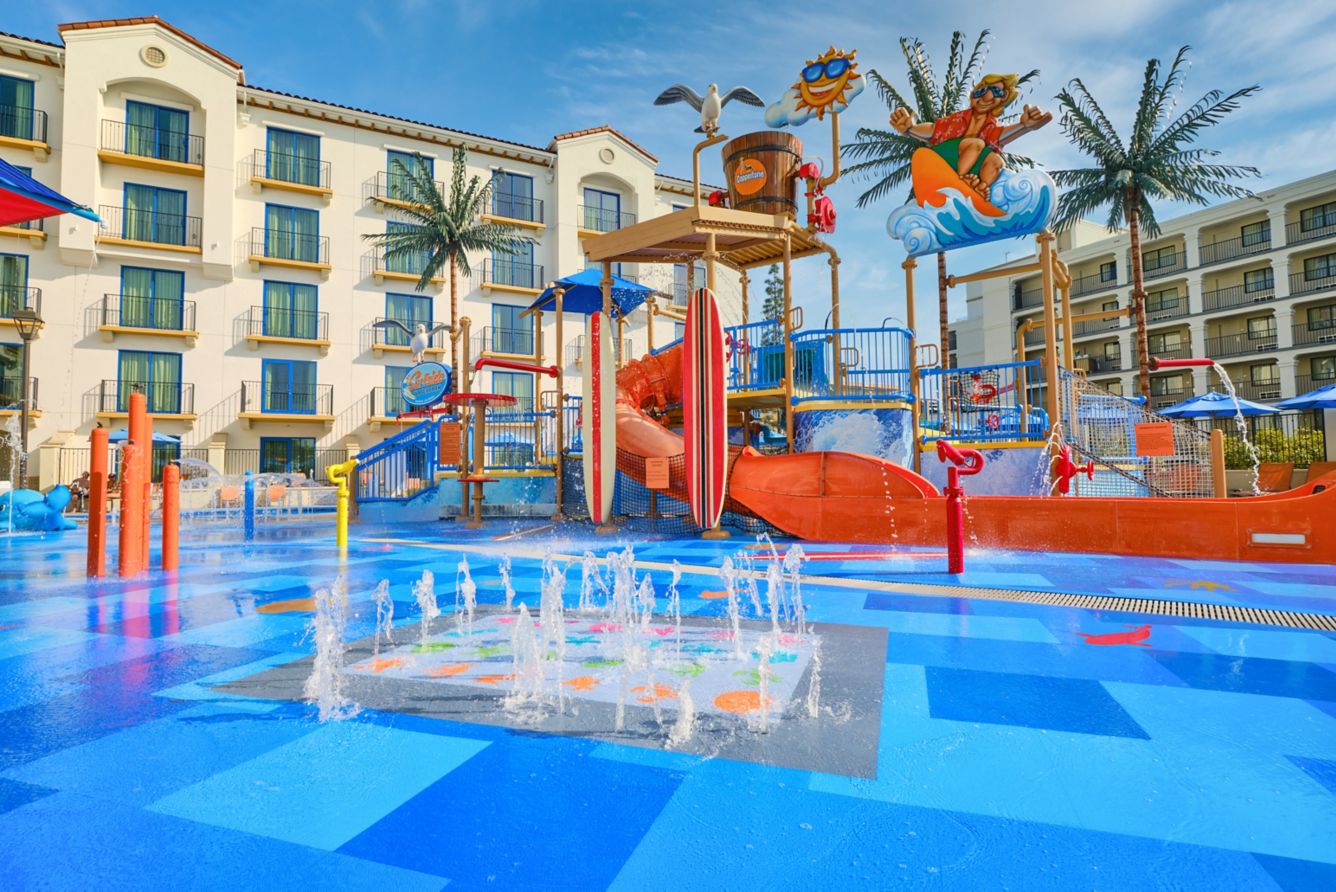 Waterpark Details & Rules
Waterslides, wet deck, swimming pool, children's wading pool, and hot tub open daily, year-round from 9:00am to 10:00pm
Children under 16 must be under constant supervision of an adult guardian and always within arm's reach
Guest use of Surfside Waterpark is at guests' own risk and the hotel will not be responsible for any injuries obtained while using waterpark facilities  
Guests will receive a wristband upon check-in and must check in with the waterpark host once checked in
Wristbands distributed to registered guests only, maximum 6 per room
No lifeguard on duty. 
Pools and 30-foot slides heated to 82 degrees. Wet deck water features range from 70 to 82 degrees
Hot tub heated to 102 degrees
Children under 16 must be accompanied by an adult
Height requirements: Large slides 40 inches; medium and small slides 36 inches
Pool depths: Adult pool 3.5 feet, children's pool 1ft
Pool furniture may not be reserved
Glass containers and ice chest/coolers are not permitted
Restrooms and changing rooms (no showers)