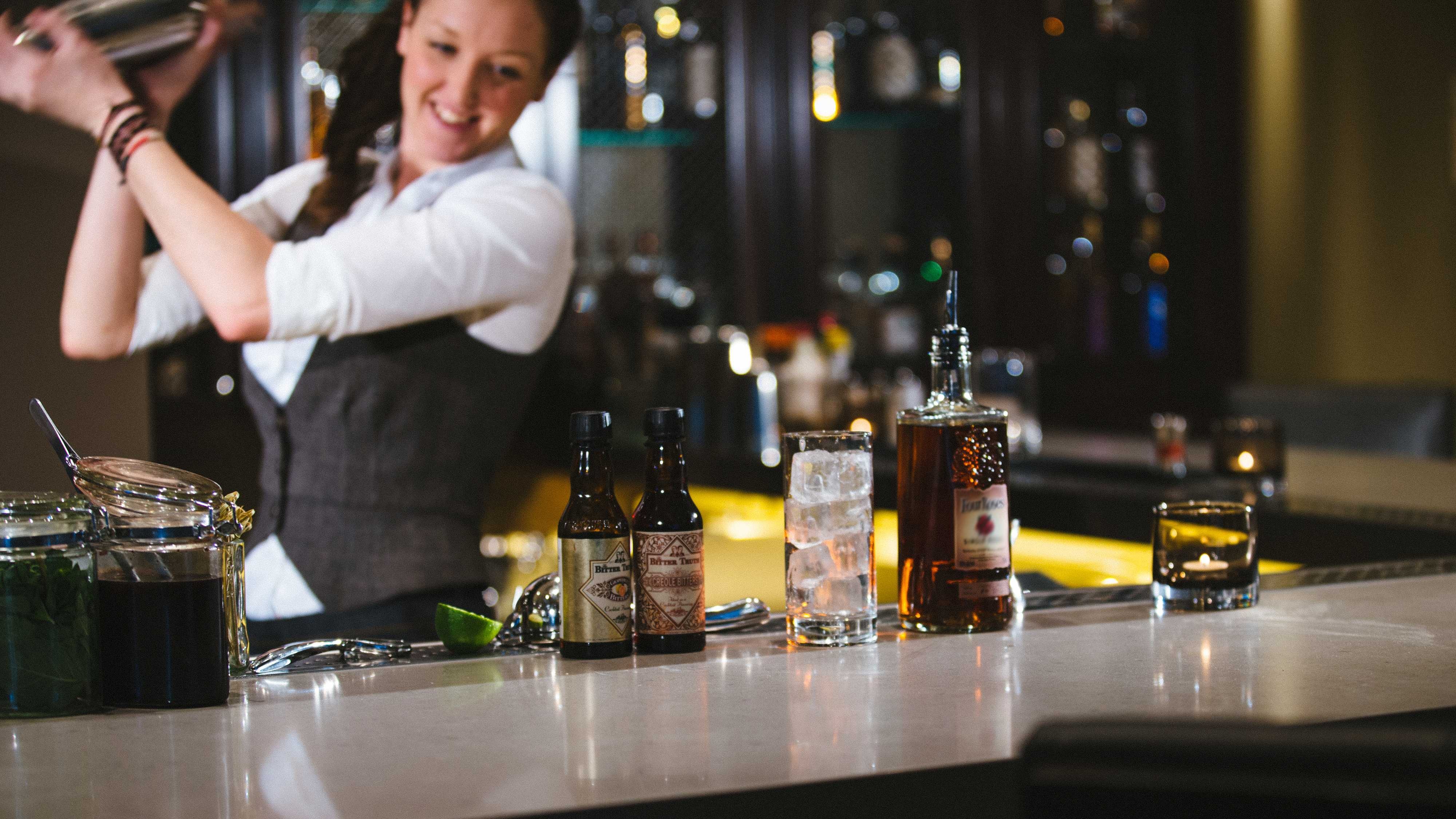 M Club (currently closed)
Due to the current Covid-19 pandemic the M Club is closed for the safety of our guests. We provide alternate benefits to our elite guests entitled to M Club access. Please enquire at front desk. Upgrade to our hotel's executive lounge level accommodations for helpful concierge services and an exclusive space for working, relaxing and connecting with friends, family and colleagues in downtown Calgary. Enjoy all-day snacks, beverages and other thoughtful amenities.
The New M Club
Centrally located on the second floor of our hotel, our exclusive 24-hour executive level lounge provides an ideal space in which to collaborate, work and relax. Enjoy all-day snacks and beverages, concierge services and other premium amenities.
Executive Lounge guests at the Calgary Marriott Downtown Hotel enjoy the following
Complimentary hot artisan breakfast
Grab & Go snacks available all-day
Evening full-service bartender and complimentary hors d'oeuvres
Evening a la carte food and beverage menu service available
Starbucks® coffee, tea, and signature espresso-based coffee drinks
Hydration station featuring still and sparkling water
Cold beverages, including waters, sodas and juices
Complimentary premium Wi-Fi (a $19.95 value, allows multiple devices and
additional bandwidth for streaming videos, music, etc.)
Business services (computers, phone, scanner and copier)
Numerous flat-screen TV's, including cables to connect to laptops
Dedicated concierge staff, including a hostess on duty, for local recommendations and resources
Hours of Operation
M Club at the Calgary Marriott Downtown Hotel is open 24 hours a day, seven days a week with a staff during the following times for your convenience:
Dedicated Concierge Staff
Our M Club Lounge host is at your service: from 6:00 to 10:00am, and 5:30 to 10:00pm, daily.
Breakfast
Monday-Friday: 6:00am to 10:00am Saturday-Sunday, and Public Holidays: 7:00am to 11:00am
Evening Bar Service
Monday-Sunday: 5:00pm to 10:00pm *Complimentary hors d'oeuvres 5:30pm to 7:30pm
M Club Access
There are three ways to treat yourself to access to our hotel's executive M Club Lounge in Calgary:
Marriott Rewards® Platinum Elite members automatically enjoy complimentary access, plus one (1) guest as part of their Elite status.
Upgraded access by purchasing a Guest Room + M Club Lounge Access at the time of booking or a day pass at the time of check-in.
Meeting planners can purchase upgraded access for their VIP guests.