Fuel Up in Austin
Dining
Join us at Element Austin Downtown for delicious, complimentary breakfasts at Rise and local coffee from Little City Roasters at our on-site coffeehouse. Our restaurant, Caroline welcomes guests and Austin locals for breakfast, lunch and dinner. Watch the sunset over the city on our rooftop bar Upstairs at Caroline's, and try your hand at foosball.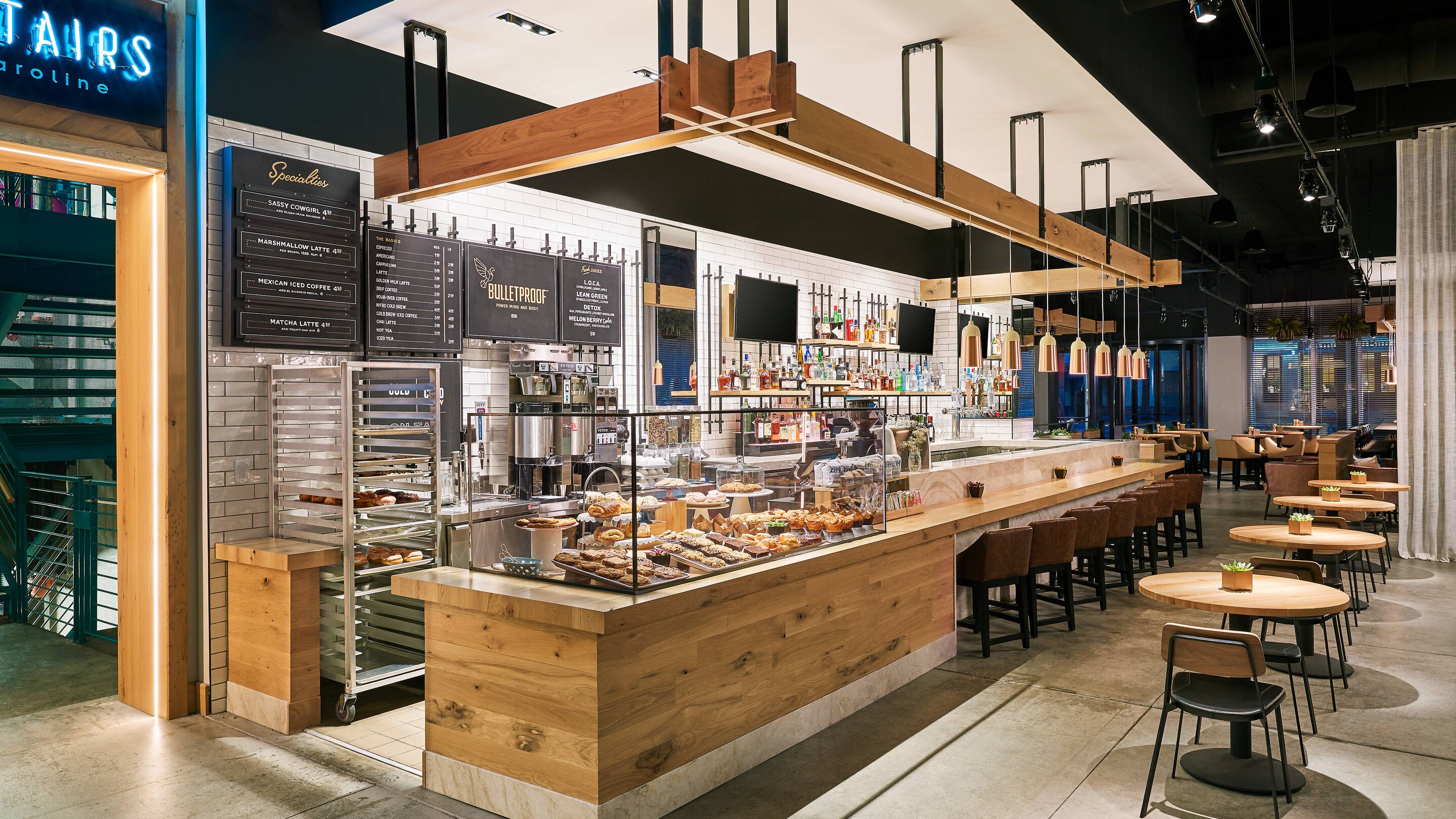 Caroline
American
An all-day local spot serving homemade breakfast, lunch, dinner and to-go, Caroline is the place to have breakfast or lunch, linger over an afternoon glass of wine, enjoy dinner and stay for a cocktail.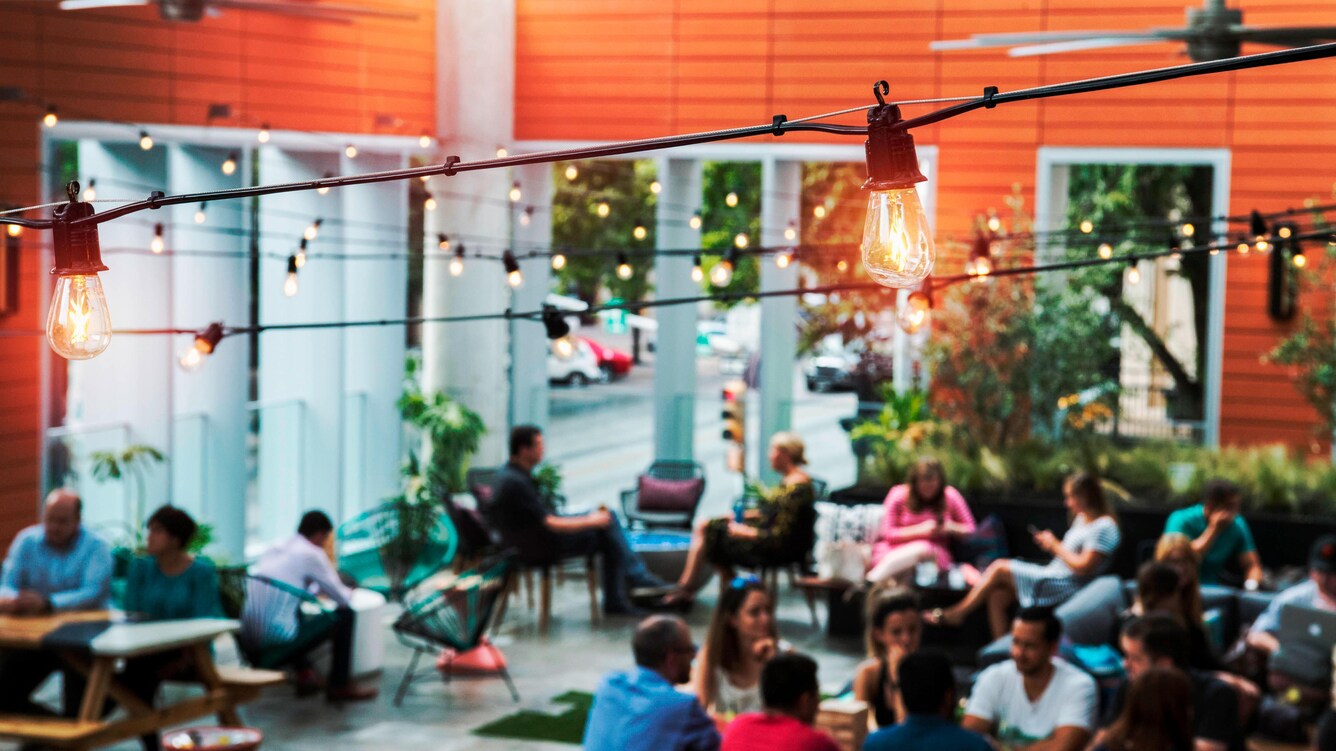 Upstairs at Caroline
American
Who says games are just for kids? Join the urban backyard party at Upstairs at Caroline, our open-air rooftop bar. From Jenga and foosball to cornhole, there's plenty to keep you occupied while you sip a cocktail and enjoy our menu.
Coffeehouse at Caroline
American
The Coffeehouse at Caroline will keep you buzzing from sun up through sun down in Downtown Austin. Grab your favorite blend from local Austin coffee roaster Little City Roasters or a hand-baked sweet treat to get you through the afternoon.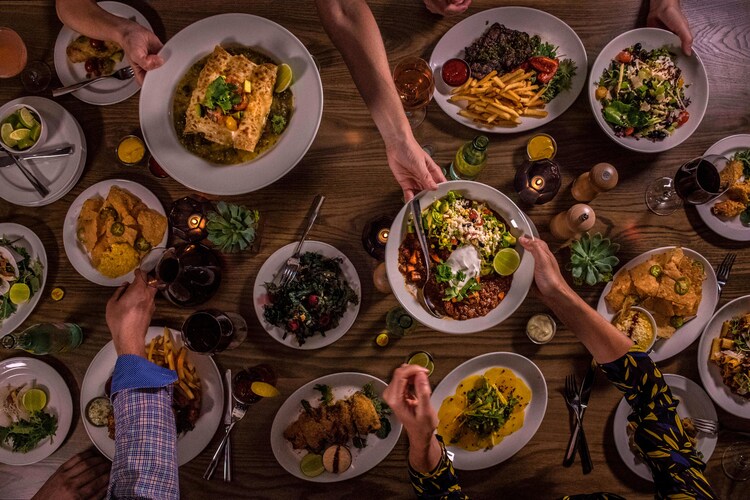 An Urban Backyard Party
OPEN-AIR ROOFTOP BAR
Every hour is happy hour at Upstairs at Caroline while you sip on handcrafted cocktails and sample tasty street tacos. Our rooftop bar features plenty of tables and bright stringed lights. On weekends, gather at noon for lawn games, including foosball, cornhole, and giant Jenga, while you take in stunning views of Austin, Texas.
Chill Out It's Monday
$7 Frozens, $6 Ceviches, 4-7pm                                                
Taco Tuesday
$2 Tacos, $7 Prickly Pear Ritas, 4-7pm                                   
Hump Day Happy Hour
$7 Backyard Beverages, $4 Walking Tacos, 4-7pm                  
Thirsty Thursday
$7 Draft Cocktails, $4 Draft Beers, 4-7pm                               
Friday Funday
$5 Bad Life Choices, $4 Draft Beers, 2/$5 Tacos, 12-2pm
Sunday Yappy Hour
25% off for guests who bring their dog, all day                 
A Neighborhood Restaurant
Caroline
Open for breakfast, lunch and dinner, our friendly neighborhood restaurant Caroline serves fresh American fare to both Austin locals and guests. Dine inside on a Green Chili, Chicken Enchiladas and Sweet Corn Dip beneath wooden rafters, or take a famous Caroline salad and glass of robust wine onto our outdoor patio. Grab lunch with friends and then linger into the late afternoon with a craft cocktail as you people watch along buzzing Congress Ave. To-go meals are also available.
Little City Coffee
Our rotating selection of custom espresso and coffee blends are from local Austin coffee roaster, Little City. Their delicious brews will keep you buzzing from sun up to sun down.
Pastries by Chef Jessica
Missing Chef Jessica Lopez's pastry case, filled with fresh baked pastries made by hand every day, is not something easily done on trips to Coffeehouse at Caroline. Enjoy everything from seasonal bundt cakes and classic chocolate chip cookies to exotic matcha rice crispy treats and sophisticated almond croissants. Give in to temptation and try them all, we won't judge.
Sit, Stay, Work
Though our service is quick, there's no rush to leave the Coffeehouse at Caroline! Stay and work with our fast & free WiFi and enjoy your afternoon coffee outside of the office.
International
Eureka!
.2 Miles
Eureka! Is a unique eatery in downtown Austin providing great food, craft beer and small-batch spirits.
Coffee House
The Hideout Coffee House
.3 Miles
The Hideout is Downtown Austin's oldest standing coffee houses serving fresh sandwiches, pastries and an assortment of beverages.
Open for Breakfast & Lunch
American
1886 Cafe & Bakery
.4 Miles
1886 Cafe & Bakery offers a variety of culinary delights, from fresh baked goods to flavorful steaks.
Open for Breakfast & Lunch
Steakhouse
Ruth's Chris Steak House
.4 Miles
Ruth's Chris is an upscale steakhouse providing excellent cuts of meat and craft sides.
Pizza
Italic
.4 Miles
Italic is a rustic Italian restaurant, specializing in wood-fired pizza and traditional pastas.