Bring Your Meeting to Gaylord Texan Resort & Convention Center
Meetings & Events
Discover why our magnificent Dallas-area event venues are the pride of Grapevine. Featuring over 490,000 square feet of flexible meeting space, you'll find that you can create the perfect room to host any business event, no matter the scope or size. Our hotel also boasts 1,814 stylish guest rooms, including 127 spectacular suites, 4.5 acres of indoor gardens and waterways, on-site entertainment, countless attractions, and superb restaurants. For your next meeting in Grapevine, give your attendees every option imaginable to unwind and reconnect with colleagues all in one place at Gaylord Texan Resort & Convention Center.
10,000
Capacity Largest Space
Glass Cactus
Corporate meetings take on a decisively new vibe at Glass Cactus. The ample natural lighting, quality acoustics, spacious seating arrangements, giant stage, and state-of-the-art audiovisual technology make it the optimal venue for tackling important business. Casual meeting breaks will feel more like mini-escapes as you breathe in some fresh lake air on one of our two giant outdoor patios.
Learn More

Bluebonnet Boardroom
Bluebonnet Boardroom is located on the fourth floor of Lone Star Tower, this 720-square-foot boardroom is the ideal choice for an executive breakout room. Elegantly appointed, it affords executives a quieter space for top-level meetings, for up to 12 attendees.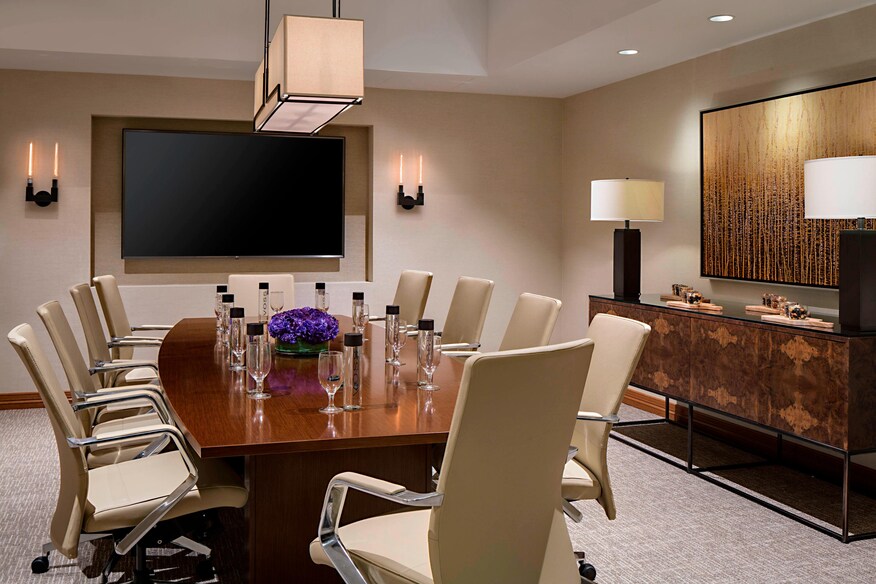 Vineyard Boardroom
Our Vineyard Boardroom is located off the main lobby near guest registration. The Vineyard Boardroom accommodates up to 10 people, perfect for smaller breakout sessions.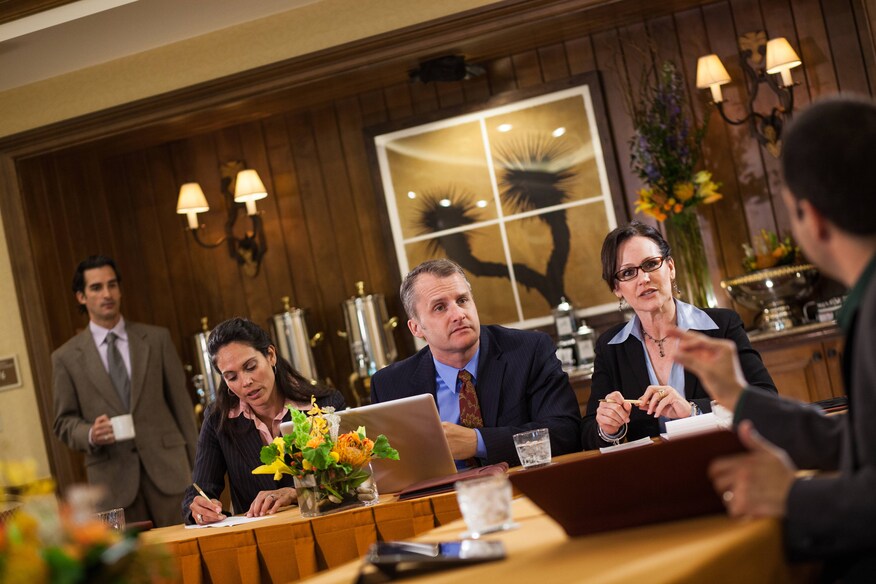 Primrose Boardroom
Primrose Boardroom is an intimate 528 sq ft space and decision-makers best friend. State-of-the-art, audio/visual capabilities with stunning views of the awe-inspiring atrium create an unforgettable space for executive meetings.
Located in the New Vineyard Tower Expansion
Tate Ballroom
The Tate Ballroom offers 32,010 square feet of meeting space and 11,270 square feet of pre-function space. With Texas style and hospitality, we invite you to experience the energy and excitement of the Lone Star State.
What to Expect at Gaylord Texan
Taking care of our guests has always been our number one priority. We have implemented a variety of new protocols and elevated practices, in response to the COVID-19 pandemic and keeping with our high standards of cleanliness and commitment to providing excellent service. We have also made a few adjustments to the services, amenities and facilities available during your stay.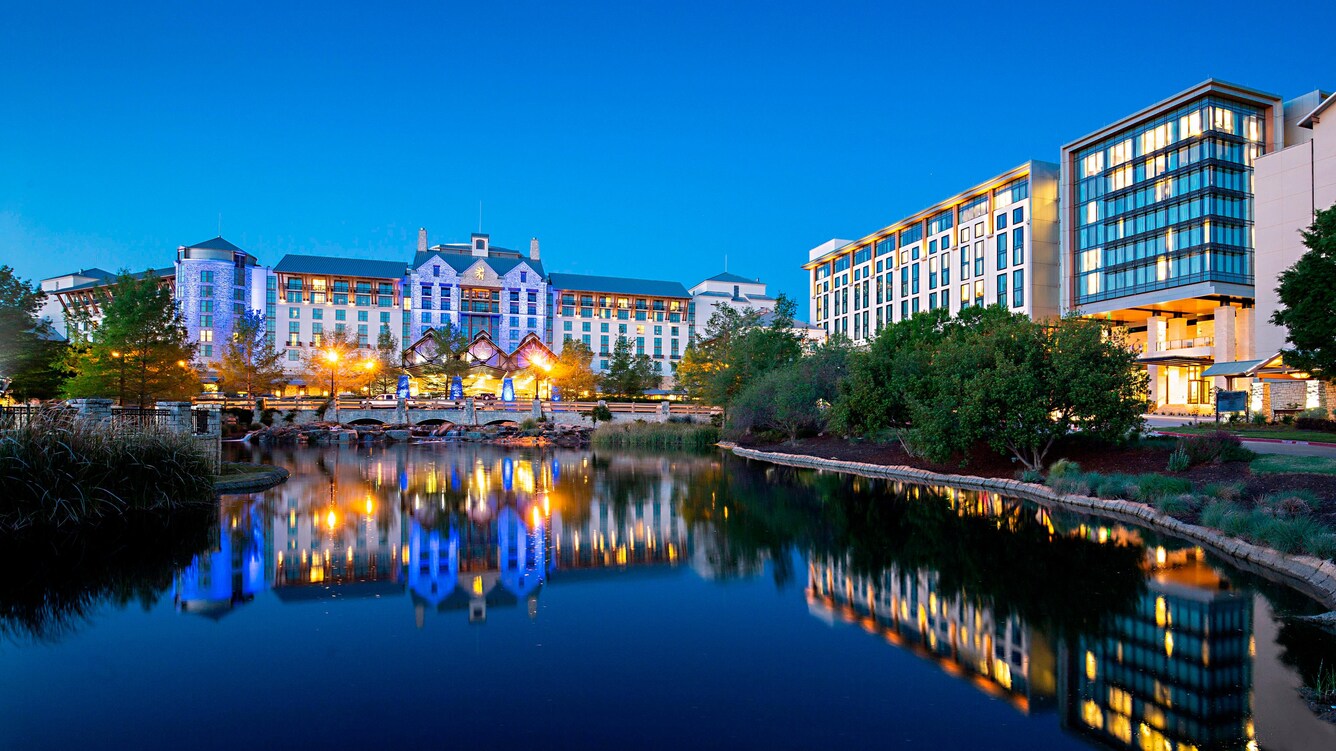 Business Center
Our On-site Business Center is Staffed
You know how important it is to be able to conduct business when you're away from the office. Today's fast-paced, around-the-clock business cycle demands it. That's why Gaylord Texan Convention Center provides you and your attendees an office away from the office.
Event Spaces
Featuring more than 490,000 square feet of flexible meeting, convention, outdoor, exhibit and pre-function space, Gaylord Texan Resort & Convention Center blends style and function for your event near Dallas. Your next gathering in Grapevine, Texas, can find a home in our grand banquet halls or versatile venues.
Vineyard Tower Expansion
Rustic yet refined, the $120 million Vineyard Tower expansion at Gaylord Texan Resort & Convention Center boasts 303 luxury guest rooms, an outdoor terrace offering spectacular views of Lake Grapevine, and 86,000 square feet of carpeted meeting space, including a 30,000-square-foot ballroom, 30,000 square feet of breakout space and 26,000 square feet of pre-function space.
Lone Star Tower Conference Rooms
These conference rooms are part of our exclusive "Hotel within a Hotel" concept. In close proximity to guest rooms, these conference rooms afford attendees a more personalized meeting environment in an intimate atmosphere. The Pecos and Del Rio Conference Rooms are steps away from the Yellow Rose Ballroom. On the third floor, the Appaloosa, Palomino, and Mustang Conference Rooms offer 540-1,026 sq-foot of flexible meeting space.
| Meeting Room | Dimensions (LxWxH) | Area (sq.ft) | Theater | Schoolroom | Conference | U-Shape | Reception | Banquet |
| --- | --- | --- | --- | --- | --- | --- | --- | --- |
| Longhorn Exhibition Hall | 240x748x24 | 179520 | - | - | 10000 | - | 10000 | 10000 |
| Longhorn A | 240x124x25 | 29760 | - | - | 10000 | - | 2975 | 1930 |
| Longhorn B | 240x90x24 | 21600 | - | - | 10000 | - | 2160 | 1440 |
| Longhorn C | 240x90x24 | 21600 | - | - | 10000 | - | 2160 | 1440 |
| Longhorn D | 240x150x24 | 36000 | - | - | 10000 | - | 3600 | 2440 |
| Longhorn E | 240x143x24 | 34320 | - | - | 10000 | - | 3430 | 2450 |
| Longhorn F | 240x150x24 | 36000 | - | - | 10000 | - | 3600 | 2670 |
| Longhorn Pre-function | 240x115x40 | 27550 | - | - | 10000 | - | 1800 | 2670 |
| Longhorn Marble Foyer | 127x27x40 | 3429 | - | - | 10000 | - | 340 | 220 |
| Texas Ballroom | 265x185x24 | 49025 | 5416 | 3402 | 10000 | - | 4000 | 3390 |
| Texas A | 115x92x24 | 10580 | 1172 | 646 | 10000 | - | 1050 | 780 |
| Texas B | 115x92x24 | 10580 | 1172 | 646 | 10000 | - | 1050 | 780 |
| Texas C | 59x92x24 | 5428 | 515 | 325 | 10000 | - | 540 | 400 |
| Texas D | 59x92x24 | 5428 | 515 | 325 | 10000 | - | 540 | 400 |
| Texas Breakout 1 | 29x40x24 | 1160 | 135 | 79 | 46 | 38 | 115 | 70 |
| Texas Breakout 2 | 29x40x24 | 1160 | 136 | 84 | 52 | 40 | 115 | 80 |
| Texas Breakout 3 | 33x40x24 | 1320 | 175 | 94 | 52 | 38 | 130 | 90 |
| Texas Breakout 4 | 33x40x24 | 1320 | 183 | 94 | 52 | 38 | 130 | 90 |
| Texas Breakout 5 | 29x40x24 | 1160 | 136 | 84 | 52 | 40 | 115 | 80 |
| Texas Breakout 6 | 29x40x24 | 1160 | 138 | 76 | 48 | 38 | 115 | 70 |
| Texas Stage Corridor | 26x185x24 | 4810 | 138 | 76 | 48 | 38 | 115 | 70 |
| Texas Ballroom Pre-function | 265x42x15 | 11050 | 138 | 76 | 48 | 38 | 1100 | 430 |
| Grapevine Ballroom | 175x185x24 | 32375 | 3662 | 2415 | 48 | 38 | 3240 | 2230 |
| Grapevine A | 98x52x24 | 5096 | 525 | 331 | 48 | 38 | 510 | 320 |
| Grapevine B | 87x52x24 | 4524 | 479 | 271 | 48 | 38 | 450 | 280 |
| Grapevine C | 98x78x24 | 7644 | 827 | 483 | 48 | 38 | 765 | 550 |
| Grapevine D | 87x78x24 | 6786 | 721 | 395 | 48 | 38 | 675 | 480 |
| Grapevine 1 | 42x32x24 | 1344 | 164 | 91 | 54 | 43 | 135 | 90 |
| Grapevine 2 | 28x32x24 | 896 | 96 | 54 | 42 | 31 | 90 | 50 |
| Grapevine 3 | 28x32x24 | 896 | 98 | 60 | 44 | 34 | 90 | 60 |
| Grapevine 4 | 28x32x24 | 896 | 96 | 54 | 42 | 31 | 90 | 60 |
| Grapevine 5 | 28x32x24 | 896 | 98 | 60 | 44 | 34 | 90 | 60 |
| Grapevine 6 | 32x32x15 | 1024 | 135 | 63 | 44 | 33 | 100 | 60 |
| Grapevine Ballroom Pre-function | 175x36x24 | 6175 | 135 | 63 | 44 | 33 | 615 | 240 |
| Dallas 1 | 23x27x11 | 621 | 72 | 36 | 32 | 26 | 60 | 40 |
| Dallas 2 | 23x31x11 | 713 | 80 | 42 | 34 | 28 | 70 | 40 |
| Dallas 3 | 24x23x11 | 552 | 64 | 38 | 28 | 24 | 55 | 40 |
| Dallas 4 | 24x23x11 | 552 | 64 | 38 | 28 | 24 | 55 | 40 |
| Dallas 5 | 24x35x11 | 840 | 102 | 58 | 42 | 35 | 85 | 60 |
| Dallas 6 | 24x35x11 | 840 | 102 | 58 | 42 | 35 | 85 | 60 |
| Dallas 7 | 24x35x11 | 840 | 102 | 58 | 42 | 35 | 85 | 60 |
| San Antonio 1 | 24x26x11 | 624 | 77 | 40 | 32 | 25 | 60 | 40 |
| San Antonio 2 | 24x26x11 | 624 | 77 | 40 | 32 | 25 | 60 | 40 |
| San Antonio 3 | 24x26x11 | 624 | 77 | 40 | 32 | 25 | 60 | 40 |
| San Antonio 4 | 24x29x11 | 696 | 90 | 48 | 36 | 29 | 70 | 50 |
| San Antonio 5 | 24x29x11 | 696 | 90 | 48 | 36 | 29 | 70 | 50 |
| San Antonio 6 | 24x29x11 | 696 | 90 | 48 | 36 | 29 | 70 | 50 |
| Center Pre-function | 286x54x15 | 15490 | 90 | 48 | 36 | 29 | 1200 | 540 |
| Fort Worth 1 | 23x27x11 | 621 | 72 | 36 | 32 | 26 | 60 | 40 |
| Fort Worth 2 | 23x31x11 | 713 | 80 | 42 | 34 | 28 | 70 | 50 |
| Fort Worth 3 | 24x23x11 | 552 | 64 | 38 | 28 | 24 | 55 | 40 |
| Fort Worth 4 | 24x23x11 | 552 | 64 | 38 | 28 | 24 | 55 | 40 |
| Fort Worth 5 | 24x35x11 | 840 | 102 | 58 | 42 | 35 | 85 | 60 |
| Fort Worth 6 | 24x35x11 | 840 | 102 | 58 | 42 | 35 | 85 | 60 |
| Fort Worth 7 | 24x35x11 | 840 | 102 | 58 | 42 | 35 | 85 | 60 |
| Austin 1 | 24x26x11 | 624 | 77 | 40 | 32 | 25 | 60 | 40 |
| Austin 2 | 24x26x11 | 624 | 77 | 40 | 32 | 25 | 60 | 40 |
| Austin 3 | 24x26x11 | 624 | 77 | 40 | 32 | 25 | 60 | 40 |
| Austin 4 | 24x29x11 | 696 | 90 | 48 | 36 | 29 | 70 | 50 |
| Austin 5 | 24x29x11 | 696 | 90 | 48 | 36 | 29 | 70 | 50 |
| Austin 6 | 24x29x11 | 696 | 90 | 48 | 36 | 29 | 70 | 50 |
| Yellow Rose Ballroom | 58x57x18 | 3306 | 304 | 186 | 88 | 65 | 330 | 230 |
| Yellow Rose Pavillion | 58x57x18 | 2350 | 304 | 186 | 88 | 65 | 230 | 110 |
| Del Rio 1 | 23x16x9 | 368 | 37 | 24 | 22 | 18 | 35 | 20 |
| Del Rio 2 | 25x25x9 | 625 | 76 | 38 | 34 | 27 | 60 | 40 |
| Del Rio 3 | 25x25x9 | 625 | 76 | 38 | 34 | 27 | 60 | 40 |
| Pecos 1 | 26x28x9 | 728 | 77 | 44 | 34 | 26 | 70 | 40 |
| Pecos 2 | 22x28x9 | 616 | 60 | 32 | 28 | 23 | 60 | 30 |
| Pecos 3 | 26x24x9 | 624 | 63 | 40 | 32 | 24 | 60 | 40 |
| Pecos 4 | 22x26x9 | 572 | 59 | 32 | 28 | 23 | 55 | 30 |
| Mission Plaza | 22x26x9 | 2652 | 59 | 32 | 28 | 23 | 175 | 110 |
| Mustang 1 | 31x27x9 | 837 | 89 | 48 | 38 | 30 | 80 | 50 |
| Mustang 2 | 35x26x9 | 910 | 108 | 61 | 40 | 32 | 90 | 60 |
| Mustang 3 | 30x27x9 | 810 | 89 | 48 | 38 | 30 | 80 | 50 |
| Mustang 4 | 35x27x9 | 945 | 114 | 54 | 40 | 32 | 90 | 60 |
| Mustang 5 | 20x27x9 | 540 | 60 | 31 | 28 | 24 | 50 | 30 |
| Mustang 6 | 35x28x9 | 980 | 114 | 54 | 40 | 32 | 95 | 60 |
| Palomino 1 | 27x27x9 | 729 | 82 | 42 | 34 | 26 | 70 | 50 |
| Palomino 2 | 27x27x9 | 729 | 82 | 42 | 34 | 26 | 70 | 50 |
| Palomino 3 | 27x27x9 | 729 | 82 | 42 | 34 | 26 | 70 | 50 |
| Appaloosa 1 | 27x38x9 | 1026 | 116 | 66 | 44 | 38 | 100 | 60 |
| Appaloosa 2 | 27x38x9 | 1026 | 110 | 64 | 44 | 38 | 100 | 60 |
| Appaloosa 3 | 27x38x9 | 1026 | 110 | 64 | 44 | 38 | 100 | 60 |
| Appaloosa 4 | 27x38x9 | 1026 | 110 | 64 | 44 | 38 | 100 | 60 |
| Primrose Boardroom | 22x24x10 | 528 | 110 | 64 | 10 | 9 | 100 | 10 |
| Primrose Pre-function | 20x23x10 | 460 | 110 | 64 | 10 | 9 | 40 | 20 |
| Bluebonnet Boardroom | 24x30x10 | 720 | 110 | 64 | 12 | 11 | 40 | 12 |
| Bluebonnet Pre-function | 24x23x10 | 552 | 110 | 64 | 12 | 11 | 50 | 30 |
| Glass Cactus Night Club | 24x23x10 | 39000 | 110 | 64 | 12 | 11 | 50 | 30 |
| San Saba 1 | 59x24x14 | 1509 | 192 | 108 | 60 | 54 | 150 | 100 |
| San Saba 2 | 59x25x14 | 1524 | 192 | 108 | 60 | 54 | 150 | 100 |
| San Saba 3 | 59x25x14 | 1524 | 192 | 108 | 60 | 54 | 150 | 100 |
| San Saba 4 | 59x25x14 | 1524 | 192 | 108 | 60 | 54 | 150 | 100 |
| Mesilla 1-2 | 91x85x14 | 4918 | 675 | 360 | 144 | 96 | 420 | 320 |
| Mesilla 1 | 38x52x14 | 2093 | 280 | 147 | 66 | 48 | 180 | 120 |
| Mesilla 2 | 52x52x14 | 2704 | 378 | 198 | 78 | 52 | 240 | 200 |
| Escondido 1-3 | 41x85x14 | 3732 | 520 | 270 | 132 | 88 | 315 | 210 |
| Escondido 1 | 41x25x14 | 1136 | 110 | 72 | 42 | 36 | 90 | 70 |
| Escondido 2 | 41x26x14 | 1178 | 110 | 72 | 42 | 36 | 90 | 70 |
| Escondido 3 | 41x32x14 | 1418 | 170 | 90 | 54 | 39 | 135 | 110 |
| Texoma 1-3 | 51x85x14 | 4577 | 620 | 360 | 112 | 84 | 420 | 280 |
| Texoma 1 | 51x25x14 | 1392 | 180 | 90 | 54 | 42 | 120 | 90 |
| Texoma 2 | 51x26x14 | 1444 | 180 | 90 | 54 | 42 | 120 | 90 |
| Texoma 3 | 51x32x14 | 1741 | 210 | 120 | 60 | 45 | 180 | 120 |
| High Plains 1-3 | 120x52x14 | 6489 | 858 | 486 | 198 | 132 | 600 | 440 |
| High Plains 1 | 66x52x14 | 3583 | 476 | 264 | 90 | 60 | 360 | 240 |
| High Plains 2 | 26x52x14 | 1458 | 168 | 106 | 54 | 48 | 120 | 90 |
| High Plains 3 | 26x52x14 | 1448 | 168 | 106 | 54 | 48 | 120 | 80 |
| Davis 1 | 40x24x14 | 1036 | 110 | 72 | 36 | 36 | 90 | 70 |
| Davis 2 | 40x25x14 | 1045 | 110 | 72 | 36 | 36 | 90 | 70 |
| Davis 3 | 40x25x14 | 1045 | 110 | 72 | 36 | 36 | 90 | 70 |
| Davis 4 | 40x25x14 | 1045 | 110 | 72 | 36 | 36 | 90 | 70 |
| Vineyard Pre-function | 40x25x14 | 6578 | 110 | 72 | 36 | 36 | 600 | 110 |
| Vineyard Boardroom | 15x22x14 | 330 | 110 | 72 | 10 | 36 | 600 | 110 |
| Vineyard Terrace | 15x22x14 | 2615 | 110 | 72 | 10 | 36 | 130 | 140 |
| Tate Ballroom | 213x144x26 | 32010 | 3850 | 2436 | 10 | 36 | 2970 | 1980 |
| Tate A (with corridor) | 77x157x24 | 10986 | 1290 | 870 | 10 | 36 | 1000 | 780 |
| Tate 1 | 52x31x24 | 1665 | 210 | 120 | 48 | 51 | 180 | 150 |
| Tate 2 | 52x26x24 | 1467 | 150 | 90 | 48 | 48 | 120 | 100 |
| Tate 3 | 52x29x24 | 1467 | 150 | 90 | 48 | 48 | 120 | 100 |
| Tate 4 | 52x26x24 | 1467 | 150 | 90 | 48 | 48 | 120 | 100 |
| Tate 5 | 52x31x24 | 1697 | 210 | 120 | 48 | 51 | 180 | 150 |
| Tate A/B | 139x157x26 | 21164 | 2788 | 1512 | 48 | 51 | 2600 | 1560 |
| Tate B | 68x157x26 | 10110 | 1320 | 720 | 48 | 51 | 1000 | 720 |
| Tate B/C | 139x157x26 | 21164 | 2788 | 1512 | 48 | 51 | 2600 | 1560 |
| Tate C (with corridor) | 71x157x24 | 10976 | 1290 | 870 | 48 | 51 | 1000 | 780 |
| Tate 6 | 52x31x24 | 1672 | 210 | 90 | 48 | 51 | 180 | 100 |
| Tate 7 | 52x26x24 | 1467 | 150 | 90 | 48 | 48 | 120 | 100 |
| Tate 8 | 52x29x24 | 1467 | 150 | 90 | 48 | 48 | 120 | 100 |
| Tate 9 | 52x26x24 | 1467 | 150 | 90 | 48 | 48 | 120 | 100 |
| Tate 10 | 52x31x24 | 1697 | 210 | 120 | 48 | 51 | 180 | 150 |
| Tate Corridor A | 19x157x24 | 2855 | 210 | 120 | 48 | 51 | 180 | 150 |
| Tate Corridor C | 19x157x24 | 2855 | 210 | 120 | 48 | 51 | 180 | 150 |
| Tate Pre-function | 19x157x24 | 11270 | 210 | 120 | 48 | 51 | 850 | 150 |
| Tate Pre-function A | 19x157x24 | 4400 | 210 | 120 | 48 | 51 | 250 | 50 |
| Tate Pre-function B-C | 19x157x24 | 6870 | 210 | 120 | 48 | 51 | 600 | 100 |
| Grapevine Terrace | 19x157x24 | 2645 | 210 | 120 | 48 | 51 | 170 | 140 |
Dimensions (LxWxH)
240x748x24
Dimensions (LxWxH)
240x124x25
Dimensions (LxWxH)
240x90x24
Dimensions (LxWxH)
240x90x24
Dimensions (LxWxH)
240x150x24
Dimensions (LxWxH)
240x143x24
Dimensions (LxWxH)
240x150x24
Dimensions (LxWxH)
240x115x40
Dimensions (LxWxH)
127x27x40
Dimensions (LxWxH)
265x185x24
Dimensions (LxWxH)
115x92x24
Dimensions (LxWxH)
115x92x24
Dimensions (LxWxH)
59x92x24
Dimensions (LxWxH)
59x92x24
Dimensions (LxWxH)
29x40x24
Dimensions (LxWxH)
29x40x24
Dimensions (LxWxH)
33x40x24
Dimensions (LxWxH)
33x40x24
Dimensions (LxWxH)
29x40x24
Dimensions (LxWxH)
29x40x24
Dimensions (LxWxH)
26x185x24
Texas Ballroom Pre-function
Dimensions (LxWxH)
265x42x15
Dimensions (LxWxH)
175x185x24
Dimensions (LxWxH)
98x52x24
Dimensions (LxWxH)
87x52x24
Dimensions (LxWxH)
98x78x24
Dimensions (LxWxH)
87x78x24
Dimensions (LxWxH)
42x32x24
Dimensions (LxWxH)
28x32x24
Dimensions (LxWxH)
28x32x24
Dimensions (LxWxH)
28x32x24
Dimensions (LxWxH)
28x32x24
Dimensions (LxWxH)
32x32x15
Grapevine Ballroom Pre-function
Dimensions (LxWxH)
175x36x24
Dimensions (LxWxH)
23x27x11
Dimensions (LxWxH)
23x31x11
Dimensions (LxWxH)
24x23x11
Dimensions (LxWxH)
24x23x11
Dimensions (LxWxH)
24x35x11
Dimensions (LxWxH)
24x35x11
Dimensions (LxWxH)
24x35x11
Dimensions (LxWxH)
24x26x11
Dimensions (LxWxH)
24x26x11
Dimensions (LxWxH)
24x26x11
Dimensions (LxWxH)
24x29x11
Dimensions (LxWxH)
24x29x11
Dimensions (LxWxH)
24x29x11
Dimensions (LxWxH)
286x54x15
Dimensions (LxWxH)
23x27x11
Dimensions (LxWxH)
23x31x11
Dimensions (LxWxH)
24x23x11
Dimensions (LxWxH)
24x23x11
Dimensions (LxWxH)
24x35x11
Dimensions (LxWxH)
24x35x11
Dimensions (LxWxH)
24x35x11
Dimensions (LxWxH)
24x26x11
Dimensions (LxWxH)
24x26x11
Dimensions (LxWxH)
24x26x11
Dimensions (LxWxH)
24x29x11
Dimensions (LxWxH)
24x29x11
Dimensions (LxWxH)
24x29x11
Dimensions (LxWxH)
58x57x18
Dimensions (LxWxH)
58x57x18
Dimensions (LxWxH)
23x16x9
Dimensions (LxWxH)
25x25x9
Dimensions (LxWxH)
25x25x9
Dimensions (LxWxH)
26x28x9
Dimensions (LxWxH)
22x28x9
Dimensions (LxWxH)
26x24x9
Dimensions (LxWxH)
22x26x9
Dimensions (LxWxH)
22x26x9
Dimensions (LxWxH)
31x27x9
Dimensions (LxWxH)
35x26x9
Dimensions (LxWxH)
30x27x9
Dimensions (LxWxH)
35x27x9
Dimensions (LxWxH)
20x27x9
Dimensions (LxWxH)
35x28x9
Dimensions (LxWxH)
27x27x9
Dimensions (LxWxH)
27x27x9
Dimensions (LxWxH)
27x27x9
Dimensions (LxWxH)
27x38x9
Dimensions (LxWxH)
27x38x9
Dimensions (LxWxH)
27x38x9
Dimensions (LxWxH)
27x38x9
Dimensions (LxWxH)
22x24x10
Dimensions (LxWxH)
20x23x10
Dimensions (LxWxH)
24x30x10
Dimensions (LxWxH)
24x23x10
Dimensions (LxWxH)
24x23x10
Dimensions (LxWxH)
59x24x14
Dimensions (LxWxH)
59x25x14
Dimensions (LxWxH)
59x25x14
Dimensions (LxWxH)
59x25x14
Dimensions (LxWxH)
91x85x14
Dimensions (LxWxH)
38x52x14
Dimensions (LxWxH)
52x52x14
Dimensions (LxWxH)
41x85x14
Dimensions (LxWxH)
41x25x14
Dimensions (LxWxH)
41x26x14
Dimensions (LxWxH)
41x32x14
Dimensions (LxWxH)
51x85x14
Dimensions (LxWxH)
51x25x14
Dimensions (LxWxH)
51x26x14
Dimensions (LxWxH)
51x32x14
Dimensions (LxWxH)
120x52x14
Dimensions (LxWxH)
66x52x14
Dimensions (LxWxH)
26x52x14
Dimensions (LxWxH)
26x52x14
Dimensions (LxWxH)
40x24x14
Dimensions (LxWxH)
40x25x14
Dimensions (LxWxH)
40x25x14
Dimensions (LxWxH)
40x25x14
Dimensions (LxWxH)
40x25x14
Dimensions (LxWxH)
15x22x14
Dimensions (LxWxH)
15x22x14
Dimensions (LxWxH)
213x144x26
Dimensions (LxWxH)
77x157x24
Dimensions (LxWxH)
52x31x24
Dimensions (LxWxH)
52x26x24
Dimensions (LxWxH)
52x29x24
Dimensions (LxWxH)
52x26x24
Dimensions (LxWxH)
52x31x24
Dimensions (LxWxH)
139x157x26
Dimensions (LxWxH)
68x157x26
Dimensions (LxWxH)
139x157x26
Dimensions (LxWxH)
71x157x24
Dimensions (LxWxH)
52x31x24
Dimensions (LxWxH)
52x26x24
Dimensions (LxWxH)
52x29x24
Dimensions (LxWxH)
52x26x24
Dimensions (LxWxH)
52x31x24
Dimensions (LxWxH)
19x157x24
Dimensions (LxWxH)
19x157x24
Dimensions (LxWxH)
19x157x24
Dimensions (LxWxH)
19x157x24
Dimensions (LxWxH)
19x157x24
Dimensions (LxWxH)
19x157x24
| Meeting Room | Dimensions (LxWxH) | Area (sq.mt) | Theater | Schoolroom | Conference | U-Shape | Reception | Banquet |
| --- | --- | --- | --- | --- | --- | --- | --- | --- |
| Longhorn Exhibition Hall | 73.1x228x7.3 | 16677.8 | - | - | 10000 | - | 10000 | 10000 |
| Longhorn A | 73.1x37.8x7.6 | 2764.8 | - | - | 10000 | - | 2975 | 1930 |
| Longhorn B | 73.1x27.4x7.3 | 2006.7 | - | - | 10000 | - | 2160 | 1440 |
| Longhorn C | 73.1x27.4x7.3 | 2006.7 | - | - | 10000 | - | 2160 | 1440 |
| Longhorn D | 73.1x45.7x7.3 | 3344.5 | - | - | 10000 | - | 3600 | 2440 |
| Longhorn E | 73.1x43.6x7.3 | 3188.4 | - | - | 10000 | - | 3430 | 2450 |
| Longhorn F | 73.1x45.7x7.3 | 3344.5 | - | - | 10000 | - | 3600 | 2670 |
| Longhorn Pre-function | 73.1x35.1x12.2 | 2559.5 | - | - | 10000 | - | 1800 | 2670 |
| Longhorn Marble Foyer | 38.7x8.2x12.2 | 318.6 | - | - | 10000 | - | 340 | 220 |
| Texas Ballroom | 80.8x56.4x7.3 | 4554.5 | 5416 | 3402 | 10000 | - | 4000 | 3390 |
| Texas A | 35.1x28x7.3 | 982.9 | 1172 | 646 | 10000 | - | 1050 | 780 |
| Texas B | 35.1x28x7.3 | 982.9 | 1172 | 646 | 10000 | - | 1050 | 780 |
| Texas C | 18x28x7.3 | 504.3 | 515 | 325 | 10000 | - | 540 | 400 |
| Texas D | 18x28x7.3 | 504.3 | 515 | 325 | 10000 | - | 540 | 400 |
| Texas Breakout 1 | 8.8x12.2x7.3 | 107.8 | 135 | 79 | 46 | 38 | 115 | 70 |
| Texas Breakout 2 | 8.8x12.2x7.3 | 107.8 | 136 | 84 | 52 | 40 | 115 | 80 |
| Texas Breakout 3 | 10.1x12.2x7.3 | 122.6 | 175 | 94 | 52 | 38 | 130 | 90 |
| Texas Breakout 4 | 10.1x12.2x7.3 | 122.6 | 183 | 94 | 52 | 38 | 130 | 90 |
| Texas Breakout 5 | 8.8x12.2x7.3 | 107.8 | 136 | 84 | 52 | 40 | 115 | 80 |
| Texas Breakout 6 | 8.8x12.2x7.3 | 107.8 | 138 | 76 | 48 | 38 | 115 | 70 |
| Texas Stage Corridor | 7.9x56.4x7.3 | 446.9 | 138 | 76 | 48 | 38 | 115 | 70 |
| Texas Ballroom Pre-function | 80.8x12.8x4.6 | 1026.6 | 138 | 76 | 48 | 38 | 1100 | 430 |
| Grapevine Ballroom | 53.3x56.4x7.3 | 3007.7 | 3662 | 2415 | 48 | 38 | 3240 | 2230 |
| Grapevine A | 29.9x15.8x7.3 | 473.4 | 525 | 331 | 48 | 38 | 510 | 320 |
| Grapevine B | 26.5x15.8x7.3 | 420.3 | 479 | 271 | 48 | 38 | 450 | 280 |
| Grapevine C | 29.9x23.8x7.3 | 710.1 | 827 | 483 | 48 | 38 | 765 | 550 |
| Grapevine D | 26.5x23.8x7.3 | 630.4 | 721 | 395 | 48 | 38 | 675 | 480 |
| Grapevine 1 | 12.8x9.8x7.3 | 124.9 | 164 | 91 | 54 | 43 | 135 | 90 |
| Grapevine 2 | 8.5x9.8x7.3 | 83.2 | 96 | 54 | 42 | 31 | 90 | 50 |
| Grapevine 3 | 8.5x9.8x7.3 | 83.2 | 98 | 60 | 44 | 34 | 90 | 60 |
| Grapevine 4 | 8.5x9.8x7.3 | 83.2 | 96 | 54 | 42 | 31 | 90 | 60 |
| Grapevine 5 | 8.5x9.8x7.3 | 83.2 | 98 | 60 | 44 | 34 | 90 | 60 |
| Grapevine 6 | 9.8x9.8x4.6 | 95.1 | 135 | 63 | 44 | 33 | 100 | 60 |
| Grapevine Ballroom Pre-function | 53.3x11x7.3 | 573.7 | 135 | 63 | 44 | 33 | 615 | 240 |
| Dallas 1 | 7x8.2x3.4 | 57.7 | 72 | 36 | 32 | 26 | 60 | 40 |
| Dallas 2 | 7x9.4x3.4 | 66.2 | 80 | 42 | 34 | 28 | 70 | 40 |
| Dallas 3 | 7.3x7x3.4 | 51.3 | 64 | 38 | 28 | 24 | 55 | 40 |
| Dallas 4 | 7.3x7x3.4 | 51.3 | 64 | 38 | 28 | 24 | 55 | 40 |
| Dallas 5 | 7.3x10.7x3.4 | 78 | 102 | 58 | 42 | 35 | 85 | 60 |
| Dallas 6 | 7.3x10.7x3.4 | 78 | 102 | 58 | 42 | 35 | 85 | 60 |
| Dallas 7 | 7.3x10.7x3.4 | 78 | 102 | 58 | 42 | 35 | 85 | 60 |
| San Antonio 1 | 7.3x7.9x3.4 | 58 | 77 | 40 | 32 | 25 | 60 | 40 |
| San Antonio 2 | 7.3x7.9x3.4 | 58 | 77 | 40 | 32 | 25 | 60 | 40 |
| San Antonio 3 | 7.3x7.9x3.4 | 58 | 77 | 40 | 32 | 25 | 60 | 40 |
| San Antonio 4 | 7.3x8.8x3.4 | 64.7 | 90 | 48 | 36 | 29 | 70 | 50 |
| San Antonio 5 | 7.3x8.8x3.4 | 64.7 | 90 | 48 | 36 | 29 | 70 | 50 |
| San Antonio 6 | 7.3x8.8x3.4 | 64.7 | 90 | 48 | 36 | 29 | 70 | 50 |
| Center Pre-function | 87.2x16.5x4.6 | 1439.1 | 90 | 48 | 36 | 29 | 1200 | 540 |
| Fort Worth 1 | 7x8.2x3.4 | 57.7 | 72 | 36 | 32 | 26 | 60 | 40 |
| Fort Worth 2 | 7x9.4x3.4 | 66.2 | 80 | 42 | 34 | 28 | 70 | 50 |
| Fort Worth 3 | 7.3x7x3.4 | 51.3 | 64 | 38 | 28 | 24 | 55 | 40 |
| Fort Worth 4 | 7.3x7x3.4 | 51.3 | 64 | 38 | 28 | 24 | 55 | 40 |
| Fort Worth 5 | 7.3x10.7x3.4 | 78 | 102 | 58 | 42 | 35 | 85 | 60 |
| Fort Worth 6 | 7.3x10.7x3.4 | 78 | 102 | 58 | 42 | 35 | 85 | 60 |
| Fort Worth 7 | 7.3x10.7x3.4 | 78 | 102 | 58 | 42 | 35 | 85 | 60 |
| Austin 1 | 7.3x7.9x3.4 | 58 | 77 | 40 | 32 | 25 | 60 | 40 |
| Austin 2 | 7.3x7.9x3.4 | 58 | 77 | 40 | 32 | 25 | 60 | 40 |
| Austin 3 | 7.3x7.9x3.4 | 58 | 77 | 40 | 32 | 25 | 60 | 40 |
| Austin 4 | 7.3x8.8x3.4 | 64.7 | 90 | 48 | 36 | 29 | 70 | 50 |
| Austin 5 | 7.3x8.8x3.4 | 64.7 | 90 | 48 | 36 | 29 | 70 | 50 |
| Austin 6 | 7.3x8.8x3.4 | 64.7 | 90 | 48 | 36 | 29 | 70 | 50 |
| Yellow Rose Ballroom | 17.7x17.4x5.5 | 307.1 | 304 | 186 | 88 | 65 | 330 | 230 |
| Yellow Rose Pavillion | 17.7x17.4x5.5 | 218.3 | 304 | 186 | 88 | 65 | 230 | 110 |
| Del Rio 1 | 7x4.9x2.7 | 34.2 | 37 | 24 | 22 | 18 | 35 | 20 |
| Del Rio 2 | 7.6x7.6x2.7 | 58.1 | 76 | 38 | 34 | 27 | 60 | 40 |
| Del Rio 3 | 7.6x7.6x2.7 | 58.1 | 76 | 38 | 34 | 27 | 60 | 40 |
| Pecos 1 | 7.9x8.5x2.7 | 67.6 | 77 | 44 | 34 | 26 | 70 | 40 |
| Pecos 2 | 6.7x8.5x2.7 | 57.2 | 60 | 32 | 28 | 23 | 60 | 30 |
| Pecos 3 | 7.9x7.3x2.7 | 58 | 63 | 40 | 32 | 24 | 60 | 40 |
| Pecos 4 | 6.7x7.9x2.7 | 53.1 | 59 | 32 | 28 | 23 | 55 | 30 |
| Mission Plaza | 6.7x7.9x2.7 | 246.4 | 59 | 32 | 28 | 23 | 175 | 110 |
| Mustang 1 | 9.4x8.2x2.7 | 77.8 | 89 | 48 | 38 | 30 | 80 | 50 |
| Mustang 2 | 10.7x7.9x2.7 | 84.5 | 108 | 61 | 40 | 32 | 90 | 60 |
| Mustang 3 | 9.1x8.2x2.7 | 75.3 | 89 | 48 | 38 | 30 | 80 | 50 |
| Mustang 4 | 10.7x8.2x2.7 | 87.8 | 114 | 54 | 40 | 32 | 90 | 60 |
| Mustang 5 | 6.1x8.2x2.7 | 50.2 | 60 | 31 | 28 | 24 | 50 | 30 |
| Mustang 6 | 10.7x8.5x2.7 | 91 | 114 | 54 | 40 | 32 | 95 | 60 |
| Palomino 1 | 8.2x8.2x2.7 | 67.7 | 82 | 42 | 34 | 26 | 70 | 50 |
| Palomino 2 | 8.2x8.2x2.7 | 67.7 | 82 | 42 | 34 | 26 | 70 | 50 |
| Palomino 3 | 8.2x8.2x2.7 | 67.7 | 82 | 42 | 34 | 26 | 70 | 50 |
| Appaloosa 1 | 8.2x11.6x2.7 | 95.3 | 116 | 66 | 44 | 38 | 100 | 60 |
| Appaloosa 2 | 8.2x11.6x2.7 | 95.3 | 110 | 64 | 44 | 38 | 100 | 60 |
| Appaloosa 3 | 8.2x11.6x2.7 | 95.3 | 110 | 64 | 44 | 38 | 100 | 60 |
| Appaloosa 4 | 8.2x11.6x2.7 | 95.3 | 110 | 64 | 44 | 38 | 100 | 60 |
| Primrose Boardroom | 6.7x7.3x3 | 49.1 | 110 | 64 | 10 | 9 | 100 | 10 |
| Primrose Pre-function | 6.1x7x3 | 42.7 | 110 | 64 | 10 | 9 | 40 | 20 |
| Bluebonnet Boardroom | 7.3x9.1x3 | 66.9 | 110 | 64 | 12 | 11 | 40 | 12 |
| Bluebonnet Pre-function | 7.3x7x3 | 51.3 | 110 | 64 | 12 | 11 | 50 | 30 |
| Glass Cactus Night Club | 7.3x7x3 | 3623.2 | 110 | 64 | 12 | 11 | 50 | 30 |
| San Saba 1 | 18x7.3x4.3 | 140.2 | 192 | 108 | 60 | 54 | 150 | 100 |
| San Saba 2 | 18x7.6x4.3 | 141.6 | 192 | 108 | 60 | 54 | 150 | 100 |
| San Saba 3 | 18x7.6x4.3 | 141.6 | 192 | 108 | 60 | 54 | 150 | 100 |
| San Saba 4 | 18x7.6x4.3 | 141.6 | 192 | 108 | 60 | 54 | 150 | 100 |
| Mesilla 1-2 | 27.7x25.9x4.3 | 456.9 | 675 | 360 | 144 | 96 | 420 | 320 |
| Mesilla 1 | 11.6x15.8x4.3 | 194.4 | 280 | 147 | 66 | 48 | 180 | 120 |
| Mesilla 2 | 15.8x15.8x4.3 | 251.2 | 378 | 198 | 78 | 52 | 240 | 200 |
| Escondido 1-3 | 12.5x25.9x4.3 | 346.7 | 520 | 270 | 132 | 88 | 315 | 210 |
| Escondido 1 | 12.5x7.6x4.3 | 105.5 | 110 | 72 | 42 | 36 | 90 | 70 |
| Escondido 2 | 12.5x7.9x4.3 | 109.4 | 110 | 72 | 42 | 36 | 90 | 70 |
| Escondido 3 | 12.5x9.8x4.3 | 131.7 | 170 | 90 | 54 | 39 | 135 | 110 |
| Texoma 1-3 | 15.5x25.9x4.3 | 425.2 | 620 | 360 | 112 | 84 | 420 | 280 |
| Texoma 1 | 15.5x7.6x4.3 | 129.3 | 180 | 90 | 54 | 42 | 120 | 90 |
| Texoma 2 | 15.5x7.9x4.3 | 134.2 | 180 | 90 | 54 | 42 | 120 | 90 |
| Texoma 3 | 15.5x9.8x4.3 | 161.7 | 210 | 120 | 60 | 45 | 180 | 120 |
| High Plains 1-3 | 36.6x15.8x4.3 | 602.8 | 858 | 486 | 198 | 132 | 600 | 440 |
| High Plains 1 | 20.1x15.8x4.3 | 332.9 | 476 | 264 | 90 | 60 | 360 | 240 |
| High Plains 2 | 7.9x15.8x4.3 | 135.5 | 168 | 106 | 54 | 48 | 120 | 90 |
| High Plains 3 | 7.9x15.8x4.3 | 134.5 | 168 | 106 | 54 | 48 | 120 | 80 |
| Davis 1 | 12.2x7.3x4.3 | 96.2 | 110 | 72 | 36 | 36 | 90 | 70 |
| Davis 2 | 12.2x7.6x4.3 | 97.1 | 110 | 72 | 36 | 36 | 90 | 70 |
| Davis 3 | 12.2x7.6x4.3 | 97.1 | 110 | 72 | 36 | 36 | 90 | 70 |
| Davis 4 | 12.2x7.6x4.3 | 97.1 | 110 | 72 | 36 | 36 | 90 | 70 |
| Vineyard Pre-function | 12.2x7.6x4.3 | 611.1 | 110 | 72 | 36 | 36 | 600 | 110 |
| Vineyard Boardroom | 4.6x6.7x4.3 | 30.7 | 110 | 72 | 10 | 36 | 600 | 110 |
| Vineyard Terrace | 4.6x6.7x4.3 | 242.9 | 110 | 72 | 10 | 36 | 130 | 140 |
| Tate Ballroom | 64.9x43.9x7.9 | 2973.8 | 3850 | 2436 | 10 | 36 | 2970 | 1980 |
| Tate A (with corridor) | 23.5x47.9x7.3 | 1020.6 | 1290 | 870 | 10 | 36 | 1000 | 780 |
| Tate 1 | 15.8x9.4x7.3 | 154.7 | 210 | 120 | 48 | 51 | 180 | 150 |
| Tate 2 | 15.8x7.9x7.3 | 136.3 | 150 | 90 | 48 | 48 | 120 | 100 |
| Tate 3 | 15.8x8.8x7.3 | 136.3 | 150 | 90 | 48 | 48 | 120 | 100 |
| Tate 4 | 15.8x7.9x7.3 | 136.3 | 150 | 90 | 48 | 48 | 120 | 100 |
| Tate 5 | 15.8x9.4x7.3 | 157.7 | 210 | 120 | 48 | 51 | 180 | 150 |
| Tate A/B | 42.4x47.9x7.9 | 1966.2 | 2788 | 1512 | 48 | 51 | 2600 | 1560 |
| Tate B | 20.7x47.9x7.9 | 939.2 | 1320 | 720 | 48 | 51 | 1000 | 720 |
| Tate B/C | 42.4x47.9x7.9 | 1966.2 | 2788 | 1512 | 48 | 51 | 2600 | 1560 |
| Tate C (with corridor) | 21.6x47.9x7.3 | 1019.7 | 1290 | 870 | 48 | 51 | 1000 | 780 |
| Tate 6 | 15.8x9.4x7.3 | 155.3 | 210 | 90 | 48 | 51 | 180 | 100 |
| Tate 7 | 15.8x7.9x7.3 | 136.3 | 150 | 90 | 48 | 48 | 120 | 100 |
| Tate 8 | 15.8x8.8x7.3 | 136.3 | 150 | 90 | 48 | 48 | 120 | 100 |
| Tate 9 | 15.8x7.9x7.3 | 136.3 | 150 | 90 | 48 | 48 | 120 | 100 |
| Tate 10 | 15.8x9.4x7.3 | 157.7 | 210 | 120 | 48 | 51 | 180 | 150 |
| Tate Corridor A | 5.8x47.9x7.3 | 265.2 | 210 | 120 | 48 | 51 | 180 | 150 |
| Tate Corridor C | 5.8x47.9x7.3 | 265.2 | 210 | 120 | 48 | 51 | 180 | 150 |
| Tate Pre-function | 5.8x47.9x7.3 | 1047 | 210 | 120 | 48 | 51 | 850 | 150 |
| Tate Pre-function A | 5.8x47.9x7.3 | 408.8 | 210 | 120 | 48 | 51 | 250 | 50 |
| Tate Pre-function B-C | 5.8x47.9x7.3 | 638.2 | 210 | 120 | 48 | 51 | 600 | 100 |
| Grapevine Terrace | 5.8x47.9x7.3 | 245.7 | 210 | 120 | 48 | 51 | 170 | 140 |
Dimensions (LxWxH)
73.1x228x7.3
Dimensions (LxWxH)
73.1x37.8x7.6
Dimensions (LxWxH)
73.1x27.4x7.3
Dimensions (LxWxH)
73.1x27.4x7.3
Dimensions (LxWxH)
73.1x45.7x7.3
Dimensions (LxWxH)
73.1x43.6x7.3
Dimensions (LxWxH)
73.1x45.7x7.3
Dimensions (LxWxH)
73.1x35.1x12.2
Dimensions (LxWxH)
38.7x8.2x12.2
Dimensions (LxWxH)
80.8x56.4x7.3
Dimensions (LxWxH)
35.1x28x7.3
Dimensions (LxWxH)
35.1x28x7.3
Dimensions (LxWxH)
18x28x7.3
Dimensions (LxWxH)
18x28x7.3
Dimensions (LxWxH)
8.8x12.2x7.3
Dimensions (LxWxH)
8.8x12.2x7.3
Dimensions (LxWxH)
10.1x12.2x7.3
Dimensions (LxWxH)
10.1x12.2x7.3
Dimensions (LxWxH)
8.8x12.2x7.3
Dimensions (LxWxH)
8.8x12.2x7.3
Dimensions (LxWxH)
7.9x56.4x7.3
Texas Ballroom Pre-function
Dimensions (LxWxH)
80.8x12.8x4.6
Dimensions (LxWxH)
53.3x56.4x7.3
Dimensions (LxWxH)
29.9x15.8x7.3
Dimensions (LxWxH)
26.5x15.8x7.3
Dimensions (LxWxH)
29.9x23.8x7.3
Dimensions (LxWxH)
26.5x23.8x7.3
Dimensions (LxWxH)
12.8x9.8x7.3
Dimensions (LxWxH)
8.5x9.8x7.3
Dimensions (LxWxH)
8.5x9.8x7.3
Dimensions (LxWxH)
8.5x9.8x7.3
Dimensions (LxWxH)
8.5x9.8x7.3
Dimensions (LxWxH)
9.8x9.8x4.6
Grapevine Ballroom Pre-function
Dimensions (LxWxH)
53.3x11x7.3
Dimensions (LxWxH)
7x8.2x3.4
Dimensions (LxWxH)
7x9.4x3.4
Dimensions (LxWxH)
7.3x7x3.4
Dimensions (LxWxH)
7.3x7x3.4
Dimensions (LxWxH)
7.3x10.7x3.4
Dimensions (LxWxH)
7.3x10.7x3.4
Dimensions (LxWxH)
7.3x10.7x3.4
Dimensions (LxWxH)
7.3x7.9x3.4
Dimensions (LxWxH)
7.3x7.9x3.4
Dimensions (LxWxH)
7.3x7.9x3.4
Dimensions (LxWxH)
7.3x8.8x3.4
Dimensions (LxWxH)
7.3x8.8x3.4
Dimensions (LxWxH)
7.3x8.8x3.4
Dimensions (LxWxH)
87.2x16.5x4.6
Dimensions (LxWxH)
7x8.2x3.4
Dimensions (LxWxH)
7x9.4x3.4
Dimensions (LxWxH)
7.3x7x3.4
Dimensions (LxWxH)
7.3x7x3.4
Dimensions (LxWxH)
7.3x10.7x3.4
Dimensions (LxWxH)
7.3x10.7x3.4
Dimensions (LxWxH)
7.3x10.7x3.4
Dimensions (LxWxH)
7.3x7.9x3.4
Dimensions (LxWxH)
7.3x7.9x3.4
Dimensions (LxWxH)
7.3x7.9x3.4
Dimensions (LxWxH)
7.3x8.8x3.4
Dimensions (LxWxH)
7.3x8.8x3.4
Dimensions (LxWxH)
7.3x8.8x3.4
Dimensions (LxWxH)
17.7x17.4x5.5
Dimensions (LxWxH)
17.7x17.4x5.5
Dimensions (LxWxH)
7x4.9x2.7
Dimensions (LxWxH)
7.6x7.6x2.7
Dimensions (LxWxH)
7.6x7.6x2.7
Dimensions (LxWxH)
7.9x8.5x2.7
Dimensions (LxWxH)
6.7x8.5x2.7
Dimensions (LxWxH)
7.9x7.3x2.7
Dimensions (LxWxH)
6.7x7.9x2.7
Dimensions (LxWxH)
6.7x7.9x2.7
Dimensions (LxWxH)
9.4x8.2x2.7
Dimensions (LxWxH)
10.7x7.9x2.7
Dimensions (LxWxH)
9.1x8.2x2.7
Dimensions (LxWxH)
10.7x8.2x2.7
Dimensions (LxWxH)
6.1x8.2x2.7
Dimensions (LxWxH)
10.7x8.5x2.7
Dimensions (LxWxH)
8.2x8.2x2.7
Dimensions (LxWxH)
8.2x8.2x2.7
Dimensions (LxWxH)
8.2x8.2x2.7
Dimensions (LxWxH)
8.2x11.6x2.7
Dimensions (LxWxH)
8.2x11.6x2.7
Dimensions (LxWxH)
8.2x11.6x2.7
Dimensions (LxWxH)
8.2x11.6x2.7
Dimensions (LxWxH)
6.7x7.3x3
Dimensions (LxWxH)
6.1x7x3
Dimensions (LxWxH)
7.3x9.1x3
Dimensions (LxWxH)
7.3x7x3
Dimensions (LxWxH)
7.3x7x3
Dimensions (LxWxH)
18x7.3x4.3
Dimensions (LxWxH)
18x7.6x4.3
Dimensions (LxWxH)
18x7.6x4.3
Dimensions (LxWxH)
18x7.6x4.3
Dimensions (LxWxH)
27.7x25.9x4.3
Dimensions (LxWxH)
11.6x15.8x4.3
Dimensions (LxWxH)
15.8x15.8x4.3
Dimensions (LxWxH)
12.5x25.9x4.3
Dimensions (LxWxH)
12.5x7.6x4.3
Dimensions (LxWxH)
12.5x7.9x4.3
Dimensions (LxWxH)
12.5x9.8x4.3
Dimensions (LxWxH)
15.5x25.9x4.3
Dimensions (LxWxH)
15.5x7.6x4.3
Dimensions (LxWxH)
15.5x7.9x4.3
Dimensions (LxWxH)
15.5x9.8x4.3
Dimensions (LxWxH)
36.6x15.8x4.3
Dimensions (LxWxH)
20.1x15.8x4.3
Dimensions (LxWxH)
7.9x15.8x4.3
Dimensions (LxWxH)
7.9x15.8x4.3
Dimensions (LxWxH)
12.2x7.3x4.3
Dimensions (LxWxH)
12.2x7.6x4.3
Dimensions (LxWxH)
12.2x7.6x4.3
Dimensions (LxWxH)
12.2x7.6x4.3
Dimensions (LxWxH)
12.2x7.6x4.3
Dimensions (LxWxH)
4.6x6.7x4.3
Dimensions (LxWxH)
4.6x6.7x4.3
Dimensions (LxWxH)
64.9x43.9x7.9
Dimensions (LxWxH)
23.5x47.9x7.3
Dimensions (LxWxH)
15.8x9.4x7.3
Dimensions (LxWxH)
15.8x7.9x7.3
Dimensions (LxWxH)
15.8x8.8x7.3
Dimensions (LxWxH)
15.8x7.9x7.3
Dimensions (LxWxH)
15.8x9.4x7.3
Dimensions (LxWxH)
42.4x47.9x7.9
Dimensions (LxWxH)
20.7x47.9x7.9
Dimensions (LxWxH)
42.4x47.9x7.9
Dimensions (LxWxH)
21.6x47.9x7.3
Dimensions (LxWxH)
15.8x9.4x7.3
Dimensions (LxWxH)
15.8x7.9x7.3
Dimensions (LxWxH)
15.8x8.8x7.3
Dimensions (LxWxH)
15.8x7.9x7.3