About Chagall's
At Chagall's Restaurant in Sheraton Hamilton Hotel, we pride ourselves on fresh cuisine and a creative all-day menu. Stop in for breakfast and a specialty coffee before a day spent exploring the downtown area, or visit us for a perfectly prepared pasta dish in the evening.
Breakfast
Start your morning off right and join us for breakfast or brunch in Chagall's Restaurant. Choose from a variety of healthy and hearty breakfast selections to satisfy your cravings like a Fresh Berry + Yogurt Parfait with Granola or Golden Buttermilk Pancakes served with syrup and fresh fruit compote. Whatever you choose for breakfast, rest assured that you'll be satisfied.
Lunch/Dinner
Offering all-day dining in downtown Hamilton, Chagall's Restaurant serves savoury continental cuisine in a laid-back and convivial setting. Our menu boasts favourites like Soup of the Day created with local and seasonal ingredients, and our Basil Infused Spaghetti with tomato basil sauce and cold-pressed olive oil. Stop in for lunch or dinner to experience the unique tastes of Chagall's.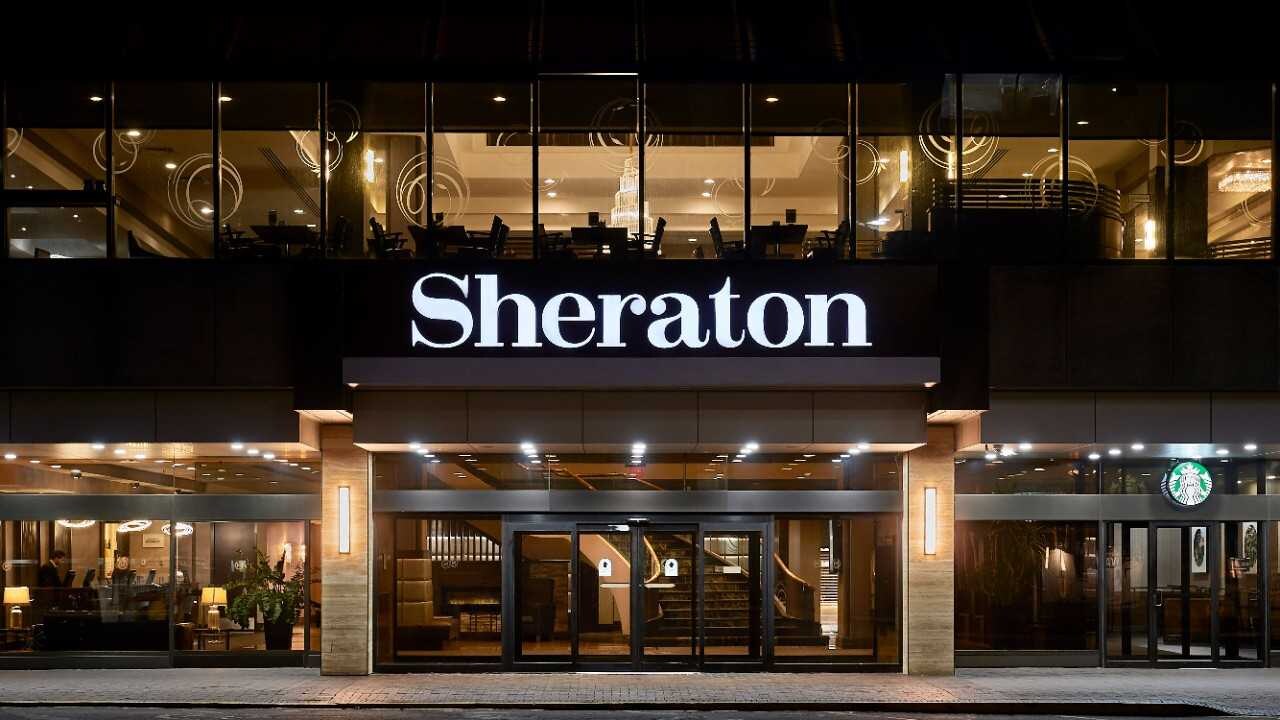 In-Room Dining
Enjoy a light bite or a hearty meal in the comfort of your Sheraton Hamilton hotel room or suite. Browse our in-room menus and have your order freshly prepared and hand-delivered by one of our restaurant servers. Whether you're in the mood for something light, like our Famous Cobb Salad, or something heartier, like our Sheraton Angus Burger, the options are plentiful and filled with flavour.
Contact Us
If you're looking for places to eat in downtown Hamilton, we hope you'll stop in and visit us. With a warm setting and plenty of tasty food, you can't go wrong. Feel free to reach us by phone: 905-317-4501 or email: reservations@sheratonhamilton.com with any questions or comments.
Hours of Operation
Chagall's Restaurant hours of operation are suited to your downtown Hamilton activities. Offering breakfast, lunch and dinner, our chef and wait staff stand ready to serve you an incredible dining experience.
Breakfast
6:30 a.m. - 11:00 a.m., Monday - Friday
7:00 a.m. - 11:00 a.m., Saturday - Sunday
Lunch
11:00 a.m. - 2:00 p.m.
Dinner
5:00 p.m. - 9:00 p.m.
*Hours are subject to change