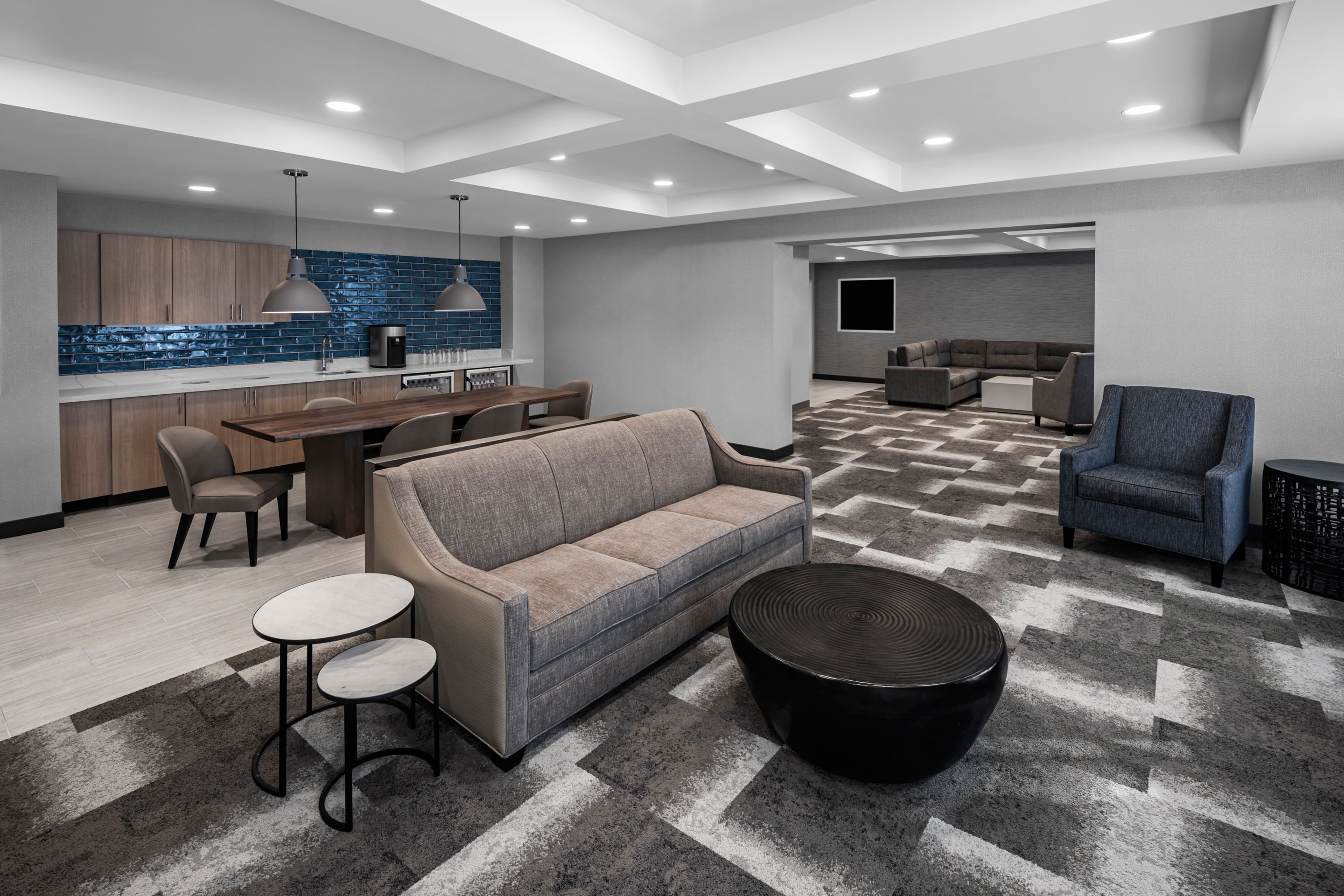 WELLNESS THROUGH HOSPITALITY - IT'S WHAT SETS US APART
Residence Inn Jacksonville provides the finest extended stay guest suites in Northeast Florida, with all the comforts of home featuring fully appointed kitchens, spacious living & dining areas. We're 1/4 mile to the Mayo Clinic (free shuttle) and easily accessible to the Beaches, University of North Florida, St. Johns Town Center & Downtown. Maintain your workout routine in the extensive Fitness Center. In addition to the free breakfast option, the Lobby Bar offers healthy food options & specialty smoothies in the morning, with full bar service in the evenings. Minimizing shared air, a specially designed cooling and dehumidifying system delivers fresh air to each individual suite, significantly reducing shared air. The high-quality finishes are designed to reduce dust and allow an enhanced cleaning regimen to deliver peace of mind to all our guests.  The Claudette O'Brien Gerhold Gallery is a dedicated lounge specifically designed for our medical guests' relaxation and socialization.
AMERICAN IN-HOME CARE
Customized Care by Design - personalized services to fit your individual needs.
Wouldn't it be a blessing to have extra support while away from home? At Residence Inn you won't have to worry: You or your loved one will receive all the attention and extra care needed.
American In-Home Care is one of the largest and most respected nurse registries in the state of Florida. Guests at Residence Inn Jacksonville will have the option of personalized in-suite care to help ensure the best possible recovery and/or transition from hospital to home. Through American In-Home Care, the hotel guest will be connected with qualified, credentialed and screened care providers who can deliver a menu of nursing and companion services. We recognize that each guest will have different care needs based on their physical health and stage of treatment and recovery, as well as their own support group resources. To better understand and address these needs, American In-Home Care offers a free service consultation, through their on-site Client Care Liaison, on-line or by phone in advance of your arrival. By establishing a clear understanding of your unique service requirements, they will be able to refer the right qualified, compassionate care providers.
Healthy Choices to Nourish the Body and Feed the Soul
Our Lobby Bar offers healthy food options along with our morning Smoothie bar to give you energy & strength. We offer a grocery shopping service that can set up your kitchen with everything you need.
A SENSE OF WONDER
Claudette O'Brien Gerhold Gallery , a private lounge for medical guests' relaxation and comfort
The inspiration and unique concept of this genuine-care hotel and dedicated Gerhold Gallery lounge emerged from Claudette's own personal experiences at the Mayo Clinic in Jacksonville.
Bringing a personality of the arts to Residence Inn Jacksonville, we are delighted to present personal works of art and design influences in our Residence Inn by the late Claudette O'Brien Gerhold and her husband, Paul. Claudette's design work reflects her belief in the inner harmony that comes from making and viewing art. Her art and the art at Mayo were a great solace during her journey with cancer. Selective art pieces are on display in the hotel and you will be able to enjoy Claudette and Paul's "one of a kind" Raku creations. The hotel also has original art from a collection of friends of Claudette and Paul. Claudette was a native of Jacksonville and studied art history and art criticism at Jacksonville University.