A perfect blend of sophistication and functionality at Gaylord Palms
Meetings & Events
Our space is a perfect blend of sophistication and functionality designed for conventions, banquets, boardroom meetings, exhibitions, and pre-function gatherings. With a newly completed $158 million expansion, including 306 new guest rooms, new meeting space and renovated pre-function space, our Kissimmee convention center boasts a range of venues to suit your needs. Our team of meeting experts and service partners understand your needs, speak your language, and - most importantly - can help you execute your event flawlessly. Every meeting package is customized to perfectly fit the needs of your meeting, including government and military meetings of all sizes. Partner with our meetings professionals to take advantage of per-diem rates, customizable packages and flexible pricing to put your focus back on hosting your most successful event yet.
76
Maximum Breakout Rooms
10,000
Capacity Largest Space
$158 Million Expansion
The newly completed expansion includes 30,000-square-foot Coastal Ballroom, 12,000-square-foot Mangrove Lawn, 30,000 square feet of breakout space and approximately 30,000 square feet of carpeted pre-function space for a total of 500,000 square feet of flexible meeting space. In the new Gulf Coast Tower, 306 guest rooms feature an enhanced, modern coastal design, bringing the current inventory to 1,718 sleeping rooms.
Coastal Ballroom
Our Coastal Ballroom is 30,000 square feet and divisible into 14 sections, creating endless space configurations depending on your group size and need. Plus, the custom-molded ceiling is fitted with color-changing LED lighting that can be programmed for any gathering or meeting theme.
Citrus Ballroom
Citrus Ballroom offers a more intimate venue with giant windows that feature natural light and provide panoramic views of the central Florida landscape.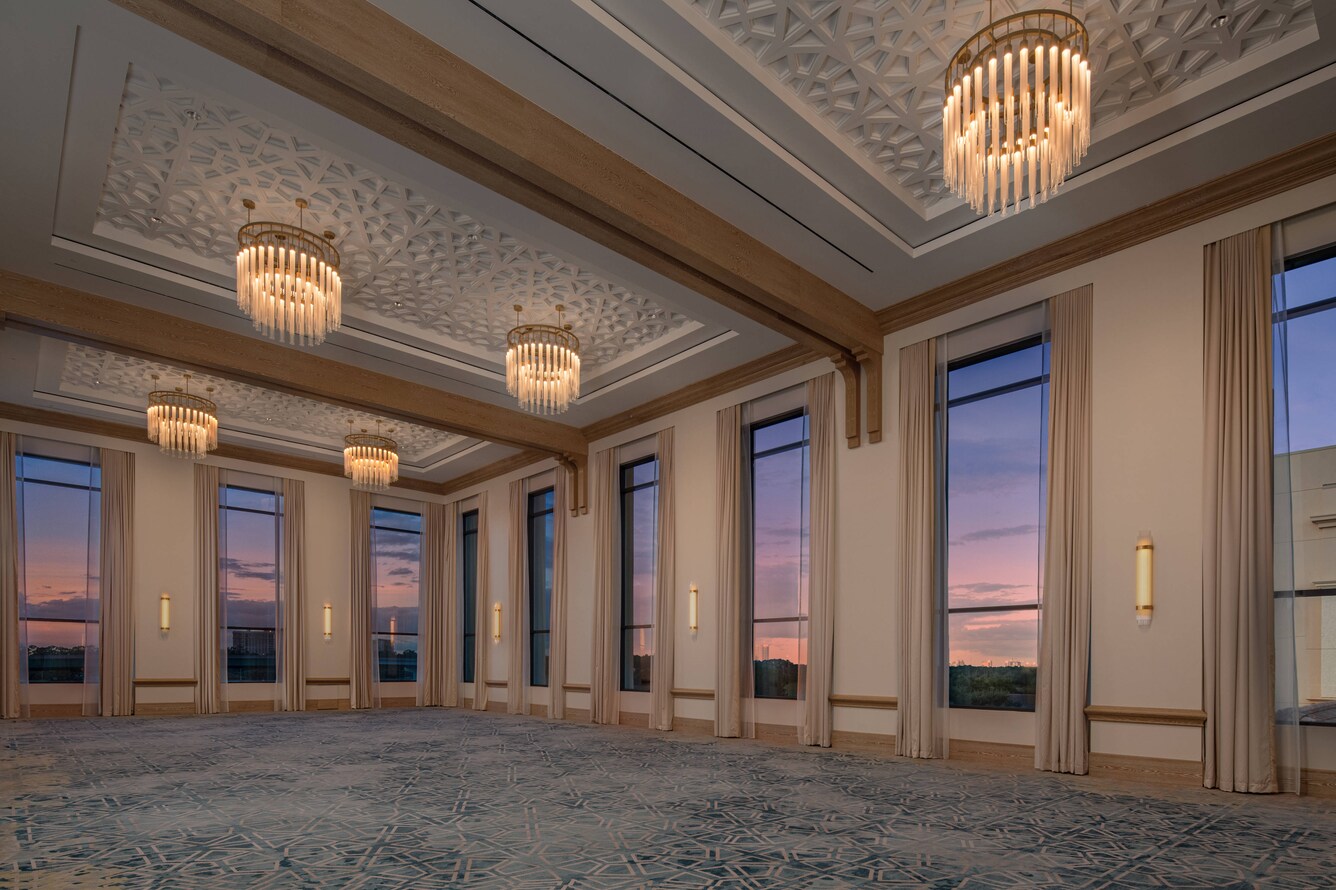 Osceola Ballroom
Designed to host the largest, most lavish events, Osceola Ballroom is 48,505 square feet and offers a 42-by-96-foot stage, dressing rooms and green rooms. This ballroom features an intelligent house lighting and digital network sound systems. This ballroom can be divided into six sections, giving you the flexibility needed for any occasion.
Sun Ballroom
This ballroom features 29,123 square feet of space and can easily be divided so you can enjoy flexibility for receptions, banquets and conferences. Your guests can mingle and network in the pre-function area. Lockable registration desks and nine offices, located on the Ballroom level, provide maximum efficiency during your Kissimmee event.
Orange Blossom Ballroom
Our most intimate ballroom, at 3,115 square feet, is sized perfectly to host exclusive galas. With an extensive pre-function space at atrium level, the Orange Blossom Ballroom has become a venue of preference for exclusive charity events and weddings in Kissimmee, Florida.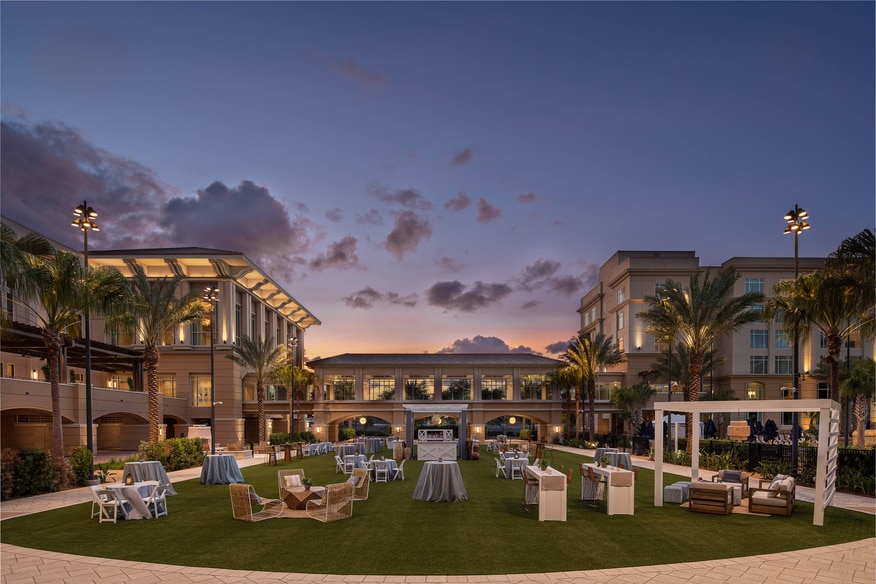 Mangrove Lawn
Conventions, weddings and other groups wanting to host an outing under the sun or stars can create their own special event on the new Mangrove Lawn, bookended by fireplaces. Just steps away from Cypress Springs Water Park, Mangrove Lawn is perfect for combination events.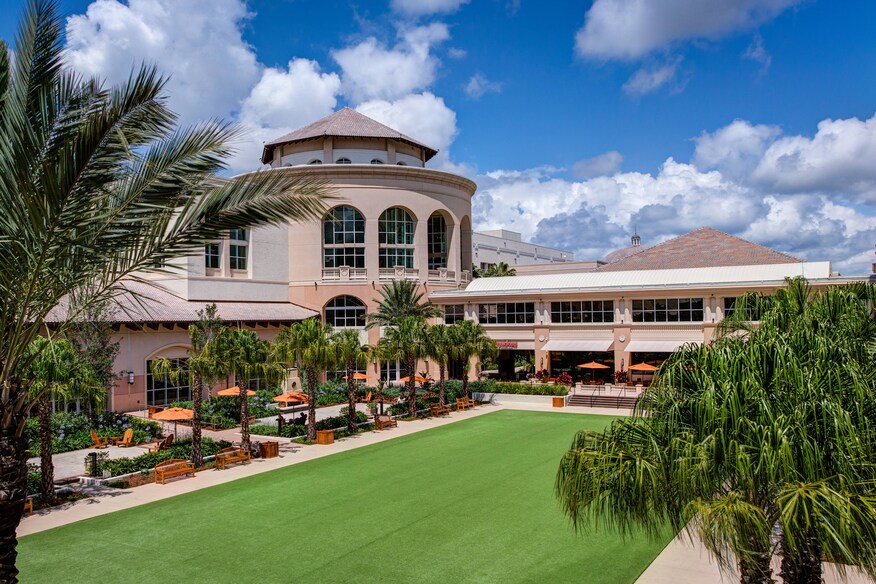 Coquina Lawn
Coquina Lawn serves as a customizable, open-air venue for a picture-perfect alfresco reception! Fire pits and dramatic lighting add to the evening ambiance. The area can also be tented to provide a sheltered environment.
Emerald Plaza
Reminiscent of Old Florida, the architectural backdrop for Emerald Plaza evokes the style of Henry Flagler, the visionary entrepreneur who made St. Augustine a popular destination. Spanish Renaissance architecture graces this most lavish area of the resort and provides an ideal reception location.
Well-planned, perfectly executed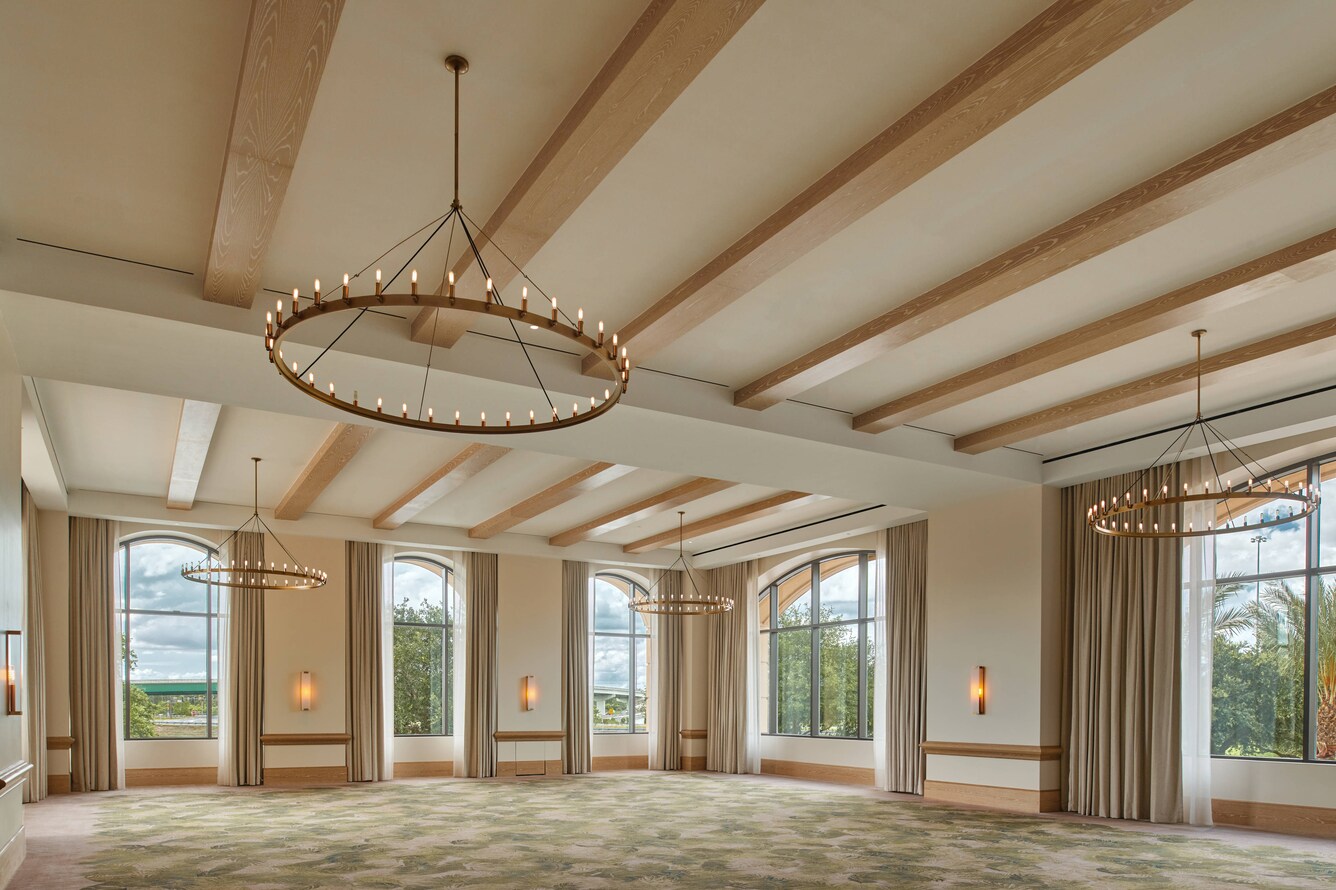 Escambia Meeting Room
With arch-shaped windows that overlook the scenic landscape surrounding Gaylord Palms, the 2,897-square-foot Escambia Room combines modern design with old-world style – featuring large, ring-shaped chandeliers and Edison-style bulbs.
St. George Street Conference Rooms
These four atrium-level conference rooms are located within the hotel in Emerald Bay. Located just steps from guest rooms, St. George Conference Rooms have the flexibility to accommodate post-event networking.
Emerald Meeting Rooms
At our Kissimmee hotel, these eight meeting rooms are part of our exclusive "hotel within a hotel" concept that puts meeting space in close proximity to guest rooms, offering attendees a more intimate meeting environment. The Emerald meeting rooms are one level beneath the atrium at pool level.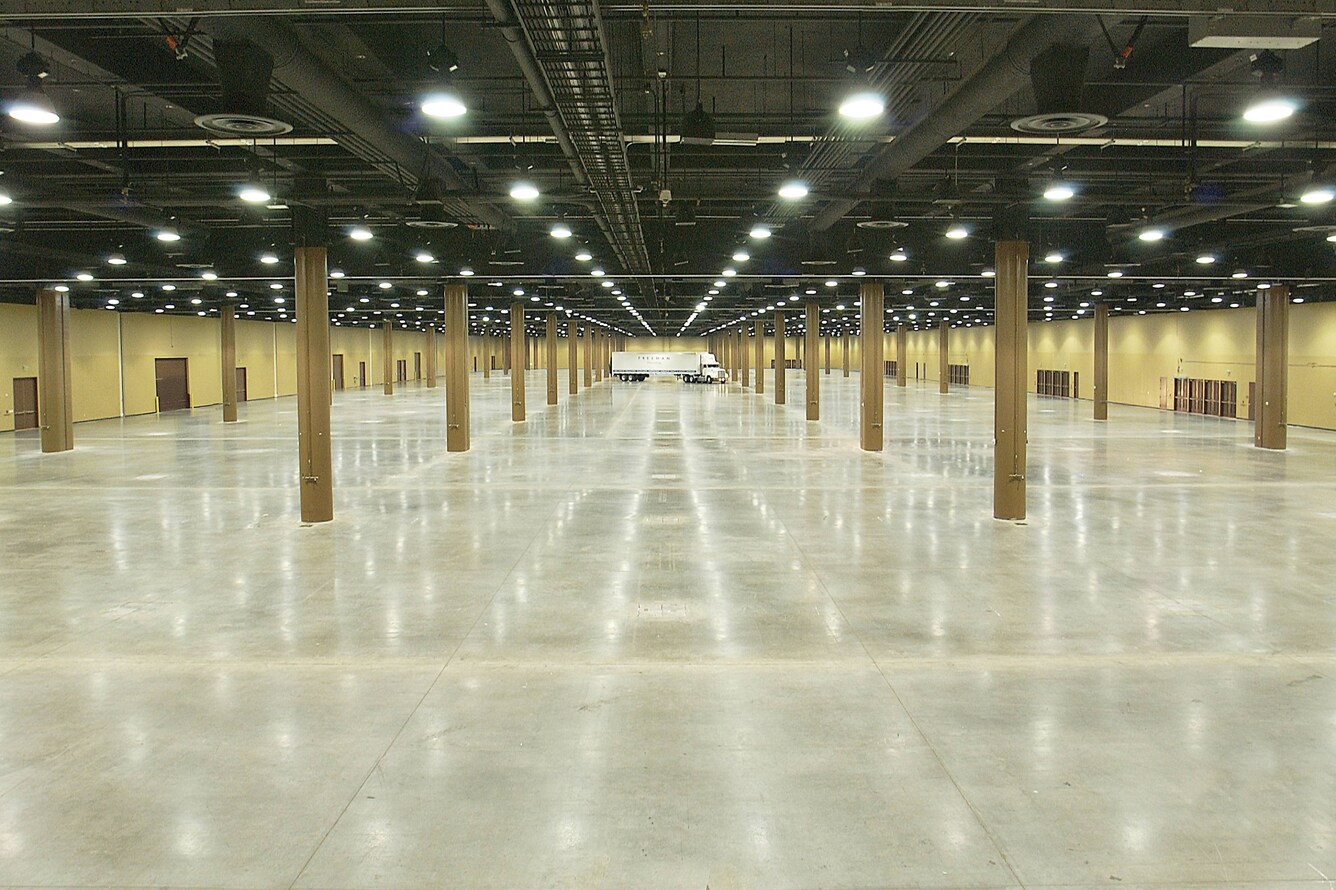 Exhibit Space
When your meeting or trade show needs to be presented on the grandest scale, consider the Florida Exhibition Hall, the largest in-hotel exhibition facility in the state. This unique meeting space in Orlando is on the lower level of our Kissimmee convention center and offers 178,500 square feet of flexible space. For perspective, that's enough room for nearly 900 10x10 booths.
178,500 square feet of exhibition space 
31,800 square feet of pre-function space
19 contiguous, dedicated loading docks
20-foot hallways for easy load in/out
Ground-level access through an 18-by 24-foot roll-up door
Column sizes 3 feet in diameter
Utility grid on 30-foot centers
5 lockable registration desks
9 lockable registration offices
T1 Internet lines accessible throughout
Luggage storage
Optional valet parking
This space can be easily subdivided, so you can accommodate smaller trade shows.
Your attendees will love the pre-function areas that open to gardens, with views of the swimming pools and recreational park. And you'll love planning a meeting in a space that affords so many creative options for your events.
Encore
Encore is the industry leader in providing audiovisual production and support for meetings, conventions and trade shows of any size. From lighting, staging and sound, to video and webcasting, their expert support team helps you deliver your messages with style and confidence.
 
Contact: Chuck Perez
Phone: (407) 690-6381
Email:  Chuck.Perez@Encoreglobal.com
Freeman
Freeman is the world's leading provider of integrated services for face-to-face marketing. As a full-service event contractor, Freeman is the one source for all your exposition and convention service needs. They are conveniently located on property to assist you and your exhibitors. Freeman specializes in exhibit booth programs, corporate events, custom carpet, furniture rental, floor plan design, digital graphic & design production, rental displays, group registration areas, staging/plush draping and material handling services.

Contact: Sarah Anoka
Phone: (407) 840-7071
Email: Sarah.Anoka@freemanco.com
Hertz
Hertz, the official car rental company of Gaylord Hotels, offers convenient on-site rentals. And Hertz Meeting Services can also offer special group rates for your event.

For individual reservations, contact the Hertz Counter at Gaylord Palms at (407) 586-2244.
For group reservations, contact the Hertz Meeting Services Coordinator at (800)-544-0058.
Email: meetings@hertz.com
Bring your biggest ideas to life in one of our inspiring conference venues in Kissimmee, Florida
For the ease of your event guests, we offer up a unique location near Orlando International Airport
Enhance your meeting with our high-tech AV equipment and unrivaled business services
Let our expert catering team ensure your gathering is both memorable and mouthwatering
Our Kissimmee convention center can host up to 10,000 guests in the Florida Exhibition Hall
Celebrate the end of a productive day with a round of drinks and appetizers at our sports bar
Meeting Equipment
AV equipment
CD player
LCD projector
Microphone
Overhead projector
PA system portable
Rear screen projection
Stage: installed
Stage: portable
TV
TV production service provider
Video camera
Walkie talkie radios
High-speed Internet access
Meeting rooms: Wired, Wireless
Meeting Services
AV technician
Copy service
Decorator
Electrician
Laborer
Locksmith
Photographer
Security guard
Videoconferencing
Business Services
Copy service
Fax service
Fee for each additional page of outgoing fax
Fee for first page of incoming fax
Full-service business center
Messenger service
Network/Internet printing
Notary public
On-site Business Center is Staffed
Overnight delivery/pickup
Post/parcel
Catering
Afternoon Break
Coffee Break
Continental Breakfast
Dinner
Full Breakfast
Lunch
Reception
Get Connected. Get Results.
Our entire 400,000 square feet of flexible meeting space is wired with state-of-the-art high-speed Internet connections at lightning speeds. Gaylord Palms can also provide wireless Internet access - anytime, anywhere throughout the Convention Center. Wireless Internet is also available in the hotel and guest rooms.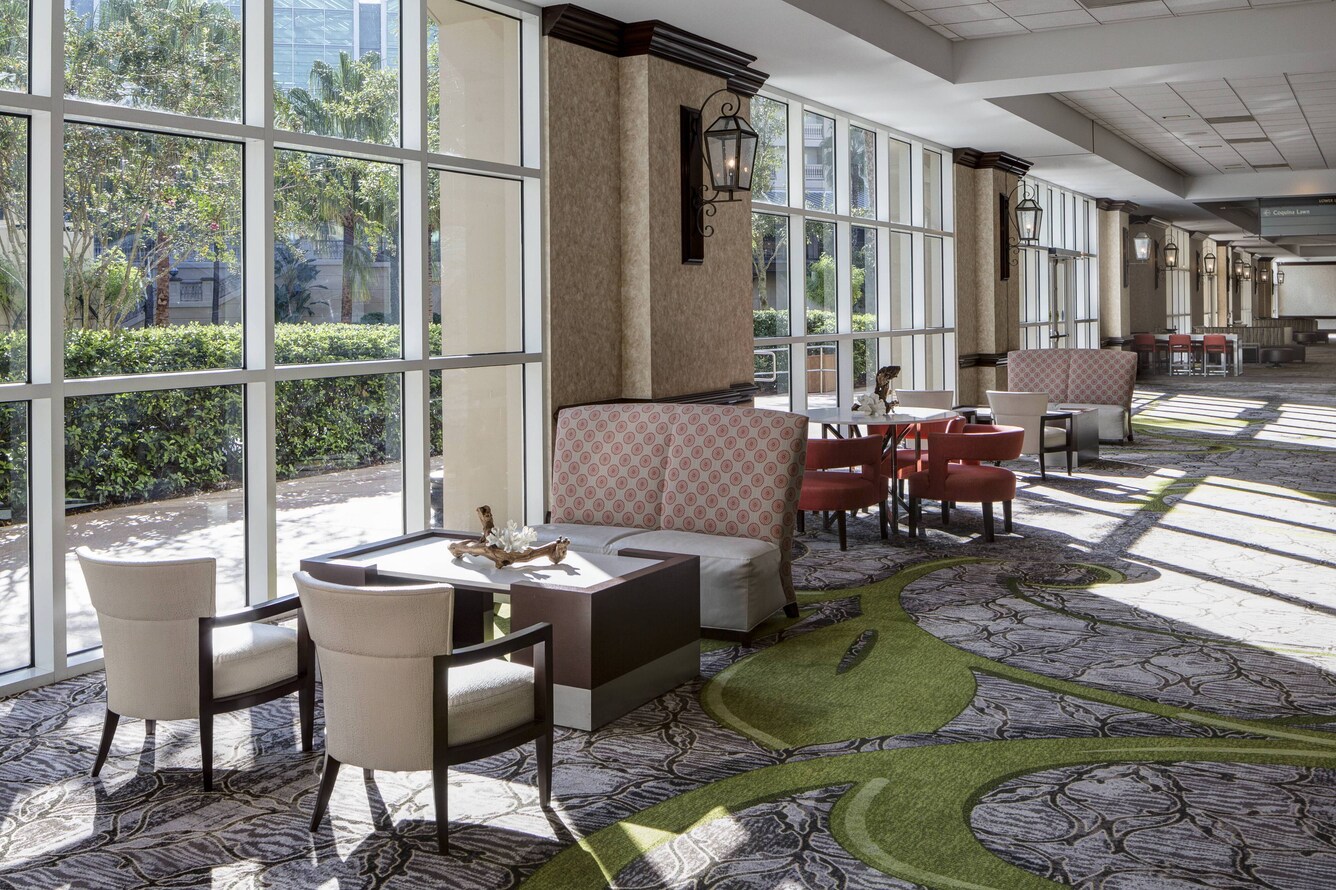 PROFESSIONAL MEETING SERVICES
Our Technology Solutions Manager specializes in technology for meetings and takes a creative approach to your needs by leveraging their expertise and in-depth knowledge of the hotel and the meetings industry to come up with innovative programs. Once you're on-site, they'll make sure your meeting, from set-up to break-down, is as technologically flawless as possible.
The Convention Services Manager serves as your main contact throughout the entire planning process. In preparing for your meeting, the entire hotel works for the Convention Services Manager.
You'll enjoy the expertise of our Executive Meeting Manager, whose vast experience with groups gives keen insight into the details it takes to deliver an unforgettable executive meeting.
Event Experience Managers, also called "Teal Coats" for their easily identifiable teal-colored jackets, will be assigned specifically to your event, ready to meet your moment-to-moment needs. Our managers are always visible, accessible and knowledgeable. Larger groups may be assigned multiple Teal Coats, while smaller functions will share a Teal Coat assigned to the same function-area space.
The Catering Manager works side-by-side with the Convention Services Manager to create culinary solutions for your food and beverage needs. The expert catering staff at Gaylord Palms will assist you in every phase of planning exquisite meals for your gathering in our Kissimmee convention center.
This specialized team handles everything you need for a larger gathering in the exhibit hall of Gaylord Palms' Convention Center.
Brand Your Meeting
We'll work with you to coordinate the most impactful and effective way to present your message, as well as your sponsors' message, to meeting attendees. From signage and banners in the atrium, to floor clings, window decals and logoed desserts, the opportunities for exposure are endless. Ask your Convention Services Manager for more details.
Attend Your Meeting
Check in before your stay, receive instant alerts when the room is ready and check out by skipping the front desk. Available for Marriott Bonvoy Members only. Pinpoint your location within the resort and let the app guide you with directions!
Featured Group Amenities & Services
Food & Beverage
The expert catering staff at Gaylord Palms will assist you in every phase of planning exquisite meals for your gathering in our Kissimmee convention center. While our award-winning culinary team handles your catering needs, our dedicated team of event decorators and planners will help create flawless ambience unique to you specific requests, ensuring that your banquets, galas and sit-down meals shine.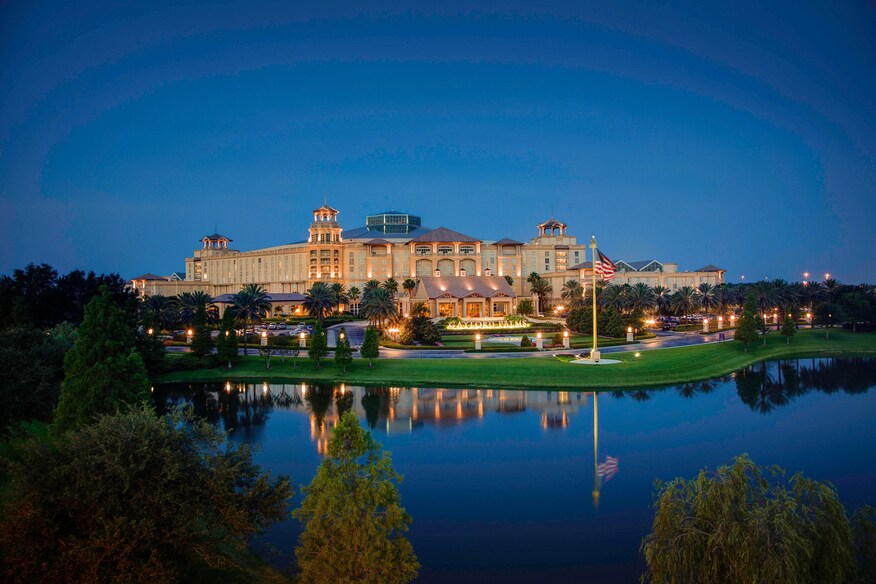 Government & Military
Specifically crafted to fit government and military meetings of all sizes and budgets, this program allows you to put your focus back on what's most important - hosting your most successful event yet.

Per-Diem Rates
Partner with our meetings professionals to take advantage of per-diem rates, customizable packages and flexible pricing.
Sun-drenched and spectacular
Floor Plans
Weddings
The setting, perfect. The moment, magical. The memories, unforgettable. Your wedding is the culmination of a lifetime of dreams. The experience should be as flawless as it is stunning. It's all possible right here at Gaylord Palms Resort in Kissimmee, Florida.
Wedding Venues

Wedding Pavilion
It's a dream come true when your wedding takes place in the elegant Wedding Pavilion under our soaring, signature glass atrium. Located at the top of Castillo de San Marcos fort and boasting awe-inspiring views of Emerald Plaza.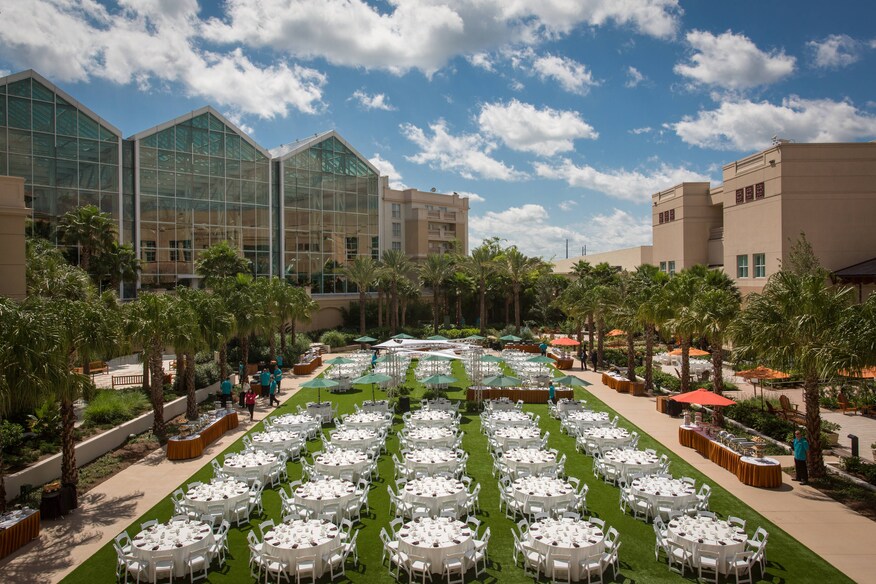 Coquina Lawn
Coquina Lawn serves as a customizable, open-air venue for a picture-perfect alfresco wedding, rehearsal dinner or reception! Fire pits and dramatic lighting add to the evening ambiance. The area can also be tented to provide a sheltered environment.

Emerald Bay Plaza
The Spanish Renaissance architecture of Emerald Bay graces this most lavish area of the resort and provides an ideal wedding location for up to 600 people.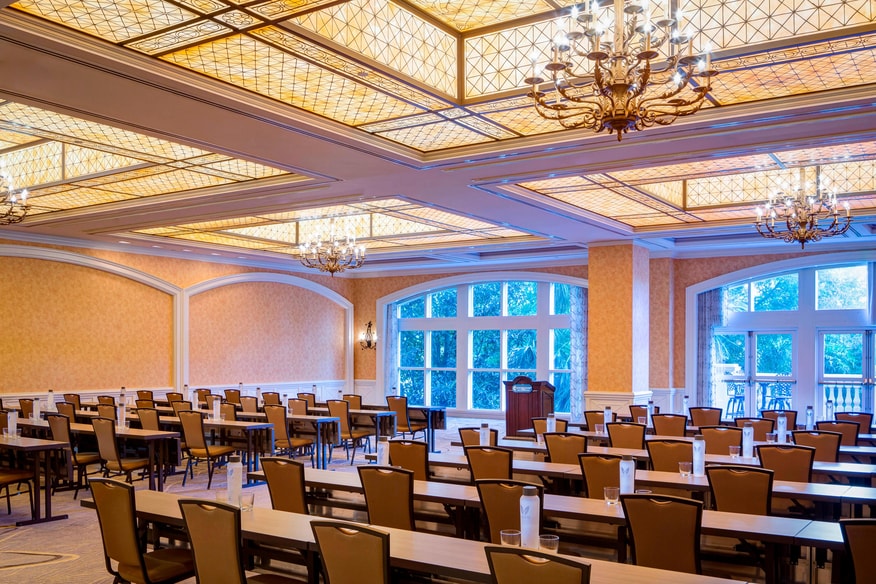 Orange Blossom Ballroom
Beauty and functionality converge in our most intimate ballroom perfect for hosting wedding receptions for up to 130 guests.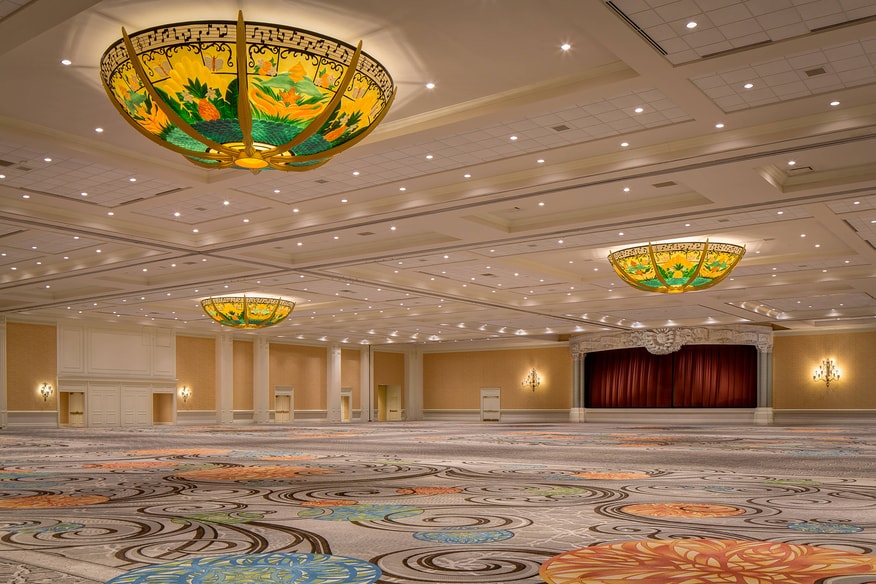 Osceola Ballroom
Our signature ballroom features 42,420 square feet of space, plus a 42-by-96-foot stage, three dressing rooms and two green rooms. This ballroom can be divided into six sections, so you have the flexibility you need to set up for any occasion.
Relâche Spa & Salon
Enjoy the convenience of on-site beauty experts at our award-winning Relâche Spa & Salon that will help you and your bridal party look radiant on one of the most exciting days of your life! Choose from any of our pre-planned spa services or let us customize a package to create an unforgettable experience.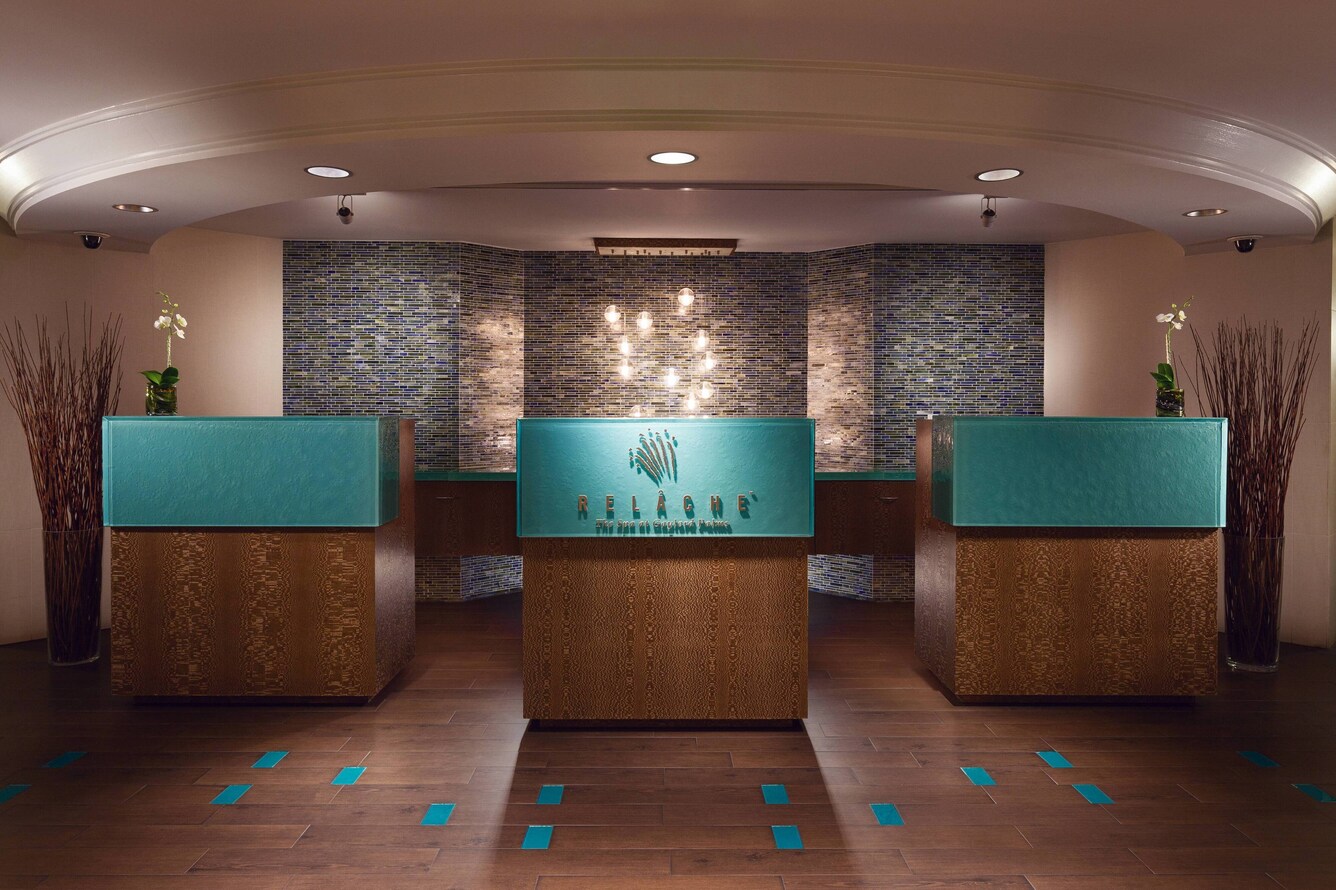 We offer 406,000 square feet of party venues in Kissimmee, FL
Start your wedding weekend with a rehearsal dinner at Old Hickory Steakhouse and cocktails at MOOR
Host a romantic wedding in our outdoor venues featuring native Kissimmee fauna and lagoons
Join the wedding party for a fun outing at Kissimmee's nightlife venues
Serve your guests enticing culinary creations during your wedding with our custom catering menus
Primp and pamper with your bridesmaids at Relåche Spa, offering massages and facials for the big day
Planning & Catering Services
Wedding Specialist
Our team of wedding specialists will assist you with planning and finalizing details for your special day in Kissimmee, Florida. From entertainment and décor to photography and floral services, our professional wedding planners can provide recommendations to ensure all your celebration dreams come true. To begin planning your flawless wedding experience, please call us at (407) 586-2270.
Custom Catering
Gaylord Palms has a full team of experts on hand to assist with all the catering needs for your big celebration. The team prides themselves on their keen sense of detail for gatherings of all sizes. Our professionals can create custom menus with fresh ingredients, artistically arrange enhanced décor and plan lively entertainment for a truly memorable experience.
Rehearsal & Shower Dining Options
For an elegant event, host a dinner at our signature Old Hickory Steakhouse or choose the Mediterranean ambiance of Villa de Flora. If casual is your style, unwind with cocktails and seafood aboard our 60-foot sailboat at MOOR.
Commitment to Clean
The health and safety of our guests remain of paramount importance to us. We have put in place a multi-pronged approach designed to meet the current health and safety challenges as outlined in Marriott's Commitment to Clean.