A perfect blend of sophistication and functionality at Gaylord Palms
Meetings & Events
Our space is a perfect blend of sophistication and functionality designed for conventions, banquets, boardroom meetings, exhibitions, and pre-function gatherings. With a newly completed $158 million expansion, including 306 new guest rooms, new meeting space and renovated pre-function space, our Kissimmee convention center boasts a range of venues to suit your needs. Our team of meeting experts and service partners understand your needs, speak your language, and - most importantly - can help you execute your event flawlessly. Every meeting package is customized to perfectly fit the needs of your meeting, including government and military meetings of all sizes. Partner with our meetings professionals to take advantage of per-diem rates, customizable packages and flexible pricing to put your focus back on hosting your most successful event yet.
76
Maximum Breakout Rooms
10,000
Capacity Largest Space
$158 Million Expansion
The newly completed expansion includes 30,000-square-foot Coastal Ballroom, 12,000-square-foot Mangrove Lawn, 30,000 square feet of breakout space and approximately 30,000 square feet of carpeted pre-function space for a total of 500,000 square feet of flexible meeting space. In the new Gulf Coast Tower, 306 guest rooms feature an enhanced, modern coastal design, bringing the current inventory to 1,718 sleeping rooms.
Coastal Ballroom
Our Coastal Ballroom is 30,000 square feet and divisible into 14 sections, creating endless space configurations depending on your group size and need. Plus, the custom-molded ceiling is fitted with color-changing LED lighting that can be programmed for any gathering or meeting theme.
Citrus Ballroom
Citrus Ballroom offers a more intimate venue with giant windows that feature natural light and provide panoramic views of the central Florida landscape.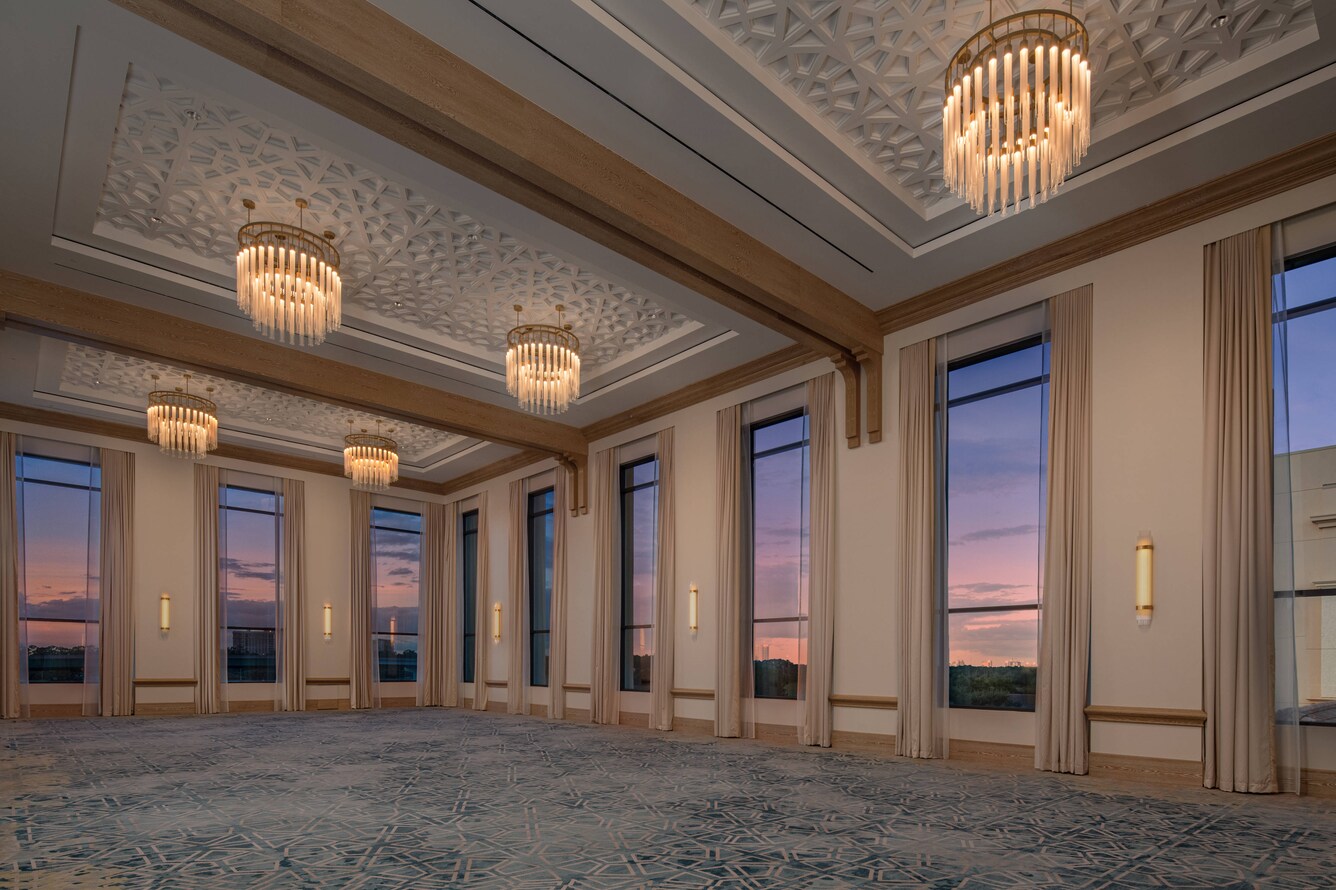 Osceola Ballroom
Designed to host the largest, most lavish events, Osceola Ballroom is 48,505 square feet and offers a 42-by-96-foot stage, dressing rooms and green rooms. This ballroom features an intelligent house lighting and digital network sound systems. This ballroom can be divided into six sections, giving you the flexibility needed for any occasion.
Sun Ballroom
This ballroom features 29,123 square feet of space and can easily be divided so you can enjoy flexibility for receptions, banquets and conferences. Your guests can mingle and network in the pre-function area. Lockable registration desks and nine offices, located on the Ballroom level, provide maximum efficiency during your Kissimmee event.
Orange Blossom Ballroom
Our most intimate ballroom, at 3,115 square feet, is sized perfectly to host exclusive galas. With an extensive pre-function space at atrium level, the Orange Blossom Ballroom has become a venue of preference for exclusive charity events and weddings in Kissimmee, Florida.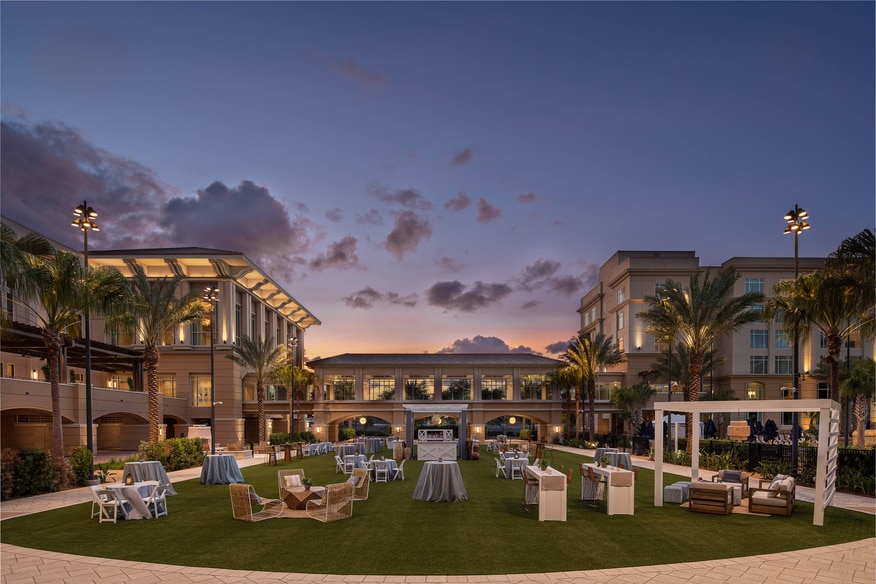 Mangrove Lawn
Conventions, weddings and other groups wanting to host an outing under the sun or stars can create their own special event on the new Mangrove Lawn, bookended by fireplaces. Just steps away from Cypress Springs Water Park, Mangrove Lawn is perfect for combination events.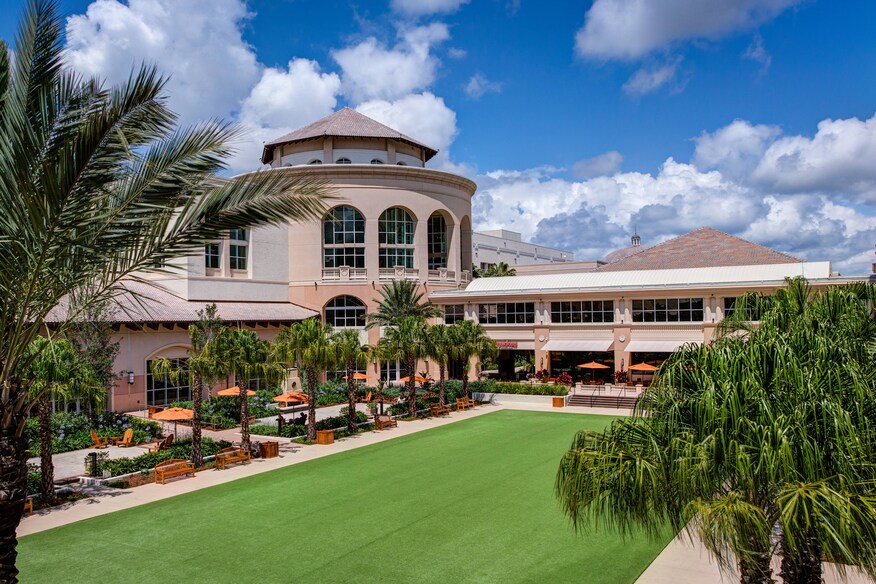 Coquina Lawn
Coquina Lawn serves as a customizable, open-air venue for a picture-perfect alfresco reception! Fire pits and dramatic lighting add to the evening ambiance. The area can also be tented to provide a sheltered environment.
Emerald Plaza
Reminiscent of Old Florida, the architectural backdrop for Emerald Plaza evokes the style of Henry Flagler, the visionary entrepreneur who made St. Augustine a popular destination. Spanish Renaissance architecture graces this most lavish area of the resort and provides an ideal reception location.
Well-planned, perfectly executed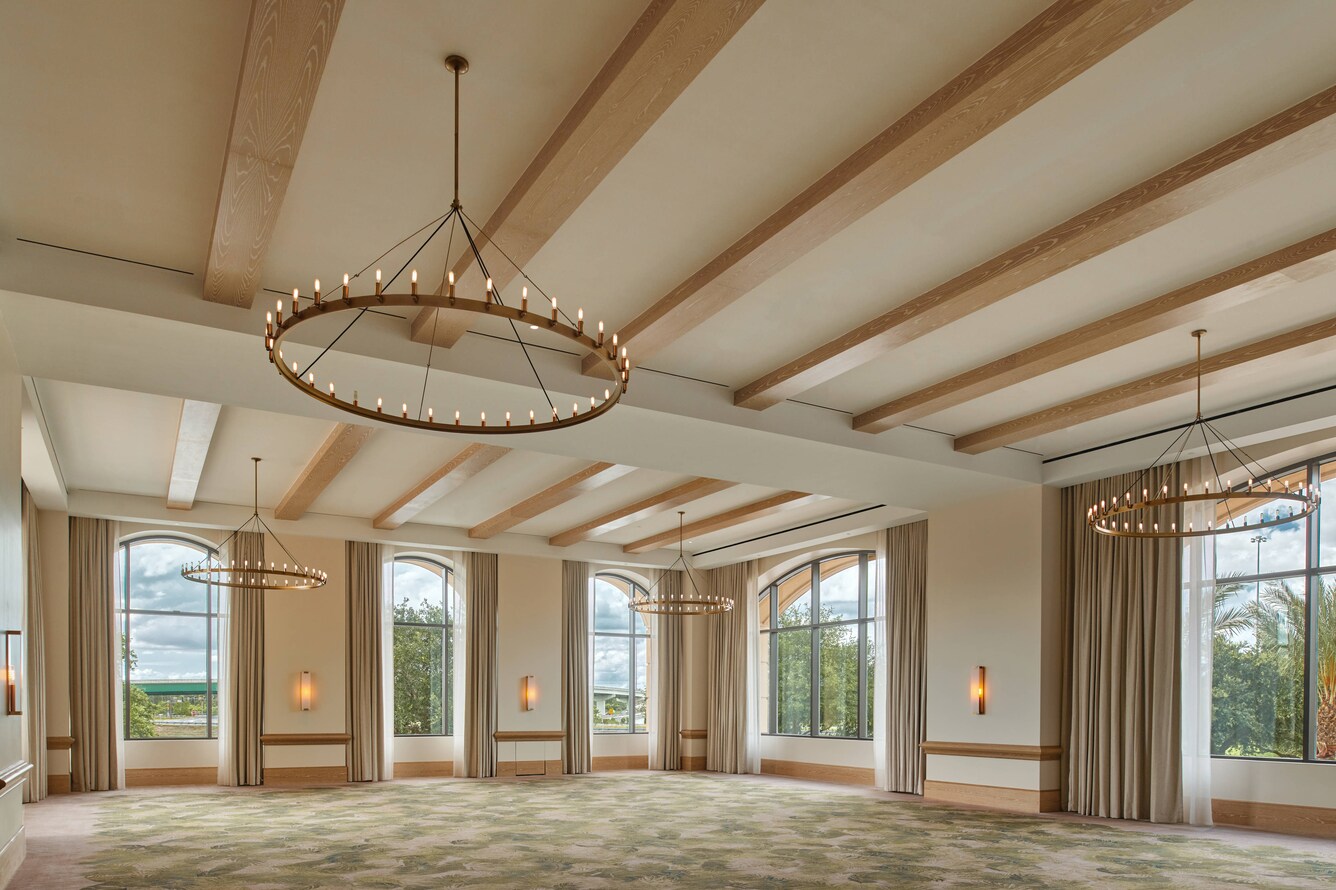 Escambia Meeting Room
With arch-shaped windows that overlook the scenic landscape surrounding Gaylord Palms, the 2,897-square-foot Escambia Room combines modern design with old-world style – featuring large, ring-shaped chandeliers and Edison-style bulbs.
St. George Street Conference Rooms
These four atrium-level conference rooms are located within the hotel in Emerald Bay. Located just steps from guest rooms, St. George Conference Rooms have the flexibility to accommodate post-event networking.
Emerald Meeting Rooms
At our Kissimmee hotel, these eight meeting rooms are part of our exclusive "hotel within a hotel" concept that puts meeting space in close proximity to guest rooms, offering attendees a more intimate meeting environment. The Emerald meeting rooms are one level beneath the atrium at pool level.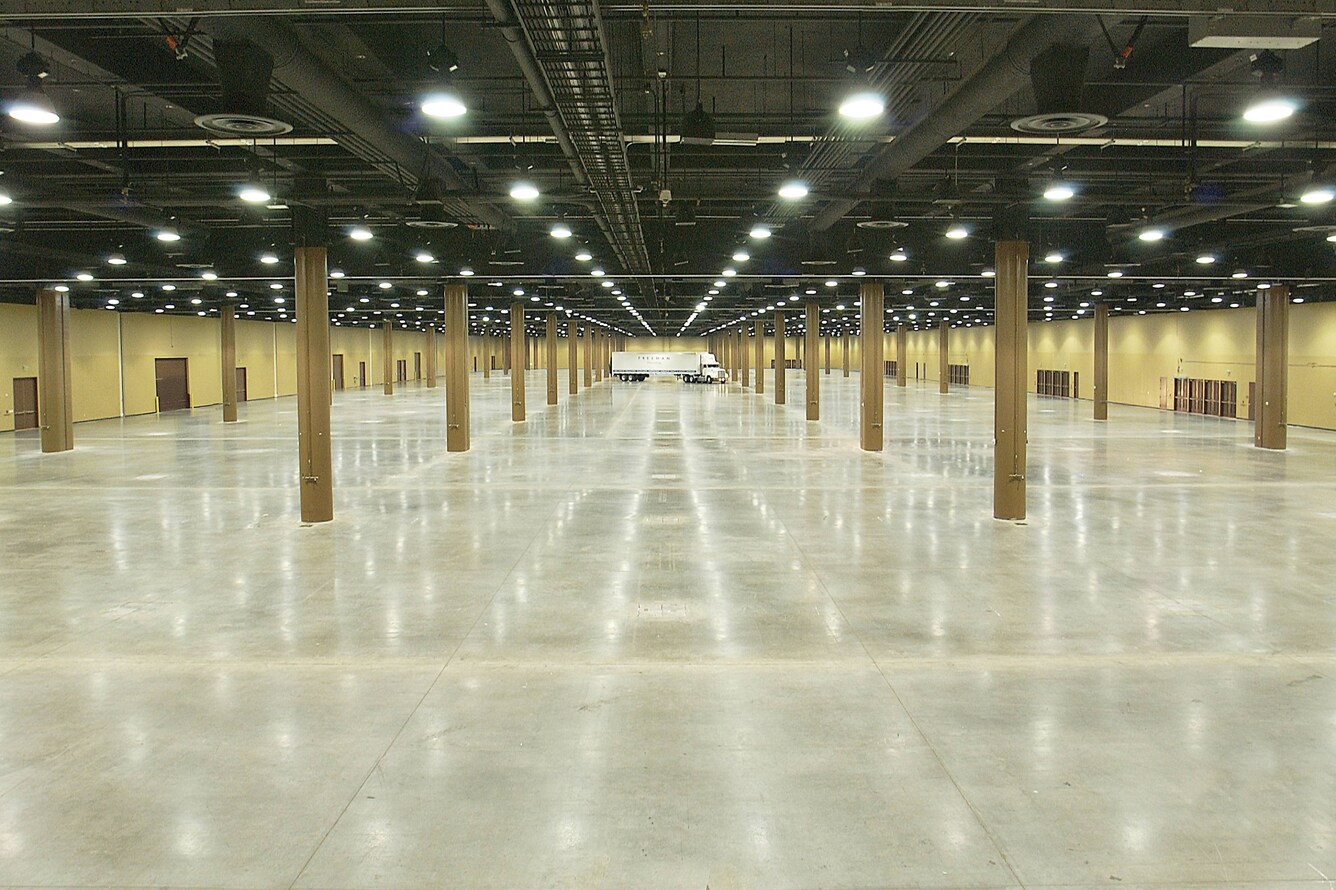 Exhibit Space
When your meeting or trade show needs to be presented on the grandest scale, consider the Florida Exhibition Hall, the largest in-hotel exhibition facility in the state. This unique meeting space in Orlando is on the lower level of our Kissimmee convention center and offers 178,500 square feet of flexible space. For perspective, that's enough room for nearly 900 10x10 booths.
178,500 square feet of exhibition space 
31,800 square feet of pre-function space
19 contiguous, dedicated loading docks
20-foot hallways for easy load in/out
Ground-level access through an 18-by 24-foot roll-up door
Column sizes 3 feet in diameter
Utility grid on 30-foot centers
5 lockable registration desks
9 lockable registration offices
T1 Internet lines accessible throughout
Luggage storage
Optional valet parking
This space can be easily subdivided, so you can accommodate smaller trade shows.
Your attendees will love the pre-function areas that open to gardens, with views of the swimming pools and recreational park. And you'll love planning a meeting in a space that affords so many creative options for your events.
Encore
Encore is the industry leader in providing audiovisual production and support for meetings, conventions and trade shows of any size. From lighting, staging and sound, to video and webcasting, their expert support team helps you deliver your messages with style and confidence.
 
Contact: Chuck Perez
Phone: (407) 690-6381
Email:  Chuck.Perez@Encoreglobal.com
Freeman
Freeman is the world's leading provider of integrated services for face-to-face marketing. As a full-service event contractor, Freeman is the one source for all your exposition and convention service needs. They are conveniently located on property to assist you and your exhibitors. Freeman specializes in exhibit booth programs, corporate events, custom carpet, furniture rental, floor plan design, digital graphic & design production, rental displays, group registration areas, staging/plush draping and material handling services.

Contact: Sarah Anoka
Phone: (407) 840-7071
Email: Sarah.Anoka@freemanco.com
Hertz
Hertz, the official car rental company of Gaylord Hotels, offers convenient on-site rentals. And Hertz Meeting Services can also offer special group rates for your event.

For individual reservations, contact the Hertz Counter at Gaylord Palms at (407) 586-2244.
For group reservations, contact the Hertz Meeting Services Coordinator at (800)-544-0058.
Email: meetings@hertz.com
| Meeting Room | Dimensions (LxWxH) | Area (sq.ft) | Theater | Schoolroom | Conference | U-Shape | Reception | Banquet |
| --- | --- | --- | --- | --- | --- | --- | --- | --- |
| Sun Ballroom | 187x179x24 | 29123 | 3040 | 1860 | - | - | 2520 | 1960 |
| Sun A | 89x84x24 | 6682 | 665 | 450 | - | - | 580 | 490 |
| Sun B | 98x84x24 | 6863 | 665 | 450 | - | - | 595 | 490 |
| Sun C | 89x52x24 | 4350 | 418 | 285 | - | - | 375 | 280 |
| Sun D | 98x52x24 | 4556 | 418 | 285 | - | - | 395 | 280 |
| Sun Breakout 1 | 33x30x24 | 767 | 70 | 34 | 34 | 28 | 65 | 40 |
| Sun Breakout 2 | 30x29x24 | 762 | 72 | 45 | 34 | 26 | 65 | 40 |
| Sun Breakout 3 | 27x27x24 | 663 | 71 | 45 | 34 | 26 | 55 | 40 |
| Sun Breakout 4 | 27x27x24 | 667 | 71 | 45 | 34 | 26 | 60 | 40 |
| Sun Breakout 5 | 30x29x24 | 768 | 73 | 45 | 34 | 26 | 65 | 40 |
| Sun Breakout 6 | 42x30x24 | 809 | 69 | 34 | 34 | 28 | 70 | 40 |
| AB/CD Corridor 1 | 187x13x24 | 2431 | 69 | 34 | 34 | 28 | 70 | 40 |
| Sun Lobby | 187x13x24 | 9992 | 69 | 34 | 34 | 28 | 70 | 40 |
| Sun Foyer | 187x13x24 | 8902 | 69 | 34 | 34 | 28 | 70 | 40 |
| Flagler Room | 28x21x12 | 592 | 50 | 28 | 22 | 22 | 70 | 30 |
| Osceola Ballroom | 265x190x24 | 48505 | 5561 | 3366 | 22 | 22 | 4200 | 3450 |
| Osceola A | 94x59x24 | 5208 | 560 | 322 | 22 | 22 | 450 | 400 |
| Osceola B | 96x59x24 | 5326 | 560 | 322 | 22 | 22 | 460 | 400 |
| Osceola C | 115x94x24 | 10270 | 1092 | 660 | 22 | 22 | 890 | 700 |
| Osceola D | 115x96x24 | 10385 | 1092 | 660 | 22 | 22 | 900 | 700 |
| Osceola Breakout 1 | 39x32x24 | 949 | 89 | 49 | 40 | 29 | 80 | 60 |
| Osceola Breakout 2 | 39x29x24 | 1005 | 105 | 63 | 40 | 29 | 90 | 70 |
| Osceola Breakout 3 | 39x33x24 | 1171 | 112 | 74 | 46 | 32 | 100 | 90 |
| Osceola Breakout 4 | 39x32x24 | 1132 | 112 | 74 | 46 | 32 | 100 | 90 |
| Osceola Breakout 5 | 39x29x24 | 1008 | 105 | 69 | 40 | 30 | 85 | 80 |
| Osceola Breakout 6 | 39x35x24 | 988 | 93 | 50 | 40 | 30 | 85 | 60 |
| AB/CD Corridor | 190x14x24 | 2792 | 93 | 50 | 40 | 30 | 85 | 60 |
| CD/Stage Corridor | 190x23x24 | 4328 | 93 | 50 | 40 | 30 | 85 | 60 |
| 1-6/AB Corridor | 190x12x24 | 2186 | 93 | 50 | 40 | 30 | 85 | 60 |
| Osceola Lobby | 190x12x24 | 14212 | 93 | 50 | 40 | 30 | 85 | 60 |
| Osceola Foyer | 190x12x24 | 8933 | 93 | 50 | 40 | 30 | 85 | 60 |
| Vero Room | 28x21x12 | 592 | 50 | 28 | 22 | 22 | 85 | 30 |
| Coastal Ballroom | 146x210x24 | 30417 | 2856 | 2050 | 22 | 22 | 2643 | 2040 |
| Coastal 1 | 57x29x24 | 1653 | 182 | 100 | 36 | 32 | 143 | 110 |
| Coastal 2 | 57x29x24 | 1653 | 182 | 100 | 36 | 32 | 143 | 110 |
| Coastal 3 | 57x29x24 | 1653 | 182 | 100 | 36 | 32 | 143 | 110 |
| Coastal 4 | 57x29x24 | 1653 | 182 | 100 | 36 | 32 | 143 | 110 |
| Coastal 5 | 57x29x24 | 1653 | 182 | 100 | 36 | 32 | 143 | 110 |
| Coastal A | 58x35x24 | 2030 | 224 | 108 | 36 | 34 | 176 | 150 |
| Coastal B | 87x35x24 | 3045 | 320 | 180 | 36 | 34 | 264 | 240 |
| Coastal C | 58x35x24 | 2030 | 224 | 108 | 36 | 34 | 176 | 150 |
| Coastal D | 87x35x24 | 3045 | 320 | 180 | 36 | 34 | 264 | 240 |
| Coastal 6 | 57x29x24 | 1653 | 182 | 100 | 36 | 32 | 143 | 110 |
| Coastal 7 | 57x29x24 | 1653 | 182 | 100 | 36 | 32 | 143 | 110 |
| Coastal 8 | 57x29x24 | 1653 | 182 | 100 | 36 | 32 | 143 | 110 |
| Coastal 9 | 57x29x24 | 1653 | 182 | 100 | 36 | 32 | 143 | 110 |
| Coastal 10 | 57x29x24 | 1653 | 182 | 100 | 36 | 32 | 143 | 110 |
| Citrus Ballroom | 87x42x24 | 3612 | 336 | 210 | 56 | 56 | 314 | 210 |
| Desoto | 150x48x12 | 7200 | 700 | 480 | 56 | 56 | 625 | 360 |
| Desoto 1 | 29x48x12 | 1440 | 140 | 80 | 24 | 26 | 125 | 80 |
| Desoto 2 | 29x48x12 | 1440 | 140 | 80 | 24 | 26 | 125 | 80 |
| Desoto 3 | 29x48x12 | 1440 | 140 | 80 | 24 | 26 | 125 | 80 |
| Desoto 4 | 29x48x12 | 1440 | 140 | 80 | 24 | 26 | 125 | 80 |
| Desoto 5 | 29x48x12 | 1440 | 140 | 80 | 24 | 26 | 125 | 80 |
| Lafayette | 150x61x12 | 9150 | 910 | 600 | 24 | 26 | 795 | 480 |
| Lafayette 1 | 29x61x12 | 1830 | 182 | 99 | 36 | 34 | 159 | 110 |
| Lafayette 2 | 29x61x12 | 1830 | 182 | 99 | 36 | 34 | 159 | 110 |
| Lafayette 3 | 29x61x12 | 1830 | 182 | 99 | 36 | 34 | 159 | 110 |
| Lafayette 4 | 29x61x12 | 1830 | 182 | 99 | 36 | 34 | 159 | 110 |
| Lafayette 5 | 29x61x12 | 1830 | 182 | 99 | 36 | 34 | 159 | 110 |
| Suwannee | 117x47x12 | 5499 | 560 | 360 | 36 | 34 | 478 | 300 |
| Suwannee 1 | 30x47x12 | 1374 | 140 | 72 | 28 | 26 | 119 | 80 |
| Suwannee 2 | 30x47x12 | 1374 | 140 | 72 | 28 | 26 | 119 | 80 |
| Suwannee 3 | 30x47x12 | 1374 | 140 | 72 | 28 | 26 | 119 | 80 |
| Suwannee 4 | 30x47x12 | 1374 | 140 | 72 | 28 | 26 | 119 | 80 |
| Escambia | 55x40x12 | 2897 | 140 | 72 | 28 | 26 | 119 | 80 |
| Escambia Terrace | 55x40x12 | 3918 | 140 | 72 | 28 | 26 | 119 | 80 |
| Coquina Lawn | 55x40x12 | 14016 | 1000 | 72 | 28 | 26 | 1260 | 750 |
| Captiva | 61x23x12 | 1364 | 138 | 88 | 54 | 48 | 120 | 90 |
| Captiva 1 | 30x23x12 | 676 | 72 | 40 | 30 | 21 | 60 | 40 |
| Captiva 2 | 31x23x12 | 688 | 72 | 40 | 30 | 21 | 60 | 40 |
| Daytona | 48x27x12 | 1193 | 118 | 85 | 48 | 40 | 105 | 70 |
| Daytona 1 | 27x24x12 | 592 | 59 | 30 | 28 | 20 | 50 | 40 |
| Daytona 2 | 27x24x12 | 602 | 66 | 36 | 28 | 20 | 50 | 30 |
| Destin | 48x27x12 | 1186 | 118 | 85 | 48 | 40 | 105 | 70 |
| Destin 1 | 27x24x12 | 597 | 66 | 36 | 28 | 20 | 50 | 30 |
| Destin 2 | 27x24x12 | 589 | 62 | 30 | 28 | 20 | 50 | 40 |
| Gainesville | 61x23x12 | 1361 | 138 | 88 | 54 | 48 | 120 | 90 |
| Gainesville 1 | 30x23x12 | 674 | 72 | 40 | 30 | 21 | 60 | 40 |
| Gainesville 2 | 31x23x12 | 687 | 72 | 40 | 30 | 21 | 60 | 40 |
| Miami | 72x39x12 | 2626 | 272 | 193 | 84 | 73 | 230 | 210 |
| Miami 1 | 39x24x12 | 881 | 104 | 60 | 38 | 29 | 75 | 60 |
| Miami 2 | 39x24x12 | 858 | 101 | 60 | 38 | 29 | 75 | 60 |
| Miami 3 | 39x24x12 | 887 | 105 | 66 | 38 | 29 | 75 | 60 |
| Naples | 71x39x12 | 2602 | 272 | 193 | 84 | 73 | 225 | 210 |
| Naples 1 | 39x23x12 | 882 | 105 | 66 | 38 | 29 | 75 | 60 |
| Naples 2 | 39x24x12 | 848 | 101 | 60 | 38 | 29 | 75 | 60 |
| Naples 3 | 39x24x12 | 872 | 104 | 60 | 38 | 29 | 75 | 60 |
| Sanibel | 72x30x12 | 2023 | 238 | 132 | 76 | 66 | 175 | 120 |
| Sanibel 1 | 30x24x12 | 700 | 84 | 44 | 32 | 24 | 60 | 40 |
| Sanibel 2 | 30x24x12 | 642 | 65 | 40 | 30 | 22 | 55 | 40 |
| Sanibel 3 | 30x24x12 | 681 | 79 | 46 | 30 | 24 | 60 | 40 |
| Sarasota | 71x30x12 | 2018 | 238 | 132 | 76 | 66 | 175 | 120 |
| Sarasota 1 | 30x23x12 | 674 | 79 | 46 | 30 | 22 | 60 | 40 |
| Sarasota 2 | 30x24x12 | 644 | 65 | 40 | 30 | 22 | 22 | 40 |
| Sarasota 3 | 30x24x12 | 700 | 84 | 44 | 32 | 24 | 60 | 40 |
| Tallahassee | 72x34x12 | 2273 | 249 | 170 | 78 | 69 | 200 | 150 |
| Tallahassee 1 | 34x25x12 | 777 | 84 | 50 | 34 | 24 | 70 | 50 |
| Tallahassee 2 | 34x23x12 | 699 | 78 | 45 | 34 | 24 | 60 | 50 |
| Tallahassee 3 | 34x24x12 | 797 | 98 | 56 | 34 | 24 | 70 | 50 |
| Tampa | 70x34x12 | 2269 | 249 | 170 | 78 | 69 | 200 | 150 |
| Tampa 1 | 34x24x12 | 794 | 84 | 48 | 34 | 24 | 70 | 50 |
| Tampa 2 | 34x22x12 | 694 | 78 | 45 | 34 | 24 | 60 | 50 |
| Tampa 3 | 34x24x12 | 781 | 84 | 50 | 34 | 24 | 70 | 50 |
| City Hall Lobby | 34x24x12 | 9772 | 84 | 50 | 34 | 24 | 70 | 50 |
| Florida Exhibition Hall | 740x241x24 | 178500 | 10000 | 10000 | 34 | 24 | 10000 | 10000 |
| Florida A | 241x142x24 | 34300 | 4276 | 2568 | 34 | 24 | 2860 | 2328 |
| Florida B | 241x102x24 | 24570 | 2725 | 1653 | 34 | 24 | 2020 | 1620 |
| Florida C | 241x90x24 | 21700 | 2746 | 1419 | 34 | 24 | 1850 | 1400 |
| Florida D | 241x102x24 | 24570 | 2725 | 1653 | 34 | 24 | 2020 | 1620 |
| Florida E | 241x120x24 | 29000 | 3444 | 2181 | 34 | 24 | 2440 | 1972 |
| Florida F | 241x184x24 | 44360 | 5410 | 3318 | 34 | 24 | 3580 | 2988 |
| Florida Pre-function | 241x184x24 | 31800 | 5410 | 3318 | 34 | 24 | 3580 | 2988 |
| Palm Beach | 48x27x10 | 1296 | 124 | 78 | 42 | 34 | 100 | 60 |
| Orange Blossom Ballroom | 59x53x12 | 3115 | 312 | 189 | 82 | 59 | 270 | 240 |
| Orange Blossom Pre-function | 54x13x12 | 700 | 312 | 189 | 82 | 59 | 270 | 240 |
| St. George #102 | 35x22x10 | 752 | 72 | 39 | 28 | 20 | 65 | 40 |
| St. George #104 | 43x31x10 | 1231 | 100 | 49 | 42 | 34 | 105 | 60 |
| St. George #106 | 32x27x10 | 834 | 94 | 55 | 34 | 36 | 70 | 60 |
| St. George #108 | 49x27x10 | 1269 | 168 | 90 | 52 | 42 | 110 | 80 |
| St. George #112 | 38x25x10 | 950 | 112 | 54 | 36 | 32 | 80 | 60 |
| St. George #114 | 44x30x10 | 1320 | 140 | 90 | 42 | 44 | 90 | 70 |
| Emerald 1 | 31x22x9 | 636 | 65 | 39 | 30 | 22 | 55 | 40 |
| Emerald 2 | 41x26x9 | 1021 | 114 | 64 | 44 | 36 | 90 | 60 |
| Emerald 3 | 27x22x9 | 574 | 49 | 32 | 30 | 22 | 50 | 40 |
| Emerald 4 | 41x27x9 | 1058 | 110 | 64 | 44 | 36 | 90 | 60 |
| Emerald 5 | 27x22x9 | 573 | 49 | 32 | 30 | 22 | 50 | 40 |
| Emerald 6 | 41x27x9 | 1061 | 110 | 64 | 44 | 36 | 90 | 60 |
| Emerald 7 | 27x22x9 | 566 | 49 | 32 | 30 | 22 | 50 | 40 |
| Emerald 8 | 41x26x9 | 1034 | 115 | 63 | 44 | 36 | 90 | 60 |
| Sanchez Boardroom | 27x25x12 | 678 | 115 | 63 | 12 | 36 | 90 | 60 |
| Hemingway Boardroom | 33x28x12 | 912 | 115 | 63 | 14 | 36 | 90 | 60 |
| Executive Center Lobby | 33x28x12 | 751 | 115 | 63 | 14 | 36 | 90 | 60 |
| Executive Center Terrace | 33x28x12 | 448 | 115 | 63 | 14 | 36 | 90 | 60 |
| South Beach Pool(Deck and Lawn) | 33x28x12 | 3170 | 115 | 63 | 14 | 36 | 700 | 60 |
| Cypress Springs Lagoon Pool | 33x28x12 | 7200 | 115 | 63 | 14 | 36 | 700 | 60 |
| Cypress Springs MLPS | 33x28x12 | 4800 | 115 | 63 | 14 | 36 | 700 | 60 |
| Cypress Springs Deck | 33x28x12 | 1800 | 115 | 63 | 14 | 36 | 700 | 60 |
| Kissimmee | 30x19x14 | 570 | 115 | 63 | 14 | 36 | 700 | 60 |
| Mangrove Lawn | 30x19x14 | 13628 | 115 | 63 | 14 | 36 | 700 | 60 |
| Coastal Landing | 86x37x14 | 3145 | 115 | 63 | 14 | 36 | 700 | 60 |
| St. Cloud | 30x25x24 | 750 | 115 | 63 | 14 | 36 | 700 | 60 |
| Mangrove Patio | 30x25x24 | 5501 | 115 | 63 | 14 | 36 | 700 | 60 |
| Emerald Bay Plaza | 30x25x24 | 7000 | 115 | 63 | 14 | 36 | 700 | 60 |
| Castillo de San Marcos Fort | 30x25x24 | 5500 | 115 | 63 | 14 | 36 | 350 | 170 |
| Castillo de San Marcos Fort - Upper Level | 30x25x24 | 2300 | 115 | 63 | 14 | 36 | 150 | 50 |
| Castillo de San Marcos Fort - Lower Level | 30x25x24 | 3200 | 115 | 63 | 14 | 36 | 200 | 120 |
Dimensions (LxWxH)
187x179x24
Dimensions (LxWxH)
89x84x24
Dimensions (LxWxH)
98x84x24
Dimensions (LxWxH)
89x52x24
Dimensions (LxWxH)
98x52x24
Dimensions (LxWxH)
33x30x24
Dimensions (LxWxH)
30x29x24
Dimensions (LxWxH)
27x27x24
Dimensions (LxWxH)
27x27x24
Dimensions (LxWxH)
30x29x24
Dimensions (LxWxH)
42x30x24
Dimensions (LxWxH)
187x13x24
Dimensions (LxWxH)
187x13x24
Dimensions (LxWxH)
187x13x24
Dimensions (LxWxH)
28x21x12
Dimensions (LxWxH)
265x190x24
Dimensions (LxWxH)
94x59x24
Dimensions (LxWxH)
96x59x24
Dimensions (LxWxH)
115x94x24
Dimensions (LxWxH)
115x96x24
Dimensions (LxWxH)
39x32x24
Dimensions (LxWxH)
39x29x24
Dimensions (LxWxH)
39x33x24
Dimensions (LxWxH)
39x32x24
Dimensions (LxWxH)
39x29x24
Dimensions (LxWxH)
39x35x24
Dimensions (LxWxH)
190x14x24
Dimensions (LxWxH)
190x23x24
Dimensions (LxWxH)
190x12x24
Dimensions (LxWxH)
190x12x24
Dimensions (LxWxH)
190x12x24
Dimensions (LxWxH)
28x21x12
Dimensions (LxWxH)
146x210x24
Dimensions (LxWxH)
57x29x24
Dimensions (LxWxH)
57x29x24
Dimensions (LxWxH)
57x29x24
Dimensions (LxWxH)
57x29x24
Dimensions (LxWxH)
57x29x24
Dimensions (LxWxH)
58x35x24
Dimensions (LxWxH)
87x35x24
Dimensions (LxWxH)
58x35x24
Dimensions (LxWxH)
87x35x24
Dimensions (LxWxH)
57x29x24
Dimensions (LxWxH)
57x29x24
Dimensions (LxWxH)
57x29x24
Dimensions (LxWxH)
57x29x24
Dimensions (LxWxH)
57x29x24
Dimensions (LxWxH)
87x42x24
Dimensions (LxWxH)
150x48x12
Dimensions (LxWxH)
29x48x12
Dimensions (LxWxH)
29x48x12
Dimensions (LxWxH)
29x48x12
Dimensions (LxWxH)
29x48x12
Dimensions (LxWxH)
29x48x12
Dimensions (LxWxH)
150x61x12
Dimensions (LxWxH)
29x61x12
Dimensions (LxWxH)
29x61x12
Dimensions (LxWxH)
29x61x12
Dimensions (LxWxH)
29x61x12
Dimensions (LxWxH)
29x61x12
Dimensions (LxWxH)
117x47x12
Dimensions (LxWxH)
30x47x12
Dimensions (LxWxH)
30x47x12
Dimensions (LxWxH)
30x47x12
Dimensions (LxWxH)
30x47x12
Dimensions (LxWxH)
55x40x12
Dimensions (LxWxH)
55x40x12
Dimensions (LxWxH)
55x40x12
Dimensions (LxWxH)
61x23x12
Dimensions (LxWxH)
30x23x12
Dimensions (LxWxH)
31x23x12
Dimensions (LxWxH)
48x27x12
Dimensions (LxWxH)
27x24x12
Dimensions (LxWxH)
27x24x12
Dimensions (LxWxH)
48x27x12
Dimensions (LxWxH)
27x24x12
Dimensions (LxWxH)
27x24x12
Dimensions (LxWxH)
61x23x12
Dimensions (LxWxH)
30x23x12
Dimensions (LxWxH)
31x23x12
Dimensions (LxWxH)
72x39x12
Dimensions (LxWxH)
39x24x12
Dimensions (LxWxH)
39x24x12
Dimensions (LxWxH)
39x24x12
Dimensions (LxWxH)
71x39x12
Dimensions (LxWxH)
39x23x12
Dimensions (LxWxH)
39x24x12
Dimensions (LxWxH)
39x24x12
Dimensions (LxWxH)
72x30x12
Dimensions (LxWxH)
30x24x12
Dimensions (LxWxH)
30x24x12
Dimensions (LxWxH)
30x24x12
Dimensions (LxWxH)
71x30x12
Dimensions (LxWxH)
30x23x12
Dimensions (LxWxH)
30x24x12
Dimensions (LxWxH)
30x24x12
Dimensions (LxWxH)
72x34x12
Dimensions (LxWxH)
34x25x12
Dimensions (LxWxH)
34x23x12
Dimensions (LxWxH)
34x24x12
Dimensions (LxWxH)
70x34x12
Dimensions (LxWxH)
34x24x12
Dimensions (LxWxH)
34x22x12
Dimensions (LxWxH)
34x24x12
Dimensions (LxWxH)
34x24x12
Dimensions (LxWxH)
740x241x24
Dimensions (LxWxH)
241x142x24
Dimensions (LxWxH)
241x102x24
Dimensions (LxWxH)
241x90x24
Dimensions (LxWxH)
241x102x24
Dimensions (LxWxH)
241x120x24
Dimensions (LxWxH)
241x184x24
Dimensions (LxWxH)
241x184x24
Dimensions (LxWxH)
48x27x10
Dimensions (LxWxH)
59x53x12
Orange Blossom Pre-function
Dimensions (LxWxH)
54x13x12
Dimensions (LxWxH)
35x22x10
Dimensions (LxWxH)
43x31x10
Dimensions (LxWxH)
32x27x10
Dimensions (LxWxH)
49x27x10
Dimensions (LxWxH)
38x25x10
Dimensions (LxWxH)
44x30x10
Dimensions (LxWxH)
31x22x9
Dimensions (LxWxH)
41x26x9
Dimensions (LxWxH)
27x22x9
Dimensions (LxWxH)
41x27x9
Dimensions (LxWxH)
27x22x9
Dimensions (LxWxH)
41x27x9
Dimensions (LxWxH)
27x22x9
Dimensions (LxWxH)
41x26x9
Dimensions (LxWxH)
27x25x12
Dimensions (LxWxH)
33x28x12
Dimensions (LxWxH)
33x28x12
Dimensions (LxWxH)
33x28x12
South Beach Pool(Deck and Lawn)
Dimensions (LxWxH)
33x28x12
Cypress Springs Lagoon Pool
Dimensions (LxWxH)
33x28x12
Dimensions (LxWxH)
33x28x12
Dimensions (LxWxH)
33x28x12
Dimensions (LxWxH)
30x19x14
Dimensions (LxWxH)
30x19x14
Dimensions (LxWxH)
86x37x14
Dimensions (LxWxH)
30x25x24
Dimensions (LxWxH)
30x25x24
Dimensions (LxWxH)
30x25x24
Castillo de San Marcos Fort
Dimensions (LxWxH)
30x25x24
Castillo de San Marcos Fort - Upper Level
Dimensions (LxWxH)
30x25x24
Castillo de San Marcos Fort - Lower Level
Dimensions (LxWxH)
30x25x24
| Meeting Room | Dimensions (LxWxH) | Area (sq.mt) | Theater | Schoolroom | Conference | U-Shape | Reception | Banquet |
| --- | --- | --- | --- | --- | --- | --- | --- | --- |
| Sun Ballroom | 57x54.6x7.3 | 2705.6 | 3040 | 1860 | - | - | 2520 | 1960 |
| Sun A | 27.1x25.6x7.3 | 620.8 | 665 | 450 | - | - | 580 | 490 |
| Sun B | 29.9x25.6x7.3 | 637.6 | 665 | 450 | - | - | 595 | 490 |
| Sun C | 27.1x15.8x7.3 | 404.1 | 418 | 285 | - | - | 375 | 280 |
| Sun D | 29.9x15.8x7.3 | 423.3 | 418 | 285 | - | - | 395 | 280 |
| Sun Breakout 1 | 10.1x9.1x7.3 | 71.3 | 70 | 34 | 34 | 28 | 65 | 40 |
| Sun Breakout 2 | 9.1x8.8x7.3 | 70.8 | 72 | 45 | 34 | 26 | 65 | 40 |
| Sun Breakout 3 | 8.2x8.2x7.3 | 61.6 | 71 | 45 | 34 | 26 | 55 | 40 |
| Sun Breakout 4 | 8.2x8.2x7.3 | 62 | 71 | 45 | 34 | 26 | 60 | 40 |
| Sun Breakout 5 | 9.1x8.8x7.3 | 71.3 | 73 | 45 | 34 | 26 | 65 | 40 |
| Sun Breakout 6 | 12.8x9.1x7.3 | 75.2 | 69 | 34 | 34 | 28 | 70 | 40 |
| AB/CD Corridor 1 | 57x4x7.3 | 225.8 | 69 | 34 | 34 | 28 | 70 | 40 |
| Sun Lobby | 57x4x7.3 | 928.3 | 69 | 34 | 34 | 28 | 70 | 40 |
| Sun Foyer | 57x4x7.3 | 827 | 69 | 34 | 34 | 28 | 70 | 40 |
| Flagler Room | 8.5x6.4x3.7 | 55 | 50 | 28 | 22 | 22 | 70 | 30 |
| Osceola Ballroom | 80.8x57.9x7.3 | 4506.2 | 5561 | 3366 | 22 | 22 | 4200 | 3450 |
| Osceola A | 28.6x18x7.3 | 483.8 | 560 | 322 | 22 | 22 | 450 | 400 |
| Osceola B | 29.3x18x7.3 | 494.8 | 560 | 322 | 22 | 22 | 460 | 400 |
| Osceola C | 35.1x28.6x7.3 | 954.1 | 1092 | 660 | 22 | 22 | 890 | 700 |
| Osceola D | 35.1x29.3x7.3 | 964.8 | 1092 | 660 | 22 | 22 | 900 | 700 |
| Osceola Breakout 1 | 11.9x9.8x7.3 | 88.2 | 89 | 49 | 40 | 29 | 80 | 60 |
| Osceola Breakout 2 | 11.9x8.8x7.3 | 93.4 | 105 | 63 | 40 | 29 | 90 | 70 |
| Osceola Breakout 3 | 11.9x10.1x7.3 | 108.8 | 112 | 74 | 46 | 32 | 100 | 90 |
| Osceola Breakout 4 | 11.9x9.8x7.3 | 105.2 | 112 | 74 | 46 | 32 | 100 | 90 |
| Osceola Breakout 5 | 11.9x8.8x7.3 | 93.6 | 105 | 69 | 40 | 30 | 85 | 80 |
| Osceola Breakout 6 | 11.9x10.7x7.3 | 91.8 | 93 | 50 | 40 | 30 | 85 | 60 |
| AB/CD Corridor | 57.9x4.3x7.3 | 259.4 | 93 | 50 | 40 | 30 | 85 | 60 |
| CD/Stage Corridor | 57.9x7x7.3 | 402.1 | 93 | 50 | 40 | 30 | 85 | 60 |
| 1-6/AB Corridor | 57.9x3.7x7.3 | 203.1 | 93 | 50 | 40 | 30 | 85 | 60 |
| Osceola Lobby | 57.9x3.7x7.3 | 1320.3 | 93 | 50 | 40 | 30 | 85 | 60 |
| Osceola Foyer | 57.9x3.7x7.3 | 829.9 | 93 | 50 | 40 | 30 | 85 | 60 |
| Vero Room | 8.5x6.4x3.7 | 55 | 50 | 28 | 22 | 22 | 85 | 30 |
| Coastal Ballroom | 44.5x64x7.3 | 2825.8 | 2856 | 2050 | 22 | 22 | 2643 | 2040 |
| Coastal 1 | 17.4x8.8x7.3 | 153.6 | 182 | 100 | 36 | 32 | 143 | 110 |
| Coastal 2 | 17.4x8.8x7.3 | 153.6 | 182 | 100 | 36 | 32 | 143 | 110 |
| Coastal 3 | 17.4x8.8x7.3 | 153.6 | 182 | 100 | 36 | 32 | 143 | 110 |
| Coastal 4 | 17.4x8.8x7.3 | 153.6 | 182 | 100 | 36 | 32 | 143 | 110 |
| Coastal 5 | 17.4x8.8x7.3 | 153.6 | 182 | 100 | 36 | 32 | 143 | 110 |
| Coastal A | 17.7x10.7x7.3 | 188.6 | 224 | 108 | 36 | 34 | 176 | 150 |
| Coastal B | 26.5x10.7x7.3 | 282.9 | 320 | 180 | 36 | 34 | 264 | 240 |
| Coastal C | 17.7x10.7x7.3 | 188.6 | 224 | 108 | 36 | 34 | 176 | 150 |
| Coastal D | 26.5x10.7x7.3 | 282.9 | 320 | 180 | 36 | 34 | 264 | 240 |
| Coastal 6 | 17.4x8.8x7.3 | 153.6 | 182 | 100 | 36 | 32 | 143 | 110 |
| Coastal 7 | 17.4x8.8x7.3 | 153.6 | 182 | 100 | 36 | 32 | 143 | 110 |
| Coastal 8 | 17.4x8.8x7.3 | 153.6 | 182 | 100 | 36 | 32 | 143 | 110 |
| Coastal 9 | 17.4x8.8x7.3 | 153.6 | 182 | 100 | 36 | 32 | 143 | 110 |
| Coastal 10 | 17.4x8.8x7.3 | 153.6 | 182 | 100 | 36 | 32 | 143 | 110 |
| Citrus Ballroom | 26.5x12.8x7.3 | 335.6 | 336 | 210 | 56 | 56 | 314 | 210 |
| Desoto | 45.7x14.6x3.7 | 668.9 | 700 | 480 | 56 | 56 | 625 | 360 |
| Desoto 1 | 8.8x14.6x3.7 | 133.8 | 140 | 80 | 24 | 26 | 125 | 80 |
| Desoto 2 | 8.8x14.6x3.7 | 133.8 | 140 | 80 | 24 | 26 | 125 | 80 |
| Desoto 3 | 8.8x14.6x3.7 | 133.8 | 140 | 80 | 24 | 26 | 125 | 80 |
| Desoto 4 | 8.8x14.6x3.7 | 133.8 | 140 | 80 | 24 | 26 | 125 | 80 |
| Desoto 5 | 8.8x14.6x3.7 | 133.8 | 140 | 80 | 24 | 26 | 125 | 80 |
| Lafayette | 45.7x18.6x3.7 | 850.1 | 910 | 600 | 24 | 26 | 795 | 480 |
| Lafayette 1 | 8.8x18.6x3.7 | 170 | 182 | 99 | 36 | 34 | 159 | 110 |
| Lafayette 2 | 8.8x18.6x3.7 | 170 | 182 | 99 | 36 | 34 | 159 | 110 |
| Lafayette 3 | 8.8x18.6x3.7 | 170 | 182 | 99 | 36 | 34 | 159 | 110 |
| Lafayette 4 | 8.8x18.6x3.7 | 170 | 182 | 99 | 36 | 34 | 159 | 110 |
| Lafayette 5 | 8.8x18.6x3.7 | 170 | 182 | 99 | 36 | 34 | 159 | 110 |
| Suwannee | 35.7x14.3x3.7 | 510.9 | 560 | 360 | 36 | 34 | 478 | 300 |
| Suwannee 1 | 9.1x14.3x3.7 | 127.6 | 140 | 72 | 28 | 26 | 119 | 80 |
| Suwannee 2 | 9.1x14.3x3.7 | 127.6 | 140 | 72 | 28 | 26 | 119 | 80 |
| Suwannee 3 | 9.1x14.3x3.7 | 127.6 | 140 | 72 | 28 | 26 | 119 | 80 |
| Suwannee 4 | 9.1x14.3x3.7 | 127.6 | 140 | 72 | 28 | 26 | 119 | 80 |
| Escambia | 16.8x12.2x3.7 | 269.1 | 140 | 72 | 28 | 26 | 119 | 80 |
| Escambia Terrace | 16.8x12.2x3.7 | 364 | 140 | 72 | 28 | 26 | 119 | 80 |
| Coquina Lawn | 16.8x12.2x3.7 | 1302.1 | 1000 | 72 | 28 | 26 | 1260 | 750 |
| Captiva | 18.6x7x3.7 | 126.7 | 138 | 88 | 54 | 48 | 120 | 90 |
| Captiva 1 | 9.1x7x3.7 | 62.8 | 72 | 40 | 30 | 21 | 60 | 40 |
| Captiva 2 | 9.4x7x3.7 | 63.9 | 72 | 40 | 30 | 21 | 60 | 40 |
| Daytona | 14.6x8.2x3.7 | 110.8 | 118 | 85 | 48 | 40 | 105 | 70 |
| Daytona 1 | 8.2x7.3x3.7 | 55 | 59 | 30 | 28 | 20 | 50 | 40 |
| Daytona 2 | 8.2x7.3x3.7 | 55.9 | 66 | 36 | 28 | 20 | 50 | 30 |
| Destin | 14.6x8.2x3.7 | 110.2 | 118 | 85 | 48 | 40 | 105 | 70 |
| Destin 1 | 8.2x7.3x3.7 | 55.5 | 66 | 36 | 28 | 20 | 50 | 30 |
| Destin 2 | 8.2x7.3x3.7 | 54.7 | 62 | 30 | 28 | 20 | 50 | 40 |
| Gainesville | 18.6x7x3.7 | 126.4 | 138 | 88 | 54 | 48 | 120 | 90 |
| Gainesville 1 | 9.1x7x3.7 | 62.6 | 72 | 40 | 30 | 21 | 60 | 40 |
| Gainesville 2 | 9.4x7x3.7 | 63.8 | 72 | 40 | 30 | 21 | 60 | 40 |
| Miami | 21.9x11.9x3.7 | 244 | 272 | 193 | 84 | 73 | 230 | 210 |
| Miami 1 | 11.9x7.3x3.7 | 81.8 | 104 | 60 | 38 | 29 | 75 | 60 |
| Miami 2 | 11.9x7.3x3.7 | 79.7 | 101 | 60 | 38 | 29 | 75 | 60 |
| Miami 3 | 11.9x7.3x3.7 | 82.4 | 105 | 66 | 38 | 29 | 75 | 60 |
| Naples | 21.6x11.9x3.7 | 241.7 | 272 | 193 | 84 | 73 | 225 | 210 |
| Naples 1 | 11.9x7x3.7 | 81.9 | 105 | 66 | 38 | 29 | 75 | 60 |
| Naples 2 | 11.9x7.3x3.7 | 78.8 | 101 | 60 | 38 | 29 | 75 | 60 |
| Naples 3 | 11.9x7.3x3.7 | 81 | 104 | 60 | 38 | 29 | 75 | 60 |
| Sanibel | 21.9x9.1x3.7 | 187.9 | 238 | 132 | 76 | 66 | 175 | 120 |
| Sanibel 1 | 9.1x7.3x3.7 | 65 | 84 | 44 | 32 | 24 | 60 | 40 |
| Sanibel 2 | 9.1x7.3x3.7 | 59.6 | 65 | 40 | 30 | 22 | 55 | 40 |
| Sanibel 3 | 9.1x7.3x3.7 | 63.3 | 79 | 46 | 30 | 24 | 60 | 40 |
| Sarasota | 21.6x9.1x3.7 | 187.5 | 238 | 132 | 76 | 66 | 175 | 120 |
| Sarasota 1 | 9.1x7x3.7 | 62.6 | 79 | 46 | 30 | 22 | 60 | 40 |
| Sarasota 2 | 9.1x7.3x3.7 | 59.8 | 65 | 40 | 30 | 22 | 22 | 40 |
| Sarasota 3 | 9.1x7.3x3.7 | 65 | 84 | 44 | 32 | 24 | 60 | 40 |
| Tallahassee | 21.9x10.4x3.7 | 211.2 | 249 | 170 | 78 | 69 | 200 | 150 |
| Tallahassee 1 | 10.4x7.6x3.7 | 72.2 | 84 | 50 | 34 | 24 | 70 | 50 |
| Tallahassee 2 | 10.4x7x3.7 | 64.9 | 78 | 45 | 34 | 24 | 60 | 50 |
| Tallahassee 3 | 10.4x7.3x3.7 | 74 | 98 | 56 | 34 | 24 | 70 | 50 |
| Tampa | 21.3x10.4x3.7 | 210.8 | 249 | 170 | 78 | 69 | 200 | 150 |
| Tampa 1 | 10.4x7.3x3.7 | 73.8 | 84 | 48 | 34 | 24 | 70 | 50 |
| Tampa 2 | 10.4x6.7x3.7 | 64.5 | 78 | 45 | 34 | 24 | 60 | 50 |
| Tampa 3 | 10.4x7.3x3.7 | 72.6 | 84 | 50 | 34 | 24 | 70 | 50 |
| City Hall Lobby | 10.4x7.3x3.7 | 907.8 | 84 | 50 | 34 | 24 | 70 | 50 |
| Florida Exhibition Hall | 225.5x73.5x7.3 | 16583.1 | 10000 | 10000 | 34 | 24 | 10000 | 10000 |
| Florida A | 73.5x43.3x7.3 | 3186.5 | 4276 | 2568 | 34 | 24 | 2860 | 2328 |
| Florida B | 73.5x31.1x7.3 | 2282.6 | 2725 | 1653 | 34 | 24 | 2020 | 1620 |
| Florida C | 73.5x27.4x7.3 | 2016 | 2746 | 1419 | 34 | 24 | 1850 | 1400 |
| Florida D | 73.5x31.1x7.3 | 2282.6 | 2725 | 1653 | 34 | 24 | 2020 | 1620 |
| Florida E | 73.5x36.6x7.3 | 2694.2 | 3444 | 2181 | 34 | 24 | 2440 | 1972 |
| Florida F | 73.5x56.1x7.3 | 4121.1 | 5410 | 3318 | 34 | 24 | 3580 | 2988 |
| Florida Pre-function | 73.5x56.1x7.3 | 2954.3 | 5410 | 3318 | 34 | 24 | 3580 | 2988 |
| Palm Beach | 14.6x8.2x3 | 120.4 | 124 | 78 | 42 | 34 | 100 | 60 |
| Orange Blossom Ballroom | 18x16.2x3.7 | 289.4 | 312 | 189 | 82 | 59 | 270 | 240 |
| Orange Blossom Pre-function | 16.5x4x3.7 | 65 | 312 | 189 | 82 | 59 | 270 | 240 |
| St. George #102 | 10.7x6.7x3 | 69.9 | 72 | 39 | 28 | 20 | 65 | 40 |
| St. George #104 | 13.1x9.4x3 | 114.4 | 100 | 49 | 42 | 34 | 105 | 60 |
| St. George #106 | 9.8x8.2x3 | 77.5 | 94 | 55 | 34 | 36 | 70 | 60 |
| St. George #108 | 14.9x8.2x3 | 117.9 | 168 | 90 | 52 | 42 | 110 | 80 |
| St. George #112 | 11.6x7.6x3 | 88.3 | 112 | 54 | 36 | 32 | 80 | 60 |
| St. George #114 | 13.4x9.1x3 | 122.6 | 140 | 90 | 42 | 44 | 90 | 70 |
| Emerald 1 | 9.4x6.7x2.7 | 59.1 | 65 | 39 | 30 | 22 | 55 | 40 |
| Emerald 2 | 12.5x7.9x2.7 | 94.9 | 114 | 64 | 44 | 36 | 90 | 60 |
| Emerald 3 | 8.2x6.7x2.7 | 53.3 | 49 | 32 | 30 | 22 | 50 | 40 |
| Emerald 4 | 12.5x8.2x2.7 | 98.3 | 110 | 64 | 44 | 36 | 90 | 60 |
| Emerald 5 | 8.2x6.7x2.7 | 53.2 | 49 | 32 | 30 | 22 | 50 | 40 |
| Emerald 6 | 12.5x8.2x2.7 | 98.6 | 110 | 64 | 44 | 36 | 90 | 60 |
| Emerald 7 | 8.2x6.7x2.7 | 52.6 | 49 | 32 | 30 | 22 | 50 | 40 |
| Emerald 8 | 12.5x7.9x2.7 | 96.1 | 115 | 63 | 44 | 36 | 90 | 60 |
| Sanchez Boardroom | 8.2x7.6x3.7 | 63 | 115 | 63 | 12 | 36 | 90 | 60 |
| Hemingway Boardroom | 10.1x8.5x3.7 | 84.7 | 115 | 63 | 14 | 36 | 90 | 60 |
| Executive Center Lobby | 10.1x8.5x3.7 | 69.8 | 115 | 63 | 14 | 36 | 90 | 60 |
| Executive Center Terrace | 10.1x8.5x3.7 | 41.6 | 115 | 63 | 14 | 36 | 90 | 60 |
| South Beach Pool(Deck and Lawn) | 10.1x8.5x3.7 | 294.5 | 115 | 63 | 14 | 36 | 700 | 60 |
| Cypress Springs Lagoon Pool | 10.1x8.5x3.7 | 668.9 | 115 | 63 | 14 | 36 | 700 | 60 |
| Cypress Springs MLPS | 10.1x8.5x3.7 | 445.9 | 115 | 63 | 14 | 36 | 700 | 60 |
| Cypress Springs Deck | 10.1x8.5x3.7 | 167.2 | 115 | 63 | 14 | 36 | 700 | 60 |
| Kissimmee | 9.1x5.8x4.3 | 53 | 115 | 63 | 14 | 36 | 700 | 60 |
| Mangrove Lawn | 9.1x5.8x4.3 | 1266.1 | 115 | 63 | 14 | 36 | 700 | 60 |
| Coastal Landing | 26.2x11.3x4.3 | 292.2 | 115 | 63 | 14 | 36 | 700 | 60 |
| St. Cloud | 9.1x7.6x7.3 | 69.7 | 115 | 63 | 14 | 36 | 700 | 60 |
| Mangrove Patio | 9.1x7.6x7.3 | 511.1 | 115 | 63 | 14 | 36 | 700 | 60 |
| Emerald Bay Plaza | 9.1x7.6x7.3 | 650.3 | 115 | 63 | 14 | 36 | 700 | 60 |
| Castillo de San Marcos Fort | 9.1x7.6x7.3 | 511 | 115 | 63 | 14 | 36 | 350 | 170 |
| Castillo de San Marcos Fort - Upper Level | 9.1x7.6x7.3 | 213.7 | 115 | 63 | 14 | 36 | 150 | 50 |
| Castillo de San Marcos Fort - Lower Level | 9.1x7.6x7.3 | 297.3 | 115 | 63 | 14 | 36 | 200 | 120 |
Dimensions (LxWxH)
57x54.6x7.3
Dimensions (LxWxH)
27.1x25.6x7.3
Dimensions (LxWxH)
29.9x25.6x7.3
Dimensions (LxWxH)
27.1x15.8x7.3
Dimensions (LxWxH)
29.9x15.8x7.3
Dimensions (LxWxH)
10.1x9.1x7.3
Dimensions (LxWxH)
9.1x8.8x7.3
Dimensions (LxWxH)
8.2x8.2x7.3
Dimensions (LxWxH)
8.2x8.2x7.3
Dimensions (LxWxH)
9.1x8.8x7.3
Dimensions (LxWxH)
12.8x9.1x7.3
Dimensions (LxWxH)
57x4x7.3
Dimensions (LxWxH)
57x4x7.3
Dimensions (LxWxH)
57x4x7.3
Dimensions (LxWxH)
8.5x6.4x3.7
Dimensions (LxWxH)
80.8x57.9x7.3
Dimensions (LxWxH)
28.6x18x7.3
Dimensions (LxWxH)
29.3x18x7.3
Dimensions (LxWxH)
35.1x28.6x7.3
Dimensions (LxWxH)
35.1x29.3x7.3
Dimensions (LxWxH)
11.9x9.8x7.3
Dimensions (LxWxH)
11.9x8.8x7.3
Dimensions (LxWxH)
11.9x10.1x7.3
Dimensions (LxWxH)
11.9x9.8x7.3
Dimensions (LxWxH)
11.9x8.8x7.3
Dimensions (LxWxH)
11.9x10.7x7.3
Dimensions (LxWxH)
57.9x4.3x7.3
Dimensions (LxWxH)
57.9x7x7.3
Dimensions (LxWxH)
57.9x3.7x7.3
Dimensions (LxWxH)
57.9x3.7x7.3
Dimensions (LxWxH)
57.9x3.7x7.3
Dimensions (LxWxH)
8.5x6.4x3.7
Dimensions (LxWxH)
44.5x64x7.3
Dimensions (LxWxH)
17.4x8.8x7.3
Dimensions (LxWxH)
17.4x8.8x7.3
Dimensions (LxWxH)
17.4x8.8x7.3
Dimensions (LxWxH)
17.4x8.8x7.3
Dimensions (LxWxH)
17.4x8.8x7.3
Dimensions (LxWxH)
17.7x10.7x7.3
Dimensions (LxWxH)
26.5x10.7x7.3
Dimensions (LxWxH)
17.7x10.7x7.3
Dimensions (LxWxH)
26.5x10.7x7.3
Dimensions (LxWxH)
17.4x8.8x7.3
Dimensions (LxWxH)
17.4x8.8x7.3
Dimensions (LxWxH)
17.4x8.8x7.3
Dimensions (LxWxH)
17.4x8.8x7.3
Dimensions (LxWxH)
17.4x8.8x7.3
Dimensions (LxWxH)
26.5x12.8x7.3
Dimensions (LxWxH)
45.7x14.6x3.7
Dimensions (LxWxH)
8.8x14.6x3.7
Dimensions (LxWxH)
8.8x14.6x3.7
Dimensions (LxWxH)
8.8x14.6x3.7
Dimensions (LxWxH)
8.8x14.6x3.7
Dimensions (LxWxH)
8.8x14.6x3.7
Dimensions (LxWxH)
45.7x18.6x3.7
Dimensions (LxWxH)
8.8x18.6x3.7
Dimensions (LxWxH)
8.8x18.6x3.7
Dimensions (LxWxH)
8.8x18.6x3.7
Dimensions (LxWxH)
8.8x18.6x3.7
Dimensions (LxWxH)
8.8x18.6x3.7
Dimensions (LxWxH)
35.7x14.3x3.7
Dimensions (LxWxH)
9.1x14.3x3.7
Dimensions (LxWxH)
9.1x14.3x3.7
Dimensions (LxWxH)
9.1x14.3x3.7
Dimensions (LxWxH)
9.1x14.3x3.7
Dimensions (LxWxH)
16.8x12.2x3.7
Dimensions (LxWxH)
16.8x12.2x3.7
Dimensions (LxWxH)
16.8x12.2x3.7
Dimensions (LxWxH)
18.6x7x3.7
Dimensions (LxWxH)
9.1x7x3.7
Dimensions (LxWxH)
9.4x7x3.7
Dimensions (LxWxH)
14.6x8.2x3.7
Dimensions (LxWxH)
8.2x7.3x3.7
Dimensions (LxWxH)
8.2x7.3x3.7
Dimensions (LxWxH)
14.6x8.2x3.7
Dimensions (LxWxH)
8.2x7.3x3.7
Dimensions (LxWxH)
8.2x7.3x3.7
Dimensions (LxWxH)
18.6x7x3.7
Dimensions (LxWxH)
9.1x7x3.7
Dimensions (LxWxH)
9.4x7x3.7
Dimensions (LxWxH)
21.9x11.9x3.7
Dimensions (LxWxH)
11.9x7.3x3.7
Dimensions (LxWxH)
11.9x7.3x3.7
Dimensions (LxWxH)
11.9x7.3x3.7
Dimensions (LxWxH)
21.6x11.9x3.7
Dimensions (LxWxH)
11.9x7x3.7
Dimensions (LxWxH)
11.9x7.3x3.7
Dimensions (LxWxH)
11.9x7.3x3.7
Dimensions (LxWxH)
21.9x9.1x3.7
Dimensions (LxWxH)
9.1x7.3x3.7
Dimensions (LxWxH)
9.1x7.3x3.7
Dimensions (LxWxH)
9.1x7.3x3.7
Dimensions (LxWxH)
21.6x9.1x3.7
Dimensions (LxWxH)
9.1x7x3.7
Dimensions (LxWxH)
9.1x7.3x3.7
Dimensions (LxWxH)
9.1x7.3x3.7
Dimensions (LxWxH)
21.9x10.4x3.7
Dimensions (LxWxH)
10.4x7.6x3.7
Dimensions (LxWxH)
10.4x7x3.7
Dimensions (LxWxH)
10.4x7.3x3.7
Dimensions (LxWxH)
21.3x10.4x3.7
Dimensions (LxWxH)
10.4x7.3x3.7
Dimensions (LxWxH)
10.4x6.7x3.7
Dimensions (LxWxH)
10.4x7.3x3.7
Dimensions (LxWxH)
10.4x7.3x3.7
Dimensions (LxWxH)
225.5x73.5x7.3
Dimensions (LxWxH)
73.5x43.3x7.3