Meetings + Events at Moxy Miami South Beach
Events
With 25,000 square feet of meeting and event space, Moxy South Beach has many options for events, social gatherings, and meetings. In-house catering, event planners, and state-of-the-art audio-visual services are available upon request. Email charity.chacon@moxysouthbeach.com to book!
340
Capacity Largest Space
The Upside Rooftop
South Beach's most coveted events destination is this expansive, tropically verdant rooftop bar on the hotel's eighth floor with show-stopping 360-degree views of the Atlantic Ocean, South Beach, and the downtown Miami skyline. The 5,020-square-foot space features a shallow lounging pool and whimsical seating areas that include lounges set in the pool, a lily pad daybed, a communal swing seat shaped like a giant life preserver, and various other lounges, daybeds, and sofas. An outdoor movie screening room features a custom free-standing screen and lounge seating.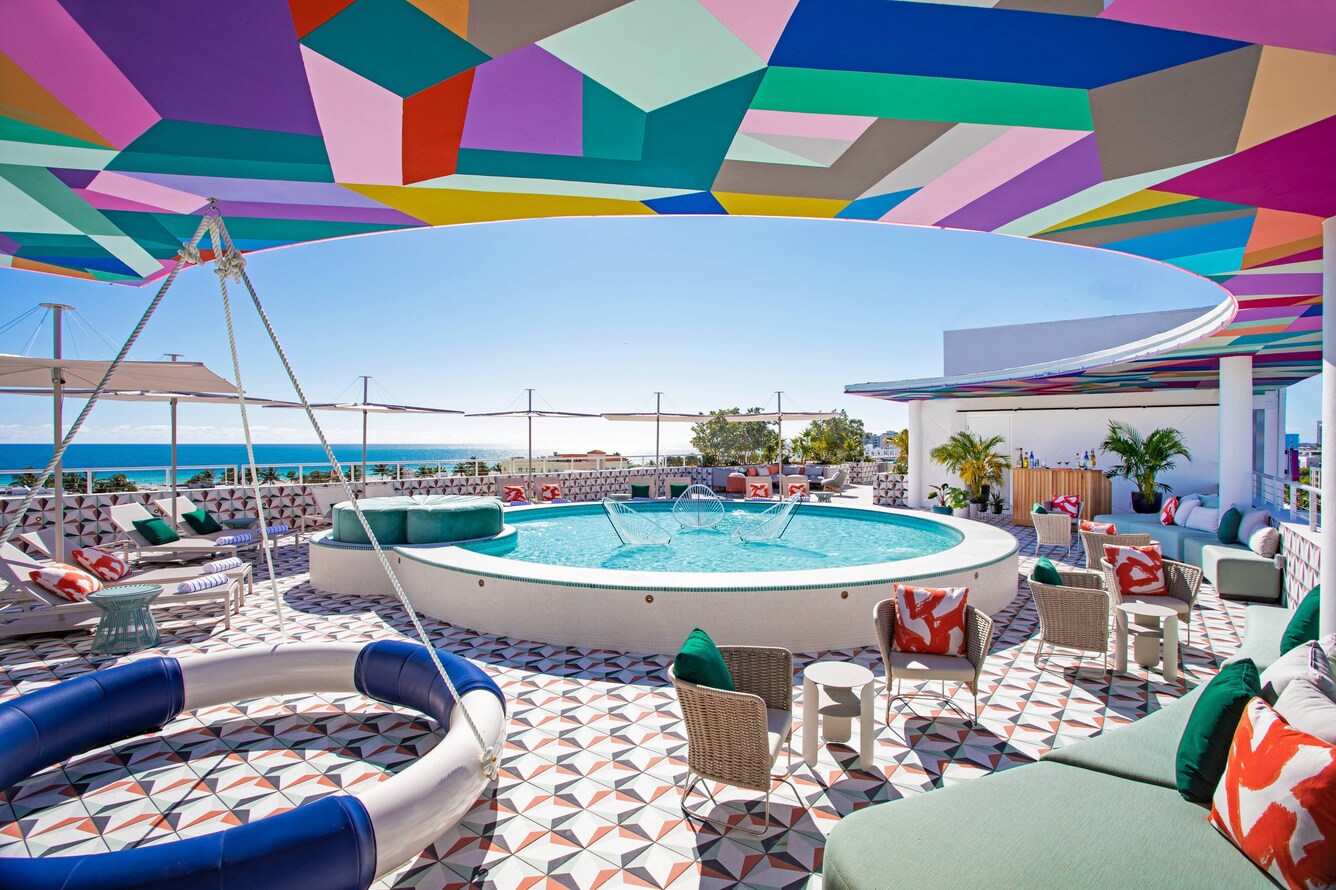 Serena
The vibrant, lushly planted rooftop restaurant and bar on the second-floor terrace has a laid-back but sophisticated vibe that's like none other in Miami, making it ideal for brunches, cocktail parties, or other gatherings. The space includes an outdoor dining area with fun and eclectic arrangements of plush sofas, overstuffed banquettes, swinging barstools, cushioned wrought-iron chairs, and ceramic-tile table tops — all surrounded by native Mexican flowering plants set under a domed cast iron canopy strung with twinkling lights and fragrant bougainvillea. The indoor lounge has blue-painted beamed ceilings and mosaic tiles reminiscent of an antique fountain, and the greenhouse-like bar features glass garage-style doors that open to take advantage of the warm beach breezes.
Como Como
Como Como, a marisquería and raw bar, channels the flavors of Puerto Escondido, Los Cabos, Acapulco, and other seaside destinations, offering an authentic new perspective on a traditional marisqueria. Occupying a reverential dining room lined with stone and brick walls —as well as a lushly landscaped courtyard for alfresco dining — the restaurant is tailor-made for festive celebrations that make use of indoor and outdoor spaces.
Mezcalista
The sexy, intimate lounge dedicated to mezcal, the revered but often misunderstood spirit, is an ideal location for private gatherings. The seductively lit space with walnut and leather banquettes, DJ booth, and black Nero stone bar can be booked for exclusive use. A separate tasting lounge that seats 6 is lined with carved stone walls and velvet drapes, ideal for intimate private tastings hosted by one of the lounge's resident mezcaliers.
Pool Deck
Located on the second-floor terrace, the 72-foot pool area is distinguished by its see-and-be-seen sightlines, with tiered lounge seating, luxury private cabanas, and a lush tropical perimeter of palms and ornamental plants. A circular communal shower invites flirtatious interaction, while an eight-foot see-through cutout on the bottom of the pool lets swimmers peek into the lobby, adding to the exhibitionistic vibe.
Courtyard
The lushly landscaped, indoor-outdoor courtyard adjoining the lobby and Como Como is the perfect space for an alfresco event or celebration. The courtyard features colored tilework, hanging plants, and hand-carved totemic sculptures; furniture includes custom stone benches, hanging lounge chairs, canopy banquettes, and geometric teak stools. A monumental staircase leads up to the terrace, location of Serena, the rooftop restaurant and lounge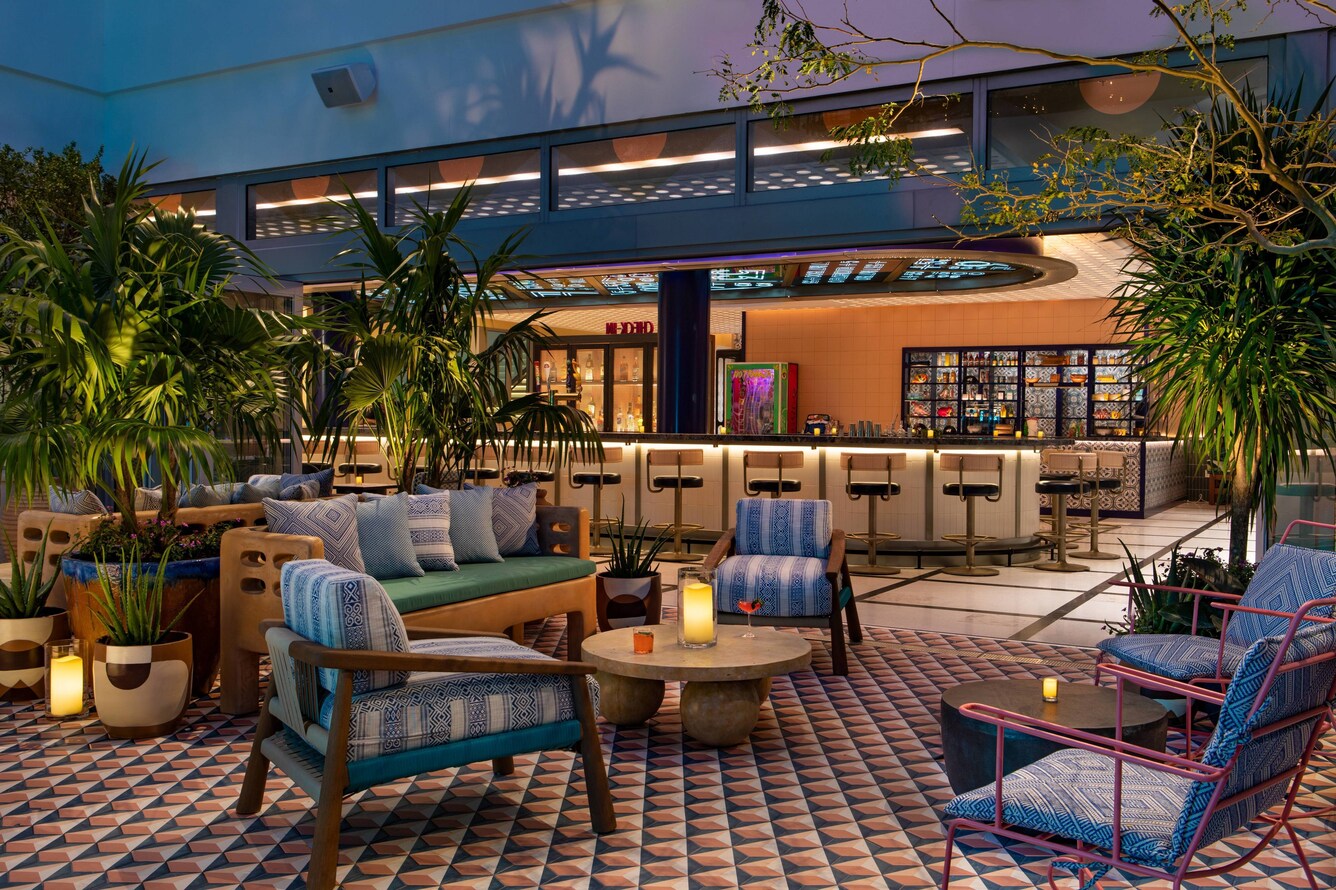 Meeting Studios
Three Meeting Studios adjoining the hotel's main courtyard provide a variety of spaces for meetings or social gatherings. With sliding glass walls, custom furniture that shifts from working to lounging, and tables that raise and lower, the spaces easily transform from workplace to social space over the course of the day.
Meeting + Events Gallery
Work. Play. And everything in between. Moxy South Beach's meeting studios and spaces seamlessly adapt to the mood and intention behind your next great event.
Learn More
Plan your next party with more than 24,000 square feet of flexible event space.
Board meetings lose their "bored" when you book our 5,000-square-foot indoor and outdoor terrace.
Our outdoor courtyard connects three meeting studios with our lounge, bar and restaurant.
You are steps from South Beach and a mile from Miami Beach Convention Center.
Soak up the ocean views from our rooftop venue, available for private functions and group receptions.
End your event or training session on a high note with tequila tastings at Mezcal Lounge.
Magical Event Venues
With 25,000 sq ft of event space, Moxy South Beach is the perfect place to host your big day. Tour our indoor and outdoor eclectic venues. Create a truly unique event for birthdays, proposals, rehearsal dinners, weddings, and more with the help of our events team ready to make your vision a reality. 
Plan Your Rehearsal Dinner at Serena Restaurant!
The vibrant, lushly planted rooftop restaurant and bar on the second-floor terrace is an ideal setting for brunches, cocktail parties, or other gatherings enhanced by warm beach breezes or an unforgettable Miami sunset.
Our outdoor courtyard and connecting event spaces add a playful touch to your reception.
Toast to good times with tequilas at Mezcal Lounge or handcrafted cocktails at Lobby Bar.
Choose our open-air rooftop bar and events venue for unobstructed views of Miami Beach.
Party in the heart of Miami Beach with our exciting nightlife, shopping and dining on Lincoln Road.
Play it by ear with our indoor and outdoor event venues with adjoining restaurants and bars.
Your name is on the VIP list at the Moxy Beach Hut on South Beach.
| Meeting Room | Dimensions (LxWxH) | Area (sq.ft) | Theater | Schoolroom | Conference | U-Shape | Reception | Banquet |
| --- | --- | --- | --- | --- | --- | --- | --- | --- |
| Studio A | -x-x- | 185 | 0 | 0 | 10 | 0 | 15 | 0 |
| Studio B | -x-x- | 185 | 0 | 0 | 10 | 0 | 15 | 0 |
| Studio C | -x-x- | 185 | 0 | 0 | 10 | 0 | 15 | 0 |
| Studio A&B (Combined) | -x-x- | 372 | 0 | 0 | 18 | 0 | 30 | 0 |
| Studio B&C (Combined) | -x-x- | 372 | 0 | 0 | 18 | 0 | 30 | 0 |
| Studio A,B & C (Combined) | -x-x- | 555 | 0 | 0 | 26 | 0 | 50 | 26 |
| The Upside | -x-x- | 5020 | 0 | 0 | 26 | 0 | 300 | 150 |
| Serena | -x-x- | 6138 | 0 | 0 | 26 | 0 | 340 | 150 |
| Pool Deck | -x-x- | 5782 | 0 | 0 | 26 | 0 | 100 | 150 |
| Como Como | -x-x- | 5996 | 0 | 0 | 26 | 0 | 100 | 180 |
| Mezcalista | -x-x- | 1400 | 0 | 0 | 26 | 0 | 130 | 180 |
| Courtyard | -x-x- | 1700 | 0 | 0 | 26 | 0 | 120 | 75 |
Studio A,B & C (Combined)
| Meeting Room | Dimensions (LxWxH) | Area (sq.mt) | Theater | Schoolroom | Conference | U-Shape | Reception | Banquet |
| --- | --- | --- | --- | --- | --- | --- | --- | --- |
| Studio A | -x-x- | 17.2 | 0 | 0 | 10 | 0 | 15 | 0 |
| Studio B | -x-x- | 17.2 | 0 | 0 | 10 | 0 | 15 | 0 |
| Studio C | -x-x- | 17.2 | 0 | 0 | 10 | 0 | 15 | 0 |
| Studio A&B (Combined) | -x-x- | 34.6 | 0 | 0 | 18 | 0 | 30 | 0 |
| Studio B&C (Combined) | -x-x- | 34.6 | 0 | 0 | 18 | 0 | 30 | 0 |
| Studio A,B & C (Combined) | -x-x- | 51.6 | 0 | 0 | 26 | 0 | 50 | 26 |
| The Upside | -x-x- | 466.4 | 0 | 0 | 26 | 0 | 300 | 150 |
| Serena | -x-x- | 570.2 | 0 | 0 | 26 | 0 | 340 | 150 |
| Pool Deck | -x-x- | 537.2 | 0 | 0 | 26 | 0 | 100 | 150 |
| Como Como | -x-x- | 557 | 0 | 0 | 26 | 0 | 100 | 180 |
| Mezcalista | -x-x- | 130.1 | 0 | 0 | 26 | 0 | 130 | 180 |
| Courtyard | -x-x- | 157.9 | 0 | 0 | 26 | 0 | 120 | 75 |
Studio A,B & C (Combined)
Business Services
Computers
Fax Service
Full Service Business Center
Printers