Bienvenue dans l'établissement Hôtel et Spa Marriott Niagara Falls Fallsview
Un hôtel haut de gamme avec vue sur les chutes du Niagara
Au Niagara Falls Marriott Fallsview Hotel, l'important n'est pas seulement l'endroit où vous séjournez, mais aussi votre destination. Vivez toute l'excitation et la splendeur des mythiques chutes du Niagara canadiennes dans notre luxueux hôtel cinq étoiles quatre diamants. Notre emplacement exceptionnel surplombant les chutes offre une vue à couper le souffle depuis nos chambres et suites récemment rénovées, nos restaurants et nos salles de réunion. Savourez la qualité primée de nos restaurants, avec notamment Morton's Grille, notre restaurant avec vue sur les chutes, notre Starbucks® ou notre lounge du hall. Pour recharger vos batteries, offrez-vous un soin spa ou profitez des piscines thermales du nouvel établissement Burning Springs Spa & Thermal Pools. Si vous vous rendez à Niagara Falls pour affaires ou pour une réception, notre espace de réception contemporain de plus de 550 m² avec vue sur les chutes dépassera toutes vos attentes. Envie de découvrir les environs ? Notre emplacement dans le quartier touristique de Fallsview, à seulement 100 m des chutes du Niagara, vous permet de profiter de nombreux sites d'intérêt et de divertissement à quelques minutes, notamment le Fallsview Casino Resort, les chutes du Niagara et bien plus encore.
Niagara Falls Winter Festival Of Lights
A winter tradition that transforms Niagara Falls into a winter wonderland featuring more than 75 brightly lit displays and 3 million lights alongside the Falls. The Festival takes place from November 12, 2022 – February 20, 2023.
A Remarkable Stay
Location is Everything
Stunning views of Niagara Falls and incredible new guest room and hotel amenities connect you with one-of-a-kind experiences at Marriott Fallsview Hotel & Spa. As the closest hotel to Niagara Falls, guests enjoy easy access to attractions and entertainment in the tourist district. Within our hotel guests experience exceptional service befitting a 4-Diamond Award Hotel and a member of the TripAdvisor Certificate of Excellence Hall of Fame. Hotel amenities make a stay and ours include concierge lounge, on-site Spa, skywalk from the Hotel to Fallsview Casino Resort, room service, indoor heated pool, fitness centre, 24 hours business centre, valet parking, electric car charging station, and Cascade Gift Shop.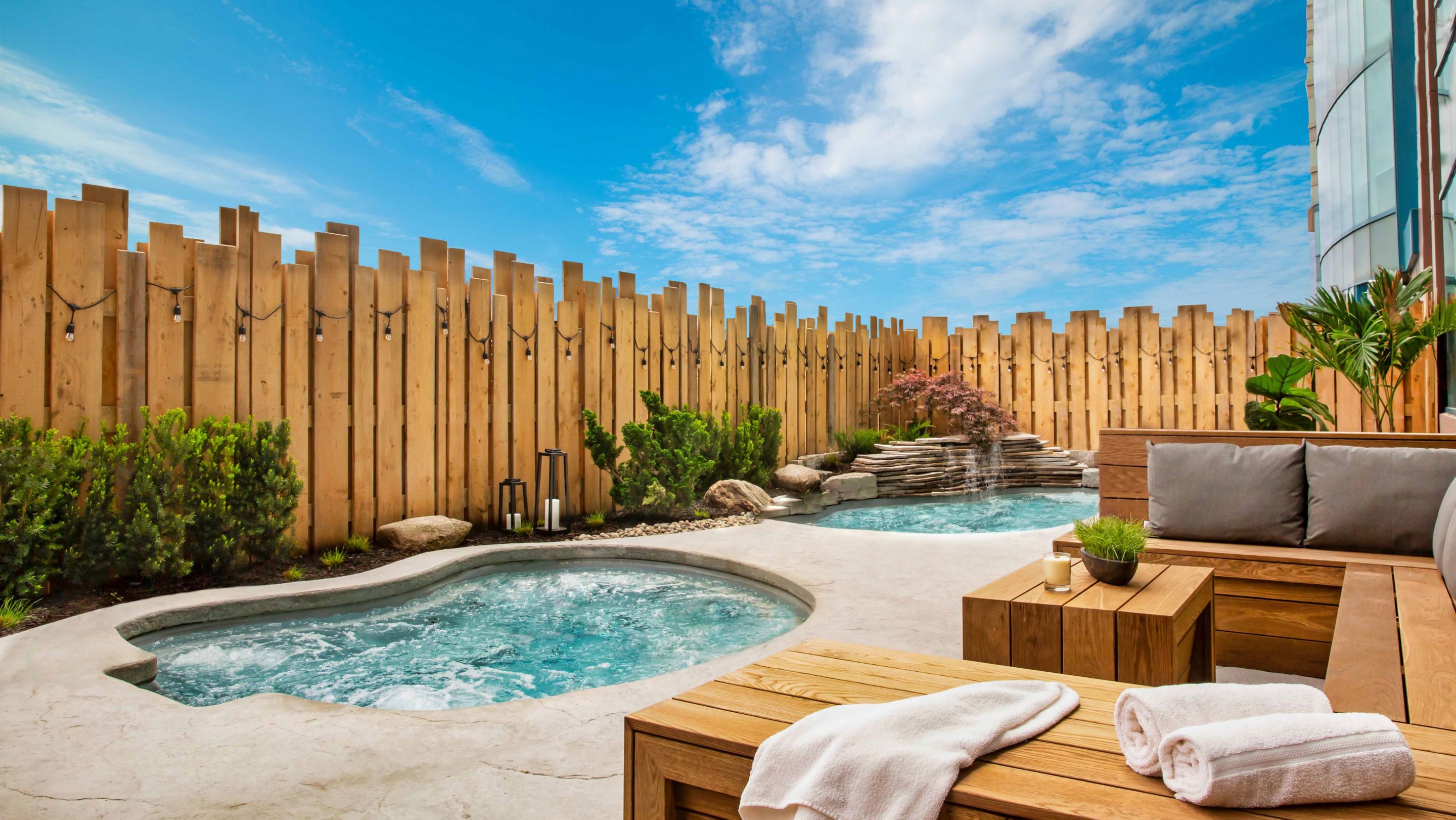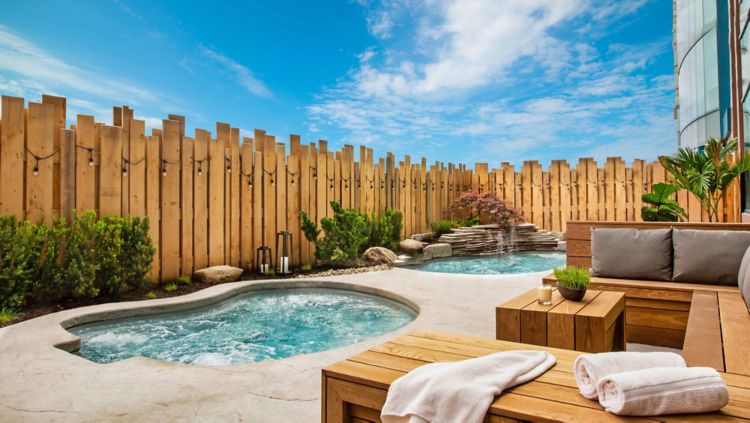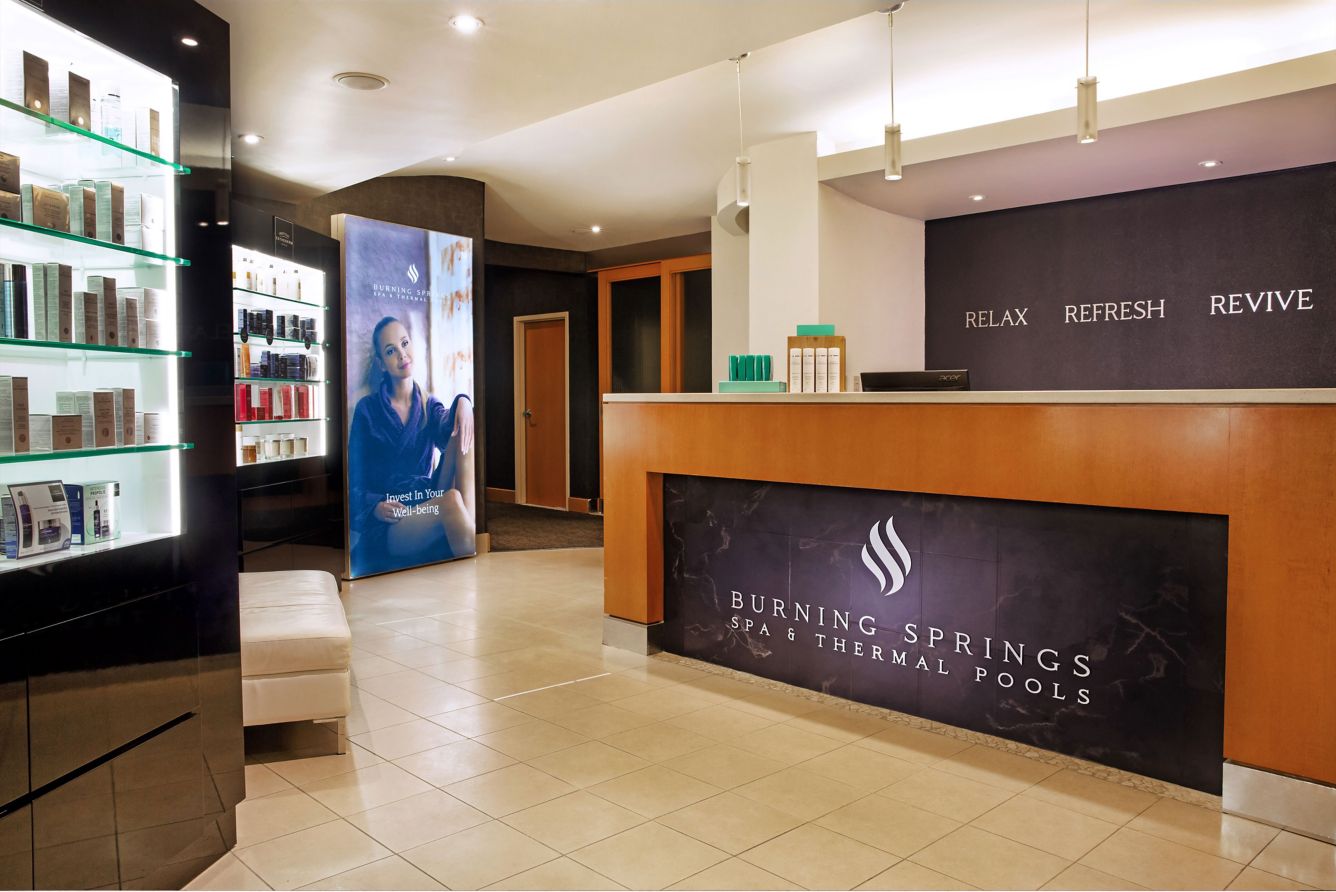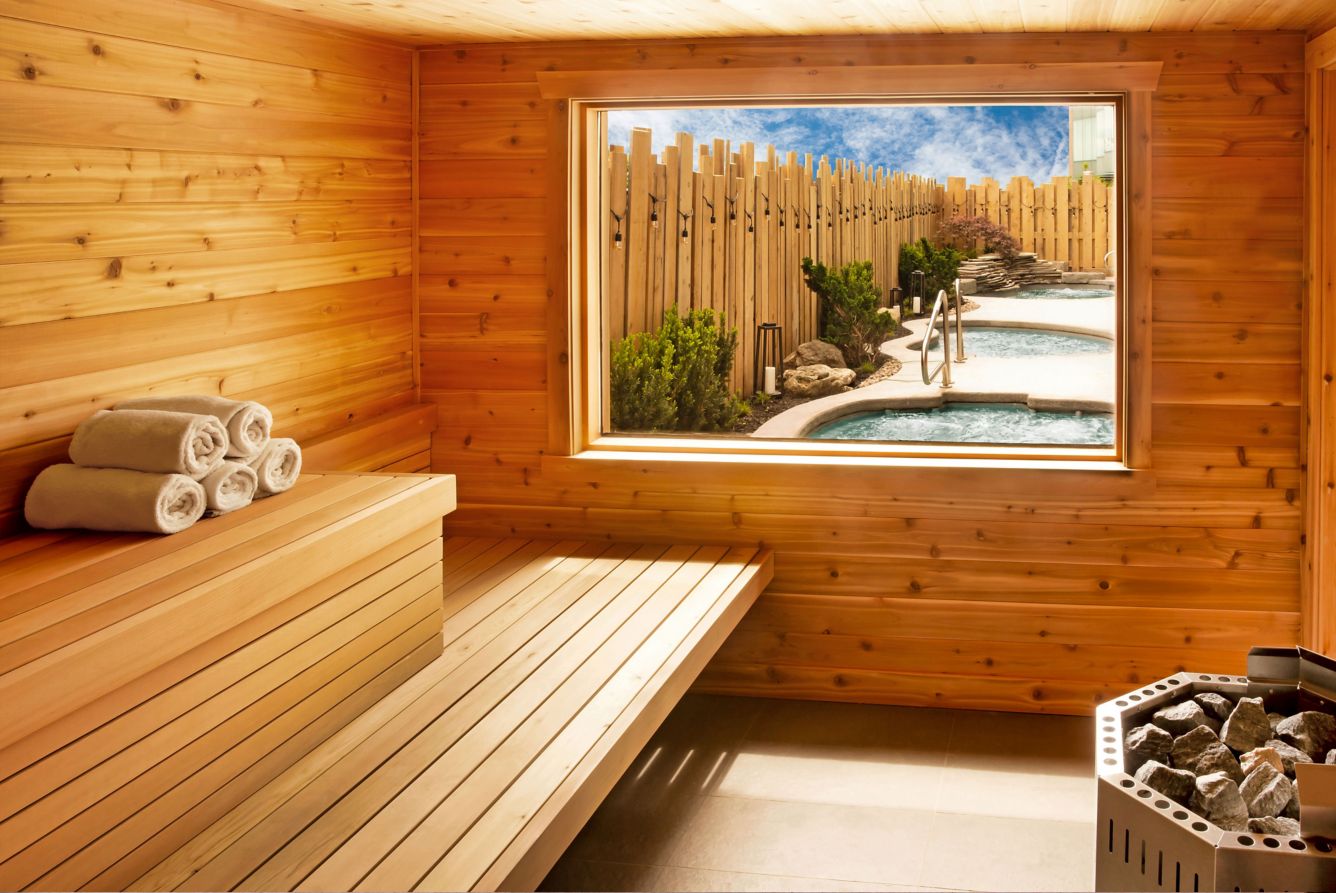 Fallsview Dining at Its Best
Morton's Grille Niagara Falls
Savourez le menu classique composé de steaks, de poissons et de fruits de mer ainsi que de hamburgers tout en contemplant la vue imprenable de ce restaurant de renom sur les chutes du Niagara. Notre cadre décontracté et notre service hors pair garantissent une expérience culinaire inoubliable.
Fallsview Dining at Its Best
Terrapin Cafe
Commencez la journée du bon pied en dégustant un délicieux petit-déjeuner au restaurant Terrapin Breakfast Café. Savourez notre délicieux petit-déjeuner buffet en admirant la vue à couper le souffle sur les chutes du Niagara. Idéal pour commencer la journée du bon pied !
Fallsview Dining at Its Best
Lobby Lounge
Profitez des magnifiques vues depuis le bar lounge du hall tout en dégustant une variété d'en-cas et de boissons. Offrant une vue sur les chutes, le restaurant de notre hôtel propose des repas légers, de délicieuses boissons avec un service aimable, idéal lorsque vous êtes en déplacement.
Fallsview Dining at Its Best
Starbucks®
Pour bien commencer votre journée à Niagara Falls, arrêtez-vous dans notre restaurant Starbucks® pour savourer votre café préféré et une gourmandise préparée sur le moment, ou détendez-vous avec une boisson glacée et un savoureux en-cas après une journée d'aventure.
Fallsview Dining at Its Best
Lobby Lounge
Catch a game, enjoy a cocktail, or grab a bite to eat. Our Lobby Lounge offers a convenient location, plush seating and views of Niagara Falls.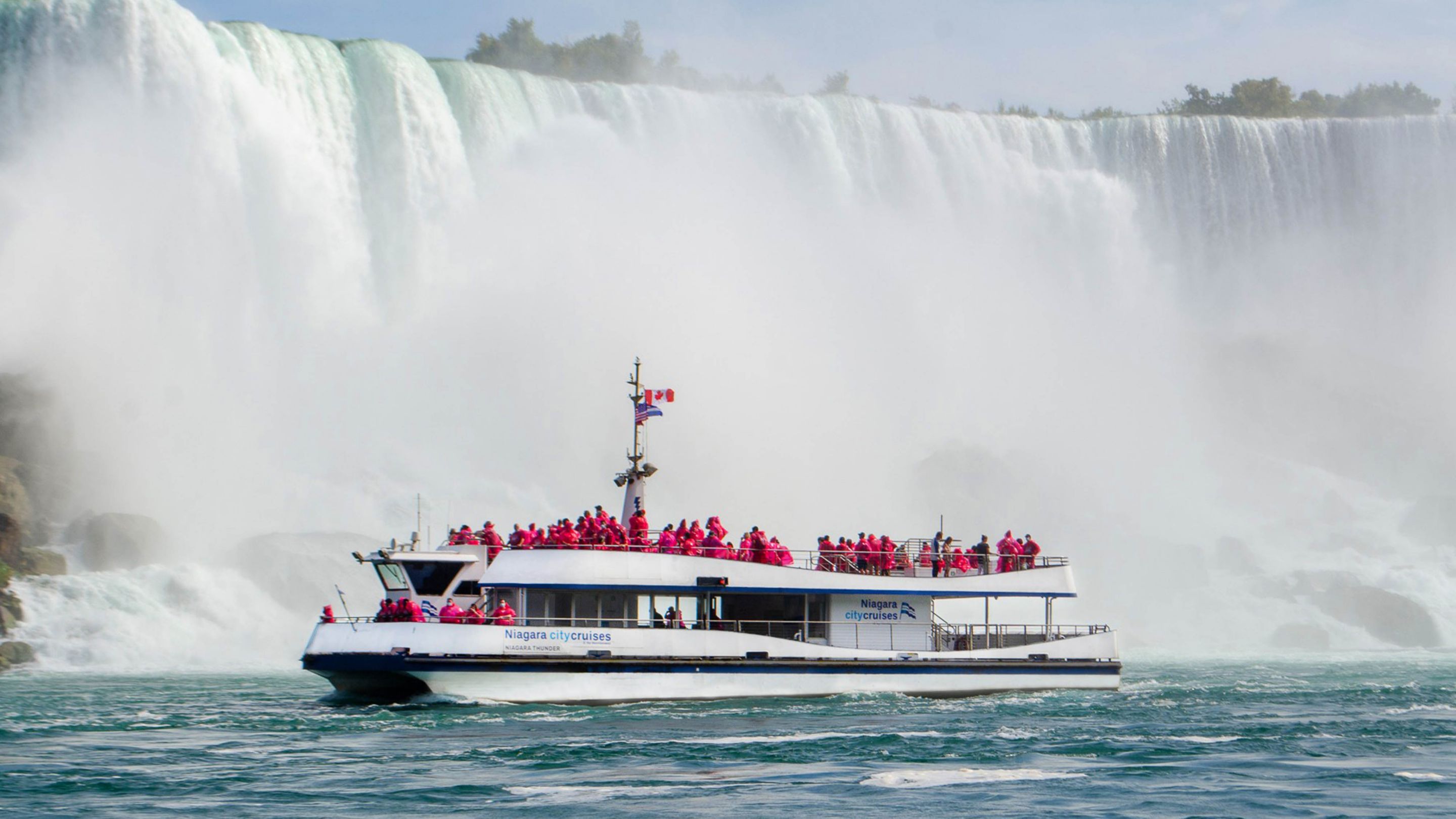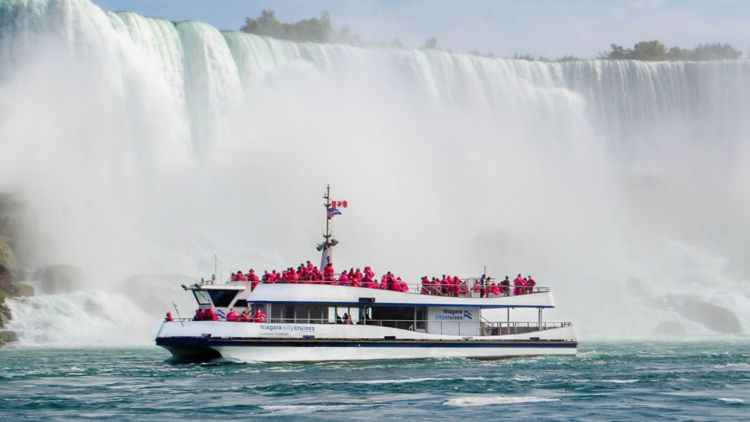 Experiences
See Niagara Falls Our Way
Ramp up the fun in Niagara Falls. Exciting & unique attractions, Casino gaming and entertainment are within steps of our Niagara Falls Hotel and Magnificent Tours offers guided tours from our hotel.
Nearby Attractions
Fallsview Casino Resort
Marriott Fallsview Hotel & Spa is located steps from the action and excitement of the Fallsview Casino Resort. Home to slot machines, table games, tournaments, entertainment and fine restaurants, Fallsview Casino has it all.
Notre emplacement
Comment s'y rendre ?
Hôtel et Spa Marriott Niagara Falls Fallsview
6740 Fallsview Blvd, Niagara Falls, Ontario, Canada, L2G 3W6
Tel: +1 905-357-7300
Distance From Property: 44.4 Km
Phone Number: +1 716-630-6000
Visit Website
Alternate Airport Transportation:
Southampton Limousine ; tarif : 129 CAD (par trajet) ; uniquement sur réservation
Distance From Property: 127 Km
Phone Number: +1 866-207-1690
Visit Website
Alternate Airport Transportation:
Southampton Limousine ; tarif : 129 CAD (par trajet) ; uniquement sur réservation
Map & Directions
Marriott Fallsview Hotel & Spa is located 60 minutes from downtown Toronto, and 40 minutes from Buffalo New York. Our hotel is located near the Rainbow Bridge which is the closest international border crossing between Canada and the United States. Guests have the option of two major airports, Toronto's Pearson International which is 123 km from the hotel and Buffalo Niagara International Airport 54 km away.
Luxurious Amenities
Details matter, and when redesigning our Fallsview King Rooms we took that idea to task. Function and beauty combine to create our luxurious new bathrooms at Marriott Fallsview Hotel & Spa. Design inspirations were pulled from moments of luxury at renowned spa's to transform the standard to the exceptional. With oversized soaker tubs, tile accents and glass enclosed showers, each space is a luxurious retreat.
Frequently Asked Questions
Check-in is at 3:00pm and check-out is 12:00pm
Self Parking is $39 CAD daily plus taxes and fees. Valet parking is $59 CAD daily plus taxes and fees.
The hotel has 1 Electric Car Charging Station.
Fallsview Casino is a short distance from the Marriott (500 meters from the Hotel). It is approximately a 6 minute walk and is accessible from the skybridge.
Yes, the Hotel offers an indoor pool free for guest use.
Unfortunately, we do not accept pets. However, Service animals are permitted.
Yes, there are numerous Hotel Packages available at the hotel. From a Bed & Breakfast Package, to a Romantic Escape, or Casino Excitement – we have collaborated with the top attractions in Niagara Falls to bring you exciting experiences.
One of the most efficient options to see the best attractions and sights in Niagara Falls is with a tour service. Niagara's Largest Tour Company; Magnificent Tours is located within our hotel lobby and offers experiences that range from a few hours to a full day.

Please visit https://www.magnificentniagarafallstours.com/ for more information.
Détails de l'établissement
Accès Wi-Fi gratuit
Commerce de proximité
Boutique de souvenirs
Service de chambre
Service de réveil
Service d'entretien tous les jours
Demande de service
Enregistrement: 4:00 pm
Parti: 11:00 am
Propriété non-fumeur
Politique relative aux animaux de compagnie
Les animaux de compagnie ne sont pas autorisés.
No pets allowed-service animals for individuals with disabilities only
Le stationnement
Voiturier
Chaque jour: $59
Bornes de recharge pour voitures électriques
Informations supplémentaires sur le stationnement
Des frais et des taxes seront appliqués.
Règlements et paiements
Accepte: Le paiement en liquide, Apple Pay, Cartes bancaires
Paiements mobiles sans contact
partagés
Distributeur automatique
L'établissement dispose d'ascenseurs
Service de conciergerie
Langues parlées par le personnel:
Français
Pour en savoir plus sur les caractéristiques de nos chambres et espaces communs accessibles aux personnes à mobilité réduite mais aussi sur les services spéciaux liés à un handicap particulier, veuillez nous contacter +1 905-357-7300
Installations de l'hôtel pour les personnes à mobilité réduite :
L'établissement dispose d'ascenseurs
Les animaux d'aide aux personnes handicapées sont les bienvenus
Espaces accessibles aux personnes à mobilité réduite depuis l'entrée
Chambres et suites accessibles via le couloir intérieur
L'entrée du centre de fitness sur place est accessible aux personnes à mobilité réduite
Les espaces de réunion sont accessibles aux personnes à mobilité réduite
Les restaurants sur place sont accessibles aux personnes à mobilité réduite
L'entrée de la piscine sur place est accessible aux personnes à mobilité réduite
L'entrée du centre d'affaires sur place est accessible aux personnes à mobilité réduite
L'entrée du spa sur place est accessible aux personnes à mobilité réduite
L'entrée principale est accessible aux personnes à mobilité réduite
Accessibilité des chambres
Baignoire avec barres d'appui
Barres d'appui antidérapantes dans la salle de bain
Chambres accessible aux personnes à mobilité réduite
Chambres accessibles aux personnes sourdes et malentendantes et/ou kits pour personnes sourdes et malentendantes
Clé de chambre électronique
Compatible avec les appareils de télécommunications pour personnes sourdes et muettes
Douche accessible en fauteuil roulant
Douchette ajustable en hauteur
Judas abaissés sur les portes des chambres
Judas sur les portes des chambres et des suites
Les fenêtres des chambres peuvent s'ouvrir
Meubles de toilette accessibles aux personnes à mobilité réduite
Poignées-béquilles sur les portes des chambres
Portes à fermeture automatique dans les chambres et les suites
Prises électriques abaissées
Programmes de télévision sous-titrés
Siège de baignoire
Siège de toilette à hauteur de fauteuil roulant - Toilettes accessibles aux personnes à mobilité réduite
Système de verrouillage abaissé sur les portes des chambres
Verrouillage secondaire sur les fenêtres des chambres
Verrous de sûreté sur les portes des chambres et des suites