Welcome to Harbourstone Pour House
Enjoy our newly renovated experience featuring exquisite food and drink with tales to tell. Our Chef crafted menu tells a story about Halifax and its relationship with the world and the local purveyors who support it. Our curated cocktail menu has been invigorated by our Master Mixologist, letting you experience spirits like no other bar in downtown Halifax. Join us today, and let the story begin.
Meet Our Executive Chef, Trevor Simms
Every dish has a story, be it the inspiration behind it or a feeling it evokes. Long before graduating from the Culinary Institute of Canada in PEI, Trevor knew he would one day be an Executive Chef.
Having perfected his craft, Trevor's overall cooking philosophy is to work hard, have fun, season everything and never take yourself too seriously. His signature cooking style is one that combines many elements into every dish, but will most likely always have a sweet and sour component, be well seasoned and balanced and often contain an ingredient you cannot identify or would never expect.
Cocktails with Stories to Tell
Every great drink has a story behind it and we invite you to explore our new offerings through taste and conversation.
Featured Cocktail - Smoked Old Fashion
Ingredients: Glenmorangie X, Angostura Bitters, Hickory Smoke.
Experience Our New Menu
Get inspired by our Chef-crafted dishes. Try our new menu offerings, prepared using locally sourced, seasonal ingredients.
Trivia Nights & Pints
Join us Wednesdays at 6:00PM for Trivia Night. Reservations recommended.
Dinner with Doug
Join us every Friday for live music by Doug Hawco from 6:00PM-8:00PM.
Private Events
Harbourstone Pour House welcomes private group bookings depending on the day and availability period. Interested in booking a private event with us? Reach out today to talk to a member of our team!
Details:
A partial buy-out of Harbourstone Pour House requires a minimum group spend of $3,000.00.
A full buy-out of Harbourstone Pour House requires a minimum group spend of $6,000.00.
Food must be pre-chosen and ordered in advanced for guest counters over 20 attendees.
A credit card is required to secure the booking 96 hours in advance of the arrival date.
A cancellation fee will apply when less than 24 hours' notice is given should the event be canceled.
An 18% auto gratuity will be applied for groups over 12 people.
Our team will work with you to customize your group booking as much as possible for the event. Simply let us know at the time of booking if you are celebrating a retirement, wedding, holiday or corporate event!
For more information or buy-out inquiries please email David.Telloisla@marriott.com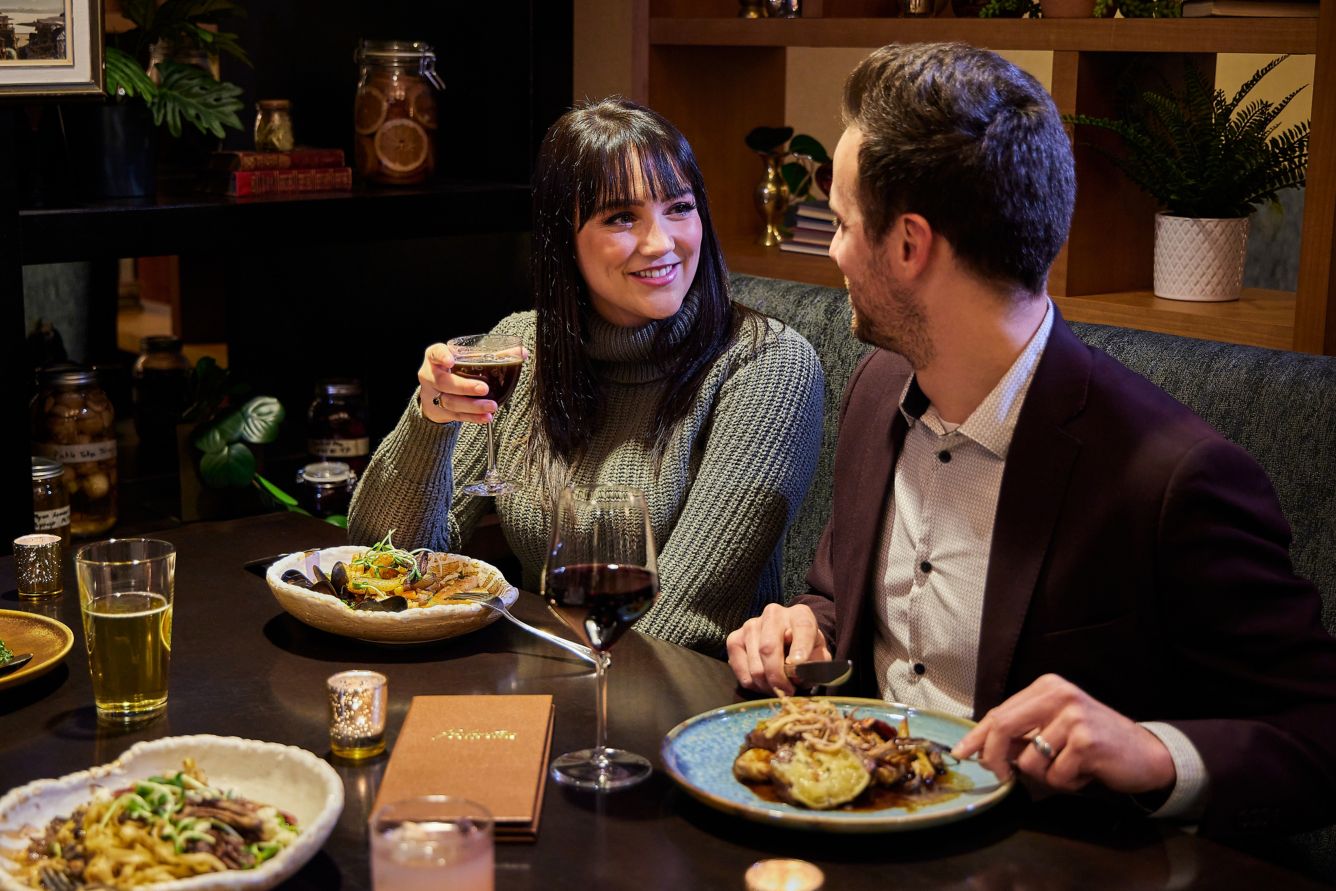 Reservations
Drop by anytime or make a reservation online! We look forward to welcoming you.