Steakhouse Restaurant
Welcome to Steakhouse Restaurant at Stuttgart Marriott Hotel Sindelfingen. Join us for tender hand-cut selections of USDA steak, fresh seafood, delicious salads and decadent desserts - all perfectly paired with a glass of wine from our restaurant's curated wine list.
Our Restaurant
Step inside our cozy and inviting steak restaurant in Sindelfingen for a fantastic dining experience near Stuttgart. Our professional and hospitable associates will make you feel at home, whether you're hosting a business lunch for eight or a candlelight dinner for two.
Hours of Operation
Our popular Steakhouse Restaurant in Sindelfingen is open daily for lunch and dinner.
Lunch: Monday - Sunday, 12:00 - 2:30pm
Dinner: Monday - Sunday, 5:30 - 'til late
Sunday Brunch
Start your Sunday in style with an exquisite Sunday Brunch offering specialty dishes and heavenly desserts in our Sindelfingen Steakhouse. Sparkling wine, soft drinks, beer and wine are included!
Open every Sunday from 12 - 3pm
Private Dining
Indulge in a unique private dining experience at our hotel's onsite Butcher's Room at Steakhouse Restaurant in Sindelfingen. Designed to emulate a butchery, our well-designed restaurant venue boasts an impressive wooden table with space for up to eight guests and spacious areas for both business and social occasions near Stuttgart.
Make sure to try our chef's daily tasting menu with sharing options, inspired by the very best market produce available that day.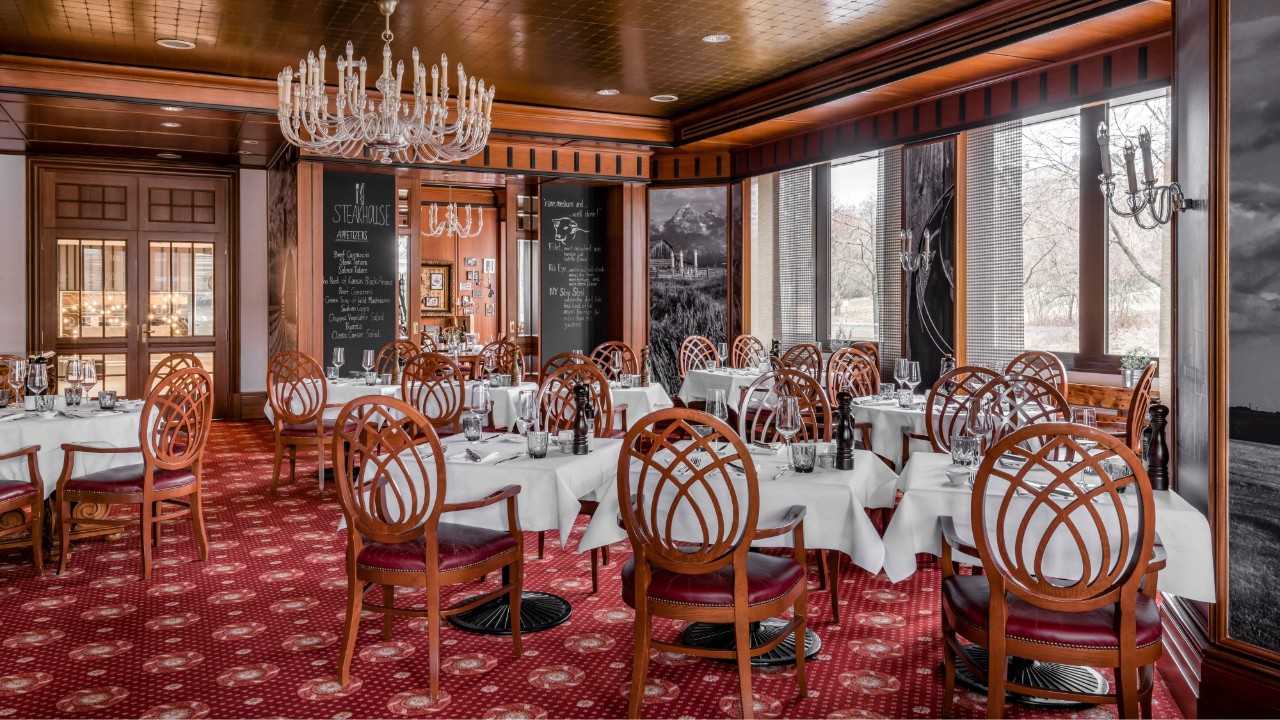 Menu
Our Steakhouse Restaurant near Stuttgart sources the highest-quality USDA beef from Creekstone suppliers in the United States. The meat is carefully measured and certified by the USDA for quality and consistency; Kansas Black Angus is the gold standard for USDA beef and is consistently delicious.
Our Steaks
Each our steakhouse restaurant's carefully hand-picked steaks are cut just before being seared to your liking on our lava stone-fired grill. Our standard menu offerings include:
Filet
Sliced from the 'tenderloin,' a filet is the most succulent and tender cut available. With a buttery texture, subtle flavor and compact shape, the filet is a perfect cut for sauces and toppings.
Rib Eye
Rib Eye is a center-cut rib steak minus the bone. It's similar to the tenderloin but offers up a little more texture and a lot more steak flavor.
New York Strip
Cut from the tender short loin, a New York strip is less marbled than a rib eye, but with a thick band of fat around the edge for added flavor and juiciness.
Simmentaler Filet
The Simmentaler Filet is a very tender and juicy meat from the Simmentaler cow. The fresh mountain air, herbs, flowers and grasses, which these animals get to enjoy their entire lives, provide the meat with a unique flavor.
Simmentaler Beef Chop
Don't miss out on our beef chop! This flavorful and reward winning meat is also called high rib: a very tender premium cut from the area of the eighth and twelfth rib of the Simmentaler cow.