Savor the flavors of Sonoma'z Wine Bar & Grill, our restaurant in Lone Tree
Sonoma'z restaurant, located at our Lone Tree hotel, serves fresh American cuisine in a comfortably stylish atmosphere. You'll find delicious options for breakfast, lunch, and dinner, along with nightly specials. Order a cocktail, a craft beer, or a glass of wine from our extensive drinks menu.
To dine in your room, head to the bar and place your order for a to-go meal!
Sonoma'z Wine Bar & Grill
Discover all-day dining in a convenient location in Lone Tree
Sonoma'z Wine Bar & Grill are located inside Denver Marriott South at Park Meadows near the intersection of I-25 and E Lincoln Avenue. Check below for opening hours:
Sonoma'z hours:
Breakfast is available with à la carte selections

6:30am - 10:00am (weekdays) 
7:00am - 10:00am for full hot breakfast (weekends).

Lunch hours are Mon - Sat, 11:00am - 1:00pm.

No lunch is available on Sundays.

Dinner is available 5:00pm - 9:00pm.
Bar is open 4:00pm - 10:00pm daily, later on weekends.
Want to dine back in your room? We are offering to-go meals. Head to the bar and place your order! 
Sonoma'z Wine Bar & Grill
Enjoy our elevated Colorado cuisine with a glass of fine wine
With a variety of all-American dishes, the delicious fare at Sonoma'z in south Denver can please any palate. Learn more about the inspiration behind every sip and bite:
Our culinary team has created a menu influenced by Colorado's food scene. They've also curated a collection of California wines, locally crafted brews, and a wine list that changes daily. During your visit to Lone Tree, we invite you to relax with a classic steak or burger in our quiet dining room, or head outside to the patio, where you can sip a thoughtfully crafted cocktail by the fireplace. Whether you're here for before-dinner cocktails, a hearty meal with friends, or a solo dinner after a long trip, we welcome you to sit back, unwind, and enjoy a delicious experience with us.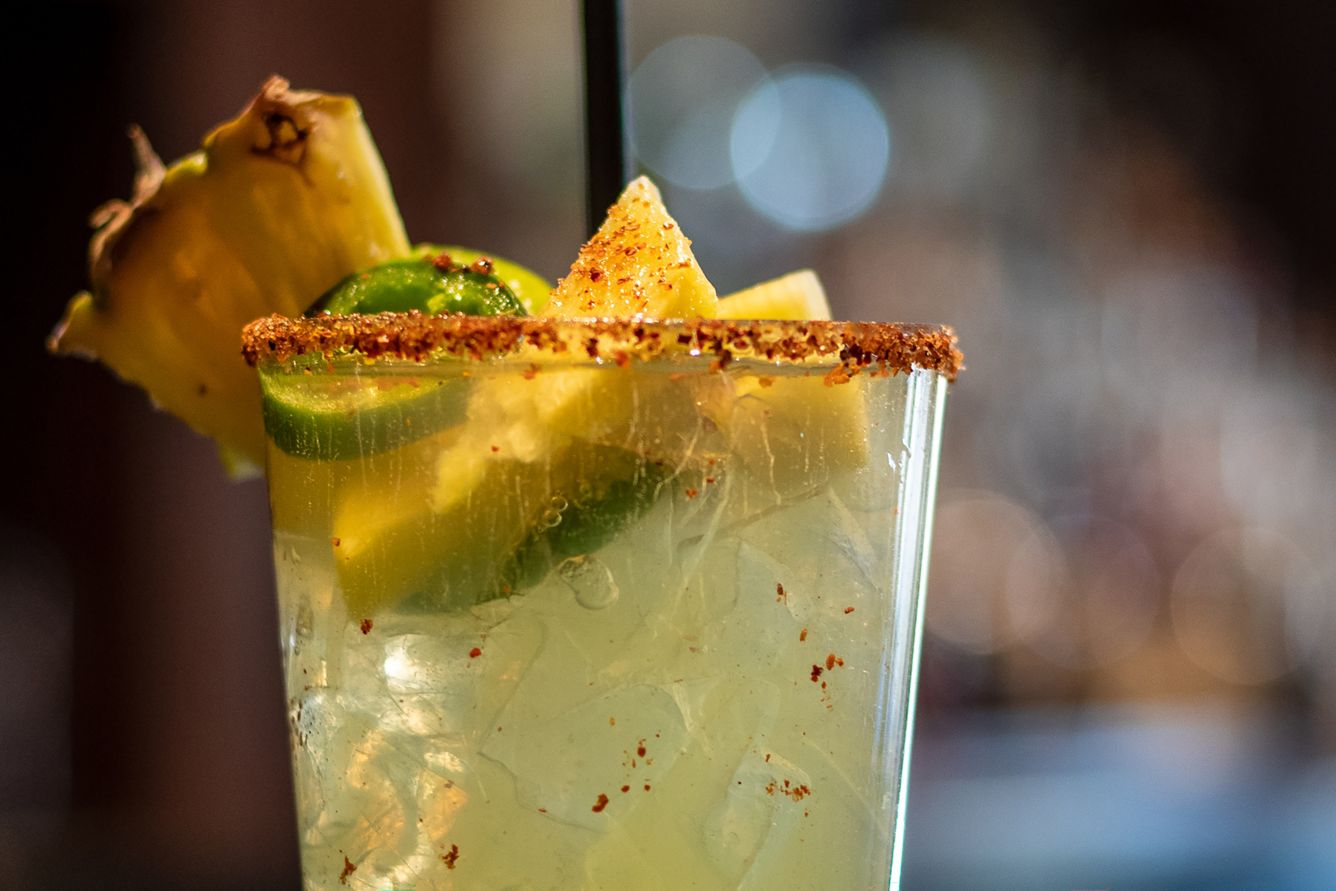 Sonoma'z Wine Bar & Grill
Hold your next meeting or private event at our restaurant
If you need a place to host a small dinner party or a corporate lunch in Lone Tree, our private dining rooms may be exactly what you're looking for.
Our dining rooms can accommodate between 8 and 50 guests and come equipped with Wi-Fi and a TV. Contact us to reserve a dining room and to learn how we can create a custom menu for your gathering.
Sonoma'z Wine Bar & Grill
Breakfast Menu
Greet each day in Lone Tree with a hearty all-American breakfast from our morning menu.
Seasonal pastries
Steel-cut oatmeal
Vanilla-bean parfaits
Chef-made granola
Breakfast sandwiches
Breakfast burritos
Build-your-own omelets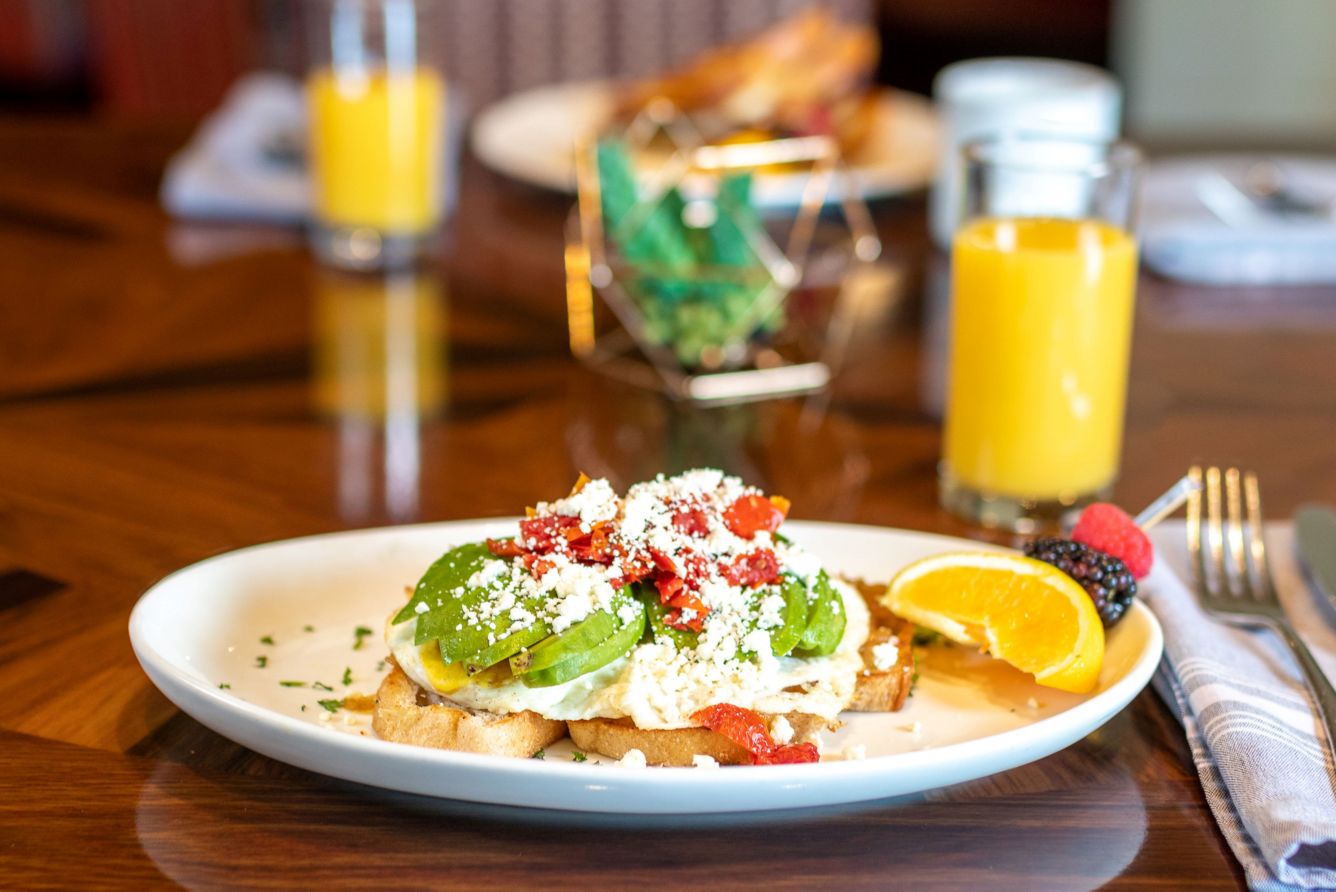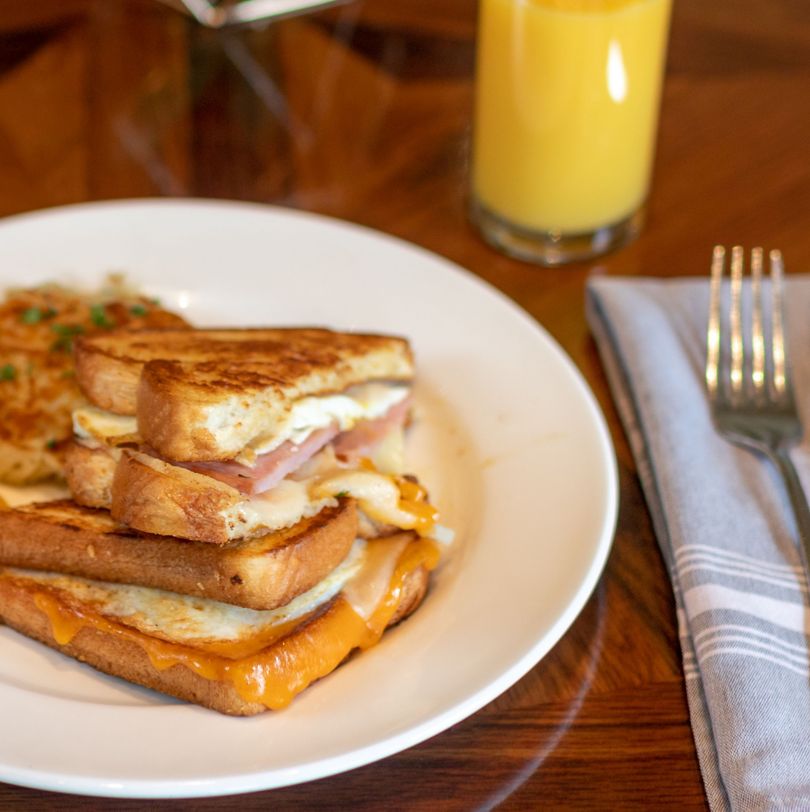 Sonoma'z Wine Bar & Grill
Lunch Menu
Your midday meal has never looked so delicious—refuel with us as you enjoy a fresh burger or a cheesy flatbread.
Starters & salads
BUFFALO WINGS (GFVA) | flour-dusted, marinated wings served with carrots, celery, served with bleu cheese dressing | 18 | buffalo cauliflower | 14
CRISPY BRUSSELS (GF) | sherry vinegar, bacon | 11
SONOMA'Z COBB (GF, D) | romaine, arugula, diced grilled chicken, bacon, smoked bleu cheese, egg, tomato, avocado, bleu cheese dressing | 18
SONOMA'Z CAESAR | romaine hearts, wild arugula, shaved parmesan, tomato, croutons | 13 add chicken 5 | add salmon 11
HEIRLOOM TOMATO & BURRATA (GF, D) | arugula, sliced tomatoes, burrata, balsamic reduction, drizzled with basil oil | 15
MAPLE SALMON* (GF) | maple-marinated Atlantic salmon, mixed greens, tomato, carrots, goat cheese, candied pecans, balsamic vinaigrette | 19
COLORADO GREEN CHILI (D, P) | topped with cheddar-jack & tortilla strips | cup 6 | bowl 9 Flatbreads
CHICKEN BACON (D) | diced chicken, bacon, three cheese ranch sauce, sautéed onions, fontina | 16
MARGHERITA (D) | pomodoro, fresh burrata, fontina, sliced tomato, basil oil, balsamic reduction | 14 Sandwiches Sanwiches are served with sidewinders and a pickle. Substitute sweet potato fries or house salad for an additional $2.
SONOMA'Z BURGER* (GFVA) | angus burger, brioche bun, lettuce, tomato, onion, choice of cheddar or swiss | 16
PUEBLO GREEN CHILI BURGER* (GFVA, D) | open-faced burger, brioche bun, green chili, pepper jack, guacamole, sour cream | 17
CHICKEN SANDWICH (GFVA, D) | buttermilk fried chicken, cheddar, brioche bun, lettuce, tomato, kettle chips, sour cream, and onion sauce | grilled version available | 14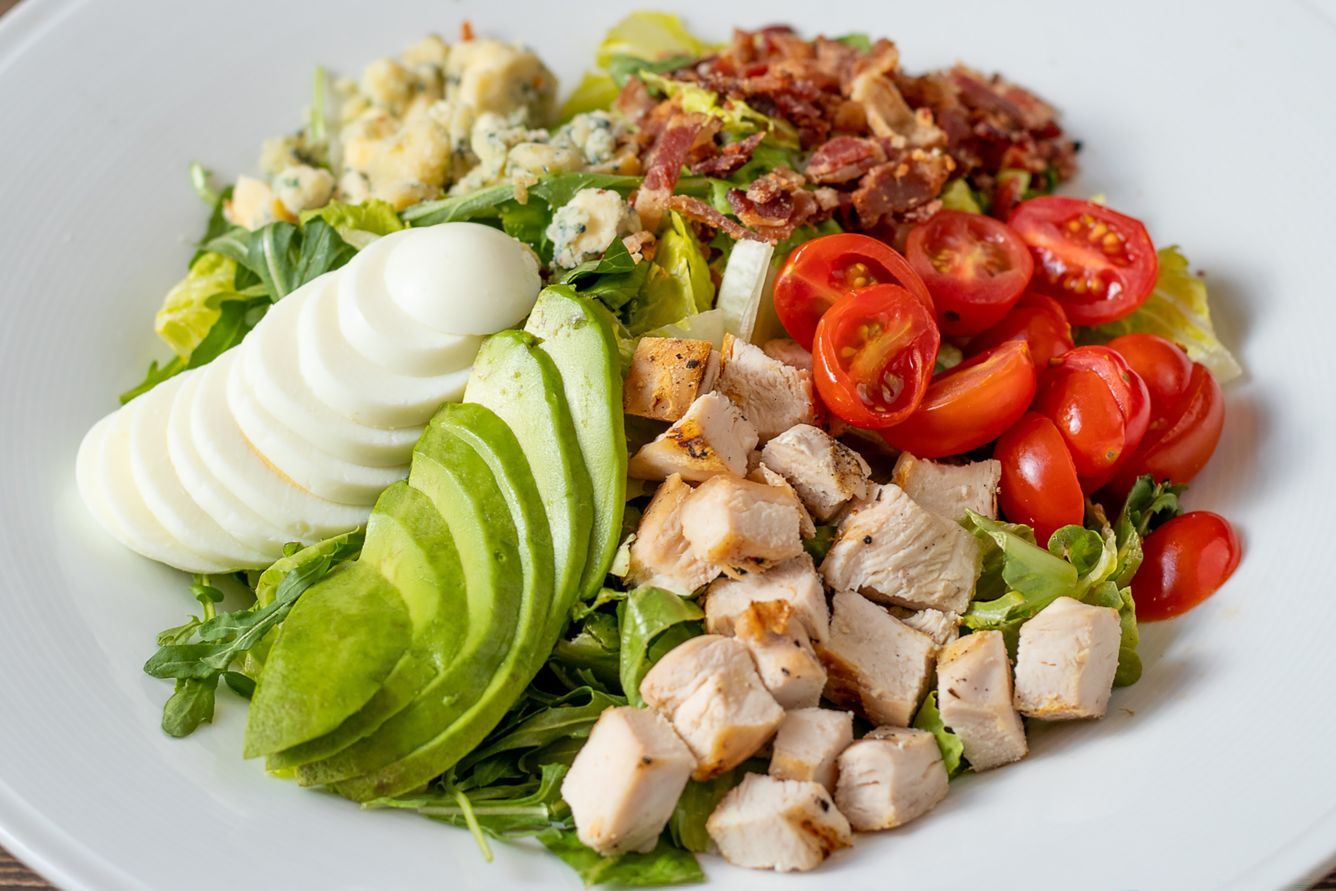 Sonoma'z Wine Bar & Grill
Dinner Menu
A glass of California wine makes the perfect pairing with any of our Colorado-inspired dinner dishes. From hearty soups to gourmet tacos and steaks, you'll be glad you came to the table.
Starters
WINE & CHEESE FLIGHT (D) | rotating wine & cheese pairings | market
CHARCUTERIE (D) | MouCo camembert in puff pastry with Bee Squared apiary honey, prosciutto di parma, spicy capicola, dried fruit and nuts, raspberry preserves, cornichon | 24
CRISPY BRUSSELS (GF) | sherry vinegar, bacon | 11
BUFFALO WINGS (GFVA) | flour-dusted, marinated wings served with carrots, celery, served with bleu cheese dressing | 15
SMOTHERED AVOCADO (GFVA, D) | avocado breaded & fried with house green chili, cheddar jack, corn chips, sour cream, green onions | 13
COLORADO GREEN CHILI (D, P) | topped with cheddar-jack & tortilla strips | cup 6 | bowl 9
SOUP OF THE DAY | chef's daily creation | cup 6 | bowl 9 Flatbreads
CHICKEN BACON (D) | diced chicken, bacon, three cheese ranch sauce, sautéed onions, fontina | 16 MARGHERITA (D) | pomodoro, fresh burrata, fontina, sliced tomato, basil oil, balsamic reduction | 14 Tacos, burgers & sandwiches
FISH TACOS (D) | three breaded fish tacos, flour or corn tortillas, shredded cabbage, corn & black bean pico de gallo, queso fresco, drizzled with chipotle-avocado crema, served with sour cream & guacamole | 17
STEAK TACOS (GFVA, D) | three steak tacos, flour or corn tortillas, shredded cabbage, corn & black bean pico de gallo, queso fresco, drizzled with chipotle-avocado crema, served with sour cream & guacamole | 17
SONOMA'Z BURGER* (GFVA) | angus burger, brioche bun, lettuce, tomato, onion, choice of cheddar or swiss, served with your choice of sidewinders, sweet potato fries, or small vineyard | 16
PUEBLO GREEN CHILI BURGER* (GFVA, D) | open-faced burger, brioche bun, green chili, pepper jack, guacamole, sour cream, served with your choice of sidewinders, sweet potato fries, or small vineyard | 17
CHICKEN SANDWICH (GFVA, D) | buttermilk fried chicken, cheddar, brioche bun, lettuce, tomato, served with kettle chips, & sour cream and onion sauce | grilled version available | 14 Entrees
PAN SEARED AIRLINE CHICKEN (GF) | fresh pasta, peas, roasted tomatoes, crimini mushrooms, glace de poulet | 26
GRILLED ATLANTIC SALMON* (GF) | mango-pineapple pico de gallo, cumin-jalapeño arancini, seasonal vegetables | 27
NEW YORK STRIP* (GFVA) | twelve-ounce steak, beer battered sidewinders, seasonal vegetables, glace de viande | 36
SEARED PORK MEDALLIONS* (GF, P) | butterflied pork medallions, seasoned mashed potatoes, seasonal vegetables, applesauce demi-glace | 22
SHRIMP RISOTTO (GF, D) | saffron, grilled artichoke hearts, roasted red peppers, capers | 24
FOUR CHEESE MANICOTTI (D) | pomodoro, fontina, seasonal vegetables, crusty French bread | 20