Gatherings In Beautiful Orlando
Events
Host an inspiring event in 450,000 square feet of space at Orlando World Center Marriott. Located just moments away from a host of popular area attractions, our 4-star resort offers meeting rooms to suit any style of event - from intimate retreats to large-scale conferences, reunions and social gatherings.
338,306 sq ft
Total Event Space
10,000
Capacity Largest Space
74
Maximum Breakout Rooms
Business Events & Meetings
Our hotel located in the beautiful Orlando sunshine offers more than 500,000 total square feet of meeting and ballroom space, located almost entirely on one level. In addition to our ballrooms and meeting rooms. Our dedicated catering and meeting managers bring creativity, flexibility, and vast knowledge to each event.
Learn More
Event Services
The Event Technology Department at Orlando World Center Marriott provides the latest in presentation equipment and services, maintained by Encore Event Technologies. With custom-designed services and the industry's most well-respected staff, Encore has the tools to execute any and every event flawlessly.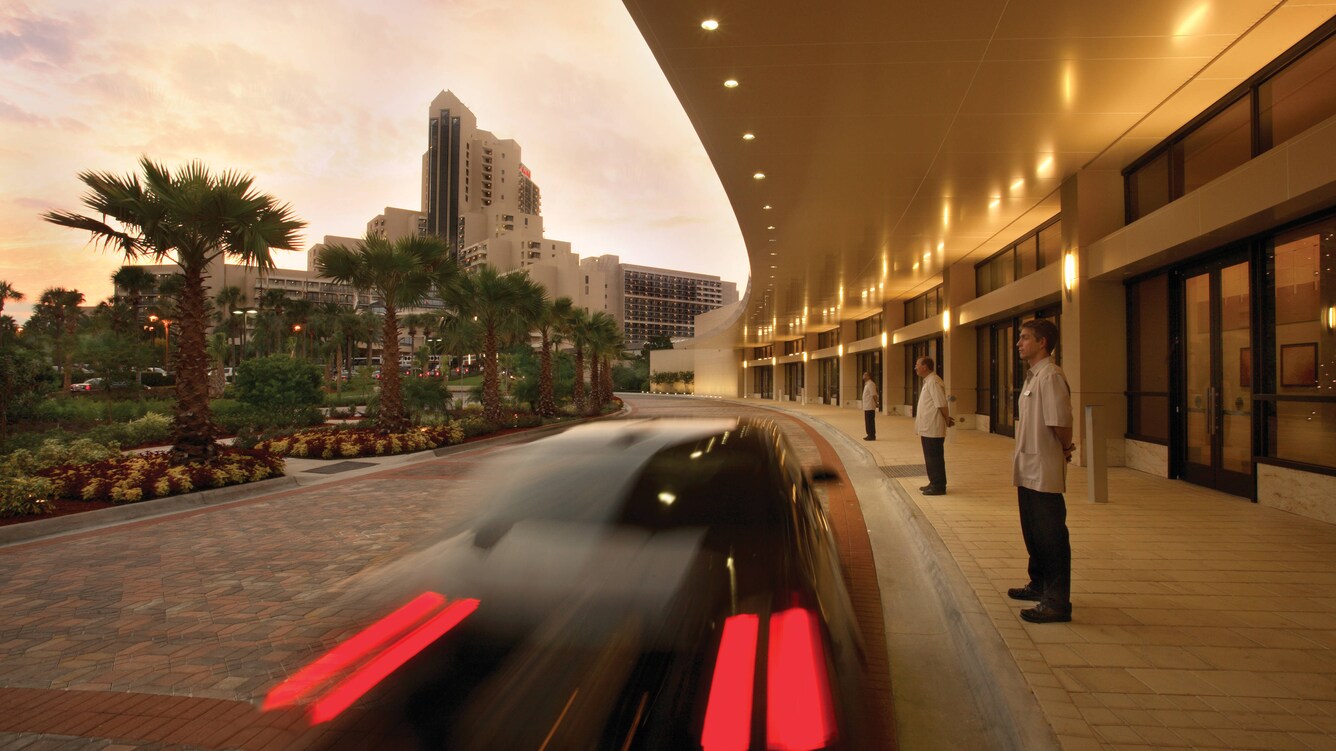 Destination Management
Our destination management services are designed to make your travel experience seamless, as we offer group transportation to any venue in the city and beyond. Use our services to connect you and your group to the best Orlando attractions.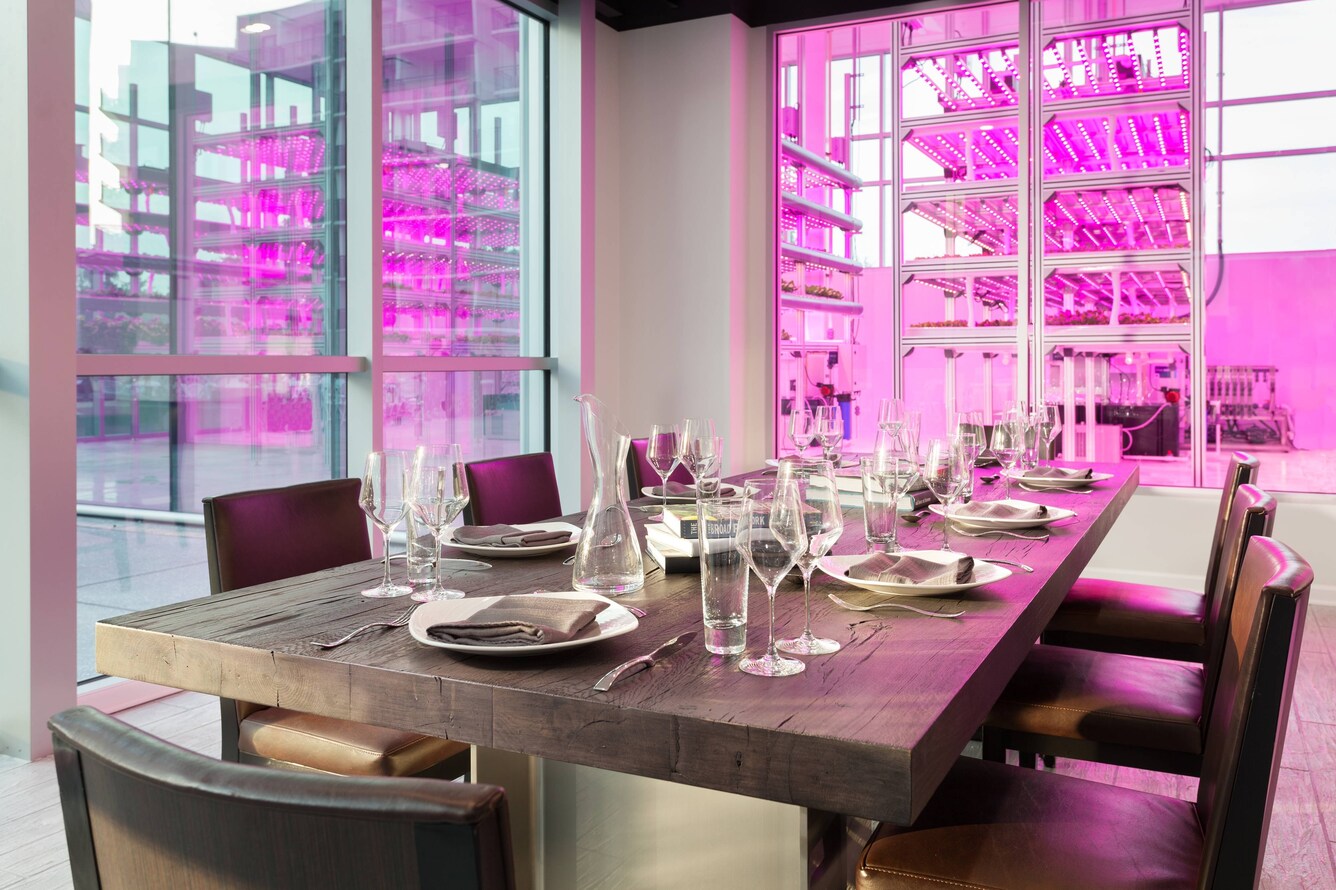 Catering
At Orlando World Center Marriott, catering is more than a department. Our staff are thrilled to cater to your individual needs throughout the entire planning process, and are committed to working with you to co-create a customized and truly exceptional event.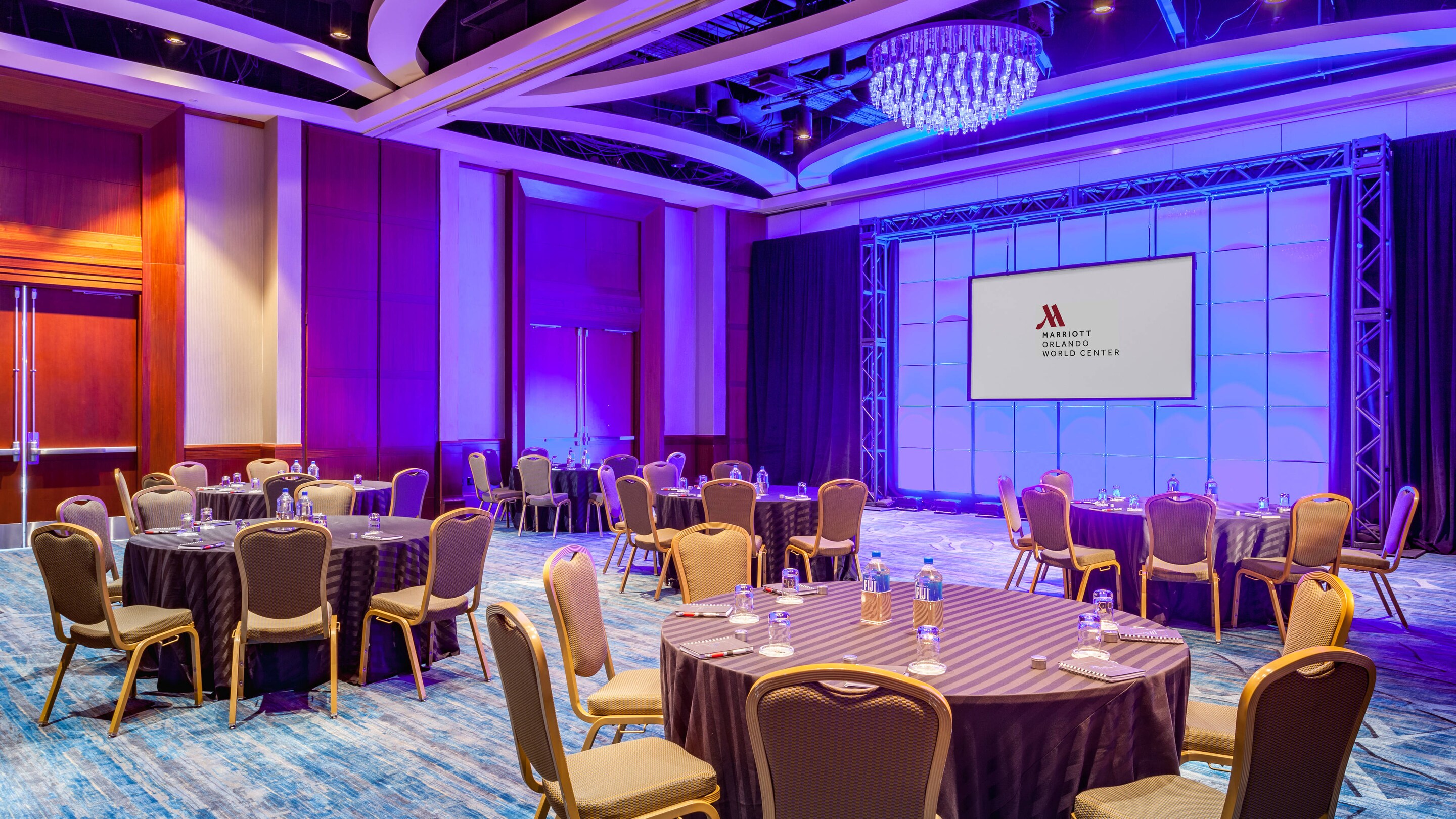 A Day to Remember in Orlando
Weddings
Featuring 74 sophisticated venues, hold a memorable wedding reception on our 200-acre property offering picturesque outdoor venues, along with our certified wedding specialists and seasoned culinary team to bring your perfect day to life.
Planning
Ensure each detail of your special day is perfectly planned and executed. Each wedding at Orlando World Center Marriott is planned with care and creativity; our planners can design your wedding to help realize your unique vision and handle every detail, so you can relax and bask in your moment.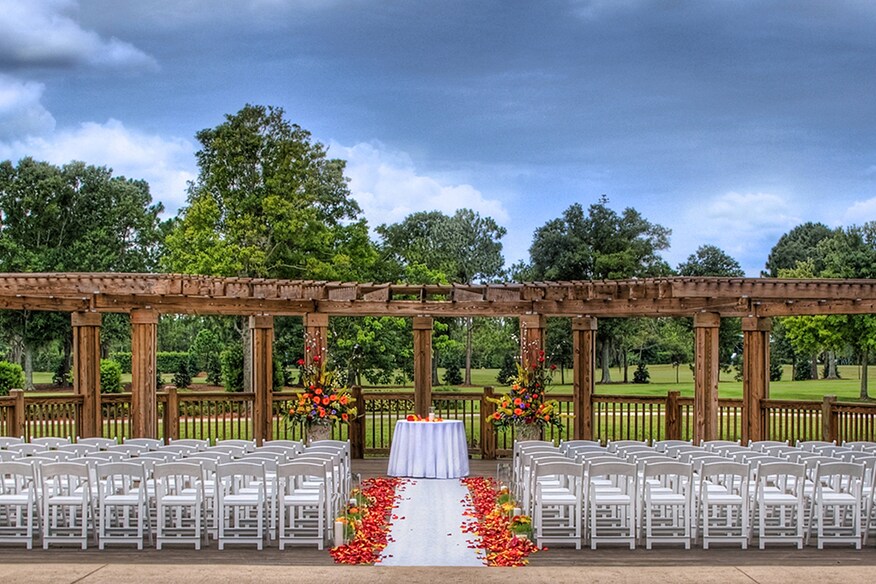 Certified Wedding Orlando Event Planners
Our certified wedding planners are dedicated to planning the perfect event by your side. Each planner has completed specially designed course work that covers a variety of wedding traditions and etiquette, as well as catering and decorating trends. From scheduling the events of your special day to recommending the perfect table centerpiece, our planners are your go-to wedding experts.
Pre & Post-Wedding Events
Orlando World Center Marriott offers delightful settings for your wedding shower, rehearsal dinner, wedding party luncheon, farewell brunch, and other festive events that help create a memorable experience. For more information, please call us at 1-407-238-8521 or request a quote online.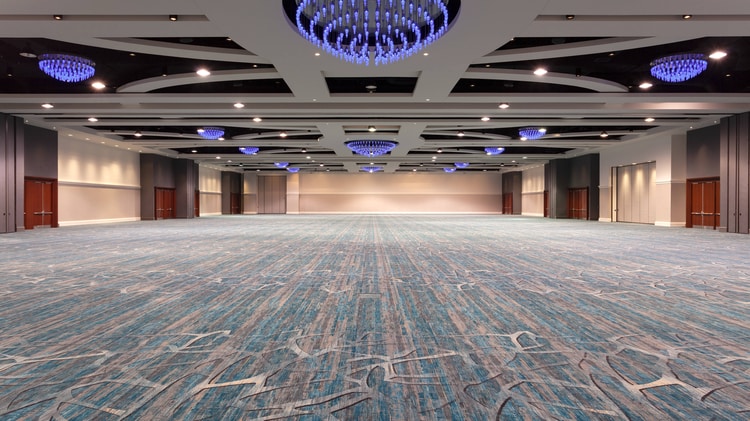 Harvest Terrace
Plan a one-of-a-kind event in our scenic, innovative Orlando venue, the Harvest Terrace. Our Harvest Terrace overlooks the HyCube® - a revolutionary hydroponic growing system that produces an abundance of non-GMO, pesticide-free vegetables, fruit and herbs for our culinary creations. As beautiful as it is functional, this vertical garden system is a focal point for our Harvest Terrace.
Indoor Event Spaces
Explore a wide range of versatile indoor event spaces, including one-of-a-kind intimate ballrooms accommodating 25-200 guests, natural lighting, and a dedicated, private setting away from the main convention level.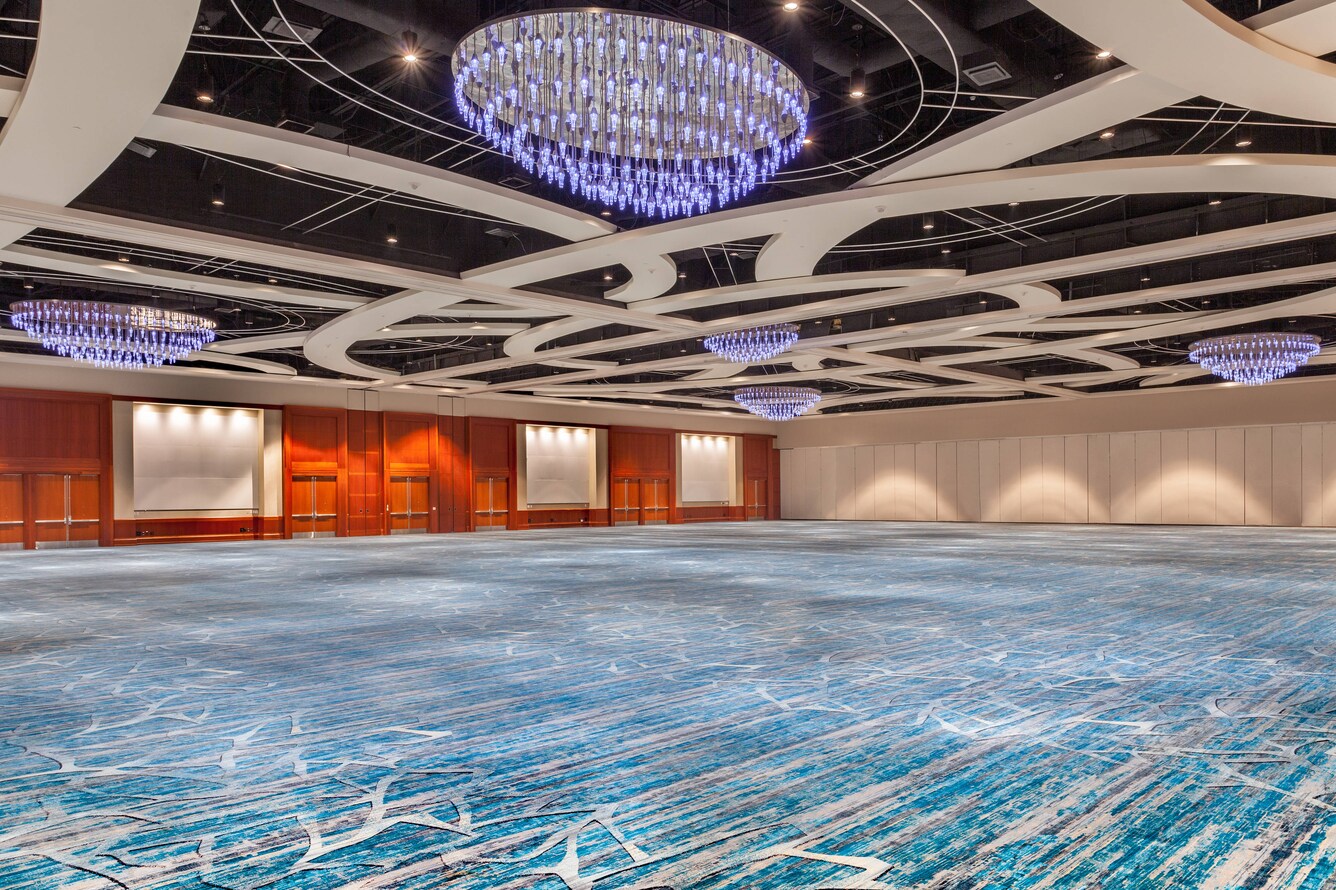 Larger Epic Ballrooms
Bring big ideas to life in spacious venues accommodating weddings of 250 guests or more, featuring grand ceilings and beautiful chandeliers. These spaces are ideal for highly customizable single and multi-day events.
Inspire creative problem-solving when you book your Orlando conference in our modern meeting spaces
Plan creative breakout meetings or VIP receptions in the Orlando sun in our charming outdoor space
Our Orlando resort features 74 sophisticated venues, including impressive hotel wedding halls
Hold a memorable wedding reception in one of our outdoor venues to enjoy Orlando's perfect weather
The Cypress Ballroom, which seats 10,000 meeting attendees, is a state-of-the-art conference space
Work with dedicated event planners to design your Orlando meeting, from space set-up to technology
For lavish Orlando weddings, choose the Cypress Ballroom which can serve up to 7,280 guests
Trust our resort's certified wedding specialists to design your event, from hall set-up to catering
Among our meeting rooms are intimate hotel venues ideal for small seminars or private dinners
Re-energize your Orlando conference participants with custom catering from our hotel's culinary team
You can celebrate your wedding under the Orlando sunshine in the resort's picturesque outdoor venue
The resort's seasoned culinary team can create custom wedding reception venues that will delight
| Meeting Room | Dimensions (LxWxH) | Area (sq.ft) | Theater | Schoolroom | Conference | U-Shape | Reception | Banquet |
| --- | --- | --- | --- | --- | --- | --- | --- | --- |
| Boston | 26x34x8 | 884 | 80 | 50 | 26 | 36 | 60 | 50 |
| Atlanta | 26x34x8 | 884 | 80 | 50 | 26 | 36 | 60 | 50 |
| Anaheim | 31x37x8 | 1104 | 100 | 62 | 30 | 40 | 75 | 70 |
| Atlanta & Boston (combined) | 34x53x8 | 1763 | 155 | 82 | 40 | 54 | 130 | 120 |
| Anaheim & Atlanta (combined) | 37x58x8 | 1989 | 172 | 100 | 46 | 60 | 140 | 130 |
| Boston, Atlanta, Anaheim (combined) | 37x85x8 | 2879 | 275 | 150 | 72 | 86 | 205 | 190 |
| Chicago | 26x32x8 | 781 | 65 | 40 | 24 | 32 | 50 | 50 |
| Denver | 26x32x8 | 781 | 65 | 40 | 24 | 32 | 50 | 50 |
| Denver & Chicago (combined) | 32x53x8 | 1562 | 135 | 85 | 45 | 54 | 110 | 110 |
| Los Angeles | 26x38x8 | 927 | 80 | 50 | 30 | 36 | 75 | 60 |
| Miami | 37x37x8 | 1310 | 125 | 80 | 34 | 48 | 100 | 80 |
| New York | 26x43x8 | 1015 | 95 | 60 | 36 | 38 | 75 | 60 |
| New Orleans | 26x43x8 | 1015 | 95 | 60 | 36 | 38 | 75 | 60 |
| New York & New Orleans (combined) | 43x53x8 | 2017 | 190 | 120 | 44 | 60 | 150 | 130 |
| San Antonio | 25x32x8 | 836 | 60 | 40 | 20 | 30 | 55 | 50 |
| San Francisco | 25x32x8 | 836 | 60 | 40 | 20 | 30 | 55 | 50 |
| St. Louis | 26x34x8 | 810 | 70 | 40 | 25 | 32 | 60 | 50 |
| Tampa | 26x34x8 | 810 | 70 | 40 | 25 | 32 | 60 | 50 |
| Washington | 25x34x8 | 878 | 70 | 40 | 25 | 32 | 60 | 50 |
| Marriott Boardroom | 24x39x12 | 1100 | 70 | 40 | 16 | 32 | 60 | 50 |
| Emerald | 19x40x8 | 750 | 50 | 33 | 30 | 34 | 40 | 50 |
| Diamond | 19x40x8 | 750 | 50 | 33 | 30 | 34 | 40 | 50 |
| Jade | 19x40x8 | 750 | 50 | 33 | 30 | 34 | 40 | 50 |
| Grand Ballroom | 135x275x22 | 37369 | 4200 | 2280 | 30 | 34 | 3110 | 2700 |
| Grand 1 | 44x23x16 | 1012 | 100 | 60 | 32 | 35 | 75 | 70 |
| Grand 2 | 44x23x16 | 1012 | 100 | 60 | 32 | 35 | 75 | 70 |
| Grand 1 & 2 (combined) (or any 2 side sections) | 44x46x16 | 2053 | 170 | 120 | 36 | 46 | 145 | 140 |
| Grand 3 | 44x23x16 | 1012 | 100 | 60 | 32 | 35 | 75 | 70 |
| Grand 1, 2 & 3 (combined) (or any 3 side sections) | 44x69x16 | 3073 | 300 | 165 | 56 | 68 | 215 | 200 |
| Grand 4 | 44x23x16 | 1012 | 100 | 60 | 32 | 35 | 75 | 70 |
| Grand 5 | 44x23x16 | 1012 | 100 | 60 | 32 | 35 | 75 | 70 |
| Grand 6 | 44x23x16 | 1012 | 100 | 60 | 32 | 35 | 75 | 70 |
| Grand 1-6 | 44x139x16 | 6148 | 670 | 390 | 32 | 35 | 435 | 400 |
| Grand 7 | 135x85x22 | 11585 | 1150 | 700 | 32 | 35 | 965 | 740 |
| Grand 7A | 67x85x22 | 5790 | 550 | 326 | 32 | 90 | 410 | 330 |
| Grand 7B | 67x85x22 | 5790 | 550 | 326 | 32 | 90 | 410 | 330 |
| Grand 7 with Airwall Corridor | 135x100x22 | 13500 | 1420 | 820 | 32 | 90 | 1125 | 940 |
| Grand 8 | 135x85x22 | 11585 | 1150 | 700 | 32 | 90 | 965 | 740 |
| Grand 8A | 67x85x22 | 5790 | 550 | 326 | 32 | 90 | 410 | 330 |
| Grand 8B | 67x85x22 | 5790 | 550 | 326 | 32 | 90 | 410 | 330 |
| Grand 8 with Airwall Corridor | 135x100x22 | 13500 | 1420 | 820 | 32 | 90 | 1125 | 940 |
| Grand 7 & 8 combined (all sections) | 135x186x22 | 25459 | 2750 | 1508 | 32 | 90 | 2120 | 1780 |
| Grand 9 | 44x23x16 | 1012 | 100 | 60 | 32 | 35 | 75 | 70 |
| Grand 10 | 44x23x16 | 1012 | 100 | 60 | 32 | 35 | 75 | 70 |
| Grand 11 | 44x23x16 | 1012 | 100 | 60 | 32 | 35 | 75 | 70 |
| Grand 12 | 44x23x16 | 1012 | 100 | 60 | 32 | 35 | 75 | 70 |
| Grand 13 | 44x23x16 | 1012 | 100 | 60 | 32 | 35 | 75 | 70 |
| Grand 14 | 44x23x16 | 1012 | 100 | 60 | 32 | 35 | 75 | 70 |
| Grand 9-14 | 44x139x16 | 6148 | 670 | 390 | 32 | 35 | 435 | 400 |
| Crystal Ballroom | 144x279x22 | 39500 | 4500 | 2500 | 32 | 35 | 3290 | 2750 |
| Crystal A | 31x23x16 | 748 | 75 | 40 | 20 | 26 | 50 | 50 |
| Crystal B | 31x23x16 | 748 | 75 | 40 | 20 | 26 | 50 | 50 |
| Crystal A & B (combined) (or any 2 side sections) | 31x48x16 | 1508 | 139 | 76 | 36 | 41 | 105 | 110 |
| Crystal C | 31x23x16 | 748 | 75 | 40 | 20 | 26 | 50 | 50 |
| Crystal A, B & C (or any 3 side sections combined) | 31x72x16 | 2262 | 222 | 130 | 60 | 65 | 160 | 170 |
| Crystal D | 31x23x16 | 748 | 75 | 40 | 20 | 26 | 50 | 50 |
| Crystal E | 31x23x16 | 748 | 75 | 40 | 20 | 26 | 50 | 50 |
| Crystal F | 31x23x16 | 748 | 75 | 40 | 20 | 26 | 50 | 50 |
| Crystal A-F | 31x144x16 | 4485 | 515 | 296 | 20 | 26 | 370 | 330 |
| Crystal G | 144x72x22 | 10100 | 1100 | 652 | 20 | 26 | 840 | 650 |
| Crystal G1 | 72x46x22 | 3312 | 335 | 190 | 20 | 71 | 235 | 210 |
| Crystal G2 | 72x94x22 | 6786 | 710 | 416 | 20 | 104 | 480 | 410 |
| Crystal H | 144x72x22 | 10100 | 1100 | 652 | 20 | 104 | 840 | 650 |
| Crystal J | 144x72x22 | 10100 | 1100 | 652 | 20 | 104 | 840 | 650 |
| Crystal J1 | 72x46x22 | 3312 | 335 | 190 | 20 | 71 | 235 | 210 |
| Crystal J2 | 72x94x22 | 6786 | 710 | 416 | 20 | 104 | 480 | 410 |
| Crystal G&H or H&J (combined) | 144x145x22 | 20327 | 2340 | 1400 | 20 | 104 | 1690 | 1430 |
| Crystal G, H & J (combined) | 144x216x22 | 30302 | 3390 | 2000 | 20 | 104 | 2520 | 2070 |
| Crystal K | 31x23x16 | 748 | 75 | 40 | 20 | 26 | 50 | 50 |
| Crystal L | 31x23x16 | 748 | 75 | 40 | 20 | 26 | 50 | 50 |
| Crystal M | 31x23x16 | 748 | 75 | 40 | 20 | 26 | 50 | 50 |
| Crystal N | 31x23x16 | 748 | 75 | 40 | 20 | 26 | 50 | 50 |
| Crystal P | 31x23x16 | 748 | 75 | 40 | 20 | 26 | 50 | 50 |
| Crystal Q | 31x23x16 | 748 | 75 | 40 | 20 | 26 | 50 | 50 |
| Crystal K-Q | 31x144x16 | 4485 | 515 | 296 | 20 | 26 | 370 | 330 |
| Palms Ballroom | 145x349x22 | 49215 | 5000 | 3100 | 20 | 26 | 4100 | 3200 |
| Canary | 137x84x22 | 11679 | 1200 | 740 | 20 | 26 | 970 | 740 |
| Canary 1, 2, 3 or 4 (each) | 58x30x22 | 1788 | 200 | 100 | 20 | 26 | 125 | 120 |
| Royal | 145x89x22 | 12780 | 1300 | 770 | 20 | 26 | 1065 | 840 |
| Sabal | 145x89x22 | 12780 | 1300 | 770 | 20 | 26 | 1065 | 840 |
| Sago | 145x84x22 | 11928 | 1200 | 740 | 20 | 26 | 990 | 840 |
| Canary & Royal (combined) | 145x174x22 | 25367 | 2350 | 1450 | 20 | 26 | 2110 | 1600 |
| Sabal & Sago (combined) | 145x174x22 | 25367 | 2350 | 1450 | 20 | 26 | 2110 | 1600 |
| Royal & Sabal (combined) | 145x179x22 | 26042 | 2650 | 1520 | 20 | 26 | 2170 | 1700 |
| Royal, Sabal & Sago (combined) | 145x264x22 | 38294 | 4100 | 2300 | 20 | 26 | 3190 | 2400 |
| Cypress Ballroom | 240x450x30 | 105000 | 10000 | 6900 | 20 | 26 | 8750 | 7280 |
| Cypress 1 | 240x150x30 | 32576 | 3300 | 1800 | 20 | 26 | 2710 | 1950 |
| Cypress 1A | 150x158x30 | 23700 | 2640 | 1500 | 20 | 26 | 1975 | 1630 |
| Cypress 2 | 240x150x30 | 36000 | 3970 | 2300 | 20 | 26 | 3000 | 2470 |
| Cypress 3 | 240x150x30 | 36000 | 3970 | 2300 | 20 | 26 | 3000 | 2470 |
| Cypress 1 & 2 (combined) | 300x240x30 | 68576 | 4280 | 5710 | 20 | 26 | 5710 | 4800 |
| Cypress 2 & 3 (combined) | 300x240x30 | 72000 | 7700 | 4680 | 20 | 26 | 6000 | 5130 |
| Florida Ballroom | 44x162x11 | 7128 | 800 | 470 | 20 | 26 | 505 | 480 |
| Harbor Beach | 40x44x11 | 1760 | 200 | 110 | 36 | 44 | 125 | 120 |
| Marco Island | 40x44x11 | 1760 | 200 | 110 | 36 | 44 | 125 | 120 |
| Sawgrass | 40x44x11 | 1760 | 200 | 110 | 36 | 44 | 125 | 120 |
| Vinoy | 40x44x11 | 1760 | 200 | 110 | 36 | 44 | 125 | 120 |
| Harbor Beach & Marco Island (or any 2 sections combined) | 44x81x11 | 3564 | 400 | 190 | 68 | 80 | 250 | 240 |
| Harbor Beach, Marco Island & Sawgrass (or any 3 sections combined) | 44x121x11 | 5475 | 600 | 325 | 68 | 80 | 380 | 360 |
| Aruba | 25x26x11 | 650 | 60 | 40 | 20 | 24 | 50 | 40 |
| Bahamas | 25x26x11 | 650 | 60 | 40 | 20 | 24 | 50 | 40 |
| Grand Cayman | 25x26x11 | 650 | 60 | 40 | 20 | 24 | 50 | 40 |
| Puerto Rico | 25x26x11 | 650 | 60 | 40 | 20 | 24 | 50 | 40 |
| St. Thomas | 25x26x11 | 650 | 60 | 40 | 20 | 24 | 50 | 40 |
| West Indies | 25x26x11 | 650 | 60 | 40 | 20 | 24 | 50 | 40 |
| Aruba & Bahamas (or any 2 sections combined) | 26x53x11 | 1378 | 125 | 75 | 42 | 48 | 100 | 80 |
| Grand Cayman, Puerto Rico & St. Thomas | 26x81x11 | 2080 | 200 | 125 | 68 | 76 | 150 | 120 |
| Grand Cayman, Puerto Rico, St. Thomas & West Indies (combined) | 26x106x11 | 2756 | 270 | 160 | 68 | 76 | 200 | 180 |
| Key Biscayne | 25x32x11 | 836 | 60 | 40 | 20 | 24 | 55 | 50 |
| Key Largo | 24x29x11 | 732 | 60 | 40 | 20 | 24 | 50 | 50 |
| Key West | 27x45x11 | 1215 | 120 | 75 | 36 | 40 | 85 | 80 |
| Hycube & Harvest Terrace | 65x65x11 | 1215 | 120 | 75 | 36 | 40 | 85 | 80 |
| Emerald East | 19x40x8 | 675 | 120 | 16 | 16 | 16 | 85 | 80 |
| Emerald South | 19x40x8 | 675 | 120 | 16 | 16 | 16 | 85 | 80 |
| Diamond East | 19x40x8 | 675 | 120 | 16 | 16 | 16 | 85 | 80 |
| Diamond South | 19x40x8 | 675 | 120 | 16 | 16 | 16 | 85 | 80 |
| Jade East | 19x40x8 | 675 | 120 | 16 | 16 | 16 | 85 | 80 |
| Jade South | 19x40x8 | 675 | 120 | 16 | 16 | 16 | 85 | 80 |
| Magnolia Room 1 | 46x26x16 | 1204 | 130 | 68 | 36 | 40 | 46 | 70 |
| Magnolia Room 2 | 46x26x16 | 1204 | 130 | 68 | 36 | 40 | 46 | 70 |
| Magnolia Room 3 | 46x26x16 | 1204 | 130 | 68 | 36 | 40 | 46 | 70 |
| Magnolia Room 4 | 46x26x16 | 1204 | 130 | 68 | 36 | 40 | 46 | 70 |
| Magnolia Room 5 | 46x26x16 | 1204 | 130 | 68 | 36 | 40 | 46 | 70 |
| Magnolia Room 6 | 46x26x16 | 1204 | 130 | 68 | 36 | 40 | 46 | 70 |
| Magnolia Room 7 | 46x26x16 | 1204 | 130 | 68 | 36 | 40 | 46 | 70 |
| Magnolia Room 8 | 46x26x16 | 1204 | 130 | 68 | 36 | 40 | 46 | 70 |
| Magnolia Room 9 | 46x26x16 | 1204 | 130 | 68 | 36 | 40 | 46 | 70 |
| Magnolia Room 10 | 46x26x16 | 1204 | 130 | 68 | 36 | 40 | 46 | 70 |
| Magnolia Room 11 | 46x26x16 | 1204 | 130 | 68 | 36 | 40 | 46 | 70 |
| Magnolia Room 12 | 46x26x16 | 1204 | 130 | 68 | 36 | 40 | 46 | 70 |
| Magnolia Room 13 | 46x26x16 | 1204 | 130 | 68 | 36 | 40 | 46 | 70 |
| Magnolia Room 14 | 46x26x16 | 1204 | 130 | 68 | 36 | 40 | 46 | 70 |
| Magnolia Room 15 | 46x26x16 | 1204 | 130 | 68 | 36 | 40 | 46 | 70 |
| Magnolia Room 16 | 46x26x16 | 1204 | 130 | 68 | 36 | 40 | 46 | 70 |
| Magnolia Room 17 | 46x26x16 | 1204 | 130 | 68 | 36 | 40 | 46 | 70 |
| Magnolia Room 18 | 46x26x16 | 1204 | 130 | 68 | 36 | 40 | 46 | 70 |
| Magnolia Room 19 | 46x26x16 | 1204 | 130 | 68 | 36 | 40 | 46 | 70 |
| Magnolia Room 20 | 46x26x16 | 1204 | 130 | 68 | 36 | 40 | 46 | 70 |
| Magnolia Room 21 | 46x26x16 | 1204 | 130 | 68 | 36 | 40 | 46 | 70 |
| Magnolia Room 22 | 46x26x16 | 1204 | 130 | 68 | 36 | 40 | 46 | 70 |
| Magnolia Room 23 | 46x26x16 | 1204 | 130 | 68 | 36 | 40 | 46 | 70 |
| Magnolia Room 24 | 46x26x16 | 1204 | 130 | 68 | 36 | 40 | 46 | 70 |
| Magnolia Room 1-2(combined) | 46x52x16 | 2408 | 251 | 126 | 42 | 54 | 68 | 160 |
| Magnolia Room 2-3(combined) | 46x52x16 | 2408 | 251 | 126 | 42 | 54 | 68 | 160 |
| Magnolia Room 4-5(combined) | 46x52x16 | 2408 | 251 | 126 | 42 | 54 | 68 | 160 |
| Magnolia Room 5-6(combined) | 46x52x16 | 2408 | 251 | 126 | 42 | 54 | 68 | 160 |
| Magnolia Room 7-8(combined) | 46x52x16 | 2408 | 251 | 126 | 42 | 54 | 68 | 160 |
| Magnolia Room 8-9(combined) | 46x52x16 | 2408 | 251 | 126 | 42 | 54 | 68 | 160 |
| Magnolia Room 10-11(combined) | 46x52x16 | 2408 | 251 | 126 | 42 | 54 | 68 | 160 |
| Magnolia Room 11-12(combined) | 46x52x16 | 2408 | 251 | 126 | 42 | 54 | 68 | 160 |
| Magnolia Room 13-14(combined) | 46x52x16 | 2408 | 251 | 126 | 42 | 54 | 68 | 160 |
| Magnolia Room 14-15(combined) | 46x52x16 | 2408 | 251 | 126 | 42 | 54 | 68 | 160 |
| Magnolia Room 16-17(combined) | 46x52x16 | 2408 | 251 | 126 | 42 | 54 | 68 | 160 |
| Magnolia Room 17-18(combined) | 46x52x16 | 2408 | 251 | 126 | 42 | 54 | 68 | 160 |
| Magnolia Room 19-20(combined) | 46x52x16 | 2408 | 251 | 126 | 42 | 54 | 68 | 160 |
| Magnolia Room 20-21(combined) | 46x52x16 | 2408 | 251 | 126 | 42 | 54 | 68 | 160 |
| Magnolia Room 22-23(combined) | 46x52x16 | 2408 | 251 | 126 | 42 | 54 | 68 | 160 |
| Magnolia Room 23-24(combined) | 46x52x16 | 2408 | 251 | 126 | 42 | 54 | 68 | 160 |
| Magnolia Room 1,2,3(combined) | 46x78x16 | 3612 | 394 | 203 | 66 | 80 | 94 | 240 |
| Magnolia Room 4,5,6(combined) | 46x78x16 | 3612 | 394 | 203 | 66 | 80 | 94 | 240 |
| Magnolia Room 7,8,9(combined) | 46x78x16 | 3612 | 394 | 203 | 66 | 80 | 94 | 240 |
| Magnolia Room 10,11,12(combined) | 46x78x16 | 3612 | 394 | 203 | 66 | 80 | 94 | 160 |
| Magnolia Room 13,14,15(combined) | 46x78x16 | 3612 | 394 | 203 | 66 | 80 | 94 | 240 |
| Magnolia Room 16,17,18(combined) | 46x78x16 | 3612 | 394 | 203 | 66 | 80 | 94 | 160 |
| Magnolia Room 19,20,21(combined) | 46x78x16 | 3612 | 394 | 203 | 66 | 80 | 94 | 240 |
| Magnolia Room 22,23,24(combined) | 46x78x16 | 3612 | 394 | 203 | 66 | 80 | 94 | 160 |
Dimensions (LxWxH)
26x34x8
Dimensions (LxWxH)
26x34x8
Dimensions (LxWxH)
31x37x8
Atlanta & Boston (combined)
Dimensions (LxWxH)
34x53x8
Anaheim & Atlanta (combined)
Dimensions (LxWxH)
37x58x8
Boston, Atlanta, Anaheim (combined)
Dimensions (LxWxH)
37x85x8
Dimensions (LxWxH)
26x32x8
Dimensions (LxWxH)
26x32x8
Denver & Chicago (combined)
Dimensions (LxWxH)
32x53x8
Dimensions (LxWxH)
26x38x8
Dimensions (LxWxH)
37x37x8
Dimensions (LxWxH)
26x43x8
Dimensions (LxWxH)
26x43x8
New York & New Orleans (combined)
Dimensions (LxWxH)
43x53x8
Dimensions (LxWxH)
25x32x8
Dimensions (LxWxH)
25x32x8
Dimensions (LxWxH)
26x34x8
Dimensions (LxWxH)
26x34x8
Dimensions (LxWxH)
25x34x8
Dimensions (LxWxH)
24x39x12
Dimensions (LxWxH)
19x40x8
Dimensions (LxWxH)
19x40x8
Dimensions (LxWxH)
19x40x8
Dimensions (LxWxH)
135x275x22
Dimensions (LxWxH)
44x23x16
Dimensions (LxWxH)
44x23x16
Grand 1 & 2 (combined) (or any 2 side sections)
Dimensions (LxWxH)
44x46x16
Dimensions (LxWxH)
44x23x16
Grand 1, 2 & 3 (combined) (or any 3 side sections)
Dimensions (LxWxH)
44x69x16
Dimensions (LxWxH)
44x23x16
Dimensions (LxWxH)
44x23x16
Dimensions (LxWxH)
44x23x16
Dimensions (LxWxH)
44x139x16
Dimensions (LxWxH)
135x85x22
Dimensions (LxWxH)
67x85x22
Dimensions (LxWxH)
67x85x22
Grand 7 with Airwall Corridor
Dimensions (LxWxH)
135x100x22
Dimensions (LxWxH)
135x85x22
Dimensions (LxWxH)
67x85x22
Dimensions (LxWxH)
67x85x22
Grand 8 with Airwall Corridor
Dimensions (LxWxH)
135x100x22
Grand 7 & 8 combined (all sections)
Dimensions (LxWxH)
135x186x22
Dimensions (LxWxH)
44x23x16
Dimensions (LxWxH)
44x23x16
Dimensions (LxWxH)
44x23x16
Dimensions (LxWxH)
44x23x16
Dimensions (LxWxH)
44x23x16
Dimensions (LxWxH)
44x23x16
Dimensions (LxWxH)
44x139x16
Dimensions (LxWxH)
144x279x22
Dimensions (LxWxH)
31x23x16
Dimensions (LxWxH)
31x23x16
Crystal A & B (combined) (or any 2 side sections)
Dimensions (LxWxH)
31x48x16
Dimensions (LxWxH)
31x23x16
Crystal A, B & C (or any 3 side sections combined)
Dimensions (LxWxH)
31x72x16
Dimensions (LxWxH)
31x23x16
Dimensions (LxWxH)
31x23x16
Dimensions (LxWxH)
31x23x16
Dimensions (LxWxH)
31x144x16
Dimensions (LxWxH)
144x72x22
Dimensions (LxWxH)
72x46x22
Dimensions (LxWxH)
72x94x22
Dimensions (LxWxH)
144x72x22
Dimensions (LxWxH)
144x72x22
Dimensions (LxWxH)
72x46x22
Dimensions (LxWxH)
72x94x22
Crystal G&H or H&J (combined)
Dimensions (LxWxH)
144x145x22
Crystal G, H & J (combined)
Dimensions (LxWxH)
144x216x22
Dimensions (LxWxH)
31x23x16
Dimensions (LxWxH)
31x23x16
Dimensions (LxWxH)
31x23x16
Dimensions (LxWxH)
31x23x16
Dimensions (LxWxH)
31x23x16
Dimensions (LxWxH)
31x23x16
Dimensions (LxWxH)
31x144x16
Dimensions (LxWxH)
145x349x22
Dimensions (LxWxH)
137x84x22
Canary 1, 2, 3 or 4 (each)
Dimensions (LxWxH)
58x30x22
Dimensions (LxWxH)
145x89x22
Dimensions (LxWxH)
145x89x22
Dimensions (LxWxH)
145x84x22
Canary & Royal (combined)
Dimensions (LxWxH)
145x174x22
Dimensions (LxWxH)
145x174x22
Dimensions (LxWxH)
145x179x22
Royal, Sabal & Sago (combined)
Dimensions (LxWxH)
145x264x22
Dimensions (LxWxH)
240x450x30
Dimensions (LxWxH)
240x150x30
Dimensions (LxWxH)
150x158x30
Dimensions (LxWxH)
240x150x30
Dimensions (LxWxH)
240x150x30
Dimensions (LxWxH)
300x240x30
Dimensions (LxWxH)
300x240x30
Dimensions (LxWxH)
44x162x11
Dimensions (LxWxH)
40x44x11
Dimensions (LxWxH)
40x44x11
Dimensions (LxWxH)
40x44x11
Dimensions (LxWxH)
40x44x11
Harbor Beach & Marco Island (or any 2 sections combined)
Dimensions (LxWxH)
44x81x11
Harbor Beach, Marco Island & Sawgrass (or any 3 sections combined)
Dimensions (LxWxH)
44x121x11
Dimensions (LxWxH)
25x26x11
Dimensions (LxWxH)
25x26x11
Dimensions (LxWxH)
25x26x11
Dimensions (LxWxH)
25x26x11
Dimensions (LxWxH)
25x26x11
Dimensions (LxWxH)
25x26x11
Aruba & Bahamas (or any 2 sections combined)
Dimensions (LxWxH)
26x53x11
Grand Cayman, Puerto Rico & St. Thomas
Dimensions (LxWxH)
26x81x11
Grand Cayman, Puerto Rico, St. Thomas & West Indies (combined)
Dimensions (LxWxH)
26x106x11
Dimensions (LxWxH)
25x32x11
Dimensions (LxWxH)
24x29x11
Dimensions (LxWxH)
27x45x11
Dimensions (LxWxH)
65x65x11
Dimensions (LxWxH)
19x40x8
Dimensions (LxWxH)
19x40x8
Dimensions (LxWxH)
19x40x8
Dimensions (LxWxH)
19x40x8
Dimensions (LxWxH)
19x40x8
Dimensions (LxWxH)
19x40x8
Dimensions (LxWxH)
46x26x16
Dimensions (LxWxH)
46x26x16
Dimensions (LxWxH)
46x26x16
Dimensions (LxWxH)
46x26x16
Dimensions (LxWxH)
46x26x16
Dimensions (LxWxH)
46x26x16
Dimensions (LxWxH)
46x26x16
Dimensions (LxWxH)
46x26x16
Dimensions (LxWxH)
46x26x16
Dimensions (LxWxH)
46x26x16
Dimensions (LxWxH)
46x26x16
Dimensions (LxWxH)
46x26x16
Dimensions (LxWxH)
46x26x16
Dimensions (LxWxH)
46x26x16
Dimensions (LxWxH)
46x26x16
Dimensions (LxWxH)
46x26x16
Dimensions (LxWxH)
46x26x16
Dimensions (LxWxH)
46x26x16
Dimensions (LxWxH)
46x26x16
Dimensions (LxWxH)
46x26x16
Dimensions (LxWxH)
46x26x16
Dimensions (LxWxH)
46x26x16
Dimensions (LxWxH)
46x26x16
Dimensions (LxWxH)
46x26x16
Magnolia Room 1-2(combined)
Dimensions (LxWxH)
46x52x16
Magnolia Room 2-3(combined)
Dimensions (LxWxH)
46x52x16
Magnolia Room 4-5(combined)
Dimensions (LxWxH)
46x52x16
Magnolia Room 5-6(combined)
Dimensions (LxWxH)
46x52x16
Magnolia Room 7-8(combined)
Dimensions (LxWxH)
46x52x16
Magnolia Room 8-9(combined)
Dimensions (LxWxH)
46x52x16
Magnolia Room 10-11(combined)
Dimensions (LxWxH)
46x52x16
Magnolia Room 11-12(combined)
Dimensions (LxWxH)
46x52x16
Magnolia Room 13-14(combined)
Dimensions (LxWxH)
46x52x16
Magnolia Room 14-15(combined)
Dimensions (LxWxH)
46x52x16
Magnolia Room 16-17(combined)
Dimensions (LxWxH)
46x52x16
Magnolia Room 17-18(combined)
Dimensions (LxWxH)
46x52x16
Magnolia Room 19-20(combined)
Dimensions (LxWxH)
46x52x16
Magnolia Room 20-21(combined)
Dimensions (LxWxH)
46x52x16
Magnolia Room 22-23(combined)
Dimensions (LxWxH)
46x52x16
Magnolia Room 23-24(combined)
Dimensions (LxWxH)
46x52x16
Magnolia Room 1,2,3(combined)
Dimensions (LxWxH)
46x78x16
Magnolia Room 4,5,6(combined)
Dimensions (LxWxH)
46x78x16
Magnolia Room 7,8,9(combined)
Dimensions (LxWxH)
46x78x16
Magnolia Room 10,11,12(combined)
Dimensions (LxWxH)
46x78x16
Magnolia Room 13,14,15(combined)
Dimensions (LxWxH)
46x78x16
Magnolia Room 16,17,18(combined)
Dimensions (LxWxH)
46x78x16
Magnolia Room 19,20,21(combined)
Dimensions (LxWxH)
46x78x16
Magnolia Room 22,23,24(combined)
Dimensions (LxWxH)
46x78x16
| Meeting Room | Dimensions (LxWxH) | Area (sq.mt) | Theater | Schoolroom | Conference | U-Shape | Reception | Banquet |
| --- | --- | --- | --- | --- | --- | --- | --- | --- |
| Boston | 7.9x10.4x2.4 | 82.1 | 80 | 50 | 26 | 36 | 60 | 50 |
| Atlanta | 7.9x10.4x2.4 | 82.1 | 80 | 50 | 26 | 36 | 60 | 50 |
| Anaheim | 9.4x11.3x2.4 | 102.6 | 100 | 62 | 30 | 40 | 75 | 70 |
| Atlanta & Boston (combined) | 10.4x16.2x2.4 | 163.8 | 155 | 82 | 40 | 54 | 130 | 120 |
| Anaheim & Atlanta (combined) | 11.3x17.7x2.4 | 184.8 | 172 | 100 | 46 | 60 | 140 | 130 |
| Boston, Atlanta, Anaheim (combined) | 11.3x25.9x2.4 | 267.5 | 275 | 150 | 72 | 86 | 205 | 190 |
| Chicago | 7.9x9.8x2.4 | 72.6 | 65 | 40 | 24 | 32 | 50 | 50 |
| Denver | 7.9x9.8x2.4 | 72.6 | 65 | 40 | 24 | 32 | 50 | 50 |
| Denver & Chicago (combined) | 9.8x16.2x2.4 | 145.1 | 135 | 85 | 45 | 54 | 110 | 110 |
| Los Angeles | 7.9x11.6x2.4 | 86.1 | 80 | 50 | 30 | 36 | 75 | 60 |
| Miami | 11.3x11.3x2.4 | 121.7 | 125 | 80 | 34 | 48 | 100 | 80 |
| New York | 7.9x13.1x2.4 | 94.3 | 95 | 60 | 36 | 38 | 75 | 60 |
| New Orleans | 7.9x13.1x2.4 | 94.3 | 95 | 60 | 36 | 38 | 75 | 60 |
| New York & New Orleans (combined) | 13.1x16.2x2.4 | 187.4 | 190 | 120 | 44 | 60 | 150 | 130 |
| San Antonio | 7.6x9.8x2.4 | 77.7 | 60 | 40 | 20 | 30 | 55 | 50 |
| San Francisco | 7.6x9.8x2.4 | 77.7 | 60 | 40 | 20 | 30 | 55 | 50 |
| St. Louis | 7.9x10.4x2.4 | 75.3 | 70 | 40 | 25 | 32 | 60 | 50 |
| Tampa | 7.9x10.4x2.4 | 75.3 | 70 | 40 | 25 | 32 | 60 | 50 |
| Washington | 7.6x10.4x2.4 | 81.6 | 70 | 40 | 25 | 32 | 60 | 50 |
| Marriott Boardroom | 7.3x11.9x3.7 | 102.2 | 70 | 40 | 16 | 32 | 60 | 50 |
| Emerald | 5.8x12.2x2.4 | 69.7 | 50 | 33 | 30 | 34 | 40 | 50 |
| Diamond | 5.8x12.2x2.4 | 69.7 | 50 | 33 | 30 | 34 | 40 | 50 |
| Jade | 5.8x12.2x2.4 | 69.7 | 50 | 33 | 30 | 34 | 40 | 50 |
| Grand Ballroom | 41.1x83.8x6.7 | 3471.7 | 4200 | 2280 | 30 | 34 | 3110 | 2700 |
| Grand 1 | 13.4x7x4.9 | 94 | 100 | 60 | 32 | 35 | 75 | 70 |
| Grand 2 | 13.4x7x4.9 | 94 | 100 | 60 | 32 | 35 | 75 | 70 |
| Grand 1 & 2 (combined) (or any 2 side sections) | 13.4x14x4.9 | 190.7 | 170 | 120 | 36 | 46 | 145 | 140 |
| Grand 3 | 13.4x7x4.9 | 94 | 100 | 60 | 32 | 35 | 75 | 70 |
| Grand 1, 2 & 3 (combined) (or any 3 side sections) | 13.4x21x4.9 | 285.5 | 300 | 165 | 56 | 68 | 215 | 200 |
| Grand 4 | 13.4x7x4.9 | 94 | 100 | 60 | 32 | 35 | 75 | 70 |
| Grand 5 | 13.4x7x4.9 | 94 | 100 | 60 | 32 | 35 | 75 | 70 |
| Grand 6 | 13.4x7x4.9 | 94 | 100 | 60 | 32 | 35 | 75 | 70 |
| Grand 1-6 | 13.4x42.4x4.9 | 571.2 | 670 | 390 | 32 | 35 | 435 | 400 |
| Grand 7 | 41.1x25.9x6.7 | 1076.3 | 1150 | 700 | 32 | 35 | 965 | 740 |
| Grand 7A | 20.4x25.9x6.7 | 537.9 | 550 | 326 | 32 | 90 | 410 | 330 |
| Grand 7B | 20.4x25.9x6.7 | 537.9 | 550 | 326 | 32 | 90 | 410 | 330 |
| Grand 7 with Airwall Corridor | 41.1x30.5x6.7 | 1254.2 | 1420 | 820 | 32 | 90 | 1125 | 940 |
| Grand 8 | 41.1x25.9x6.7 | 1076.3 | 1150 | 700 | 32 | 90 | 965 | 740 |
| Grand 8A | 20.4x25.9x6.7 | 537.9 | 550 | 326 | 32 | 90 | 410 | 330 |
| Grand 8B | 20.4x25.9x6.7 | 537.9 | 550 | 326 | 32 | 90 | 410 | 330 |
| Grand 8 with Airwall Corridor | 41.1x30.5x6.7 | 1254.2 | 1420 | 820 | 32 | 90 | 1125 | 940 |
| Grand 7 & 8 combined (all sections) | 41.1x56.7x6.7 | 2365.2 | 2750 | 1508 | 32 | 90 | 2120 | 1780 |
| Grand 9 | 13.4x7x4.9 | 94 | 100 | 60 | 32 | 35 | 75 | 70 |
| Grand 10 | 13.4x7x4.9 | 94 | 100 | 60 | 32 | 35 | 75 | 70 |
| Grand 11 | 13.4x7x4.9 | 94 | 100 | 60 | 32 | 35 | 75 | 70 |
| Grand 12 | 13.4x7x4.9 | 94 | 100 | 60 | 32 | 35 | 75 | 70 |
| Grand 13 | 13.4x7x4.9 | 94 | 100 | 60 | 32 | 35 | 75 | 70 |
| Grand 14 | 13.4x7x4.9 | 94 | 100 | 60 | 32 | 35 | 75 | 70 |
| Grand 9-14 | 13.4x42.4x4.9 | 571.2 | 670 | 390 | 32 | 35 | 435 | 400 |
| Crystal Ballroom | 43.9x85x6.7 | 3669.6 | 4500 | 2500 | 32 | 35 | 3290 | 2750 |
| Crystal A | 9.4x7x4.9 | 69.5 | 75 | 40 | 20 | 26 | 50 | 50 |
| Crystal B | 9.4x7x4.9 | 69.5 | 75 | 40 | 20 | 26 | 50 | 50 |
| Crystal A & B (combined) (or any 2 side sections) | 9.4x14.6x4.9 | 140.1 | 139 | 76 | 36 | 41 | 105 | 110 |
| Crystal C | 9.4x7x4.9 | 69.5 | 75 | 40 | 20 | 26 | 50 | 50 |
| Crystal A, B & C (or any 3 side sections combined) | 9.4x21.9x4.9 | 210.1 | 222 | 130 | 60 | 65 | 160 | 170 |
| Crystal D | 9.4x7x4.9 | 69.5 | 75 | 40 | 20 | 26 | 50 | 50 |
| Crystal E | 9.4x7x4.9 | 69.5 | 75 | 40 | 20 | 26 | 50 | 50 |
| Crystal F | 9.4x7x4.9 | 69.5 | 75 | 40 | 20 | 26 | 50 | 50 |
| Crystal A-F | 9.4x43.9x4.9 | 416.7 | 515 | 296 | 20 | 26 | 370 | 330 |
| Crystal G | 43.9x21.9x6.7 | 938.3 | 1100 | 652 | 20 | 26 | 840 | 650 |
| Crystal G1 | 21.9x14x6.7 | 307.7 | 335 | 190 | 20 | 71 | 235 | 210 |
| Crystal G2 | 21.9x28.6x6.7 | 630.4 | 710 | 416 | 20 | 104 | 480 | 410 |
| Crystal H | 43.9x21.9x6.7 | 938.3 | 1100 | 652 | 20 | 104 | 840 | 650 |
| Crystal J | 43.9x21.9x6.7 | 938.3 | 1100 | 652 | 20 | 104 | 840 | 650 |
| Crystal J1 | 21.9x14x6.7 | 307.7 | 335 | 190 | 20 | 71 | 235 | 210 |
| Crystal J2 | 21.9x28.6x6.7 | 630.4 | 710 | 416 | 20 | 104 | 480 | 410 |
| Crystal G&H or H&J (combined) | 43.9x44.2x6.7 | 1888.4 | 2340 | 1400 | 20 | 104 | 1690 | 1430 |
| Crystal G, H & J (combined) | 43.9x65.8x6.7 | 2815.1 | 3390 | 2000 | 20 | 104 | 2520 | 2070 |
| Crystal K | 9.4x7x4.9 | 69.5 | 75 | 40 | 20 | 26 | 50 | 50 |
| Crystal L | 9.4x7x4.9 | 69.5 | 75 | 40 | 20 | 26 | 50 | 50 |
| Crystal M | 9.4x7x4.9 | 69.5 | 75 | 40 | 20 | 26 | 50 | 50 |
| Crystal N | 9.4x7x4.9 | 69.5 | 75 | 40 | 20 | 26 | 50 | 50 |
| Crystal P | 9.4x7x4.9 | 69.5 | 75 | 40 | 20 | 26 | 50 | 50 |
| Crystal Q | 9.4x7x4.9 | 69.5 | 75 | 40 | 20 | 26 | 50 | 50 |
| Crystal K-Q | 9.4x43.9x4.9 | 416.7 | 515 | 296 | 20 | 26 | 370 | 330 |
| Palms Ballroom | 44.2x106.4x6.7 | 4572.2 | 5000 | 3100 | 20 | 26 | 4100 | 3200 |
| Canary | 41.8x25.6x6.7 | 1085 | 1200 | 740 | 20 | 26 | 970 | 740 |
| Canary 1, 2, 3 or 4 (each) | 17.7x9.1x6.7 | 166.1 | 200 | 100 | 20 | 26 | 125 | 120 |
| Royal | 44.2x27.1x6.7 | 1187.3 | 1300 | 770 | 20 | 26 | 1065 | 840 |
| Sabal | 44.2x27.1x6.7 | 1187.3 | 1300 | 770 | 20 | 26 | 1065 | 840 |
| Sago | 44.2x25.6x6.7 | 1108.1 | 1200 | 740 | 20 | 26 | 990 | 840 |
| Canary & Royal (combined) | 44.2x53x6.7 | 2356.7 | 2350 | 1450 | 20 | 26 | 2110 | 1600 |
| Sabal & Sago (combined) | 44.2x53x6.7 | 2356.7 | 2350 | 1450 | 20 | 26 | 2110 | 1600 |
| Royal & Sabal (combined) | 44.2x54.6x6.7 | 2419.4 | 2650 | 1520 | 20 | 26 | 2170 | 1700 |
| Royal, Sabal & Sago (combined) | 44.2x80.5x6.7 | 3557.6 | 4100 | 2300 | 20 | 26 | 3190 | 2400 |
| Cypress Ballroom | 73.1x137.2x9.1 | 9754.7 | 10000 | 6900 | 20 | 26 | 8750 | 7280 |
| Cypress 1 | 73.1x45.7x9.1 | 3026.4 | 3300 | 1800 | 20 | 26 | 2710 | 1950 |
| Cypress 1A | 45.7x48.2x9.1 | 2201.8 | 2640 | 1500 | 20 | 26 | 1975 | 1630 |
| Cypress 2 | 73.1x45.7x9.1 | 3344.5 | 3970 | 2300 | 20 | 26 | 3000 | 2470 |
| Cypress 3 | 73.1x45.7x9.1 | 3344.5 | 3970 | 2300 | 20 | 26 | 3000 | 2470 |
| Cypress 1 & 2 (combined) | 91.4x73.1x9.1 | 6370.9 | 4280 | 5710 | 20 | 26 | 5710 | 4800 |
| Cypress 2 & 3 (combined) | 91.4x73.1x9.1 | 6689 | 7700 | 4680 | 20 | 26 | 6000 | 5130 |
| Florida Ballroom | 13.4x49.4x3.4 | 662.2 | 800 | 470 | 20 | 26 | 505 | 480 |
| Harbor Beach | 12.2x13.4x3.4 | 163.5 | 200 | 110 | 36 | 44 | 125 | 120 |
| Marco Island | 12.2x13.4x3.4 | 163.5 | 200 | 110 | 36 | 44 | 125 | 120 |
| Sawgrass | 12.2x13.4x3.4 | 163.5 | 200 | 110 | 36 | 44 | 125 | 120 |
| Vinoy | 12.2x13.4x3.4 | 163.5 | 200 | 110 | 36 | 44 | 125 | 120 |
| Harbor Beach & Marco Island (or any 2 sections combined) | 13.4x24.7x3.4 | 331.1 | 400 | 190 | 68 | 80 | 250 | 240 |
| Harbor Beach, Marco Island & Sawgrass (or any 3 sections combined) | 13.4x36.9x3.4 | 508.6 | 600 | 325 | 68 | 80 | 380 | 360 |
| Aruba | 7.6x7.9x3.4 | 60.4 | 60 | 40 | 20 | 24 | 50 | 40 |
| Bahamas | 7.6x7.9x3.4 | 60.4 | 60 | 40 | 20 | 24 | 50 | 40 |
| Grand Cayman | 7.6x7.9x3.4 | 60.4 | 60 | 40 | 20 | 24 | 50 | 40 |
| Puerto Rico | 7.6x7.9x3.4 | 60.4 | 60 | 40 | 20 | 24 | 50 | 40 |
| St. Thomas | 7.6x7.9x3.4 | 60.4 | 60 | 40 | 20 | 24 | 50 | 40 |
| West Indies | 7.6x7.9x3.4 | 60.4 | 60 | 40 | 20 | 24 | 50 | 40 |
| Aruba & Bahamas (or any 2 sections combined) | 7.9x16.2x3.4 | 128 | 125 | 75 | 42 | 48 | 100 | 80 |
| Grand Cayman, Puerto Rico & St. Thomas | 7.9x24.7x3.4 | 193.2 | 200 | 125 | 68 | 76 | 150 | 120 |
| Grand Cayman, Puerto Rico, St. Thomas & West Indies (combined) | 7.9x32.3x3.4 | 256 | 270 | 160 | 68 | 76 | 200 | 180 |
| Key Biscayne | 7.6x9.8x3.4 | 77.7 | 60 | 40 | 20 | 24 | 55 | 50 |
| Key Largo | 7.3x8.8x3.4 | 68 | 60 | 40 | 20 | 24 | 50 | 50 |
| Key West | 8.2x13.7x3.4 | 112.9 | 120 | 75 | 36 | 40 | 85 | 80 |
| Hycube & Harvest Terrace | 19.8x19.8x3.4 | 112.9 | 120 | 75 | 36 | 40 | 85 | 80 |
| Emerald East | 5.8x12.2x2.4 | 62.7 | 120 | 16 | 16 | 16 | 85 | 80 |
| Emerald South | 5.8x12.2x2.4 | 62.7 | 120 | 16 | 16 | 16 | 85 | 80 |
| Diamond East | 5.8x12.2x2.4 | 62.7 | 120 | 16 | 16 | 16 | 85 | 80 |
| Diamond South | 5.8x12.2x2.4 | 62.7 | 120 | 16 | 16 | 16 | 85 | 80 |
| Jade East | 5.8x12.2x2.4 | 62.7 | 120 | 16 | 16 | 16 | 85 | 80 |
| Jade South | 5.8x12.2x2.4 | 62.7 | 120 | 16 | 16 | 16 | 85 | 80 |
| Magnolia Room 1 | 14x7.9x4.9 | 111.9 | 130 | 68 | 36 | 40 | 46 | 70 |
| Magnolia Room 2 | 14x7.9x4.9 | 111.9 | 130 | 68 | 36 | 40 | 46 | 70 |
| Magnolia Room 3 | 14x7.9x4.9 | 111.9 | 130 | 68 | 36 | 40 | 46 | 70 |
| Magnolia Room 4 | 14x7.9x4.9 | 111.9 | 130 | 68 | 36 | 40 | 46 | 70 |
| Magnolia Room 5 | 14x7.9x4.9 | 111.9 | 130 | 68 | 36 | 40 | 46 | 70 |
| Magnolia Room 6 | 14x7.9x4.9 | 111.9 | 130 | 68 | 36 | 40 | 46 | 70 |
| Magnolia Room 7 | 14x7.9x4.9 | 111.9 | 130 | 68 | 36 | 40 | 46 | 70 |
| Magnolia Room 8 | 14x7.9x4.9 | 111.9 | 130 | 68 | 36 | 40 | 46 | 70 |
| Magnolia Room 9 | 14x7.9x4.9 | 111.9 | 130 | 68 | 36 | 40 | 46 | 70 |
| Magnolia Room 10 | 14x7.9x4.9 | 111.9 | 130 | 68 | 36 | 40 | 46 | 70 |
| Magnolia Room 11 | 14x7.9x4.9 | 111.9 | 130 | 68 | 36 | 40 | 46 | 70 |
| Magnolia Room 12 | 14x7.9x4.9 | 111.9 | 130 | 68 | 36 | 40 | 46 | 70 |
| Magnolia Room 13 | 14x7.9x4.9 | 111.9 | 130 | 68 | 36 | 40 | 46 | 70 |
| Magnolia Room 14 | 14x7.9x4.9 | 111.9 | 130 | 68 | 36 | 40 | 46 | 70 |
| Magnolia Room 15 | 14x7.9x4.9 | 111.9 | 130 | 68 | 36 | 40 | 46 | 70 |
| Magnolia Room 16 | 14x7.9x4.9 | 111.9 | 130 | 68 | 36 | 40 | 46 | 70 |
| Magnolia Room 17 | 14x7.9x4.9 | 111.9 | 130 | 68 | 36 | 40 | 46 | 70 |
| Magnolia Room 18 | 14x7.9x4.9 | 111.9 | 130 | 68 | 36 | 40 | 46 | 70 |
| Magnolia Room 19 | 14x7.9x4.9 | 111.9 | 130 | 68 | 36 | 40 | 46 | 70 |
| Magnolia Room 20 | 14x7.9x4.9 | 111.9 | 130 | 68 | 36 | 40 | 46 | 70 |
| Magnolia Room 21 | 14x7.9x4.9 | 111.9 | 130 | 68 | 36 | 40 | 46 | 70 |
| Magnolia Room 22 | 14x7.9x4.9 | 111.9 | 130 | 68 | 36 | 40 | 46 | 70 |
| Magnolia Room 23 | 14x7.9x4.9 | 111.9 | 130 | 68 | 36 | 40 | 46 | 70 |
| Magnolia Room 24 | 14x7.9x4.9 | 111.9 | 130 | 68 | 36 | 40 | 46 | 70 |
| Magnolia Room 1-2(combined) | 14x15.8x4.9 | 223.7 | 251 | 126 | 42 | 54 | 68 | 160 |
| Magnolia Room 2-3(combined) | 14x15.8x4.9 | 223.7 | 251 | 126 | 42 | 54 | 68 | 160 |
| Magnolia Room 4-5(combined) | 14x15.8x4.9 | 223.7 | 251 | 126 | 42 | 54 | 68 | 160 |
| Magnolia Room 5-6(combined) | 14x15.8x4.9 | 223.7 | 251 | 126 | 42 | 54 | 68 | 160 |
| Magnolia Room 7-8(combined) | 14x15.8x4.9 | 223.7 | 251 | 126 | 42 | 54 | 68 | 160 |
| Magnolia Room 8-9(combined) | 14x15.8x4.9 | 223.7 | 251 | 126 | 42 | 54 | 68 | 160 |
| Magnolia Room 10-11(combined) | 14x15.8x4.9 | 223.7 | 251 | 126 | 42 | 54 | 68 | 160 |
| Magnolia Room 11-12(combined) | 14x15.8x4.9 | 223.7 | 251 | 126 | 42 | 54 | 68 | 160 |
| Magnolia Room 13-14(combined) | 14x15.8x4.9 | 223.7 | 251 | 126 | 42 | 54 | 68 | 160 |
| Magnolia Room 14-15(combined) | 14x15.8x4.9 | 223.7 | 251 | 126 | 42 | 54 | 68 | 160 |
| Magnolia Room 16-17(combined) | 14x15.8x4.9 | 223.7 | 251 | 126 | 42 | 54 | 68 | 160 |
| Magnolia Room 17-18(combined) | 14x15.8x4.9 | 223.7 | 251 | 126 | 42 | 54 | 68 | 160 |
| Magnolia Room 19-20(combined) | 14x15.8x4.9 | 223.7 | 251 | 126 | 42 | 54 | 68 | 160 |
| Magnolia Room 20-21(combined) | 14x15.8x4.9 | 223.7 | 251 | 126 | 42 | 54 | 68 | 160 |
| Magnolia Room 22-23(combined) | 14x15.8x4.9 | 223.7 | 251 | 126 | 42 | 54 | 68 | 160 |
| Magnolia Room 23-24(combined) | 14x15.8x4.9 | 223.7 | 251 | 126 | 42 | 54 | 68 | 160 |
| Magnolia Room 1,2,3(combined) | 14x23.8x4.9 | 335.6 | 394 | 203 | 66 | 80 | 94 | 240 |
| Magnolia Room 4,5,6(combined) | 14x23.8x4.9 | 335.6 | 394 | 203 | 66 | 80 | 94 | 240 |
| Magnolia Room 7,8,9(combined) | 14x23.8x4.9 | 335.6 | 394 | 203 | 66 | 80 | 94 | 240 |
| Magnolia Room 10,11,12(combined) | 14x23.8x4.9 | 335.6 | 394 | 203 | 66 | 80 | 94 | 160 |
| Magnolia Room 13,14,15(combined) | 14x23.8x4.9 | 335.6 | 394 | 203 | 66 | 80 | 94 | 240 |
| Magnolia Room 16,17,18(combined) | 14x23.8x4.9 | 335.6 | 394 | 203 | 66 | 80 | 94 | 160 |
| Magnolia Room 19,20,21(combined) | 14x23.8x4.9 | 335.6 | 394 | 203 | 66 | 80 | 94 | 240 |
| Magnolia Room 22,23,24(combined) | 14x23.8x4.9 | 335.6 | 394 | 203 | 66 | 80 | 94 | 160 |
Dimensions (LxWxH)
7.9x10.4x2.4
Dimensions (LxWxH)
7.9x10.4x2.4
Dimensions (LxWxH)
9.4x11.3x2.4
Atlanta & Boston (combined)
Dimensions (LxWxH)
10.4x16.2x2.4
Anaheim & Atlanta (combined)
Dimensions (LxWxH)
11.3x17.7x2.4
Boston, Atlanta, Anaheim (combined)
Dimensions (LxWxH)
11.3x25.9x2.4
Dimensions (LxWxH)
7.9x9.8x2.4
Dimensions (LxWxH)
7.9x9.8x2.4
Denver & Chicago (combined)
Dimensions (LxWxH)
9.8x16.2x2.4
Dimensions (LxWxH)
7.9x11.6x2.4
Dimensions (LxWxH)
11.3x11.3x2.4
Dimensions (LxWxH)
7.9x13.1x2.4
Dimensions (LxWxH)
7.9x13.1x2.4
New York & New Orleans (combined)
Dimensions (LxWxH)
13.1x16.2x2.4
Dimensions (LxWxH)
7.6x9.8x2.4
Dimensions (LxWxH)
7.6x9.8x2.4
Dimensions (LxWxH)
7.9x10.4x2.4
Dimensions (LxWxH)
7.9x10.4x2.4
Dimensions (LxWxH)
7.6x10.4x2.4
Dimensions (LxWxH)
7.3x11.9x3.7
Dimensions (LxWxH)
5.8x12.2x2.4
Dimensions (LxWxH)
5.8x12.2x2.4
Dimensions (LxWxH)
5.8x12.2x2.4
Dimensions (LxWxH)
41.1x83.8x6.7
Dimensions (LxWxH)
13.4x7x4.9
Dimensions (LxWxH)
13.4x7x4.9
Grand 1 & 2 (combined) (or any 2 side sections)
Dimensions (LxWxH)
13.4x14x4.9
Dimensions (LxWxH)
13.4x7x4.9
Grand 1, 2 & 3 (combined) (or any 3 side sections)
Dimensions (LxWxH)
13.4x21x4.9
Dimensions (LxWxH)
13.4x7x4.9
Dimensions (LxWxH)
13.4x7x4.9
Dimensions (LxWxH)
13.4x7x4.9
Dimensions (LxWxH)
13.4x42.4x4.9
Dimensions (LxWxH)
41.1x25.9x6.7
Dimensions (LxWxH)
20.4x25.9x6.7
Dimensions (LxWxH)
20.4x25.9x6.7
Grand 7 with Airwall Corridor
Dimensions (LxWxH)
41.1x30.5x6.7
Dimensions (LxWxH)
41.1x25.9x6.7
Dimensions (LxWxH)
20.4x25.9x6.7
Dimensions (LxWxH)
20.4x25.9x6.7
Grand 8 with Airwall Corridor
Dimensions (LxWxH)
41.1x30.5x6.7
Grand 7 & 8 combined (all sections)
Dimensions (LxWxH)
41.1x56.7x6.7
Dimensions (LxWxH)
13.4x7x4.9
Dimensions (LxWxH)
13.4x7x4.9
Dimensions (LxWxH)
13.4x7x4.9
Dimensions (LxWxH)
13.4x7x4.9
Dimensions (LxWxH)
13.4x7x4.9
Dimensions (LxWxH)
13.4x7x4.9
Dimensions (LxWxH)
13.4x42.4x4.9
Dimensions (LxWxH)
43.9x85x6.7
Dimensions (LxWxH)
9.4x7x4.9
Dimensions (LxWxH)
9.4x7x4.9
Crystal A & B (combined) (or any 2 side sections)
Dimensions (LxWxH)
9.4x14.6x4.9
Dimensions (LxWxH)
9.4x7x4.9
Crystal A, B & C (or any 3 side sections combined)
Dimensions (LxWxH)
9.4x21.9x4.9
Dimensions (LxWxH)
9.4x7x4.9
Dimensions (LxWxH)
9.4x7x4.9
Dimensions (LxWxH)
9.4x7x4.9
Dimensions (LxWxH)
9.4x43.9x4.9
Dimensions (LxWxH)
43.9x21.9x6.7
Dimensions (LxWxH)
21.9x14x6.7
Dimensions (LxWxH)
21.9x28.6x6.7
Dimensions (LxWxH)
43.9x21.9x6.7
Dimensions (LxWxH)
43.9x21.9x6.7
Dimensions (LxWxH)
21.9x14x6.7
Dimensions (LxWxH)
21.9x28.6x6.7
Crystal G&H or H&J (combined)
Dimensions (LxWxH)
43.9x44.2x6.7
Crystal G, H & J (combined)
Dimensions (LxWxH)
43.9x65.8x6.7
Dimensions (LxWxH)
9.4x7x4.9
Dimensions (LxWxH)
9.4x7x4.9
Dimensions (LxWxH)
9.4x7x4.9
Dimensions (LxWxH)
9.4x7x4.9
Dimensions (LxWxH)
9.4x7x4.9
Dimensions (LxWxH)
9.4x7x4.9
Dimensions (LxWxH)
9.4x43.9x4.9
Dimensions (LxWxH)
44.2x106.4x6.7
Dimensions (LxWxH)
41.8x25.6x6.7
Canary 1, 2, 3 or 4 (each)
Dimensions (LxWxH)
17.7x9.1x6.7
Dimensions (LxWxH)
44.2x27.1x6.7