Flexible and Efficient Conference Rooms at Gaylord National
Meetings & Events
Our venues are ideal for your reception, gala, or convention in National Harbor. Large ballrooms range up to 50,000 square feet, and divided, more intimate spaces can accommodate a variety of needs. Each room has enough data connectivity to transfer the text and images of an entire encyclopedia in a single second and the electrical power to service an average-sized home. Your attendees will have the tools to productive.
10,000
Capacity Largest Space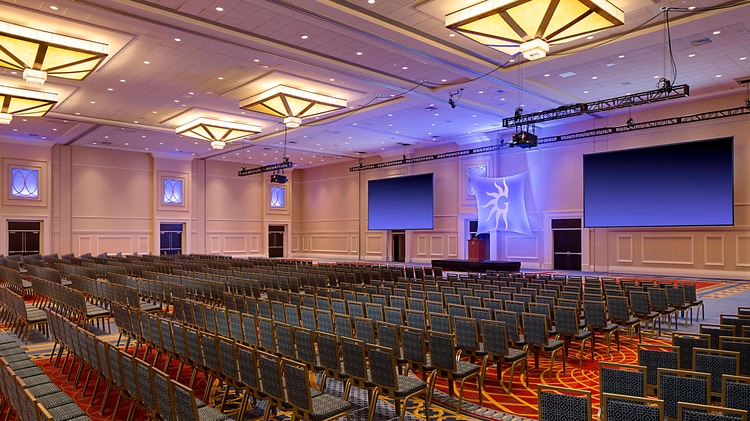 Commitment to Clean
The health and safety of our guests remain of paramount importance to us. We have put in place a multi-pronged approach designed to meet the changing health and safety requirements.
Meeting Planner's Toolkit
Success is easy when you have the right tools. At Gaylord National, you'll work with a creative, proactive team that provides a full range of resources at every step of the way.
RiverView Ballroom
This breathtaking waterfront ballroom is modern, unique and designed to take advantage of the amazing views of the Potomac River. This 16,000-sq ft ballroom boasts 270 degrees of floor-to-ceiling glass windows and two large outdoor event terraces.
Maryland Ballroom
Conveniently located near the Chesapeake Conference Rooms, the Maryland Ballroom offers 31,127 square feet of meeting space and 15,965 square feet of pre-function space.
Cherry Blossom Ballroom
Our most intimate ballroom is the perfect choice to host exclusive galas in National Harbor. With 11,582 sq ft of pre-function space offering stunning views of our glass-enclosed atrium and the Potomac River.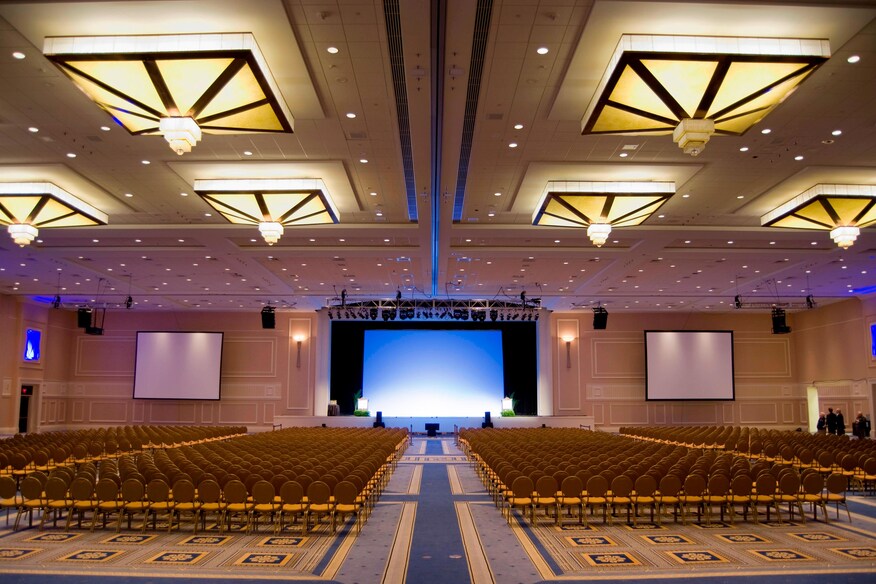 Potomac Ballroom
Our signature ballroom features more than 50,000 sq ft of space, plus a 4,300 sq ft theatrical stage, four dressing rooms, and a green room. Your guests can mingle and network on the pre-function balcony that offers breathtaking views of the Potomac River.
Woodrow Wilson Ballroom
Woodrow Wilson Ballroom provides 13,780 sq ft of space for mid-sized events. The Baltimore and Annapolis conference room, located just outside the ballroom, add even more flexibility for breakout meetings.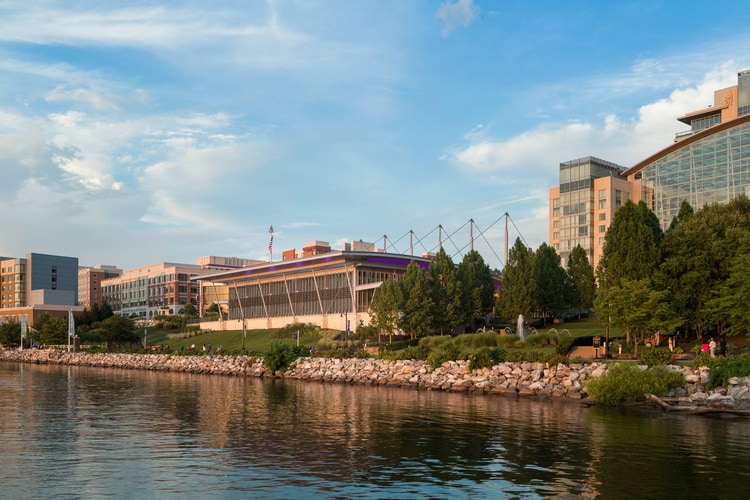 National Harbor Conference Rooms
Located on the top level of Gaylord National's Convention Center, our 15 National Harbor Conference Rooms can be configured in sizes ranging from 621 to 5,135 square feet.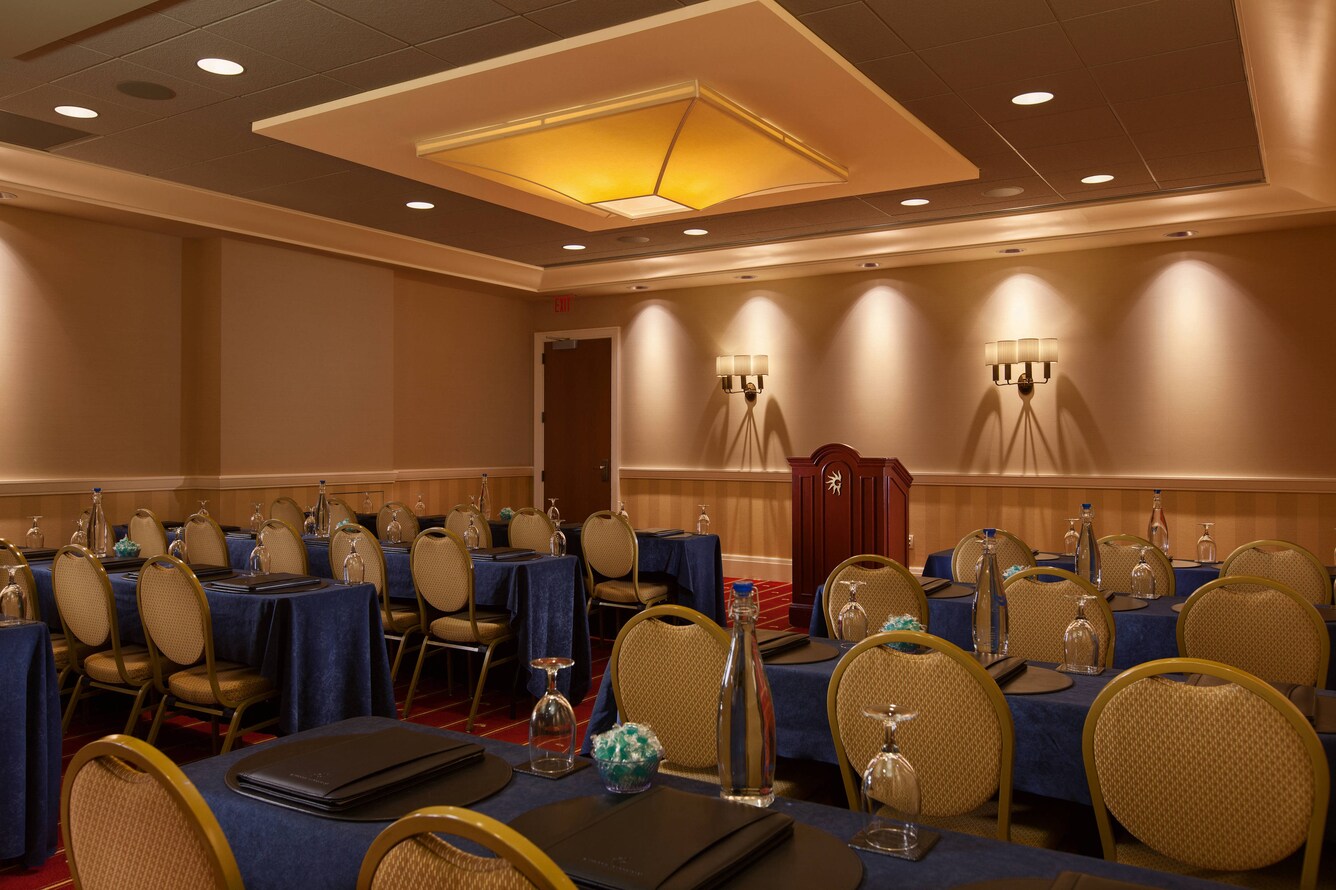 Chesapeake Conference Rooms
Strategically located between the Potomac and Maryland Ballrooms for smooth transitions from general sessions to smaller workshops, the Chesapeake Conference Rooms offer your attendees the ultimate in flexibility and convenience.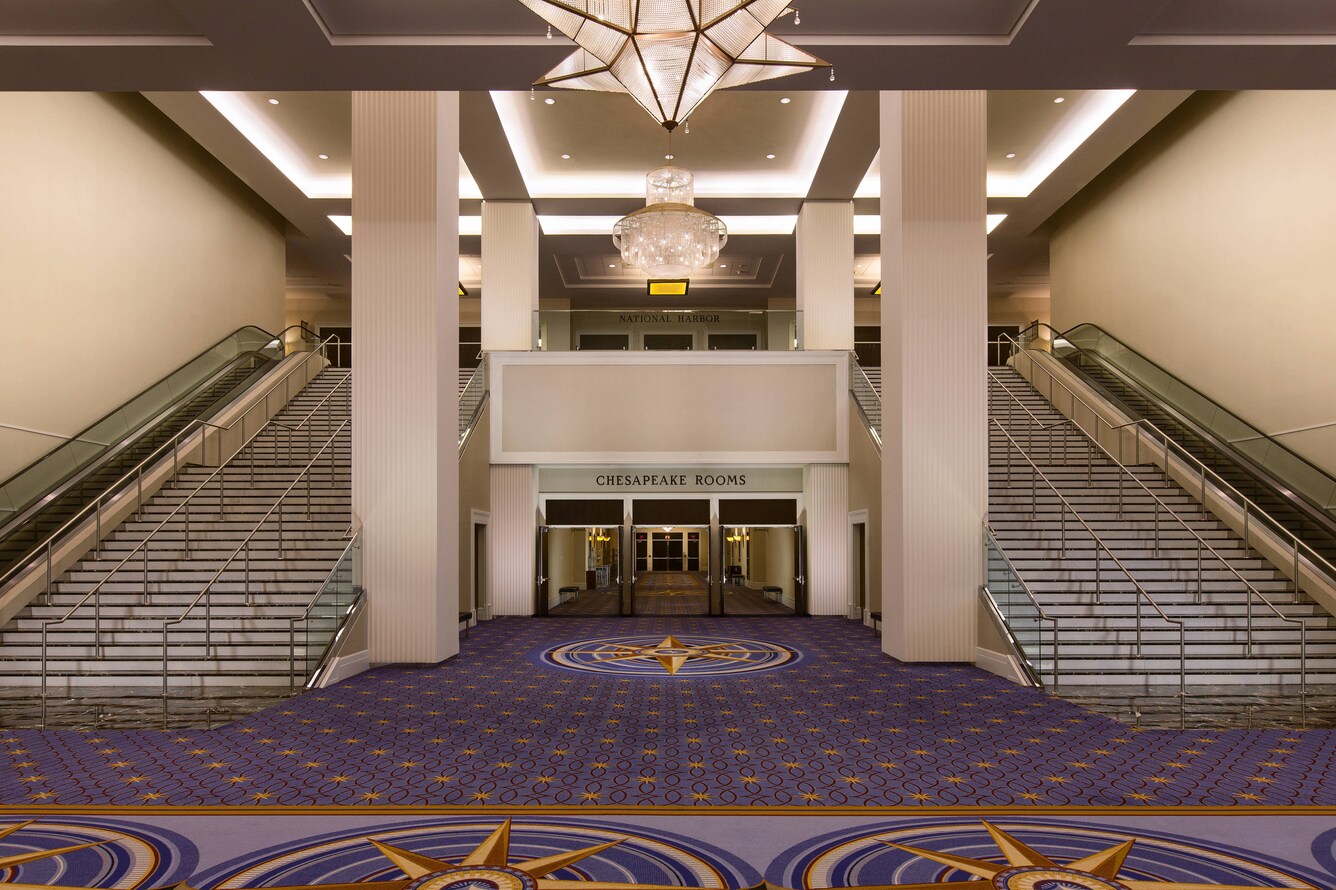 Additional Conference Space
Check out our Azalea, Camellia, Magnolia, Annapolis & Baltimore Conference Rooms. These conference rooms are part of our exclusive "Hotel within a Hotel" concept. Located in close proximity to guest rooms, these conference rooms give meetings extra panache.
From board meetings to tradeshows, our National Harbor convention center can accommodate your event
Showcase your presentation or quarterly report hassle-free using our rentable AV equipment
Host a seamless conference with the aid of our professional planners and flexible rooms
Prince George's Exhibition Hall can house up to 10,000 people near Washington, D.C.
Breakfast, lunch and dinner meetings are a breeze thanks to our expert catering staff
Prepare for your corporate conference at our business center featuring computers and printers

Exhibit Space
When your Washington D.C. meeting or trade show needs to be presented on the grandest scale, consider Prince George's Exhibit Hall. Located on the lower level of the convention center, Prince George's offers 178,787 sq ft of space, making it the largest hotel exhibition facility in the metro-Washington, D.C. area.
Event Services & Technology
Our entire, over 500,000 square feet, flexible meeting space is wired with state-of-the-art high-speed Internet connections at lightning speeds and our expertise is unrivaled. You'll benefit from the experience and extensive knowledge our house team of technical professionals brings to your event.
Space. Organization. Beauty.
Floor Plans
Meeting Equipment
35 mm projector
AV equipment
CD player
Film projector
LCD Panel
LCD projector
Microphone
Overhead projector
PA system portable
Polling devices
Stage: installed
Stage: portable
TV
TV production service provider
Video camera
Walkie talkie radios
Meeting Services
AV technician
Carpenter
Copy service
Decorator
Electrician
Laborer
Locksmith
Photographer
Security guard
Videoconferencing
Catering
Afternoon Break
Coffee Break

Dinner

Lunch

Reception

Business Services
Copy service
Fax service
Fee for each additional page of outgoing fax
Fee for first page of incoming fax
Full-service business center
Messenger service
Network/Internet printing
On-site Business Center is Staffed
Post/parcel
High-speed Internet access
Meeting rooms: Wired, Wireless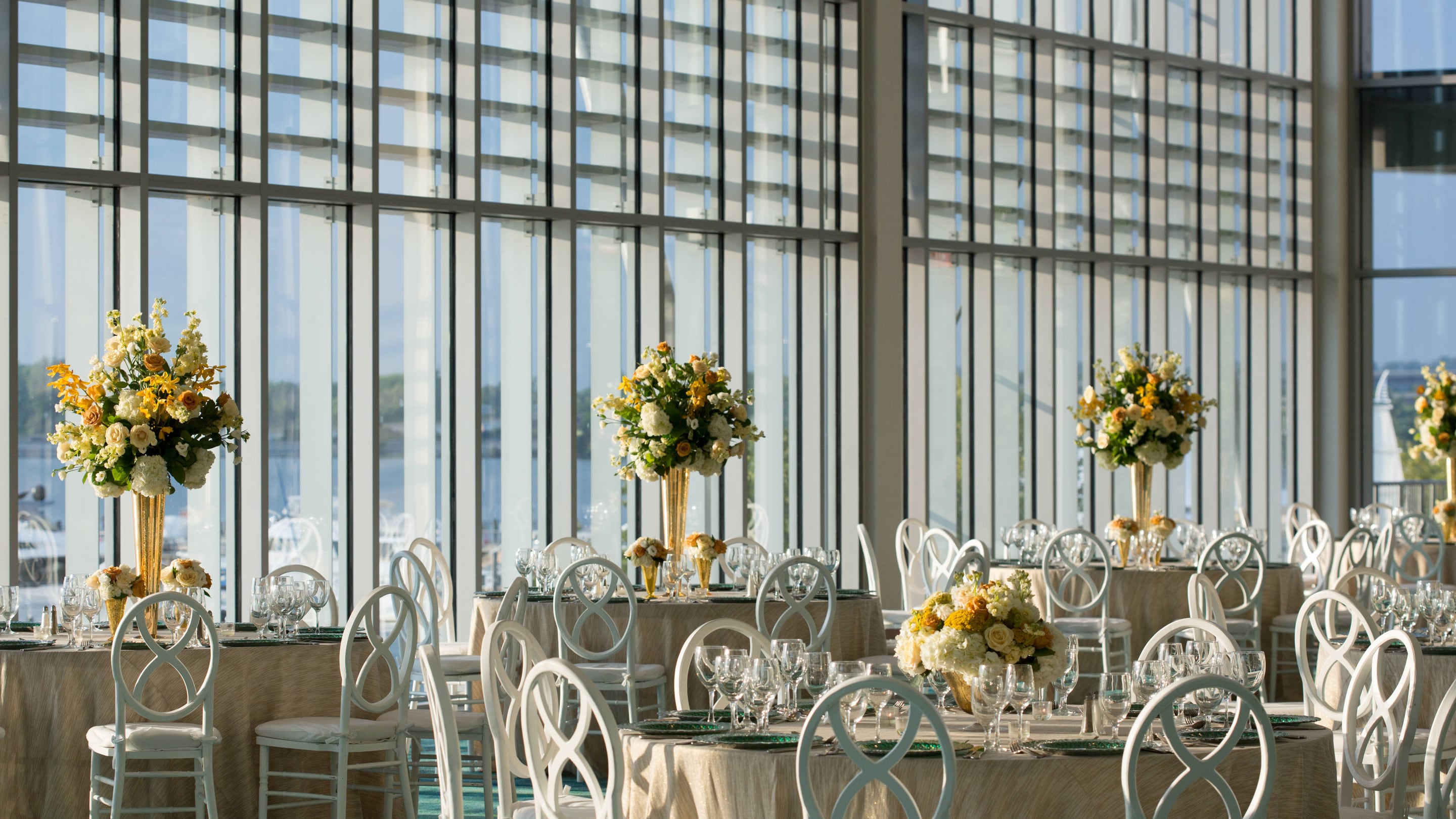 RiverView Ballroom
Overlooking the Potomac River, the RiverView Ballroom is the region's only infinity ballroom. The space has 270 degrees of floor-to-ceiling glass windows creating spectacular sunset river views. It is a romantic location for a dream wedding.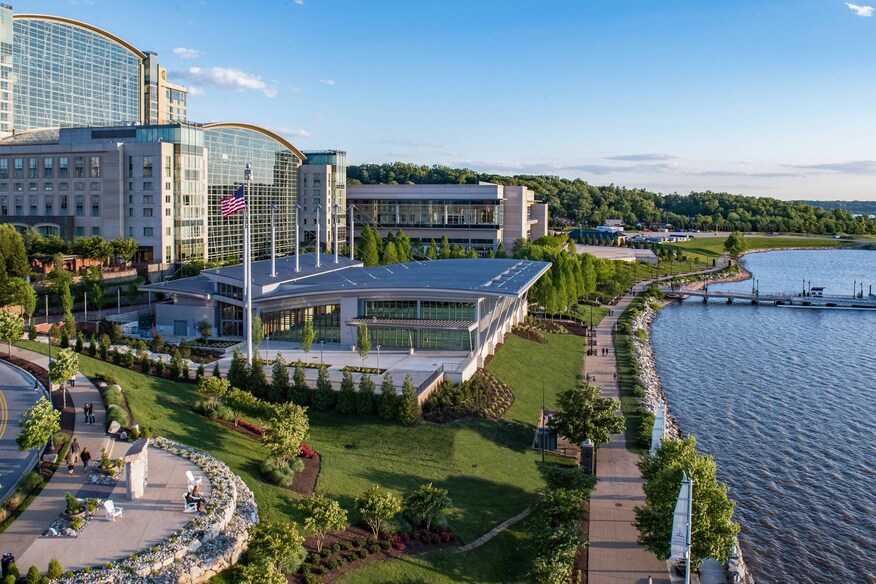 Eastern Shore Ballroom
Just off our garden Atrium, discover Eastern Shore Ballroom. This versatile space has three different sections in almost 4,000 square feet of event space. This flexibility makes the location ideal for your ceremony, reception, dinner, and after-party.
Cherry Blossom Ballroom
This is our most intimate ballroom. Ideal for exclusive galas or parties in National Harbor. With 11,582 sq. ft of pre-function in the Atrium, guests will have stunning views of the Potomac River as soon as they arrive. The ballroom offers a unique experience for guest looking to create an exciting atmosphere with their event.
Planning & Catering Services
When it comes to wedding planning, the experience and professionalism of Gaylord National's staff is unmatched. Our passion for perfection and our forward-thinking approach sets us apart. Our wedding planners combine the finest elements to produce a show-stopping event designed to your specifications persistently and flawlessly.
Restaurants & Private Dining
Looking for the perfect place for your Washington D.C. rehearsal dinner? Want to hold your wedding reception in one of our private dining rooms? From our award-winning Old Hickory Steakhouse or reserve the ultimate party venue – Replay - our rooftop ultra-lounge on the 18th floor offering electric views of the DC skyline.
Wedding Venue Tours
We offer a wedding tour of our property for up to three people. Register by contacting events@gaylordhotels.com and are considering marriage within the next 18 months.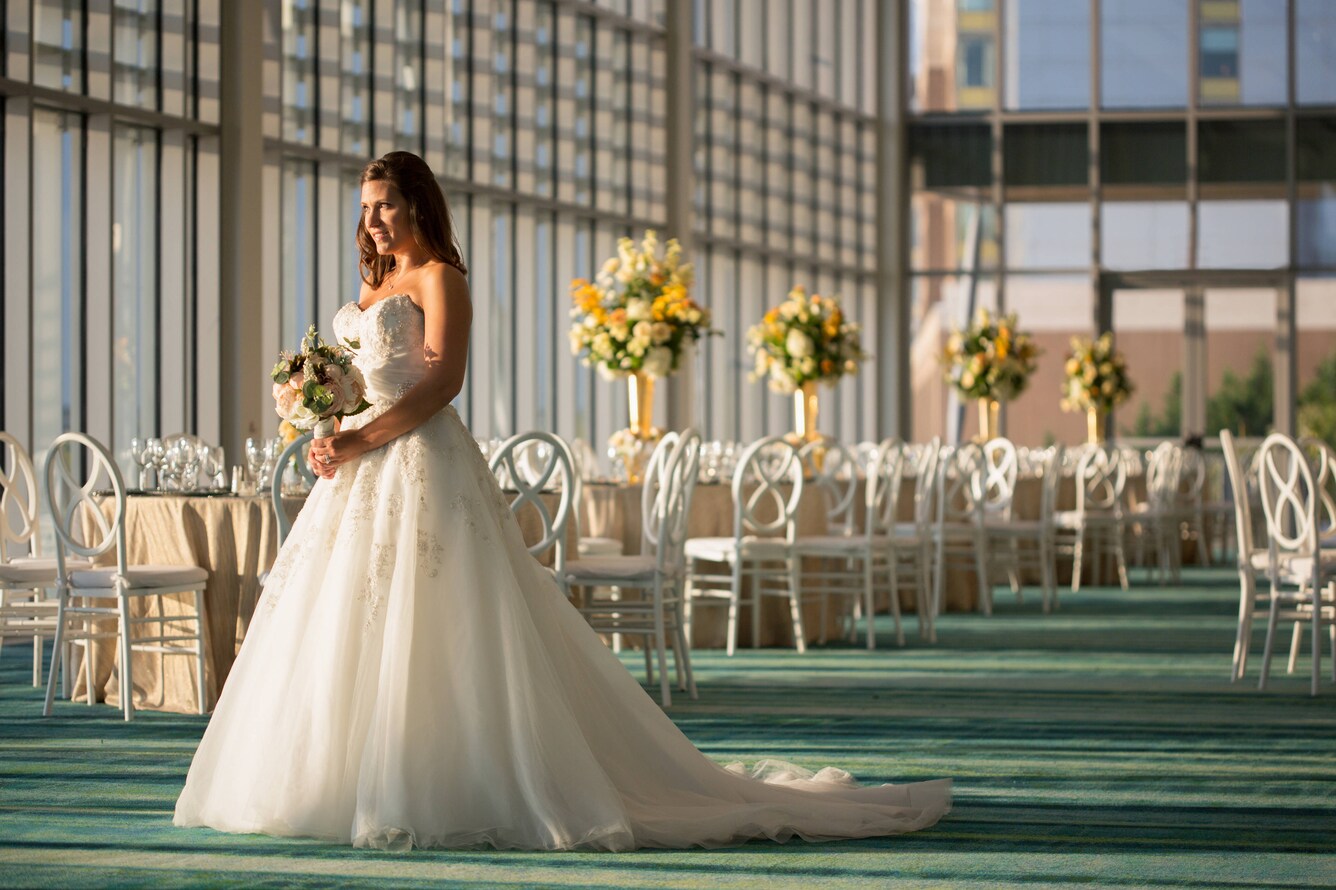 About Gaylord National Events
Spanning over 540,000 square feet, our venues provide a wealth of options for weddings of all sizes.
Our event planners are here to alleviate stress and ensure you have the wedding you've dreamed of.
Host your reception in one of our gorgeous events spaces overlooking the Potomac River.
Complement your reception with an unforgettable meal prepared by our in-house culinary team.
Hotel-wide high-speed Wi-Fi allows you to share these special moments with anyone, anywhere, anytime.
Present a romantic slideshow or heartwarming toast with the help of our available AV equipment.