Connection Happens Here at Sheraton Downtown Denver Hotel
Events
For large conferences, intimate gatherings and everything in between, allow us to bring your group together. At Sheraton Denver Downtown Hotel, we have more than 133,000 square feet of newly transformed meeting and exhibit space where you can connect with colleagues, friends and family. Located on the 16th Street Mall, just blocks from the Colorado Convention Center, our dynamic downtown Denver event spaces can be adapted to accommodate your needs. Designed for groups of all sizes, these versatile venues are enhanced by our friendly and knowledgeable team, premium on-site business services and world-class culinary experiences. Guests also have access to the most exciting things to do in Denver and beyond, from live performances at the Denver Center for the Performing Arts to outdoor adventures in the Rocky Mountains.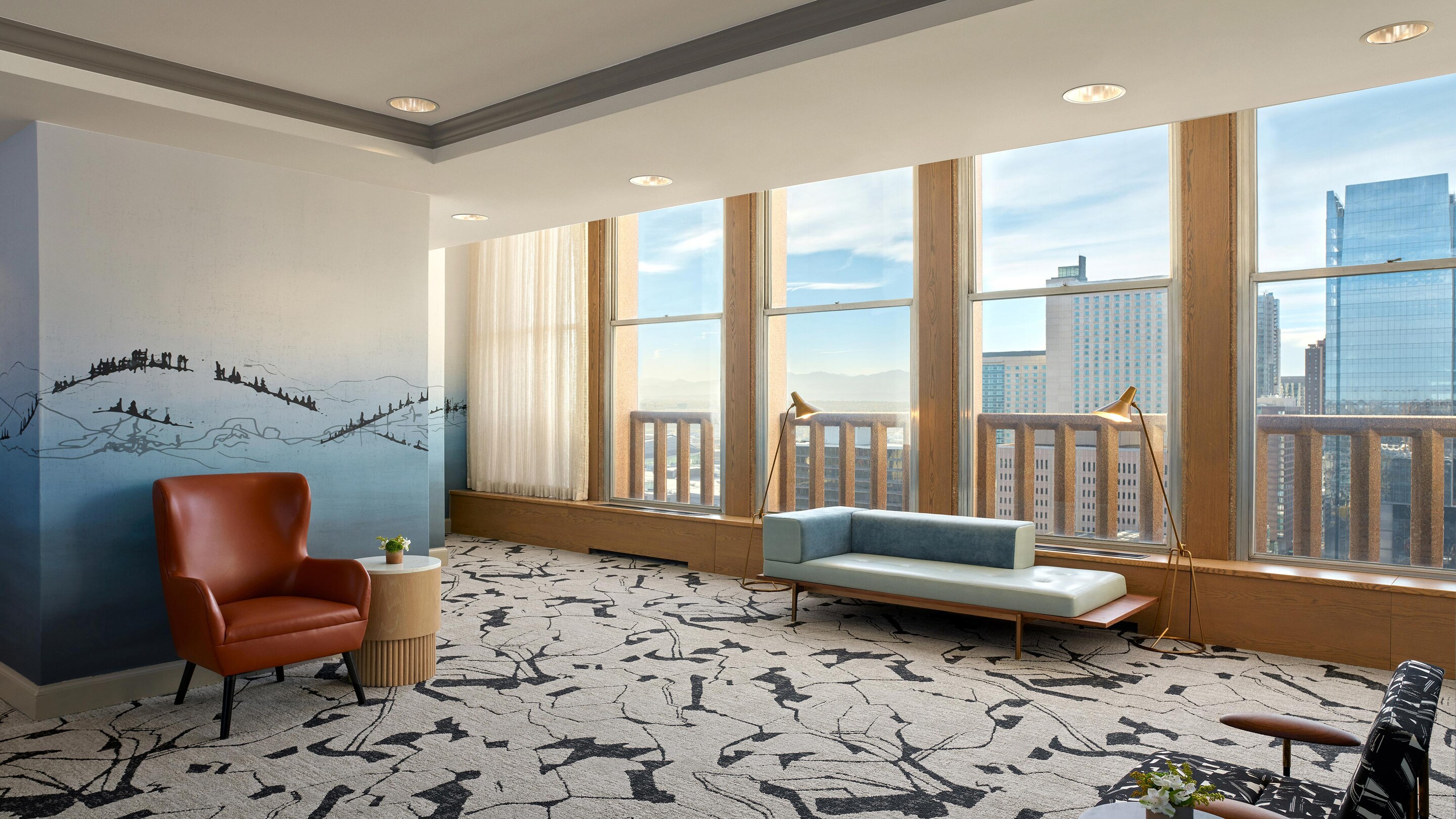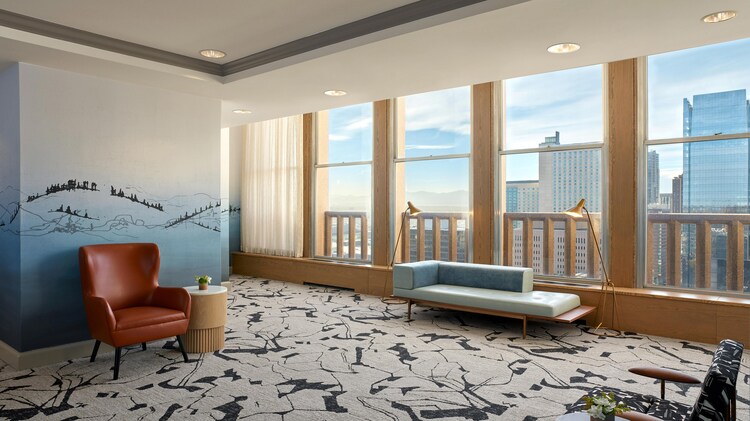 Meeting & Event Highlights
131,670 sq ft
Total Event Space
2,100
Largest Capacity Space
Our Denver Event Venues
Bring Big Ideas to Life
As the largest meeting hotel in Denver, just blocks from the Colorado Convention Center, we are well-versed in hosting large-scale trade shows and conferences. The impressive 28,000-square-foot Plaza Ballroom features 20,000 square feet of dedicated exhibit space, along with 22 breakout rooms for more focused sessions. Each of our venues offers high-speed Wi-Fi access and state-of-the-art audiovisual equipment, and our expert on-site technicians are always available to provide assistance.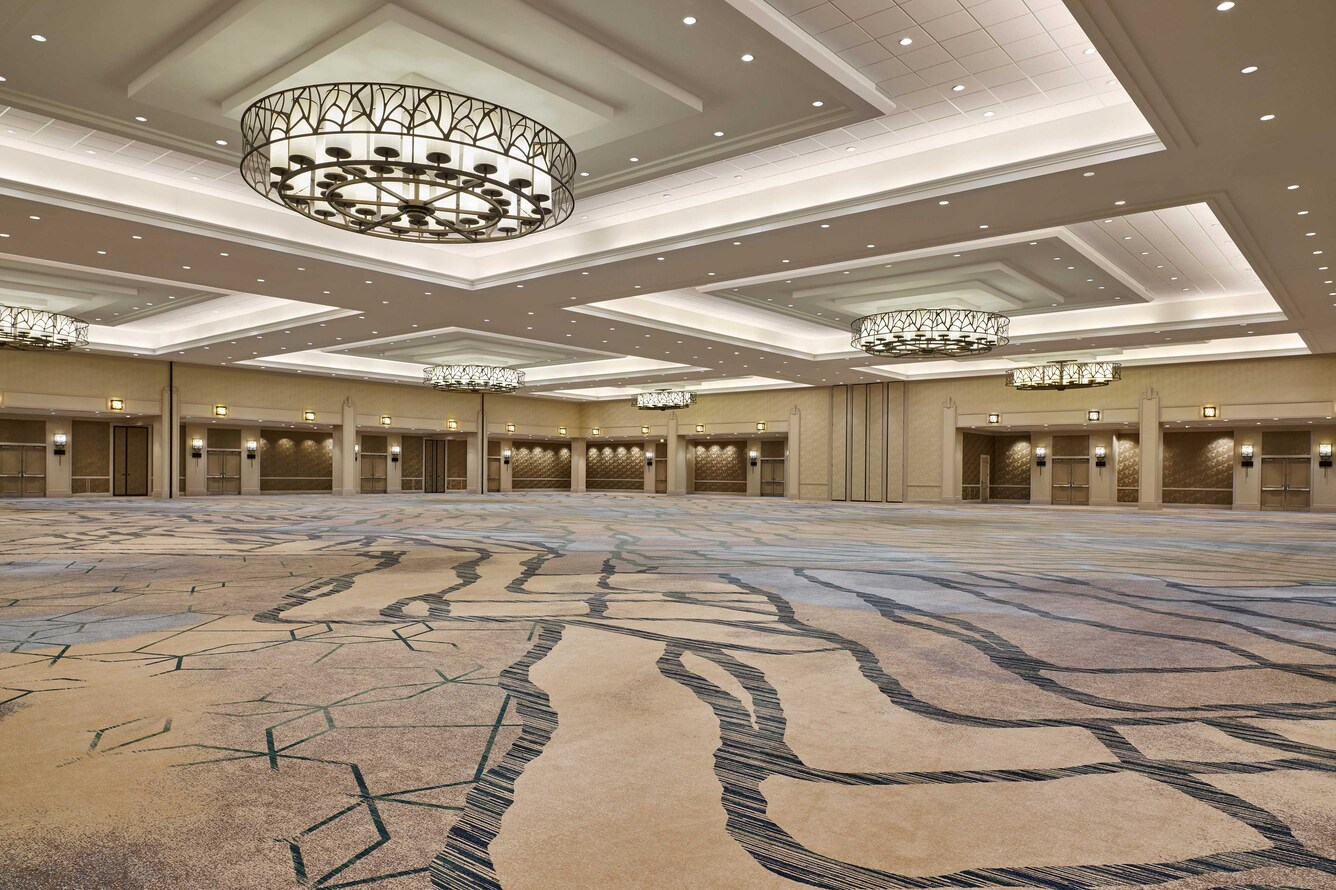 Mid-Size & Small Meetings
Find Space to Collaborate
For mid-size and small groups, we've created fluid spaces for working and meeting, perfect for everything from client presentations to team-building events. Our 15,000-square-foot Grand Ballroom offers 11,000 square feet of pre-function space and 12 breakout rooms, while our 5,700-square-foot Majestic Ballroom offers 2,500 square feet of pre-function space and 7 breakout rooms. We also welcome guests to gather at our community tables, collaborate in our studios and network at our distinctive dining outlets.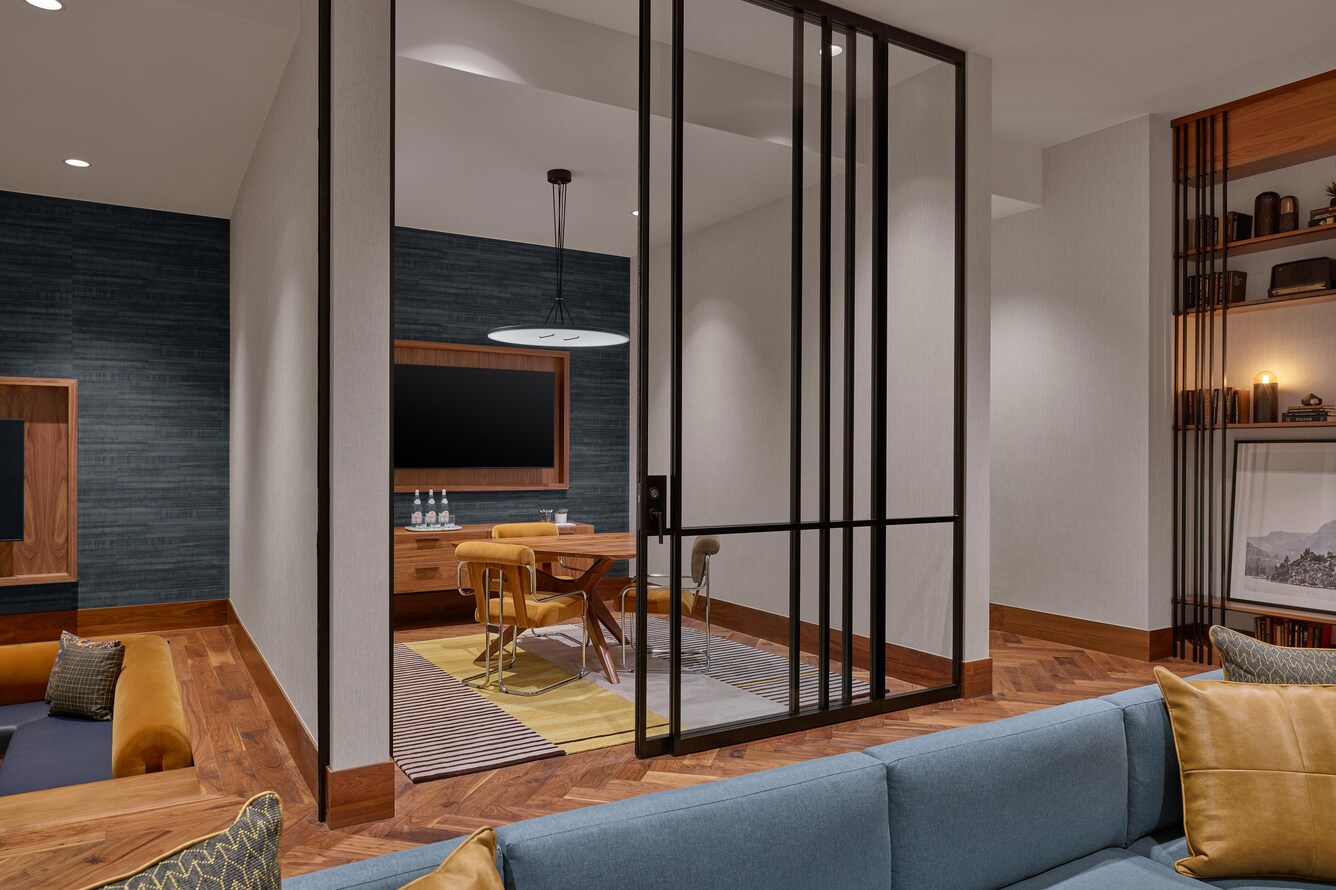 Social Events
Take Time to Celebrate
Whether it's a community activity, a holiday celebration, or a gathering during a meeting or convention, our Denver hotel is a warm and inviting setting for your next social event. Your attendees can enjoy an exciting downtown atmosphere, recently redesigned spaces, and custom catering that reflects the unique local flavor. Beyond our front doors, we encourage them to visit our neighbors along the 16th Street Mall and explore all our community has to offer.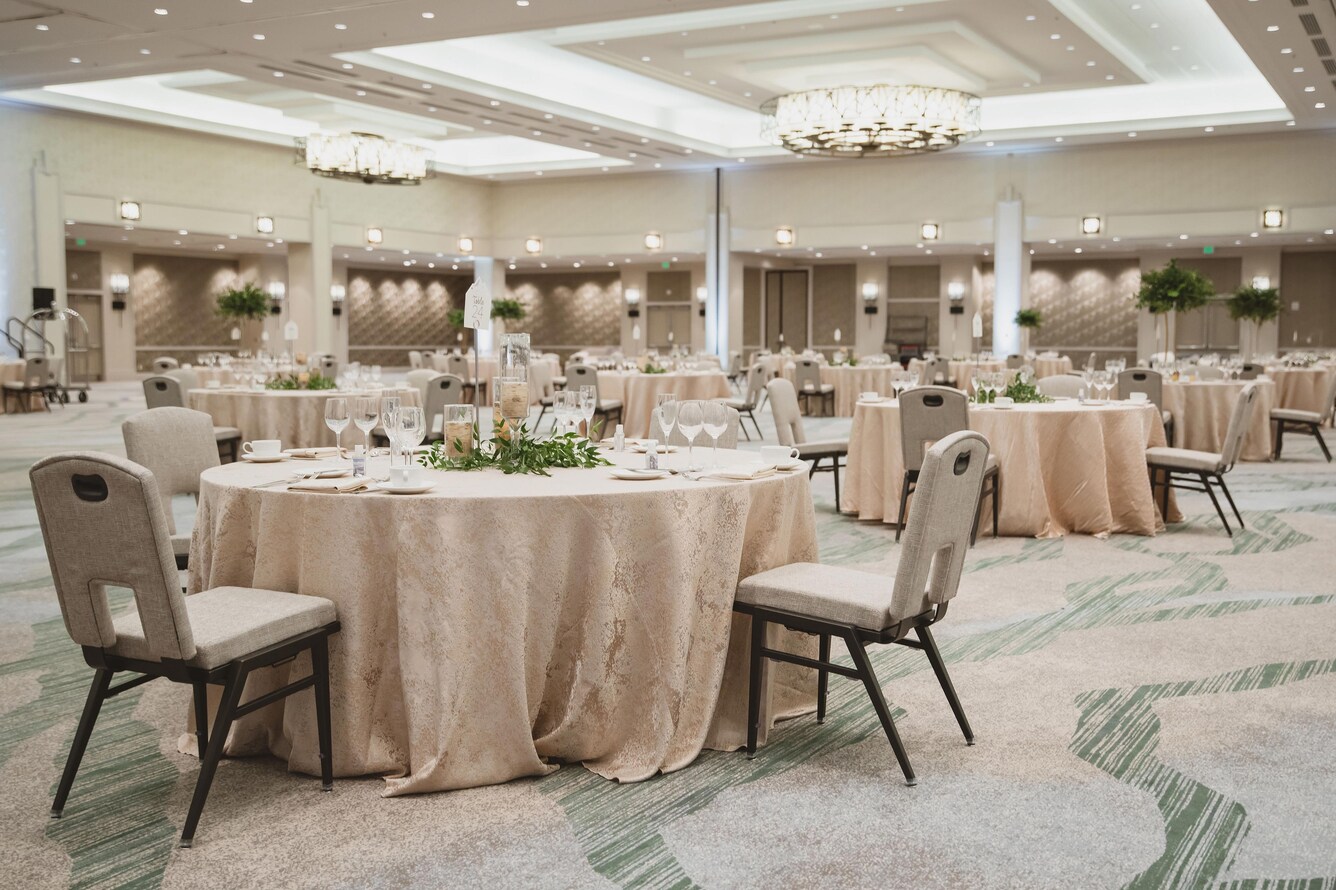 Additional Meetings Information
Ideal for meetings and conferences of all sizes, our hotel is equipped with a 200 megabit/second circuit from our Internet Service Provider through Layer 3 switching technology on-site, with enough capacity to scale up bandwidth to an additional 800 megabits/seconds through logical provisioning on our trunk back to the Local Exchange Carrier's Metro Optical Ethernet core. For special bandwidth requirements above and beyond, our downtown Denver location provides the option to provision as high as 10 gigabit/sec connections with advanced notice and additional coordination through our Local Exchange Carrier, as well as the addition of switching equipment to our hotel's demarcation point. Individual T1 and ISDN connections can be provisioned at any time for applications such as radio broadcasting and corporate point-to-point wide-area networks. For high-definition video broadcasting requirements, our Plaza Ballroom and Plaza Exhibit spaces are outfitted with dedicated single-mode fiber optic cabling and we have aligned our Local Exchange Carrier's Video Broadcasting Services for the convenient deployment of your broadcast.
All of our meeting room spaces across the entire property can be networked with each other via our extensive multi-mode fiber optic cabling backbone and individual Category 5 copper runs to each room. The Meeting Room network infrastructure has flexibility with additional fiber and copper runs available throughout the entire meeting space should your group wish to bypass our hotel's meeting room network to set up a separate local area network.
Wireless Internet access is accomplished through our strategically placed high-performance 802.11n wireless arrays, which are specifically engineered for large conference environments where hundreds of wireless users need to connect to the Internet in one concentrated area or throughout our meeting spaces. Each array is outfitted with up to 16 individual access point radios integrated into a high gain directional antenna system providing events with solid wireless coverage, bandwidth, and reliability.
Sheraton Denver Downtown Hotel has the largest deployment of digitally interactive signage from Denver based Four Winds Interactive. Our public spaces, such as lobbies and common areas, contain 17-inch, 40-inch, and 32-inch LCD touch screen signs. In addition to our public spaces, each of our meeting rooms is outfitted with a 15-inch LCD touch screen. Our signs display client meeting event time and location information, which is pulled real-time from our Sales and Catering event management system. Each event has an adjacent "Map it" button which allows clients to see a dotted line "wayfinding" map from their current location to their meeting destination. We are currently in the process of developing a mobile application which will allow groups to view their meeting schedules on their smartphone!

Along with event information, our interactive signage also displays hotel amenity information, such as restaurant menus. Guest conveniences, such as real-time Denver International Airport flight information, Microsoft Virtual Maps, and breaking news are also available on all of our reader boards.
Our Audiovisual Team's mission is to create a spectacular event; team members are empowered to do whatever it takes to make this happen. We will exceed your expectations in all areas of service and maintain the most exacting standards of professional practice.

Audiovisual Offerings include:

Total event consultation including creative design and conception, budgeting and pre-production
3D CAD design and renderings
Turnkey stage and set productions, fabrications, set-up and breakdown
Themed event lighting
Complete concert sound engineering and systems
Multi-camera video productions
Studio-quality digital audio, video recording and duplication
High-resolution data display
Image projection and magnification capabilities
Online web streaming and event archiving
Live event direction and supervision
Wireless audience response systems
Professional technical and creative support


A preferred partner of Sheraton Denver Downtown Hotel, PSAV has been setting the stage in meeting, convention and special event production since 1937. PSAV offers guests their expertise to accommodate everything from intimate gatherings to large conventions. With their in-depth knowledge and understanding of the venue, along with an integrated approach with our hotel staff, you are ensured a seamless, worry-free meeting experience.
Our hotel is fully wired with coverage from Verizon and Sprint. Keeping in touch with our Executive Meeting Specialists, Convention Services and Audio Visual teams is right at your fingertips with our cellular two-way radio devices provided complimentary to groups for convenient communications and a quick response to any needs that may arise throughout your meeting.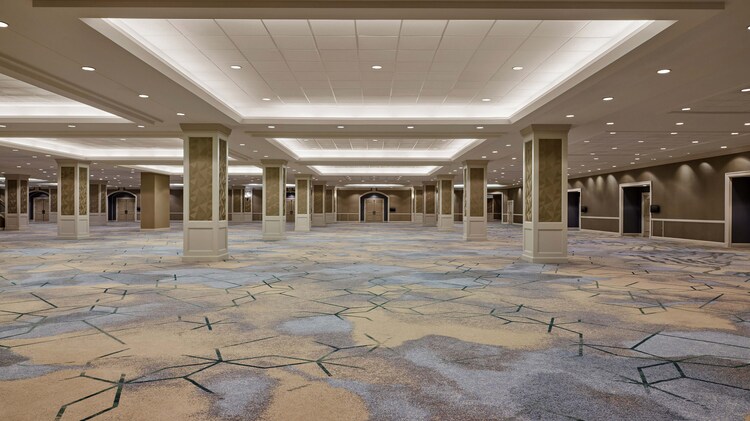 Grand Ballroom
Ideal Group Size: 200 - 500, 11,000 square feet of pre-function space, along with 12 break-out meeting rooms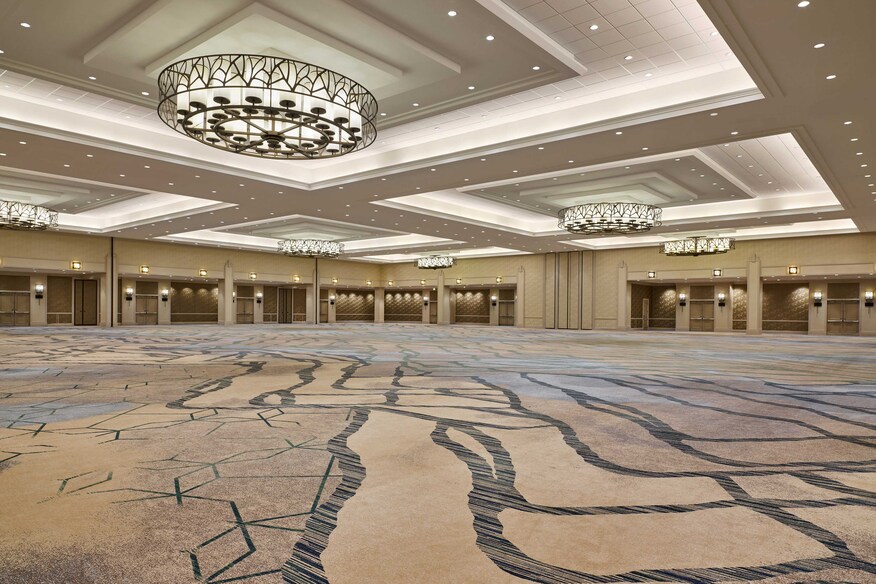 Plaza Ballroom
Ideal Group Size: Up to 2,100, 28,000 square feet, Exhibit Hall and multiple breakout combinations
Collaborate and connect in 133,000 square feet of flexible meeting space in downtown Denver                               
Our tenured, knowledgeable staff provides ease in planning a successful meeting or event                                                    
Our hotel is located in the heart of the city with the best of Denver right outside our front doors                      
Our meeting rooms give easy access to downtown Denver and The Colorado Convention Center                                                   
Our 3 distinct meeting spaces create exclusive experiences and can accommodate 10 to 4,000 attendees
Our culinary team will enhance your meeting in downtown Denver with custom, locally sourced menus
At A Glance
Guest Rooms: 1,238
Suites: 148
Max Group Size: 3,000
Total Meeting Rooms: 52
Catering
Breakfast: $37 - $55 per person
Lunch: $50 - $63 per person
Dinner: $70 - $85 per person
Hotel Dining Options
16th Street Commons
16th Street Commons Cafe
16th Street Commons Coffee Bar Bar
Spritz Pool Bar
Yard House
In-Room Dining
Lounge Studio
The Lounge Studio is a unique, hi-tech, and light-filled space that provides a range of experiences for small group gatherings of up to seven people. Technology is built for quick and seamless collaboration including Click share technology to elevate presentations and share information. Price: $65 per hour Available: Daily, 7 am – 9 pm Daily hourly limit: 8 Maximum occupancy: 7 Advance book
Boardroom Studio
Boardroom Studio accommodates up to eight people in a boardroom setting with plug and play technology included. Celebrating collaborative working in a professional setting. The studio is designed perfectly to also function as a welcoming and intimate private dining room. Price: $75 per hour Available: Daily, 7 am – 9 pm Daily hourly limit: 8 Maximum occupancy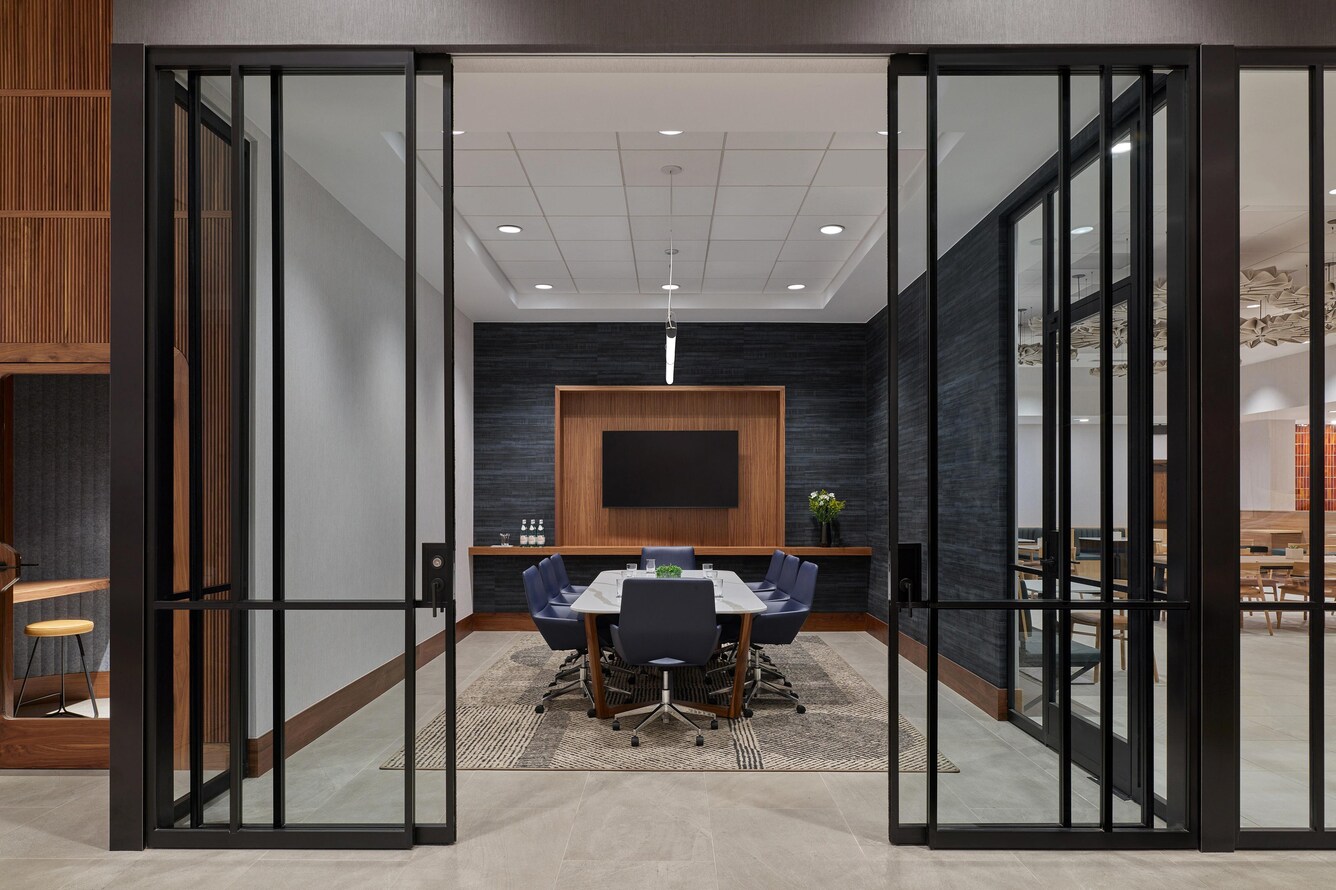 Stadium Studio
The Stadium Studio accommodates up to seven people in a unique setting that provides a range of experiences for small group gatherings. The space includes plug and play technology created to suit networking in a professional setting while transitioning from day to night seamlessly. Price: $65 per hour Available: Daily, 7 am – 9 pm Daily hourly limit: 8 Maximum occupancy: 7 Advance booking: 7 Days
Collaboration Studio
The Collaboration Studio provides a 4-person meeting area with plug and play technology that transitions to a welcoming intimate private dining room. Perfect space for one-on-one meetings, leveraging technology for presentations, information sharing and virtual attendees. Price: $55 per hour Available: Daily, 7 am – 9 pm Daily hourly limit: 8 Maximum occupancy: 4 Advance booking: 7 Days Booking close: 5 pm day of the booking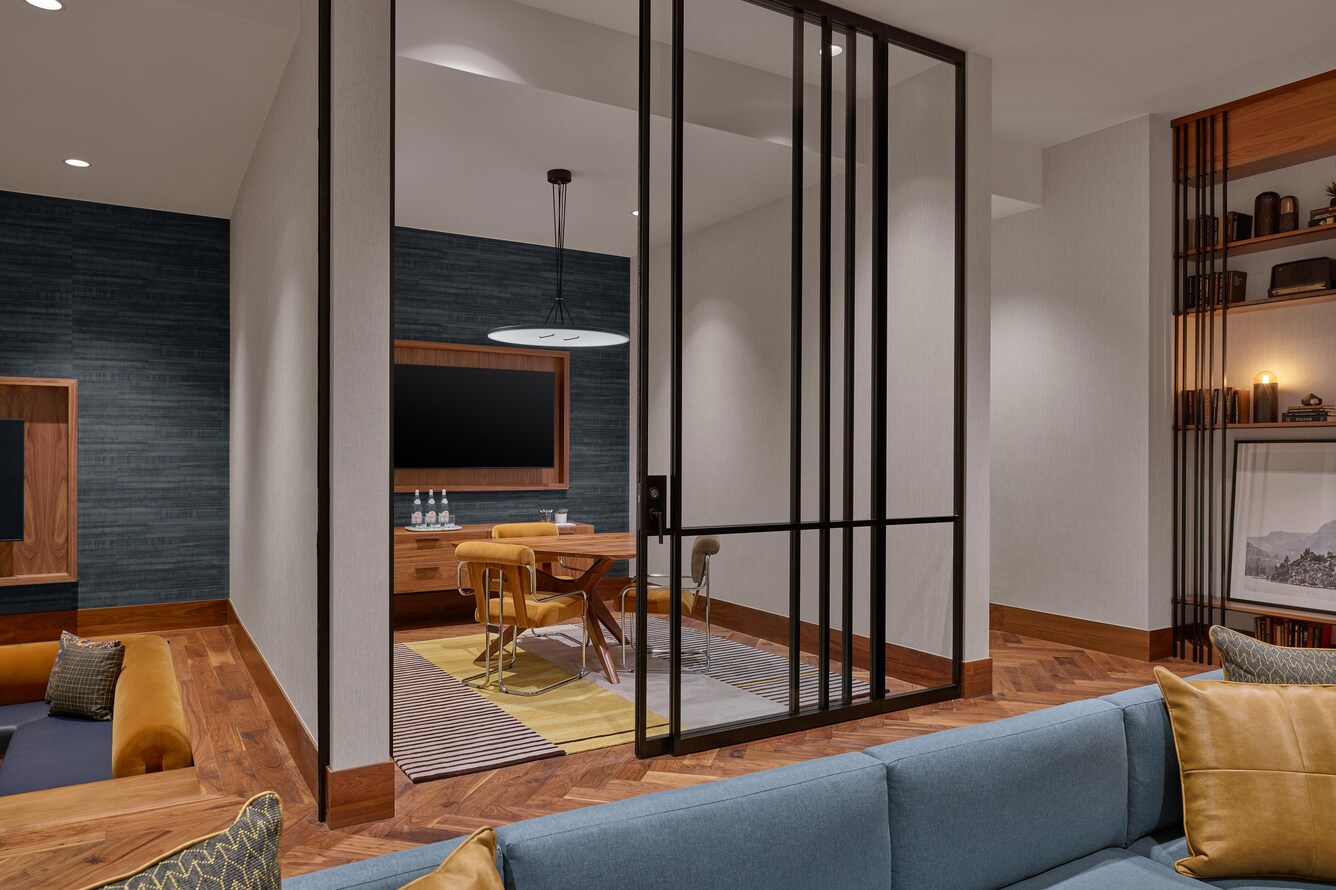 Green and Sustainable Meetings in Denver
At Sheraton Denver Downtown Hotel, we are committed to doing the right thing for the environment, our guests, our meeting planners and our community. This integrated, holistic approach carries through our hotel development, operating principles and local partnerships. We are proud to support green and sustainable events with a focus on our food and beverage offering, waste minimization and energy conservation.
Sustainable Meetings
Sustainable Menu Offerings and elimination of the items noted as a Threatened Species
E-menu ordering system reduces paper waste
Lineless buffet tables and bars to reduce laundry and water contamination
Free flow wines on tap to reduce the use of bottles in our venues
Composting of all food waste from banquet events, kitchen preparations, and associate cafeteria; with an average of 546,000 pounds of food composted each year
Recycling of all fluorescent light bulbs, batteries, wiring, telephones, and electronic equipment Recycling of fryer and cooking oil
Elimination of Styrofoam from entire hotel and introduction to compostable containers
Installation of trash monitoring system on the hotels compactors has resulted in reducing pulls by 50%The toilet paper is EPA compliant with a minimum of 20% recycled content
Executive Meeting Specialist and Banquet Captain teams use of I-pads for daily needs as opposed to copying all banquet event orders daily for reference
Light bulbs have been switched out with CFL bulbs and LED fixtures
Through renovation in 2009 we reduced energy consumed by 1,194,815 kwh, diverting 679 tons of CO2 from the atmosphere
The Sheraton Denver Downtown received Xcel Energy 2011 Energy Management
System Achievement Award for kwh reduction

* For groups of 100 attendees or larger, we can do an analysis of your group's carbon footprint to present to you after departure.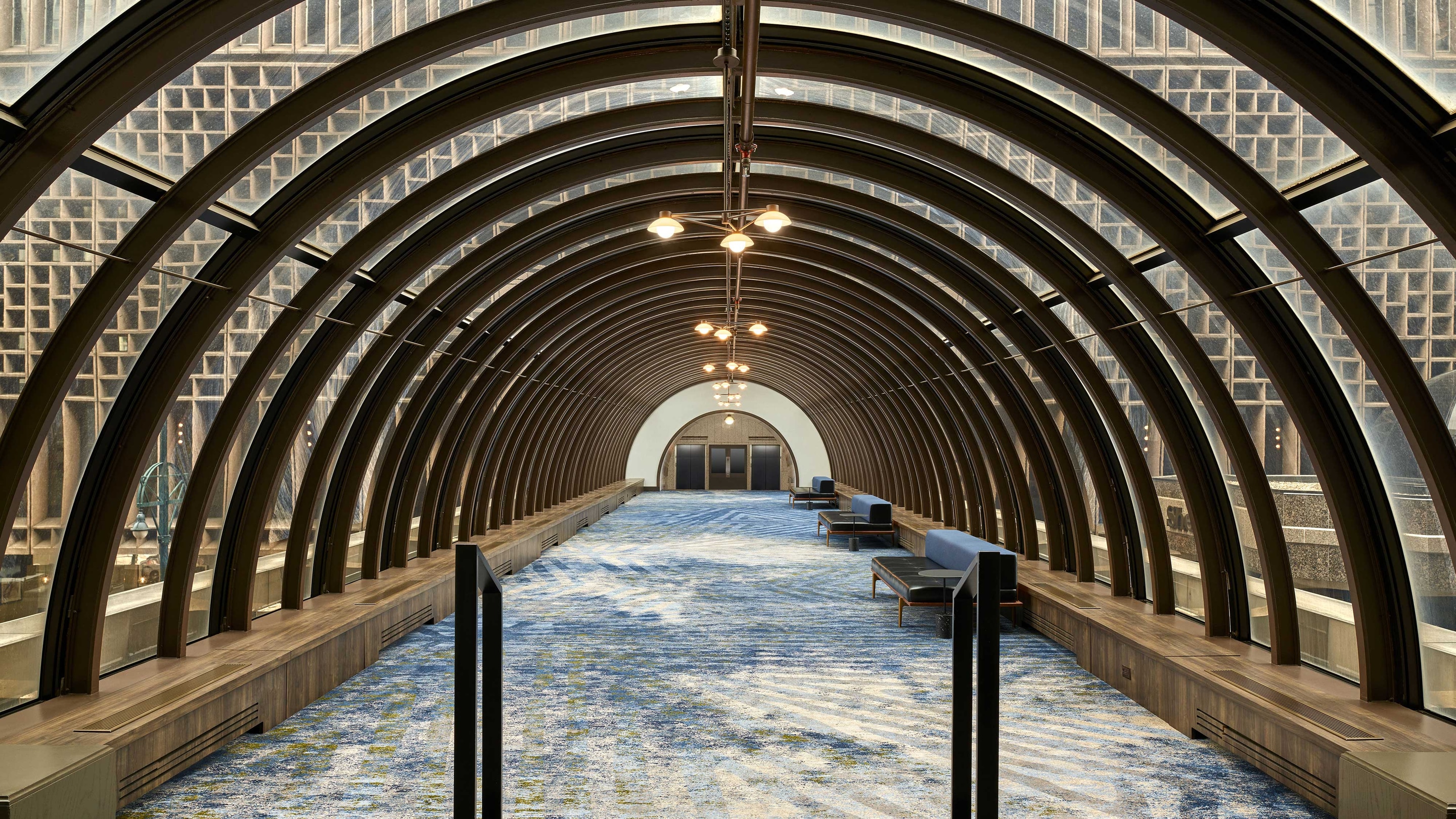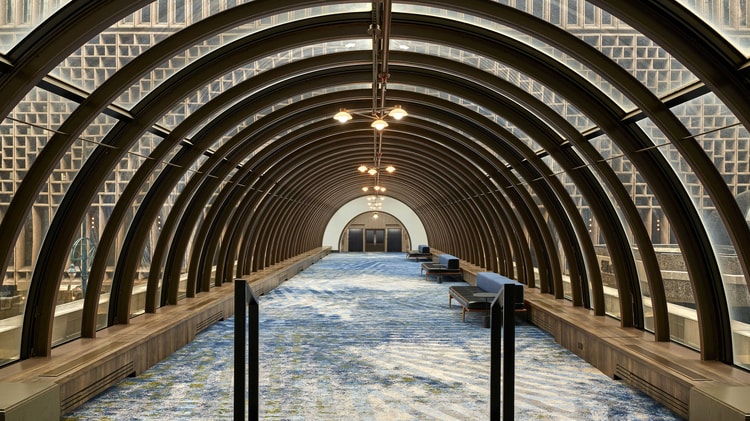 Celebrate Your Love in Downtown Denver
Amid the festive atmosphere of downtown Denver, we invite you to gather alongside friends and family to celebrate your love.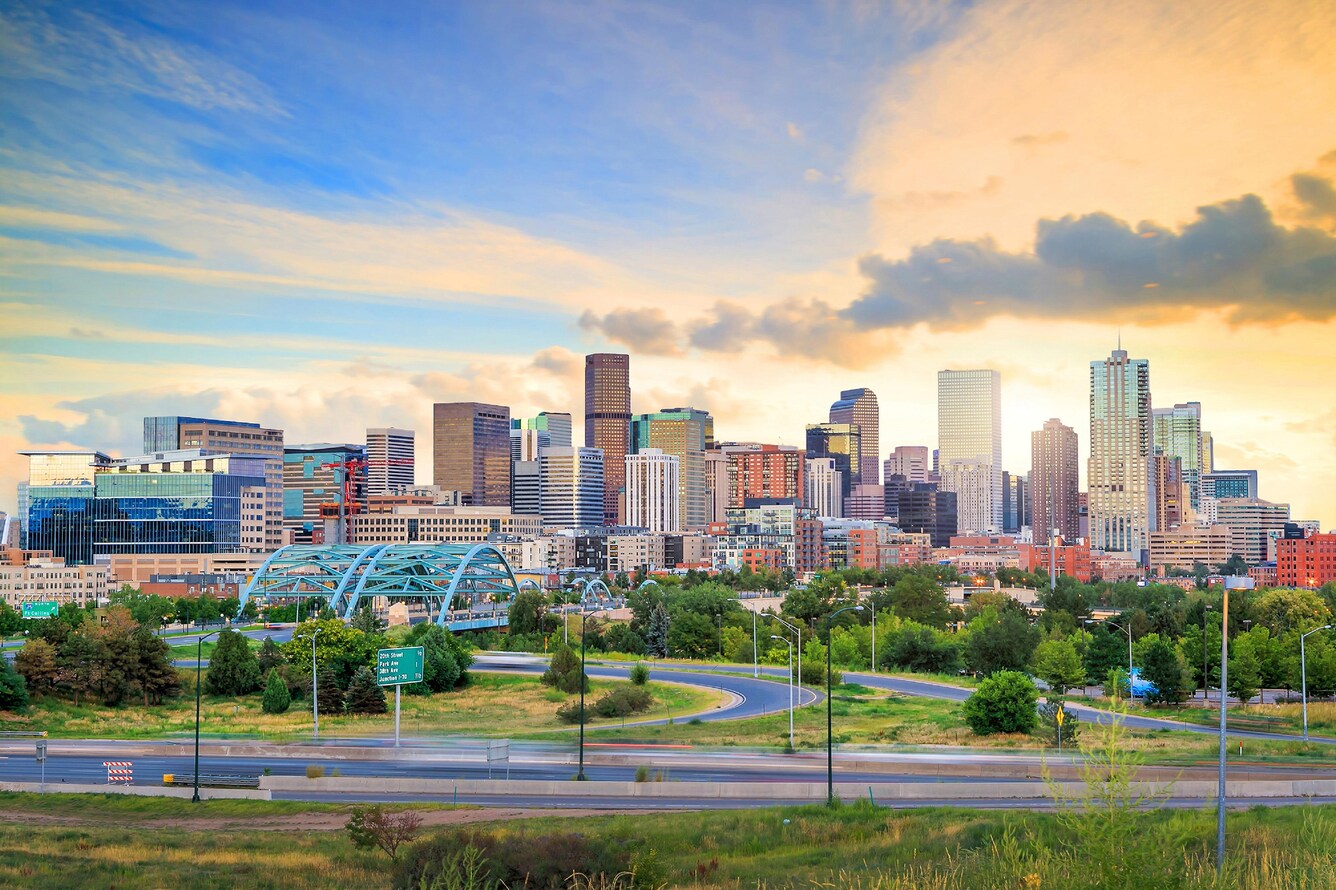 Find the Perfect Backdrop for Your Big Day
Our Denver Wedding Venues
Across 133,000 square feet of newly reimagined space, we offer three distinctive ballrooms to host weddings of all sizes, accommodating up to 4,000 guests. These Denver wedding venues include the Windows Ballroom, which features floor-to-ceiling windows and sweeping views of downtown. Our talented culinary team will work with you to create a custom menu, complete with creative dishes tailored to your personal taste. And your overnight guests can prepare for the festivities in thoughtfully redesigned guest rooms and suites with premium amenities.
Intimate Weddings in Denver
Share in the joy of this once-in-a-lifetime occasion with your closest friends and family and plan an intimate wedding in Denver. Our sophisticated venues offer the flexibility to host small-scale affairs, and our expert staff will help you choose from our adaptable event packages.
Wedding Events
From engagement parties to bridal showers and rehearsal dinners, we're here to host your entire wedding celebration. From start to finish, every event at our downtown Denver hotel is elevated by our sophisticated spaces, approachable service and inspired cuisine.
| Meeting Room | Dimensions (LxWxH) | Area (sq.ft) | Theater | Schoolroom | Conference | U-Shape | Reception | Banquet |
| --- | --- | --- | --- | --- | --- | --- | --- | --- |
| Plaza Ballroom | 160x175x21 | 28000 | 2100 | 1400 | - | - | 2100 | 1560 |
| Plaza Exhibit | 175x120x11 | 21000 | 2100 | 1400 | - | - | 1400 | 1200 |
| Plaza Ballroom - B/C/E/F | 175x115x21 | 20125 | 1500 | 1080 | - | - | 1400 | 1200 |
| Plaza Ballroom - A/B/D/E | 103x175x21 | 18025 | 1080 | 756 | - | - | 1400 | 960 |
| Grand Ballroom | 130x115x22 | 14950 | 1000 | 604 | - | - | 900 | 800 |
| Plaza Ballroom - A/B/C & D/E/F | 160x87x21 | 13920 | 990 | 700 | - | - | 1100 | 720 |
| Plaza Ballroom - E/F | 115x87x21 | 10005 | 800 | 432 | - | - | 600 | 540 |
| Plaza Ballroom - C/F & B/E | 175x57x21 | 9975 | 858 | 506 | - | - | 650 | 650 |
| Plaza Ballroom - A/B & D/E | 103x87x21 | 8961 | 450 | 378 | - | - | 600 | 450 |
| Grand Ballroom I | 130x57.5x22 | 7475 | 500 | 302 | - | - | 500 | 350 |
| Grand Ballroom II | 130x57.5x22 | 7475 | 500 | 302 | - | - | 500 | 350 |
| South Convention Lobby | 120x54x22 | 6480 | 500 | 302 | - | - | 450 | 250 |
| Majestic Ballroom | 85x67x19 | 5700 | 300 | 144 | - | 54 | 300 | 280 |
| Plaza Ballroom - E | 87x58x21 | 5046 | 360 | 275 | - | 66 | 500 | 300 |
| Plaza Ballroom - F | 87x58x21 | 5046 | 360 | 275 | - | 66 | 500 | 300 |
| Plaza Ballroom - D | 45x87x21 | 3915 | 180 | 126 | - | 57 | 100 | 120 |
| Plaza Ballroom - A | 45x87x21 | 3900 | 180 | 126 | - | 57 | 100 | 120 |
| Majestic Foyer | 45x87x21 | 3900 | 180 | 126 | - | 57 | 100 | 120 |
| Windows | 70x45x20 | 3150 | 180 | 100 | 50 | 44 | 200 | 170 |
| Governor's Square 14 | 48x57x10 | 2736 | 183 | 108 | 46 | 42 | 120 | 120 |
| Governor's Square 15 | 48x57x10 | 2736 | 183 | 108 | 46 | 42 | 120 | 120 |
| Tower Courts Foyer | 42x59x8 | 2478 | 183 | 108 | 46 | 42 | 190 | 120 |
| North Convention Lobby | 40x54x8 | 2160 | 183 | 108 | 46 | 42 | 190 | 120 |
| Silver | 39x48x8.7 | 1872 | 125 | 88 | 40 | 42 | 120 | 120 |
| Columbine | 68x24x8 | 1632 | 109 | 95 | 38 | 40 | 110 | 110 |
| Governor's Square 12 | 57x28x10 | 1596 | 107 | 88 | 52 | 47 | 80 | 110 |
| Vail | 23x68x9 | 1564 | 105 | 95 | 36 | 45 | 120 | 110 |
| Governor's Square 10 | 50x28x10 | 1400 | 94 | 64 | 44 | 41 | 90 | 100 |
| Governor's Square 11 | 50x28x10 | 1400 | 94 | 64 | 44 | 41 | 90 | 100 |
| Director's Row H | 56x25x10.8 | 1400 | 94 | 84 | 36 | 42 | 100 | 90 |
| Governor's Square 16 | 48x28x10 | 1344 | 90 | 78 | 38 | 39 | 80 | 100 |
| Governor's Square 17 | 48x28x10 | 1344 | 90 | 78 | 38 | 39 | 80 | 100 |
| Tower Court D | 46x28x19 | 1288 | 84 | 65 | 34 | 34 | 90 | 80 |
| Grand Ballroom Foyer | 18x67x10 | 1206 | 84 | 65 | 34 | 34 | 90 | 80 |
| Terrace | 23x52x8 | 1196 | 78 | 70 | 32 | 32 | 80 | 80 |
| Director's Row E | 28x38x10.8 | 1064 | 71 | 60 | 28 | 30 | 70 | 60 |
| Director's Row I | 24x44x10.8 | 1056 | 71 | 57 | 22 | 32 | 80 | 70 |
| Tower Court A | 36x28x19 | 1008 | 66 | 50 | 34 | 34 | 70 | 60 |
| Tower Court B | 36x28x19 | 1000 | 66 | 50 | 34 | 34 | 70 | 60 |
| Tower Court C | 36x28x19 | 1008 | 66 | 50 | 34 | 34 | 70 | 60 |
| Denver | 43x23x9.7 | 990 | 66 | 52 | 24 | 24 | 70 | 60 |
| Director's Row J | 23x42x10.8 | 966 | 65 | 54 | 24 | 30 | 60 | 60 |
| Savoy | 28x34x9 | 952 | 64 | 36 | 36 | 18 | 50 | 50 |
| Gold | 31x28x9.7 | 868 | 58 | 40 | 24 | 24 | 60 | 50 |
| Century | 31x28x9.7 | 868 | 58 | 40 | 24 | 24 | 60 | 50 |
| Spruce | 31x28x9.7 | 868 | 58 | 40 | 24 | 24 | 60 | 50 |
| Plaza Court 1 | 26x32x9 | 832 | 49 | 37 | 18 | 22 | 40 | 40 |
| Plaza Court 6 | 28x27x9.8 | 756 | 49 | 36 | 24 | 22 | 40 | 50 |
| Colorado | 39x18x8.7 | 702 | 47 | 36 | 24 | 22 | 30 | 30 |
| Plaza Court 2 | 26x26x9.8 | 676 | 47 | 32 | 20 | 22 | 40 | 40 |
| Plaza Court 3 | 26x26x938 | 676 | 47 | 32 | 20 | 22 | 40 | 40 |
| Plaza Court 4 | 26x26x9.8 | 676 | 47 | 32 | 20 | 22 | 40 | 40 |
| Plaza Court 5 | 26x26x9.8 | 676 | 47 | 32 | 20 | 22 | 40 | 40 |
| Governor's Square 9 | 25x27x10 | 675 | 49 | 33 | 20 | 20 | 30 | 40 |
| Plaza Court 7 | 24x28x9.8 | 672 | 47 | 30 | 24 | 22 | 40 | 40 |
| Plaza Court 8 | 24x28x9.8 | 672 | 47 | 30 | 24 | 22 | 40 | 40 |
| Capitol | 23x27x8 | 621 | 40 | 24 | 18 | 18 | 40 | 40 |
| Director's Row F | 38x16x10.8 | 608 | 40 | 24 | 20 | 18 | 40 | 40 |
| Biltmore | 22x26x8 | 572 | 32 | 20 | 18 | 16 | 40 | 30 |
| Beverly | 23x19x8 | 437 | 55 | 50 | 30 | 20 | 50 | 50 |
| Aspen | 24x20x8 | 480 | 55 | 50 | 12 | 20 | 50 | 50 |
| Director's Row G | 15x21x10.8 | 315 | 55 | 50 | 10 | 20 | 50 | 50 |
| Client Office 1 | 24x10.5x10 | 252 | 55 | 50 | 10 | 20 | 50 | 50 |
| Client Office 2 | 24x8x10 | 192 | 55 | 50 | 10 | 20 | 50 | 50 |
Dimensions (LxWxH)
160x175x21
Dimensions (LxWxH)
175x120x11
Dimensions (LxWxH)
175x115x21
Dimensions (LxWxH)
103x175x21
Dimensions (LxWxH)
130x115x22
Plaza Ballroom - A/B/C & D/E/F
Dimensions (LxWxH)
160x87x21
Dimensions (LxWxH)
115x87x21
Plaza Ballroom - C/F & B/E
Dimensions (LxWxH)
175x57x21
Plaza Ballroom - A/B & D/E
Dimensions (LxWxH)
103x87x21
Dimensions (LxWxH)
130x57.5x22
Dimensions (LxWxH)
130x57.5x22
Dimensions (LxWxH)
120x54x22
Dimensions (LxWxH)
85x67x19
Dimensions (LxWxH)
87x58x21
Dimensions (LxWxH)
87x58x21
Dimensions (LxWxH)
45x87x21
Dimensions (LxWxH)
45x87x21
Dimensions (LxWxH)
45x87x21
Dimensions (LxWxH)
70x45x20
Dimensions (LxWxH)
48x57x10
Dimensions (LxWxH)
48x57x10
Dimensions (LxWxH)
42x59x8
Dimensions (LxWxH)
40x54x8
Dimensions (LxWxH)
39x48x8.7
Dimensions (LxWxH)
68x24x8
Dimensions (LxWxH)
57x28x10
Dimensions (LxWxH)
23x68x9
Dimensions (LxWxH)
50x28x10
Dimensions (LxWxH)
50x28x10
Dimensions (LxWxH)
56x25x10.8
Dimensions (LxWxH)
48x28x10
Dimensions (LxWxH)
48x28x10
Dimensions (LxWxH)
46x28x19
Dimensions (LxWxH)
18x67x10
Dimensions (LxWxH)
23x52x8
Dimensions (LxWxH)
28x38x10.8
Dimensions (LxWxH)
24x44x10.8
Dimensions (LxWxH)
36x28x19
Dimensions (LxWxH)
36x28x19
Dimensions (LxWxH)
36x28x19
Dimensions (LxWxH)
43x23x9.7
Dimensions (LxWxH)
23x42x10.8
Dimensions (LxWxH)
28x34x9
Dimensions (LxWxH)
31x28x9.7
Dimensions (LxWxH)
31x28x9.7
Dimensions (LxWxH)
31x28x9.7
Dimensions (LxWxH)
26x32x9
Dimensions (LxWxH)
28x27x9.8
Dimensions (LxWxH)
39x18x8.7
Dimensions (LxWxH)
26x26x9.8
Dimensions (LxWxH)
26x26x938
Dimensions (LxWxH)
26x26x9.8
Dimensions (LxWxH)
26x26x9.8
Dimensions (LxWxH)
25x27x10
Dimensions (LxWxH)
24x28x9.8
Dimensions (LxWxH)
24x28x9.8
Dimensions (LxWxH)
23x27x8
Dimensions (LxWxH)
38x16x10.8
Dimensions (LxWxH)
22x26x8
Dimensions (LxWxH)
23x19x8
Dimensions (LxWxH)
24x20x8
Dimensions (LxWxH)
15x21x10.8
Dimensions (LxWxH)
24x10.5x10
Dimensions (LxWxH)
24x8x10
| Meeting Room | Dimensions (LxWxH) | Area (sq.mt) | Theater | Schoolroom | Conference | U-Shape | Reception | Banquet |
| --- | --- | --- | --- | --- | --- | --- | --- | --- |
| Plaza Ballroom | 48.8x53.3x6.4 | 2601.3 | 2100 | 1400 | - | - | 2100 | 1560 |
| Plaza Exhibit | 53.3x36.6x3.4 | 1950.9 | 2100 | 1400 | - | - | 1400 | 1200 |
| Plaza Ballroom - B/C/E/F | 53.3x35.1x6.4 | 1869.7 | 1500 | 1080 | - | - | 1400 | 1200 |
| Plaza Ballroom - A/B/D/E | 31.4x53.3x6.4 | 1674.6 | 1080 | 756 | - | - | 1400 | 960 |
| Grand Ballroom | 39.6x35.1x6.7 | 1388.9 | 1000 | 604 | - | - | 900 | 800 |
| Plaza Ballroom - A/B/C & D/E/F | 48.8x26.5x6.4 | 1293.2 | 990 | 700 | - | - | 1100 | 720 |
| Plaza Ballroom - E/F | 35.1x26.5x6.4 | 929.5 | 800 | 432 | - | - | 600 | 540 |
| Plaza Ballroom - C/F & B/E | 53.3x17.4x6.4 | 926.7 | 858 | 506 | - | - | 650 | 650 |
| Plaza Ballroom - A/B & D/E | 31.4x26.5x6.4 | 832.5 | 450 | 378 | - | - | 600 | 450 |
| Grand Ballroom I | 39.6x17.5x6.7 | 694.4 | 500 | 302 | - | - | 500 | 350 |
| Grand Ballroom II | 39.6x17.5x6.7 | 694.4 | 500 | 302 | - | - | 500 | 350 |
| South Convention Lobby | 36.6x16.5x6.7 | 602 | 500 | 302 | - | - | 450 | 250 |
| Majestic Ballroom | 25.9x20.4x5.8 | 529.5 | 300 | 144 | - | 54 | 300 | 280 |
| Plaza Ballroom - E | 26.5x17.7x6.4 | 468.8 | 360 | 275 | - | 66 | 500 | 300 |
| Plaza Ballroom - F | 26.5x17.7x6.4 | 468.8 | 360 | 275 | - | 66 | 500 | 300 |
| Plaza Ballroom - D | 13.7x26.5x6.4 | 363.7 | 180 | 126 | - | 57 | 100 | 120 |
| Plaza Ballroom - A | 13.7x26.5x6.4 | 362.3 | 180 | 126 | - | 57 | 100 | 120 |
| Majestic Foyer | 13.7x26.5x6.4 | 362.3 | 180 | 126 | - | 57 | 100 | 120 |
| Windows | 21.3x13.7x6.1 | 292.6 | 180 | 100 | 50 | 44 | 200 | 170 |
| Governor's Square 14 | 14.6x17.4x3 | 254.2 | 183 | 108 | 46 | 42 | 120 | 120 |
| Governor's Square 15 | 14.6x17.4x3 | 254.2 | 183 | 108 | 46 | 42 | 120 | 120 |
| Tower Courts Foyer | 12.8x18x2.4 | 230.2 | 183 | 108 | 46 | 42 | 190 | 120 |
| North Convention Lobby | 12.2x16.5x2.4 | 200.7 | 183 | 108 | 46 | 42 | 190 | 120 |
| Silver | 11.9x14.6x2.7 | 173.9 | 125 | 88 | 40 | 42 | 120 | 120 |
| Columbine | 20.7x7.3x2.4 | 151.6 | 109 | 95 | 38 | 40 | 110 | 110 |
| Governor's Square 12 | 17.4x8.5x3 | 148.3 | 107 | 88 | 52 | 47 | 80 | 110 |
| Vail | 7x20.7x2.7 | 145.3 | 105 | 95 | 36 | 45 | 120 | 110 |
| Governor's Square 10 | 15.2x8.5x3 | 130.1 | 94 | 64 | 44 | 41 | 90 | 100 |
| Governor's Square 11 | 15.2x8.5x3 | 130.1 | 94 | 64 | 44 | 41 | 90 | 100 |
| Director's Row H | 17.1x7.6x3.3 | 130.1 | 94 | 84 | 36 | 42 | 100 | 90 |
| Governor's Square 16 | 14.6x8.5x3 | 124.9 | 90 | 78 | 38 | 39 | 80 | 100 |
| Governor's Square 17 | 14.6x8.5x3 | 124.9 | 90 | 78 | 38 | 39 | 80 | 100 |
| Tower Court D | 14x8.5x5.8 | 119.7 | 84 | 65 | 34 | 34 | 90 | 80 |
| Grand Ballroom Foyer | 5.5x20.4x3 | 112 | 84 | 65 | 34 | 34 | 90 | 80 |
| Terrace | 7x15.8x2.4 | 111.1 | 78 | 70 | 32 | 32 | 80 | 80 |
| Director's Row E | 8.5x11.6x3.3 | 98.8 | 71 | 60 | 28 | 30 | 70 | 60 |
| Director's Row I | 7.3x13.4x3.3 | 98.1 | 71 | 57 | 22 | 32 | 80 | 70 |
| Tower Court A | 11x8.5x5.8 | 93.6 | 66 | 50 | 34 | 34 | 70 | 60 |
| Tower Court B | 11x8.5x5.8 | 92.9 | 66 | 50 | 34 | 34 | 70 | 60 |
| Tower Court C | 11x8.5x5.8 | 93.6 | 66 | 50 | 34 | 34 | 70 | 60 |
| Denver | 13.1x7x3 | 92 | 66 | 52 | 24 | 24 | 70 | 60 |
| Director's Row J | 7x12.8x3.3 | 89.7 | 65 | 54 | 24 | 30 | 60 | 60 |
| Savoy | 8.5x10.4x2.7 | 88.4 | 64 | 36 | 36 | 18 | 50 | 50 |
| Gold | 9.4x8.5x3 | 80.6 | 58 | 40 | 24 | 24 | 60 | 50 |
| Century | 9.4x8.5x3 | 80.6 | 58 | 40 | 24 | 24 | 60 | 50 |
| Spruce | 9.4x8.5x3 | 80.6 | 58 | 40 | 24 | 24 | 60 | 50 |
| Plaza Court 1 | 7.9x9.8x2.7 | 77.3 | 49 | 37 | 18 | 22 | 40 | 40 |
| Plaza Court 6 | 8.5x8.2x3 | 70.2 | 49 | 36 | 24 | 22 | 40 | 50 |
| Colorado | 11.9x5.5x2.7 | 65.2 | 47 | 36 | 24 | 22 | 30 | 30 |
| Plaza Court 2 | 7.9x7.9x3 | 62.8 | 47 | 32 | 20 | 22 | 40 | 40 |
| Plaza Court 3 | 7.9x7.9x285.9 | 62.8 | 47 | 32 | 20 | 22 | 40 | 40 |
| Plaza Court 4 | 7.9x7.9x3 | 62.8 | 47 | 32 | 20 | 22 | 40 | 40 |
| Plaza Court 5 | 7.9x7.9x3 | 62.8 | 47 | 32 | 20 | 22 | 40 | 40 |
| Governor's Square 9 | 7.6x8.2x3 | 62.7 | 49 | 33 | 20 | 20 | 30 | 40 |
| Plaza Court 7 | 7.3x8.5x3 | 62.4 | 47 | 30 | 24 | 22 | 40 | 40 |
| Plaza Court 8 | 7.3x8.5x3 | 62.4 | 47 | 30 | 24 | 22 | 40 | 40 |
| Capitol | 7x8.2x2.4 | 57.7 | 40 | 24 | 18 | 18 | 40 | 40 |
| Director's Row F | 11.6x4.9x3.3 | 56.5 | 40 | 24 | 20 | 18 | 40 | 40 |
| Biltmore | 6.7x7.9x2.4 | 53.1 | 32 | 20 | 18 | 16 | 40 | 30 |
| Beverly | 7x5.8x2.4 | 40.6 | 55 | 50 | 30 | 20 | 50 | 50 |
| Aspen | 7.3x6.1x2.4 | 44.6 | 55 | 50 | 12 | 20 | 50 | 50 |
| Director's Row G | 4.6x6.4x3.3 | 29.3 | 55 | 50 | 10 | 20 | 50 | 50 |
| Client Office 1 | 7.3x3.2x3 | 23.4 | 55 | 50 | 10 | 20 | 50 | 50 |
| Client Office 2 | 7.3x2.4x3 | 17.8 | 55 | 50 | 10 | 20 | 50 | 50 |
Dimensions (LxWxH)
48.8x53.3x6.4
Dimensions (LxWxH)
53.3x36.6x3.4
Dimensions (LxWxH)
53.3x35.1x6.4
Dimensions (LxWxH)
31.4x53.3x6.4
Dimensions (LxWxH)
39.6x35.1x6.7
Plaza Ballroom - A/B/C & D/E/F
Dimensions (LxWxH)
48.8x26.5x6.4
Dimensions (LxWxH)
35.1x26.5x6.4
Plaza Ballroom - C/F & B/E
Dimensions (LxWxH)
53.3x17.4x6.4
Plaza Ballroom - A/B & D/E
Dimensions (LxWxH)
31.4x26.5x6.4
Dimensions (LxWxH)
39.6x17.5x6.7
Dimensions (LxWxH)
39.6x17.5x6.7
Dimensions (LxWxH)
36.6x16.5x6.7
Dimensions (LxWxH)
25.9x20.4x5.8
Dimensions (LxWxH)
26.5x17.7x6.4
Dimensions (LxWxH)
26.5x17.7x6.4
Dimensions (LxWxH)
13.7x26.5x6.4
Dimensions (LxWxH)
13.7x26.5x6.4
Dimensions (LxWxH)
13.7x26.5x6.4
Dimensions (LxWxH)
21.3x13.7x6.1
Dimensions (LxWxH)
14.6x17.4x3
Dimensions (LxWxH)
14.6x17.4x3
Dimensions (LxWxH)
12.8x18x2.4
Dimensions (LxWxH)
12.2x16.5x2.4
Dimensions (LxWxH)
11.9x14.6x2.7
Dimensions (LxWxH)
20.7x7.3x2.4
Dimensions (LxWxH)
17.4x8.5x3
Dimensions (LxWxH)
7x20.7x2.7
Dimensions (LxWxH)
15.2x8.5x3
Dimensions (LxWxH)
15.2x8.5x3
Dimensions (LxWxH)
17.1x7.6x3.3
Dimensions (LxWxH)
14.6x8.5x3
Dimensions (LxWxH)
14.6x8.5x3
Dimensions (LxWxH)
14x8.5x5.8
Dimensions (LxWxH)
5.5x20.4x3
Dimensions (LxWxH)
7x15.8x2.4
Dimensions (LxWxH)
8.5x11.6x3.3
Dimensions (LxWxH)
7.3x13.4x3.3
Dimensions (LxWxH)
11x8.5x5.8
Dimensions (LxWxH)
11x8.5x5.8
Dimensions (LxWxH)
11x8.5x5.8
Dimensions (LxWxH)
13.1x7x3
Dimensions (LxWxH)
7x12.8x3.3
Dimensions (LxWxH)
8.5x10.4x2.7
Dimensions (LxWxH)
9.4x8.5x3
Dimensions (LxWxH)
9.4x8.5x3
Dimensions (LxWxH)
9.4x8.5x3
Dimensions (LxWxH)
7.9x9.8x2.7
Dimensions (LxWxH)
8.5x8.2x3
Dimensions (LxWxH)
11.9x5.5x2.7
Dimensions (LxWxH)
7.9x7.9x3
Dimensions (LxWxH)
7.9x7.9x285.9
Dimensions (LxWxH)
7.9x7.9x3
Dimensions (LxWxH)
7.9x7.9x3
Dimensions (LxWxH)
7.6x8.2x3
Dimensions (LxWxH)
7.3x8.5x3
Dimensions (LxWxH)
7.3x8.5x3
Dimensions (LxWxH)
7x8.2x2.4
Dimensions (LxWxH)
11.6x4.9x3.3
Dimensions (LxWxH)
6.7x7.9x2.4
Dimensions (LxWxH)
7x5.8x2.4
Dimensions (LxWxH)
7.3x6.1x2.4
Dimensions (LxWxH)
4.6x6.4x3.3
Dimensions (LxWxH)
7.3x3.2x3
Dimensions (LxWxH)
7.3x2.4x3
Event Equipment & Supplies
Blackboards
Easels
Flip Chart & Markers
Installed Stage
Pens / Pencils / Notepad
Podium Lectern
Polling Devices
Portable Stage
Stack Chairs
Tables
Business Services
Computers
Copy Service
Fax Service
Full Service Business Center
F+B stations include protective sneeze guards
Meeting space capacities and configurations follow social distancing guidelines
Offers single serve F+B options
Third-party partners comply with MI cleanliness standards