Modern Meeting Rooms In Macao
Events
Combining local heritage with world-class annual events, together with a vast array of conference space, Macao is the ideal destination for your next meeting. To bring excitement to your next business gathering, the Sheraton Grand Macao provides a range of high-quality entertainment options that can cater to your every need. Our experienced sales, entertainment, technical and events services teams will provide personalized support to ensure your conference is nothing short of spectacular. From helping you select the ideal meeting rooms from over 152,000 square feet of total space to tailored catering menus and fun group excursions in Macao, every detail will exceed your expectations.
152,223 sq ft
Total Event Space
5,265
Capacity Largest Space
113
Maximum Breakout Rooms
Impressive, Pillar-less Ballroom
Kashgar Grand Ballroom
A venue guaranteed to make a lasting impression on your guests. Design details reminiscent of the Silk Route combines with elegant high ceilings to offer an atmospheric, yet versatile space suited to events of all sizes and genres. Glitzy gala dinners in banquet-style for 4,056 people are perfectly suited to the space in its entirety, but for smaller events and conferences, the Kashgar Grand Ballroom can be divided into up to 16 smaller meeting rooms.
Hamadan Meeting Rooms
Hamadan meeting rooms are designed for private and medium-size meetings. Equipped with built-in projectors and screens, Hamadan meeting rooms are in different sizes at various setups.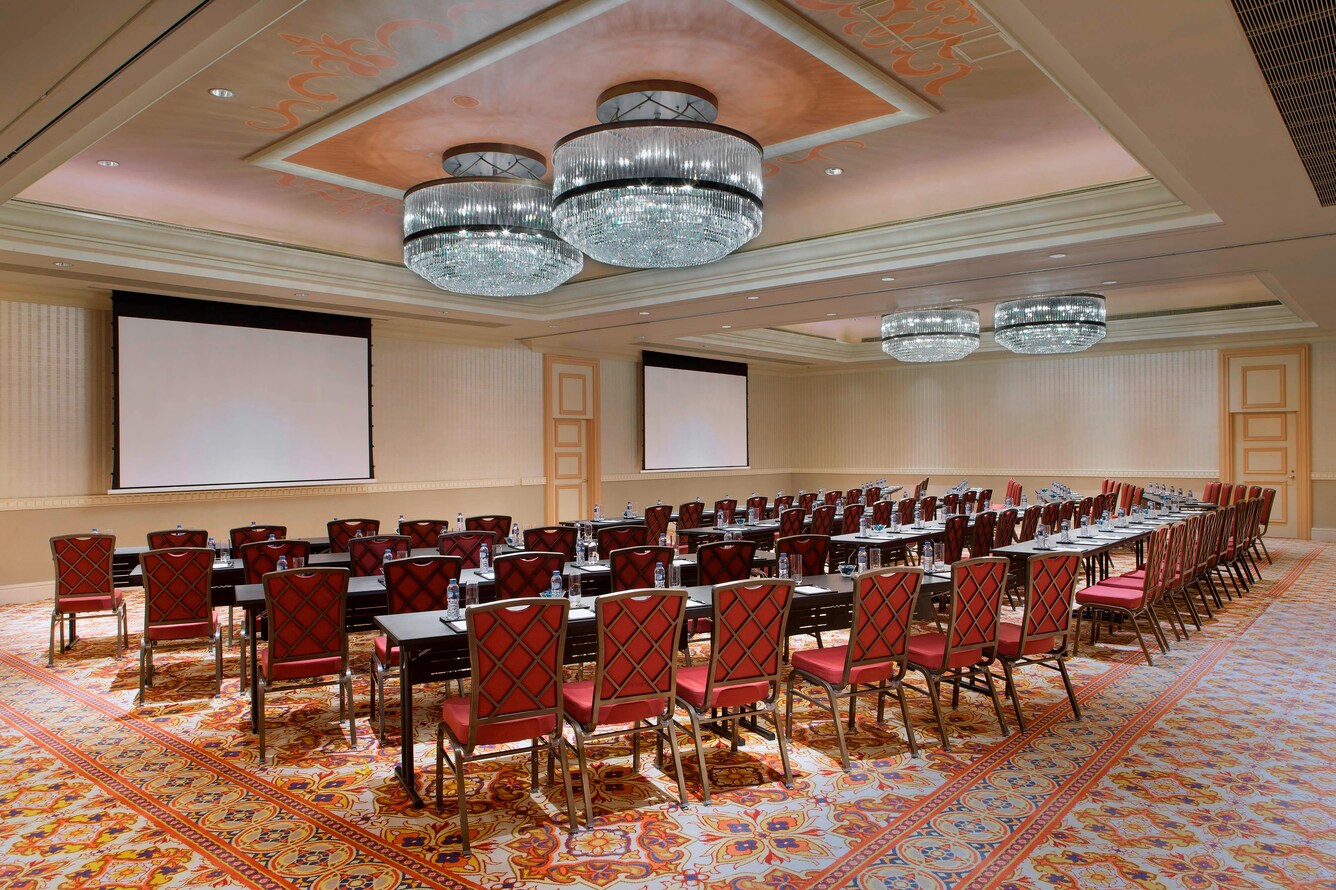 Reimagine Your Meetings
Meeting only the very highest expectations, the range of event spaces at Sheraton Grand Macao is topped only by our suite of services and facilities, to ensure every occasion makes a lasting impression.
Professional Meeting & Event Services
Tailor your meeting amenities precisely to your needs with the assistance of our professional meeting and events team state-of-the-art audiovisual technology. Our professional staff will be happy to help you plan your perfect event. Plan and book your meeting or event with us today.
Meeting Rooms & More
Junior Ballrooms
Six junior ballrooms offer further diversity, along with another three junior ballrooms within the integrated resort, all of which are divisible.
Unique Spaces
Check out our poolside cafes for a truly unique event venue.
Alfresco Events
Our outdoor pools with pool decks are ideal celebration venues for parties.
Our 52,645-square-foot (4,891 sqm) Kashgar Grand Ballroom has space for 5,000 conference guests.
Our Terrace and Executive Deluxe Suites on Level 41 in our hotel are perfect for cocktail events.
Flexible meeting space featuring 6 junior ballrooms that span 91,852 square feet (8,533 sqm).
Macao's UNESCO sites and the villages of Taipa and Coloane are less than 25 minutes from the hotel.
Access to additional 3 junior ballrooms spanning 48,391 square feet (4,496 sqm) for your conference.
Trust our experienced event staff to take care of every conference detail.
Unforgettable Weddings In Macao
Weddings & Special Occasions
Make your wedding day in Macao an unforgettable one at Sheraton Grand Macao – the perfect address for your idyllic celebration. Whether you dream of an intimate wedding with family and close friends or a grand affair for hundreds, with our unique pillar-less Kashgar Grand Ballroom and our six junior ballrooms to choose from, your dreams become reality in our splendid wedding venues. From tailored wedding packages to discounted rates on hotel room blocks, we take care of the details, leaving you to relax and enjoy your most memorable day in Macao.
Design your perfect wedding reception menu with help from our culinary staff.
Our venues offer the latest in AV technology, including lighting and special effects.
Choose from our wedding venues, offering space for both large and small celebrations.
Give your wedding reception a bit of extra flair and stream a memory-filled video.
Let the historic charm of Macao give your wedding photos a touch of the unexpected.
Work with our experienced wedding planners to design your perfect celebration.
| Meeting Room | Dimensions (LxWxH) | Area (sq.ft) | Theater | Schoolroom | Conference | U-Shape | Reception | Banquet |
| --- | --- | --- | --- | --- | --- | --- | --- | --- |
| Caspian - Junior Ballroom | 179.8x79.7x18 | 14333.8 | 1430 | 715 | - | - | 1430 | 1104 |
| Pamirs - Junior Ballroom | 179.8x79.7x18 | 14333.8 | 1430 | 715 | - | - | 1430 | 1104 |
| Tian Shan - Junior Ballroom | 179.8x79.7x18 | 14333.8 | 1430 | 715 | - | - | 1430 | 1104 |
| Kokand - Junior Ballroom | 210x77.8x18 | 16326.8 | 1631 | 816 | - | - | 1631 | 1260 |
| Samarkan - Junior Ballroom | 210x77.8x18 | 16326.8 | 1631 | 816 | - | - | 1631 | 1260 |
| Almaty - Junior Ballroom | 210x77.8x18 | 16326.8 | 1631 | 816 | - | - | 1631 | 1260 |
| Kashgar - Grand Ballroom | 293x179.8x24.6 | 52675.1 | 5265 | 2632 | - | - | 5265 | 4056 |
| Hamadan 6-1 - Meeting Room | 38.4x28.9x10.8 | 1108.3 | 5265 | 2632 | 24 | - | 5265 | 4056 |
| Hamadan 6-2 - Meeting Room | 38.4x26.6x10.8 | 1020.1 | 5265 | 2632 | 24 | - | 5265 | 4056 |
| Hamadan 6-12 - Meeting Room | 39.7x26.6x10.8 | 1055 | 105 | 53 | 24 | - | 105 | 84 |
| Hamadan 6-13 - Meeting Room | 39.7x33.1x10.8 | 1315.5 | 132 | 66 | 24 | - | 132 | 108 |
| Hamadan 6-15 - Meeting Room | 38.1x30.5x10.8 | 1161.2 | 116 | 58 | 24 | - | 116 | 96 |
| Hamadan 6-16 - Meeting Room | 44.9x42.3x10.8 | 1902.3 | 190 | 95 | 24 | - | 190 | 156 |
Caspian - Junior Ballroom
Dimensions (LxWxH)
179.8x79.7x18
Dimensions (LxWxH)
179.8x79.7x18
Tian Shan - Junior Ballroom
Dimensions (LxWxH)
179.8x79.7x18
Dimensions (LxWxH)
210x77.8x18
Samarkan - Junior Ballroom
Dimensions (LxWxH)
210x77.8x18
Dimensions (LxWxH)
210x77.8x18
Dimensions (LxWxH)
293x179.8x24.6
Hamadan 6-1 - Meeting Room
Dimensions (LxWxH)
38.4x28.9x10.8
Hamadan 6-2 - Meeting Room
Dimensions (LxWxH)
38.4x26.6x10.8
Hamadan 6-12 - Meeting Room
Dimensions (LxWxH)
39.7x26.6x10.8
Hamadan 6-13 - Meeting Room
Dimensions (LxWxH)
39.7x33.1x10.8
Hamadan 6-15 - Meeting Room
Dimensions (LxWxH)
38.1x30.5x10.8
Hamadan 6-16 - Meeting Room
Dimensions (LxWxH)
44.9x42.3x10.8
| Meeting Room | Dimensions (LxWxH) | Area (sq.mt) | Theater | Schoolroom | Conference | U-Shape | Reception | Banquet |
| --- | --- | --- | --- | --- | --- | --- | --- | --- |
| Caspian - Junior Ballroom | 54.8x24.3x5.5 | 1331.64 | 1430 | 715 | - | - | 1430 | 1104 |
| Pamirs - Junior Ballroom | 54.8x24.3x5.5 | 1331.64 | 1430 | 715 | - | - | 1430 | 1104 |
| Tian Shan - Junior Ballroom | 54.8x24.3x5.5 | 1331.64 | 1430 | 715 | - | - | 1430 | 1104 |
| Kokand - Junior Ballroom | 64x23.7x5.5 | 1516.8 | 1631 | 816 | - | - | 1631 | 1260 |
| Samarkan - Junior Ballroom | 64x23.7x5.5 | 1516.8 | 1631 | 816 | - | - | 1631 | 1260 |
| Almaty - Junior Ballroom | 64x23.7x5.5 | 1516.8 | 1631 | 816 | - | - | 1631 | 1260 |
| Kashgar - Grand Ballroom | 89.3x54.8x7.5 | 4893.64 | 5265 | 2632 | - | - | 5265 | 4056 |
| Hamadan 6-1 - Meeting Room | 11.7x8.8x3.3 | 102.96 | 5265 | 2632 | 24 | - | 5265 | 4056 |
| Hamadan 6-2 - Meeting Room | 11.7x8.1x3.3 | 94.77 | 5265 | 2632 | 24 | - | 5265 | 4056 |
| Hamadan 6-12 - Meeting Room | 12.1x8.1x3.3 | 98.01 | 105 | 53 | 24 | - | 105 | 84 |
| Hamadan 6-13 - Meeting Room | 12.1x10.1x3.3 | 122.21 | 132 | 66 | 24 | - | 132 | 108 |
| Hamadan 6-15 - Meeting Room | 11.6x9.3x3.3 | 107.88 | 116 | 58 | 24 | - | 116 | 96 |
| Hamadan 6-16 - Meeting Room | 13.7x12.9x3.3 | 176.73 | 190 | 95 | 24 | - | 190 | 156 |
Caspian - Junior Ballroom
Dimensions (LxWxH)
54.8x24.3x5.5
Dimensions (LxWxH)
54.8x24.3x5.5
Tian Shan - Junior Ballroom
Dimensions (LxWxH)
54.8x24.3x5.5
Dimensions (LxWxH)
64x23.7x5.5
Samarkan - Junior Ballroom
Dimensions (LxWxH)
64x23.7x5.5
Dimensions (LxWxH)
64x23.7x5.5
Dimensions (LxWxH)
89.3x54.8x7.5
Hamadan 6-1 - Meeting Room
Dimensions (LxWxH)
11.7x8.8x3.3
Hamadan 6-2 - Meeting Room
Dimensions (LxWxH)
11.7x8.1x3.3
Hamadan 6-12 - Meeting Room
Dimensions (LxWxH)
12.1x8.1x3.3
Hamadan 6-13 - Meeting Room
Dimensions (LxWxH)
12.1x10.1x3.3
Hamadan 6-15 - Meeting Room
Dimensions (LxWxH)
11.6x9.3x3.3
Hamadan 6-16 - Meeting Room
Dimensions (LxWxH)
13.7x12.9x3.3
Audio-Visual Equipment
35MM Projector
AV Technician
Film Projector with Screen
LCD Panel
LCD Projector
Microphone
Overhead Projector
PA System
TV
TV Production Service Provider
Video Camera
Videoconferencing
Walkie Talkies
Wired Internet
Event Services
Certified Meeting Planner
Electrician
Event Lighting
Locksmith
Message Service
Security Guards
Event Equipment & Supplies
Blackboards
Easels
Flip Chart & Markers
Name Cards
Pens / Pencils / Notepad
Podium Lectern
Portable Stage
Stack Chairs
Tables
Business Services
Computers
Full Service Business Center