JW MARRIOTT TAMPA WATER STREET STAY WELL™ ROOMS
Stay Well™ was created from the belief that you deserve an environment that positively impacts your well-being. The JW Marriott Tampa Water Street is proud to help our guests embrace this lifestyle, with specially designed accommodations in downtown Tampa, Florida.
ABOUT STAY WELL™
Energize
Engineered for your ultimate comfort, Stay Well™ rooms at our downtown Tampa hotel provide state-of-the-art amenities including air purification systems, Circadian mood lighting and more.
Circadian mood lighting emulates the color of natural outdoor light, which will help enhance your sleep quality, energy levels and productivity. You can personalize your room light environment by adjusting the settings on the Mood Box from "Circadian" to "Energize" to "Relax" to "Play."
For a night of deep sleep, settle into the natural memory foam of your Stay Well® mattress, which will support your back and provide optimal comfort. Long wave night lighting allows you to safely navigate in the dark while minimizing sleep disruption.
Inspired by nature's sunrise, the dawn simulator will wake you gradually and gently. Start your day in downtown Tampa with a Stay Well® shower infuser and emerge with softer, smoother skin and hair.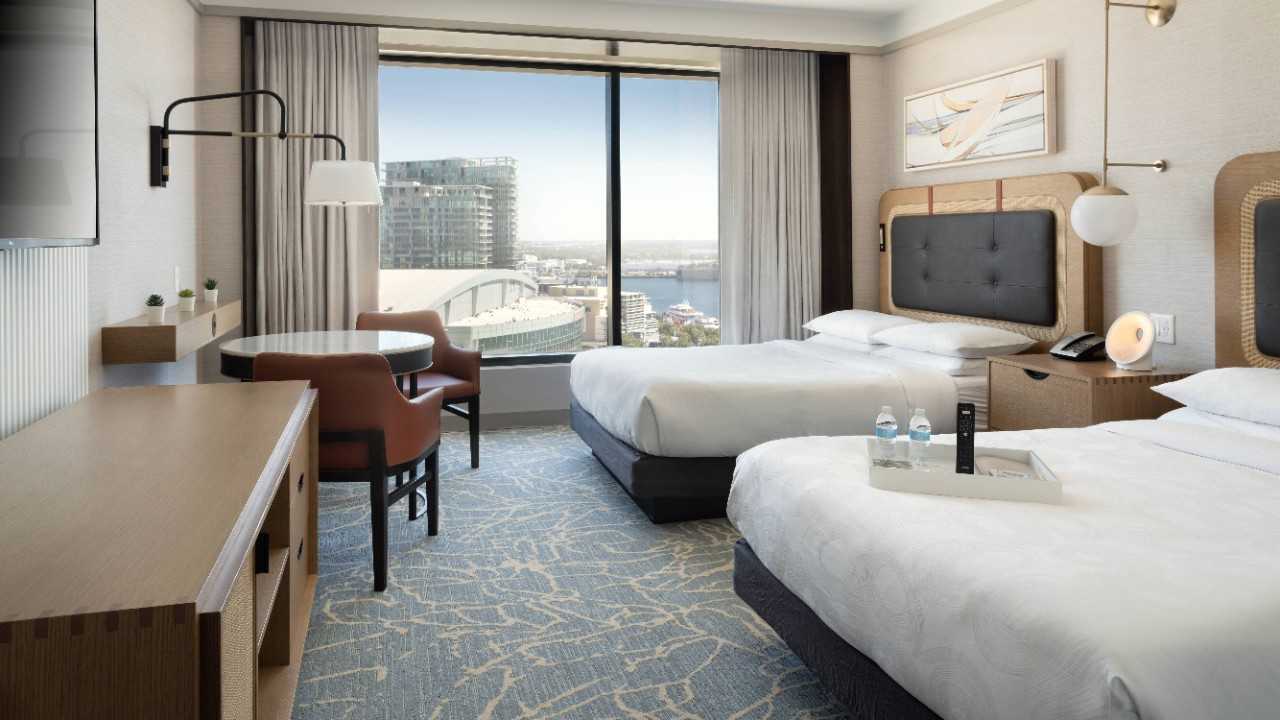 STAY WELL™ ROOM FEATURES
Relax
Stay Well™ rooms provide you with better rest, energy and reduced stress. Recover from jet lag quicker with features that maximize your experience while minimizing the impact of travel on your body.
Air purification to reduce pollen allergens, mold spores and other particulates and microbes in the air.
Aromatherapy all-natural essential oils to create a calm, mood-enhancing environment.
Circadian Lighting for guests to personalize the in-room light environment and enhance sleep, energy and productivity.
Cleaning protocol that uses non-toxic cleaning products and UV lighting to reduce bacteria, viruses and other microbes.
Specialized lighting including a dawn simulator to gently wake you, energizing light to suppress melatonin and reduce jet lag and long wave night lighting to minimize sleep disruption.
Stay Well™ mattress and encasements with natural memory foam for optimal support and comfort to help maintain a more enjoyable sleep environment.
Stay Well™ mobile app with information about in-room features, a jet lag tool and complimentary Cleveland Clinic wellness programs.
Stay well shower infuser that reduces chlorine to keep hair and skin soft and smooth.